Calling all lovey-dovey couples out there! When's the last time you travelled with your other half? Spice up your relationship by getting away for some (read: much needed) alone time.
Pack your sexiest lingerie or whatever you need in your luggage… and set off for a romantic weekend like no other. Rediscover each other and enjoy having a little piece of the world all to yourself at these beautiful resorts perfect for a sexy good time! *winks*
1. Bella Vista Waterfront Langkawi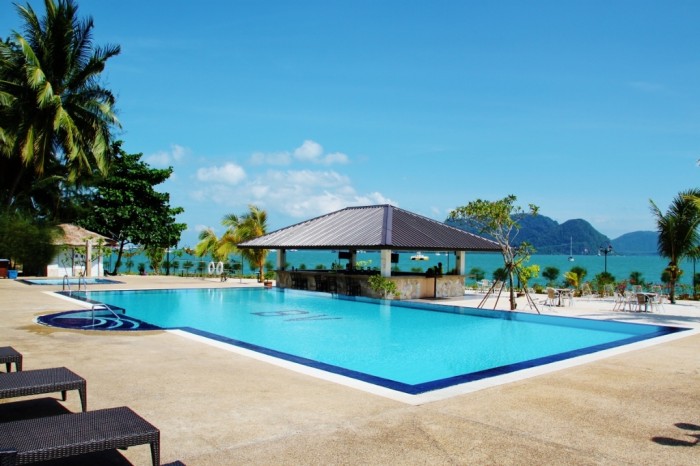 Doesn't Bella Vista Waterfront Langkawi look like a Disney castle right out of a fairytale? Bring your prince or princess to this luxury resort and live like royalty just for a few days! Situated right in the heart of Kuah town, the hotel overlooks the clear waters of the Andaman sea and is a soothing retreat amidst the sun, sand, and ocean breeze. There's also an enormous swimming pool that you can dip into if things get too hot! Go ahead and spend all day lounging around in your sexy swimsuits and soak in all that summer warmth if you want to.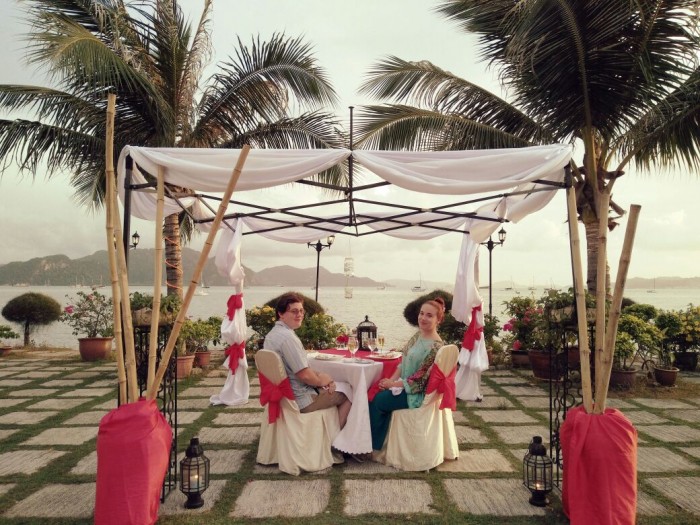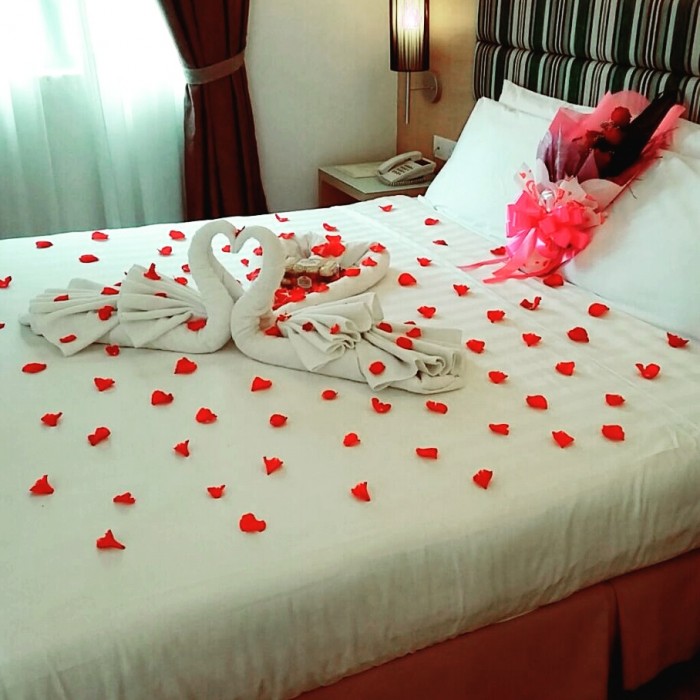 For all the adventurous couples, fret not! There are also water sports available right here – you can both go cycling, sailing, kayaking, and even scuba-diving with their PADI certified Dive masters. Spa treatments are also available if you both need to de-stress and forget about all your work responsibilities. Spend quality time with each other in the evening – have a candlelight dinner by sparkling aquamarine waters or go for a cozy sunset cruise along the coastline of Langkawi. Go ahead and make the best out of your romantic getaway!
2. Best Western Premier Genting Ion Delemen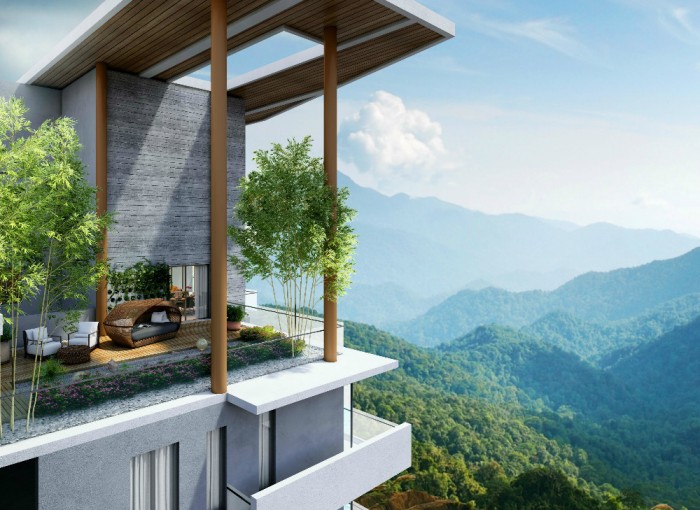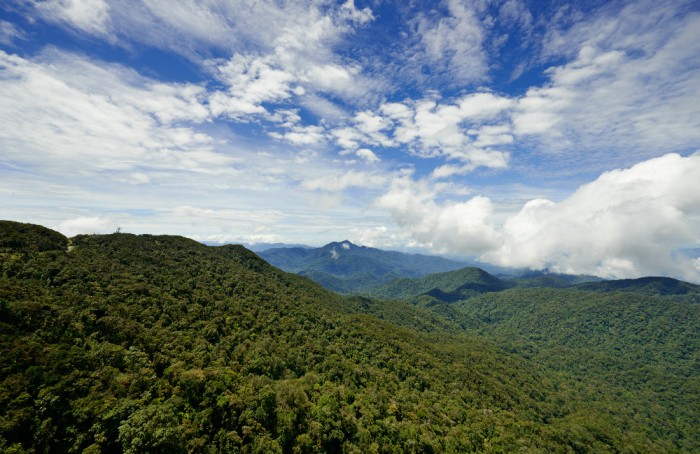 Can you believe that you can have this breathtaking panoramic view of the clouds and the mountains right at your doorstep? Stay at the Best Western Premier Genting Ion Delemen, and TADAAAA – be rewarded with this amazing scenery every morning and bask in the peaceful tranquility it brings. I can't think of a better way to wake up in the morning. You definitely won't get this in Singapore, that's for sure!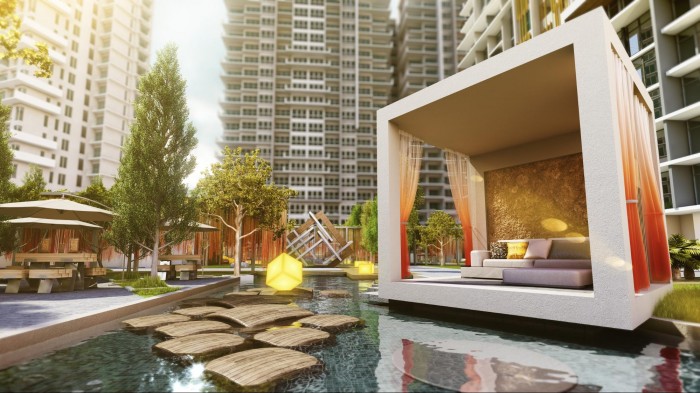 This spanky new hotel JUST opened its doors in October 2016, so why not be the first few guests to check out its facilities? Your friends will certainly be jealous! Cozy up to your partner at the large poolside cabana and indulge in small bites and refreshing cocktails. Enjoy having the luxurious cabana all to yourselves and stay as long as you want.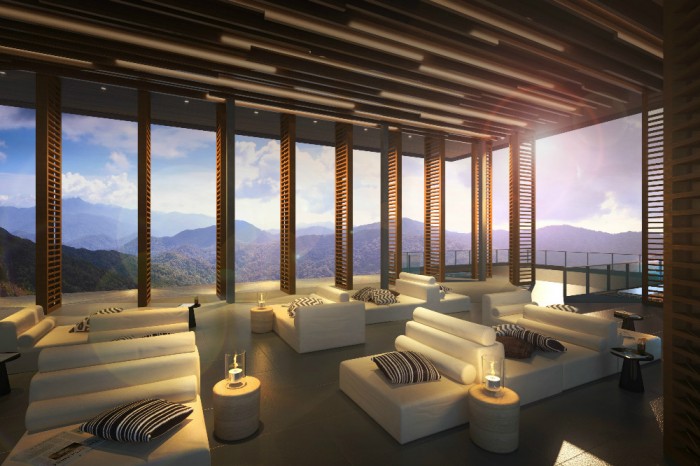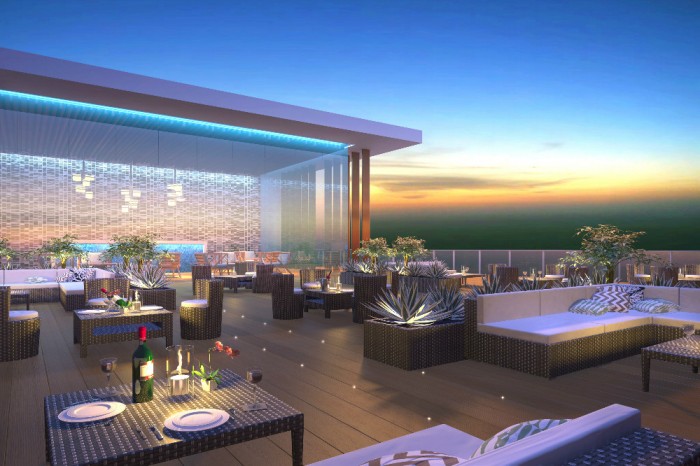 As the sun begins to set and the sky is awash with hues of colours, head to the restaurant of your choice for a romantic dinner! With Genting's cooling air-con weather, alfresco dining is a breeze – quite unlike humid Singapore. Be blown away by the spectacular views; sit back, relax, and indulge in their signature restaurant, ChopstiX, or treat yourselves to some Mediterranean cuisine at Hugo's in the Sky!
3.   Villa the Layar Bali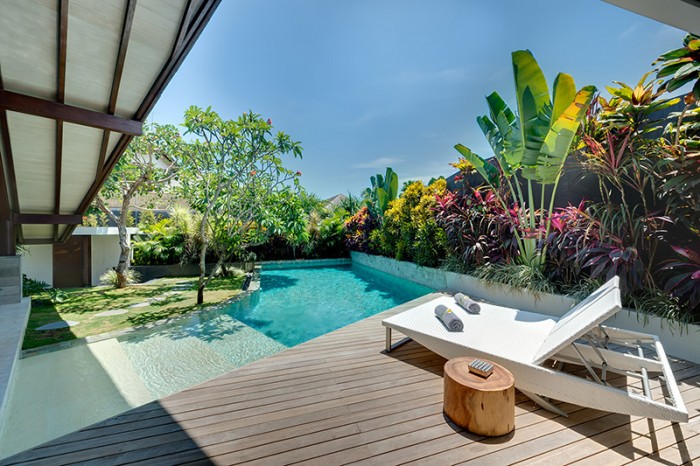 Image credit: The Layar
This beautiful and tropical enclave is situated in the centre of Seminyak, Bali. Each villa has its own private pool AND garden sanctuary – you'll have your own little secluded bubble to basically do whatever you want. With a villa this gorgeous, you'll never want to leave at all! Have a splashing good time basking in each other's company or just sun tanning and lazing around in the warm weather.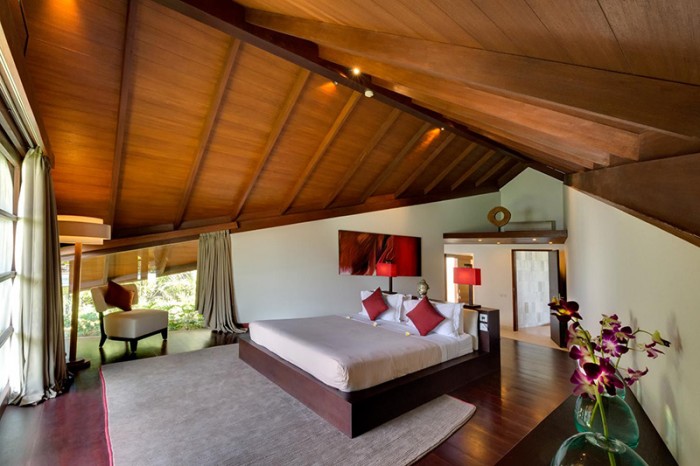 Image credit: The Layar
Just take a look at this amazing bedroom! Open, spacious, and decorated with wooden furnishings, this is a lovely sanctuary for couples to have a cozy time… especially at night. *winks* Revel in the experience of having this huge villa all to yourselves! You can even choose to order room service if you refuse to leave the villa. Indulge in a sumptuous breakfast or even choose to have a poolside barbeque – the possibilities are endless.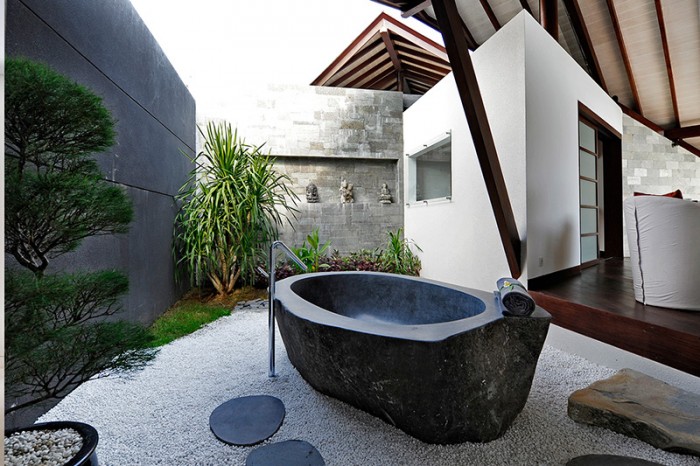 Image credit: The Layar
Image credit: The Layar
There's even a statuesque outdoor stone bathtub right inside your private villa! Just say the word, and the bathtub can even be filled with rose petals awaiting your arrival. Soak in pure bliss and enjoy a quiet, intimate time with each other.
4.   Viceroy Bali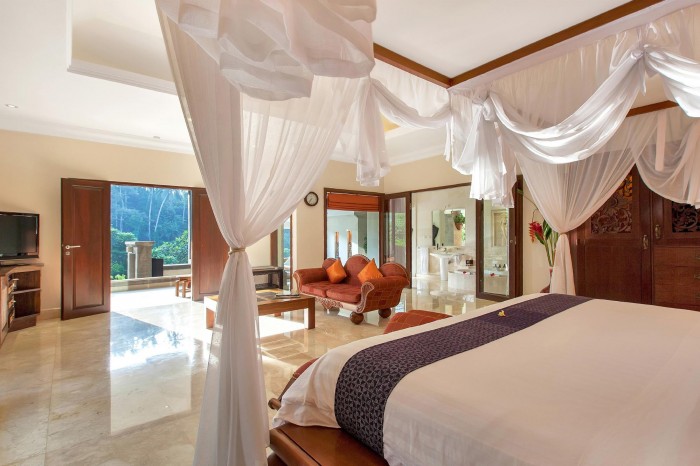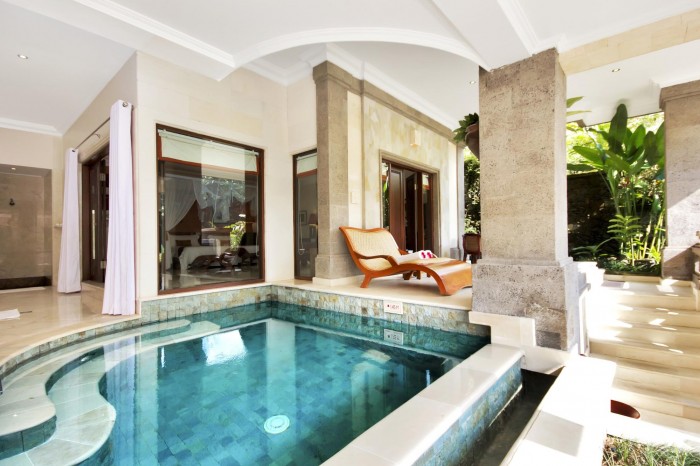 This sophisticated luxury villa resort is a real treat for couples or honeymooners! You get a private pool right inside your villa, so you can take a dip anytime you want. The pool suite is also incredibly spacious and huge, you'll wish that you could stay there forever! With 25 villas in total and 6 types to choose from, you'll be thoroughly spoilt for choice.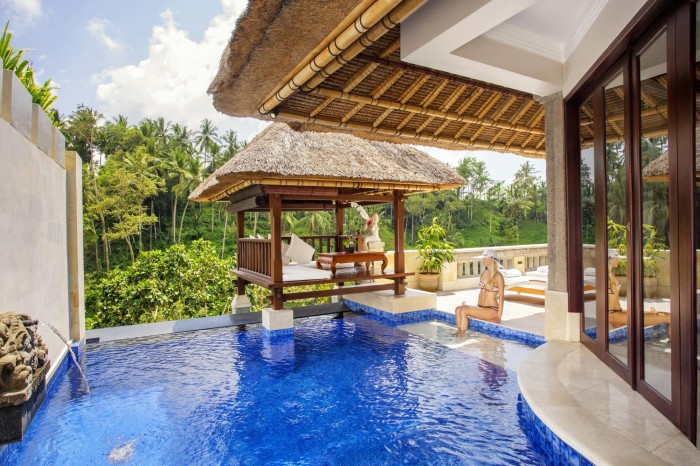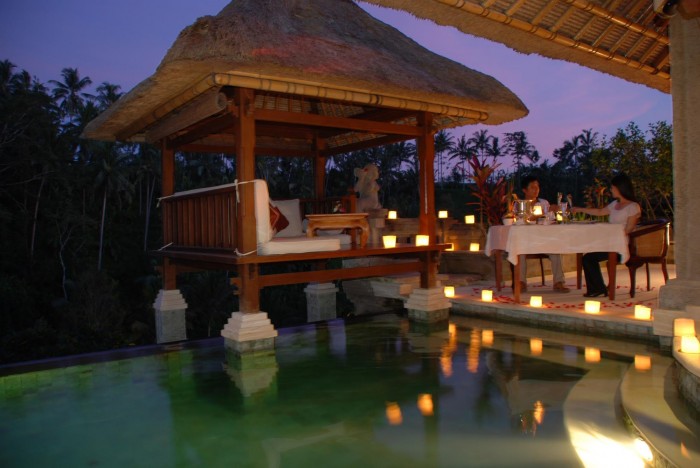 Alternatively, you can choose to stay in the terrace villa, which boasts a gigantic bedroom. There's even a cabana overlooking the pool, with a panoramic view of lush greenery to boot! If this isn't perfection, I don't know what is. When night falls, have a romantic candlelight dinner by the pool and indulge in some good red wine, coupled with jazzy tunes to set the mood.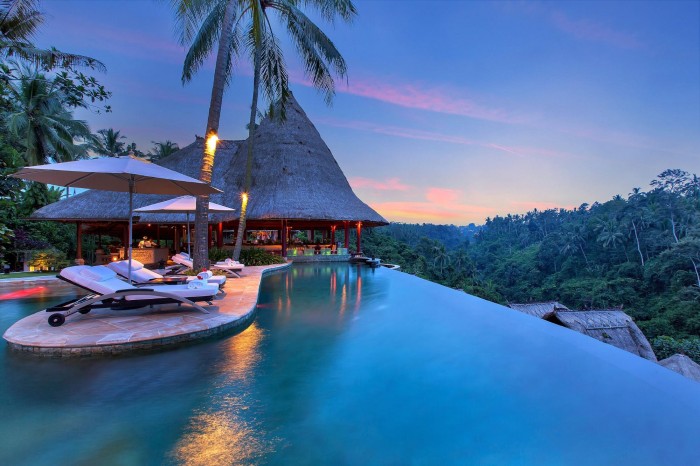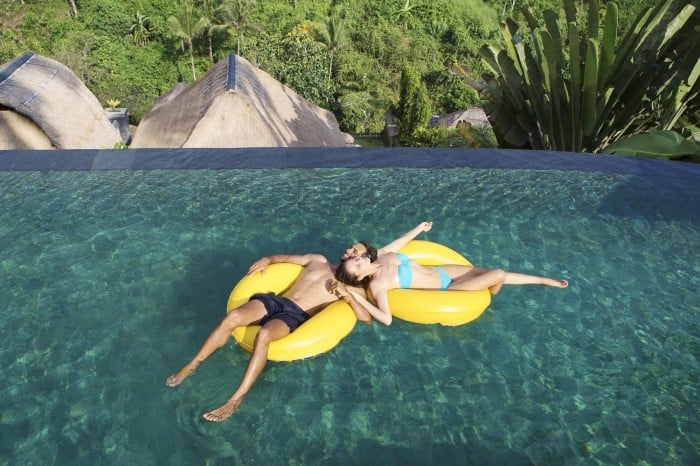 If the private pool is too small for you, why not head to the main pool for an even better time? This infinity pool promises breathtaking views of the valleys and vistas of Ubud. You can also catch picturesque moments of the sunrise or the sunset from the pool deck itself. What better way to indulge in each other's company than to admire the most romantic time of the day together? Take off your clothes – but leave your swimsuits on – and simply chill in the pool with inflatable floats for a great time.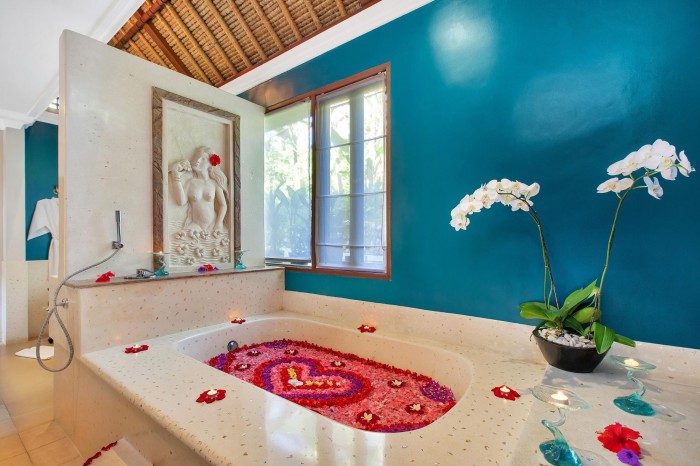 Round up the day with an intimate spa and massage session at Lembah Spa, which boasts a delightful flower bath and a spacious couple room. You can even do yoga with your partner as well! Nothing beats a refreshing workout session to get your adrenaline pumping! Viceroy Bali will certainly leave you with an unforgettable experience in the charming paradise of Ubud!
5.   One Eleven Bali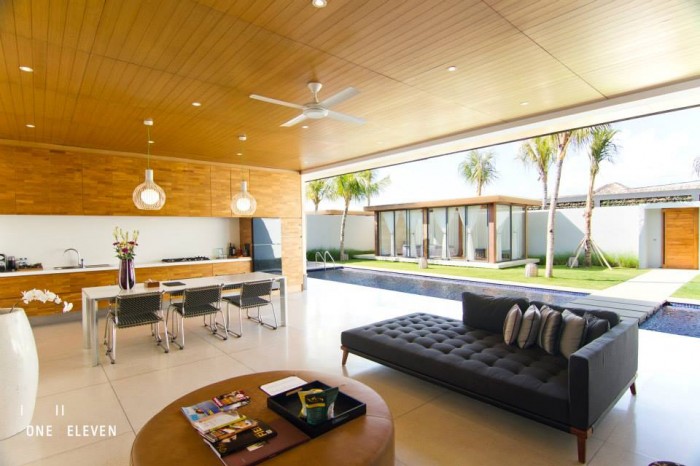 One Eleven Bali is literally heaven on earth. This secluded sanctuary is located in bustling Seminyak, and offers convenience but complete privacy – the best of both worlds. With only 9 villas within the compound, you can tell how each villa has been stylishly designed to offer you nothing but the best. EACH villa boasts a 14 metre long swimming pool, a spa gazebo and a spacious living room. ALL TO YOURSELVES! How awesome is that?!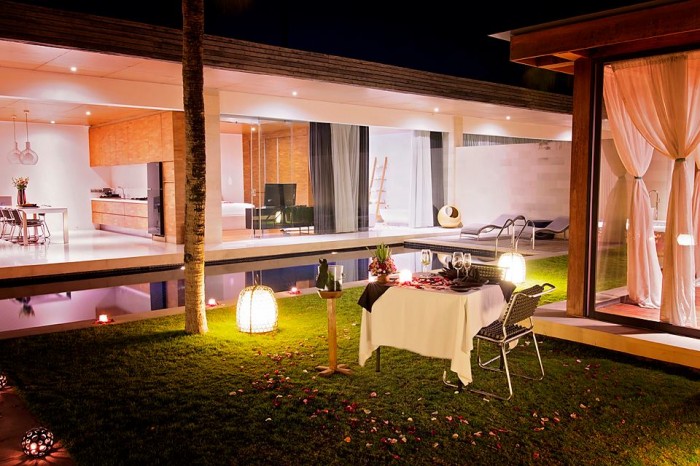 Have I mentioned that they have an authentic sushi and sake bar by Chef Shiro at One Eleven itself? What a treat for your stomachs! If sushi isn't your cup of tea, you can always choose to have a private candlelight dinner under the glistening moonlight. A DVD player is also available in the lounge for your personal viewing comfort, where you can cozy up to each other under the sheets while watching a good film.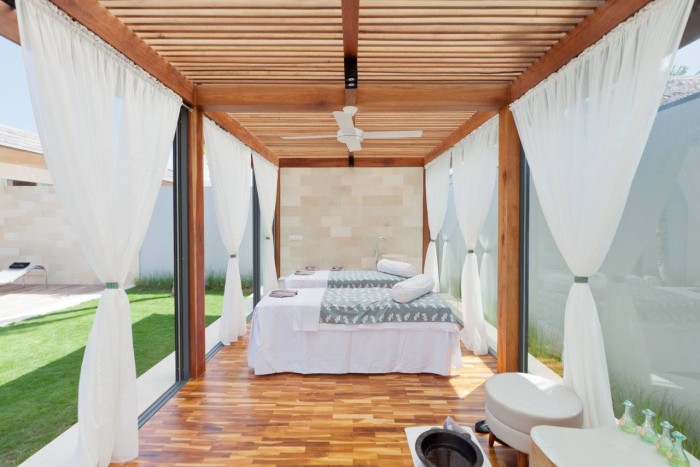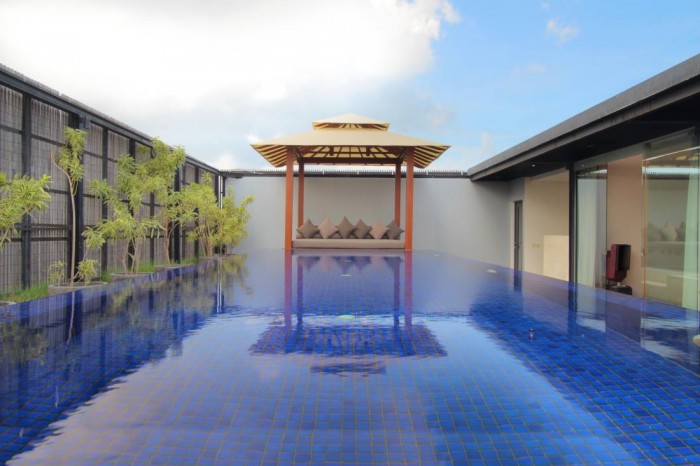 The best part about your villa is definitely the in-villa spa! That's comfort and bliss right at your doorstep; You don't even have to step out of your accommodation. Let all your worries and cares just dissipate into thin air as you and your partner pamper yourselves with an aromatherapy massage. Or you both could take turns being each other's masseuse as well ;)
6.   Banyan Tree Bintan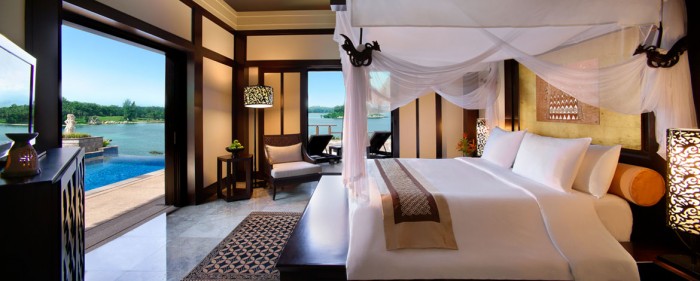 Image credit: Banyan Tree Bintan
Banyan Tree Bintan has a whole range of splendid villas for you to choose from! Their Oceanview Infinity Pool Villa in particular is a peaceful haven you won't be able to resist. Boasting unparalleled views of the ocean right in front of you, this mesmerising abode sits atop a hill, surrounded by lush greenery. In addition, you have your own PRIVATE outdoor infinity pool in the villa! It seriously doesn't get any better than this.
Forget about having to deal with noisy crowds at Marina Bay Sands when you can indulge yourselves in tranquility right here. Get up to as much hanky-panky as you want in the pool with your partner, and find a restful calmness amidst nothing but nature and the lull of crashing waves.
7.   Nongsa Resorts Batam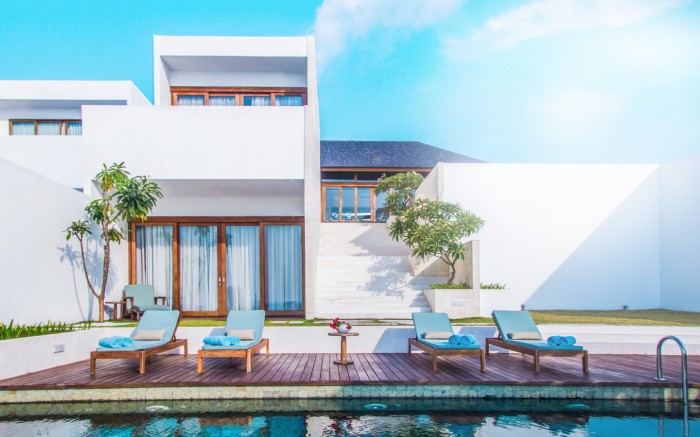 Just a mere 30 minutes away from Singapore, Nongsa Resorts Batam promises you romantic solitude you and your partner can enjoy! This cloistered sanctuary offers a perfect combination of nature and luxurious living with a spacious villa and private pool. Couples will be tempted to just stay-in ALL DAY long – wake up to a scrumptious in-villa breakfast and then have a sexy time soaking in the pool. Head down to the spa and have a romantic couple spa treatment to feel recharged and refreshed! Have dinner under the stars right inside your villa, or an intimate candlelight anniversary meal at the jetty. 
8.   Mayang Sari Beach Resort Bintan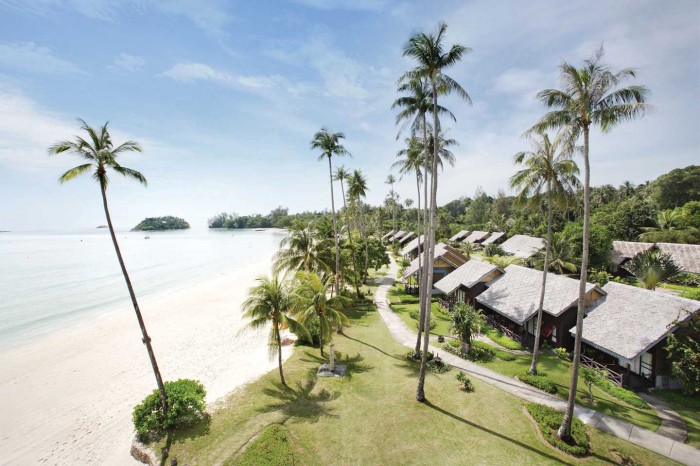 Mayang Sari Beach Resort offers 50 thatched-roof chalets right by the coast, resembling that of a rural village and exuding a with its unique decor. Escape from the city and spend your romantic weekend at this quaint and cosy resort! Each chalet comes with a private veranda for you to relax and unwind; simply lie back and admire the picturesque sunset. Jump into the sea which is just a few steps away from your chalet and have the best time of your life frolicking around in the soft sand. Also, take a romantic stroll along the beach at sunset with your lover – it's the simplest joys that truly bring us happiness.
9.   Telunas Resorts Batam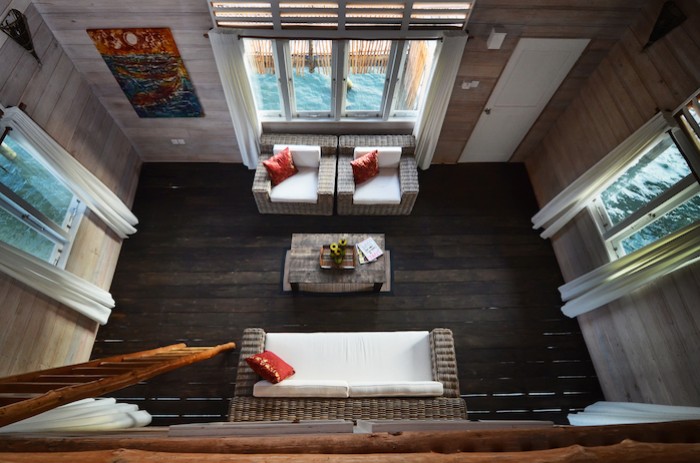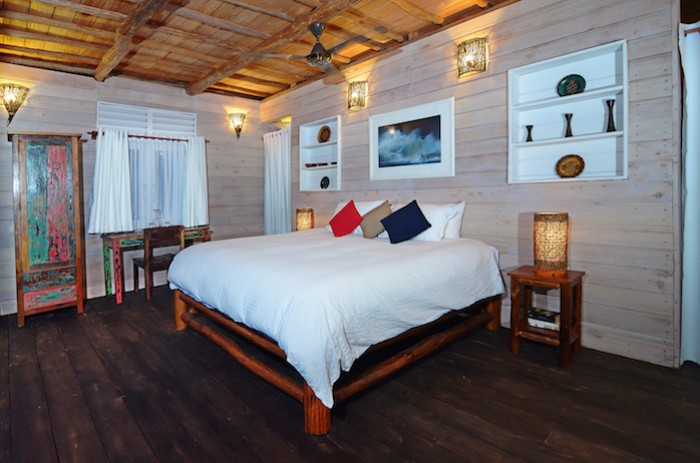 Stay at Telunas Resorts Sea Villas on a private island for the ultimate romantic escapade! Secluded and offering 360 degree views of the azure sea, this sanctuary will allow you to just disconnect from the outside world. You can even have couple massages right at your private balcony! For the adventurous couples, why not bond over activities such as paddle boarding, kayaking, walking along the Nature Path and more? Bask in each other's company and just have a relaxing time away from life's distractions. 
Are you excited already?! Head over to these romantic resorts a short ferry ride away from Singapore and start making unforgettable memories… Also, maybe make some babies too? *winks*