Today, we live in a very fast-paced environment, with deadlines everywhere, the daily commute, and don't let me get started on the office drama! After our shifts, we just want to detach ourselves from the hustle and bustle of city life. When the ideations of having a sweet escape by the beach or a serene encounter in the province become quite impossible to squeeze into your schedule, why not consider having a staycation?
A staycation is a break from the normal routine without venturing too far from your home base. While there are some individuals who prefer doing this activity at the comfort of their own homes, isn't it a great idea to have a change of environment from time to time? Imagine going to a place where you can just lie down all day, enjoying the plush pillows and crisp linen sheets. Check out our compilation of staycation suggestions around the ever-busy city of Manila.
1. Golden Phoenix Hotel Manila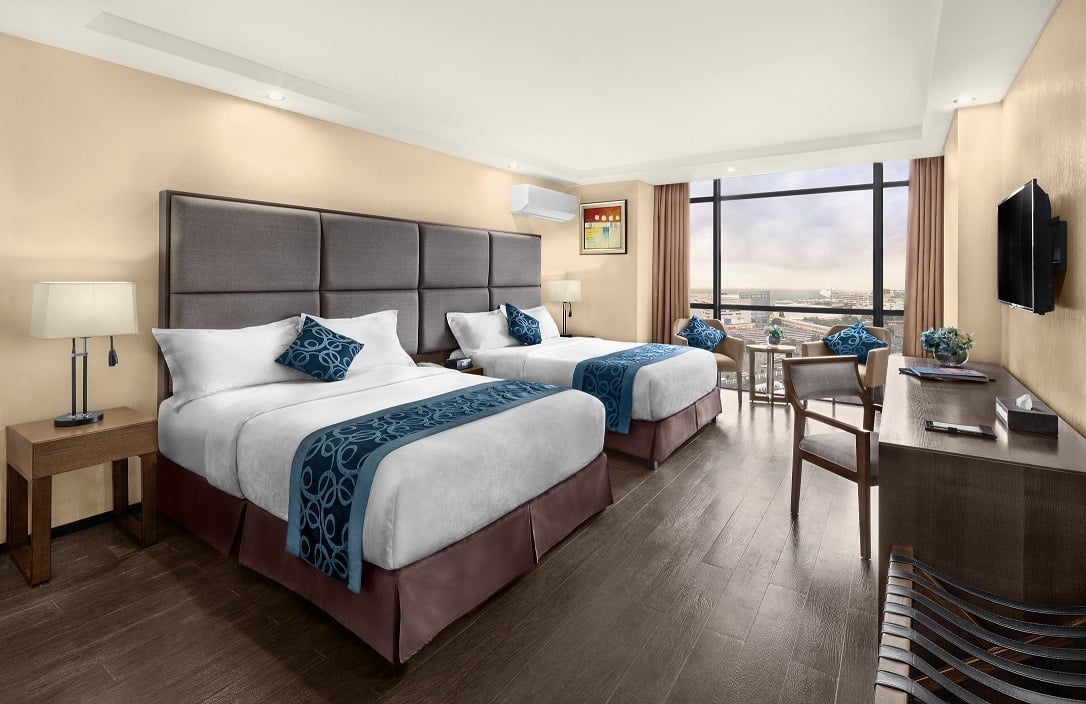 Image credit: Golden Phoenix Hotel Manila
After a busy and exhausting week at work, why not pamper yourself with a weekend staycation at Golden Phoenix Hotel Manila? Trust me when I say that this hotel near SM Mall of Asia lives up to its promise of providing you the quality rest and sleep you so deserve. Their modern and spacious rooms are well-equipped, and their signature chiropractic beds with ultra soft pillows and linens are the BEST — you'd want to sleep there forever!
Read our full review of Golden Phoenix Hotel Manila on TripZillaSTAYS.
2. Cocoon Boutique Hotel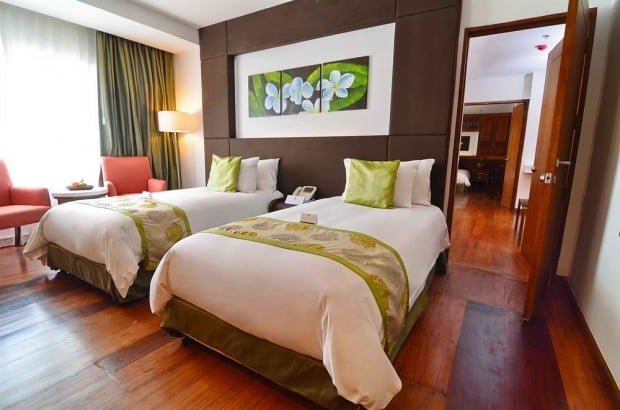 Image credit: Cocoon Boutique Hotel
The Cocoon Boutique Hotel is considered as the country's first truly Green Hotel. Located in Quezon City, this hotel exudes a classic yet very serene feel to it. It is environmentally responsible without compromising luxury. The hotel's main goal is to provide the ultimate relaxation and comfort, while having the least impact on the eco-system and the environment. Talk about responsible relaxation.
Also read: 15 Coolest Hotels Around the World
3. Makati Shangri-La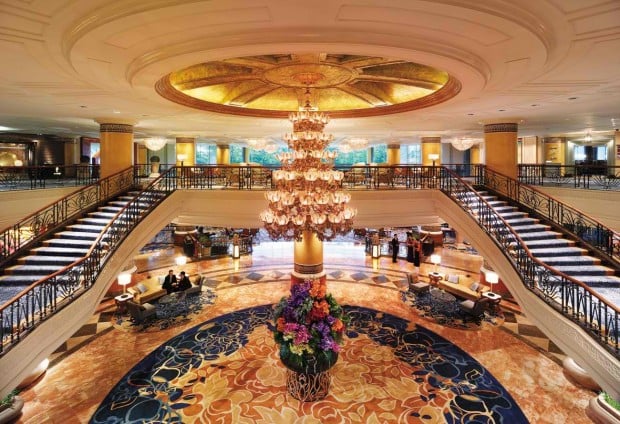 Image credit: Makati Shangri-La
With over 600 spacious rooms that are truly luxurious and balconies that allow you to look over the magnificent views of Makati City especially at night, the Makati Shangri-La is one of the country's premier hotel destinations. It is in a perfect location if you want to extend your staycation with a little bit of shopping, a movie night, or a great gastronomic experience. Makati Shangri-La is at the middle of everything you need.
4. The Henry Hotel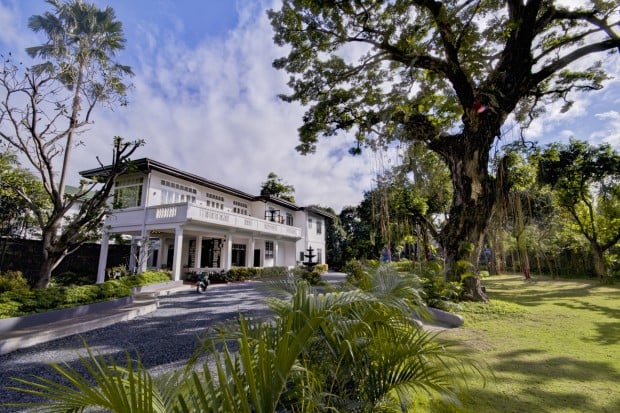 Image credit: The Henry Hotel
The Henry Hotel offers a unique setting that temporarily detaches you from all the noise, pollution, and traffic of the city. It is strategically situated inside a compound that is well adorned with lush gardens and trees that complete the overall appeal of this hotel. At first look, the Henry Hotel might give you the impression that it is somewhere far from the metro. In fact, it is just ten minutes away from one of the largest malls in the country, the SM Mall of Asia, and less than five minutes away from Blue Bay Walk, which is a premium dining strip.
5. Sofitel Philippine Plaza Manila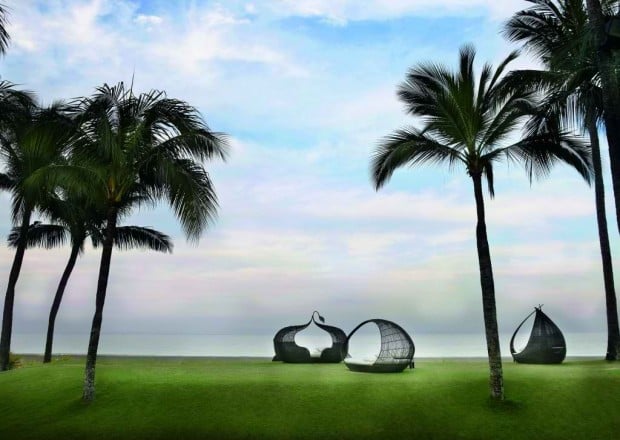 Image credit: Sofitel.com
Offering an unobstructed view of the Manila Bay Sunset, one of the city's greatest attractions, Sofitel Philippine Plaza Manila is a great choice for individuals who would like to just hang around and have a great stay in a posh hotel. It is the home to one of the best restaurants in the country, the Spiral, and it offers a wide array of personalised services within your reach.
6. Hotel H2O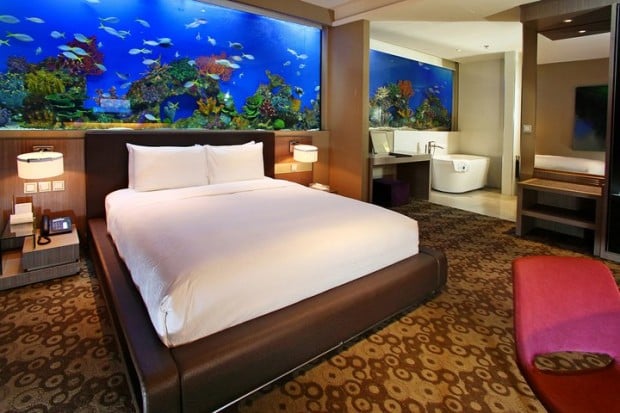 Image credit: Hotel H2O
For a country that is surrounded with great bodies of water, it is not surprising that there is a hotel that took its inspiration from rich waters and marine life. Located beside the Manila Bay, Hotel H2O offers deluxe amenities that attract both local and foreign tourists alike. If you want to experience a night surrounded by a vibrant array of fishes for a completely relaxing experience, then Hotel H2O will be the best choice for you.
7. F1 Hotel Manila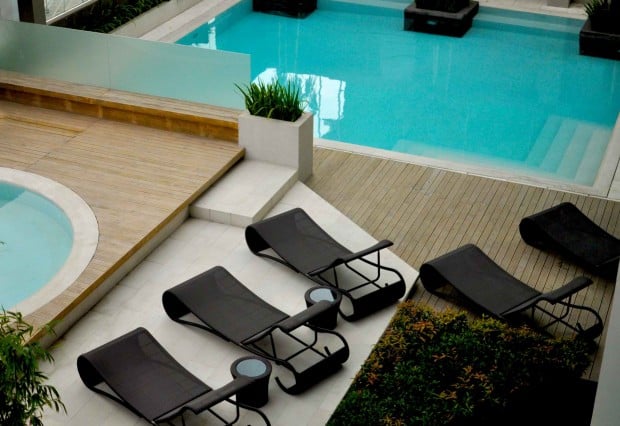 Image credit: F1 Hotel Manila
Located at the centre of commercial buildings, shopping centres, and restaurants, the F1 Hotel Manila is the first hotel to open at The Fort in the city of Taguig. Offering great choices whether for leisure, business, or just a rejuvenating overnight staycation, the hotel showcases top-notch amenities to address the needs of its guests. It also has an in-house spa and wellness centre for that relaxing getaway, just around the city.
8. Acacia Hotel Manila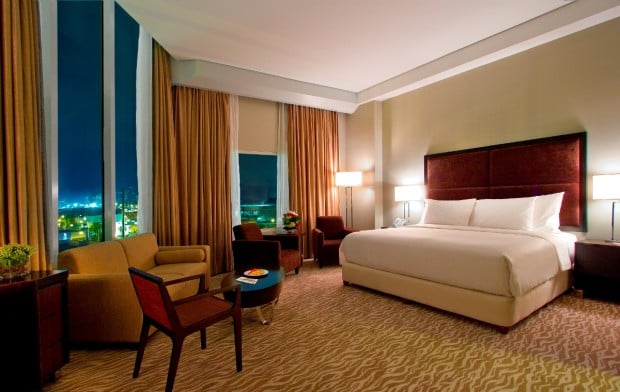 Image credit: Acacia Hotel Manila
Offering one of the most extensive selections of amenities, from an outdoor pool, a fully-equipped gym, café, and restaurant, the Acacia Hotel Manila defines the essence of Filipino hospitality. It is one of the most preferred destinations for corporate staycation ideas because it is located in the southern business district of the country's National Capital Region.
9. The Manila Hotel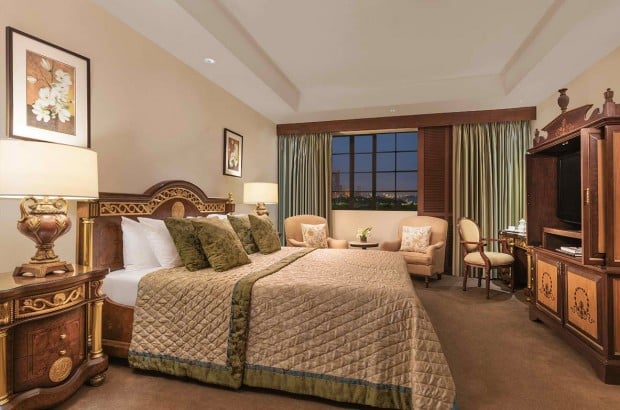 Image credit: The Manila Hotel
If you want your staycation to be something like a trip back in time, The Manila Hotel has got your comfortable experience covered. With its old world charm, evident with the extensive use of capiz or the iridescent part of seashells that are abundant around the country, you know that you are about to experience the romantic side of colonial Manila. It is one of the most sought after staycation options because of its impeccable service and supreme comfort that it offers its guests.
Also read: How Hotels Get Their Star Ratings
10. Gramercy Residences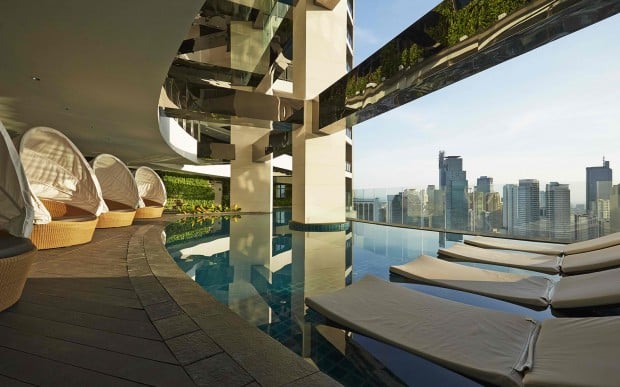 Image credit: Gramercy Residences
The Gramercy Residences is one of the best condominiums in the city of Makati, and it has an infinity pool that offers great panoramic views of the city especially during sunset. You don't need to be a homeowner to enjoy a relaxing stay here for a day or two, because there are rental options that are reasonably priced to fit your budget. There are rooms that can be rented for as low as ₱2,500 (approximately US$57 or SG$72), which will enable you to gain access to all the world-class amenities this condominium offers.
11. Azure Urban Resort Residences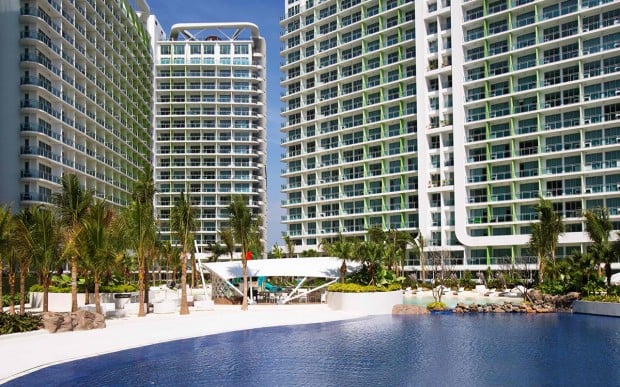 Image credit: Azure
Azure Urban Resort Residences will definitely catch the attention of beach combers that don't have the time to travel to an actual beach. This condominium complex showcases a man-made beach and pool area that will surely provide you a beach fix. Just like Gramercy, there are rental options here on a daily basis than costs as low as ₱2,500 (approximately US$57 or SG$72).
12. The Bayleaf Intramuros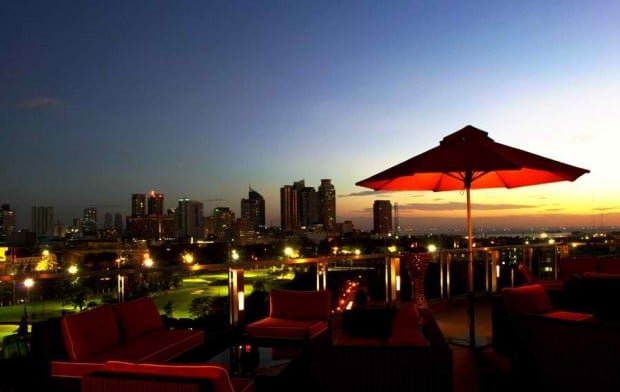 Image credit: The Bay Leaf
The Bay Leaf Intramuros offers a historical turn without compromising comfort. The hotel is located in the heart of the old walled city of Intramuros, and it is equipped with a great rooftop bar that is best visited just before sunset.
13. Solaire Resort and Casino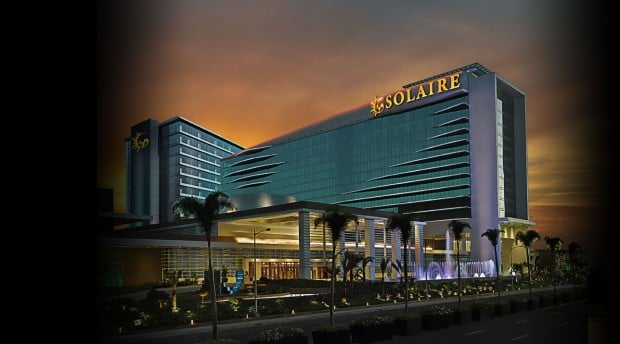 Image credit: Solaire
One of the newer hotel options in this list is Solaire Resort and Casino. This is for individuals who would like to have the perfect combination of play, fun, and relaxation. The hotel showcases one of the best pool areas in this list, which is a fun place to hang out and chill.
14. Crown Hotel, Nobu Hotel and Hyatt Hotel at City of Dreams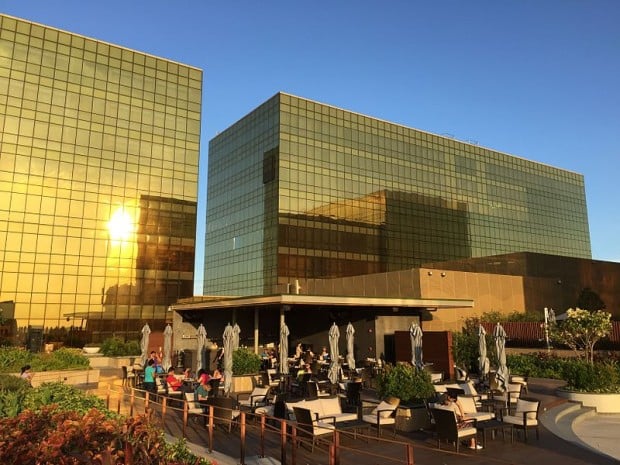 Image credit: RioHondo
The Crown, Nobu Hotel, and Hyatt Hotels are your choices for a great staycation if you happen to visit the City of Dreams in Manila. Each hotel showcases a particular theme and design, but all are equally top of the line and offer a posh experience that guests should give a try. The City of Dreams complex offers gaming, entertainment, and great dining and partying experience. It is quite easy to get lost here in a good way, which makes the stay truly remarkable.
15. Maxims Hotel and Remington Hotel at Resorts World Manila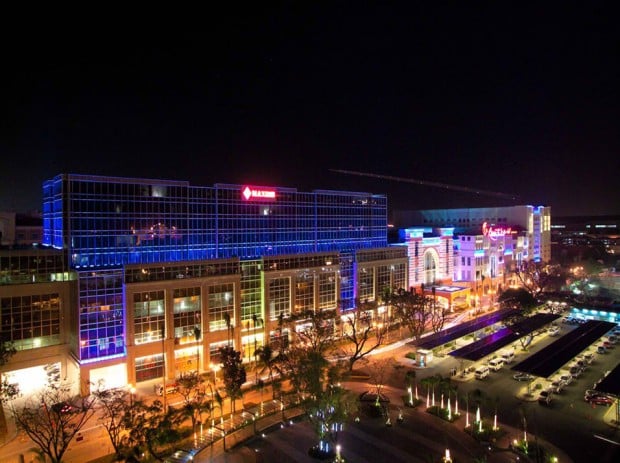 Image credit: Megaworld
Another selection for a great staycation is the Resorts World Manila complex, which is home to two great hotel choices, the Maxims and Remington Hotels. Foreign guests rave over the convenience of going to this resort complex because it is right in front of the Ninoy Aquino International Airport Terminal 3. For those who just want to have a great and memorable stay, there are scheduled theatre and other entertainment shows here all year round.
16. Ascott Bonifacio Global City Manila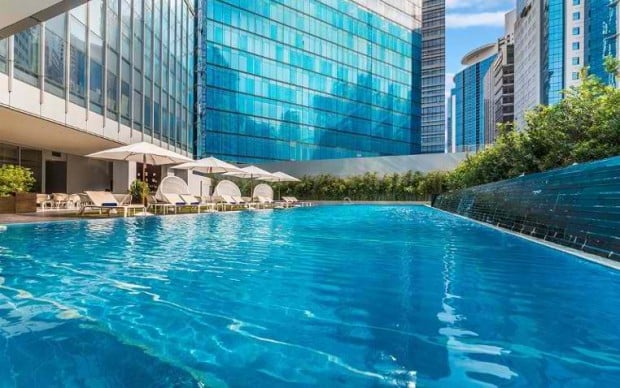 Image credit: The Ascott
Located at the Bonifacio Global City, one of the country's most progressive central business districts, the Ascott Bonifacio Global City offers a great selection of apartments for an extended stay. Choose from one- to three-bedroom configurations to fit your staycation needs. For the workaholics, there are exclusive and well-appointed office suites here, just don't forget to relax and enjoy your stay.
17. Azumi Hotel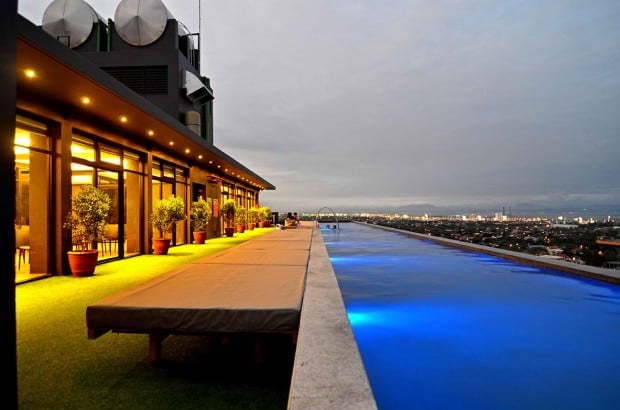 Image credit: Azumi Boutique Hotel
Located in Alabang, the Azumi Boutique Hotel is a great choice for those who want to have an intimate staycation experience. Its location, which is near to malls, together with a refreshing environment and ambience, makes the stay truly relaxing and invigorating.
Also read: 5 Boutique Hotels in Manila So Cool You'll Want to Stay There Right Now
The perfect staycation should be able to give you the fun and relaxation necessary to detach yourself from your busy work schedule and to enable you to recharge. Staycations are simple activities that are quite accessible, but these simple joys can be one of your best escape options to rejuvenate and have a great experience that is not so far away from home.
Start browsing these amazing places to stay in Philippines today!