Penang, Malaysia: a place where rich traditional heritage meets natural wonders meet mind-blowing food. How does one even begin to choose a good Airbnb in Penang?  
Most tourists opt to stay at the heart of George Town, which is just a stone's throw away from the picturesque alley Art Lane. But then, you might also want to enjoy the sand and water in the famous Batu Ferringhi, where parasailing and windsurfing are par for the course. Or, you can go even further: Stay on a durian farm that's so lovely you'll want to keep it a secret for the rest of your life. 
Regardless of your definition of fun, we've compiled a list based on where all the action is happening on both Penang Island and Mainland Penang. Whether you decide to trawl the streets for artsy murals, head to the beach, or enjoy the countryside, these Penang Airbnb recommendations will have something special for you! 
Also read: 11 Best Airbnbs in Cameron Highlands for a Cooling Vacation
Top Penang Airbnb homes for every type of traveller
1. This serene, modern villa nestled in a farm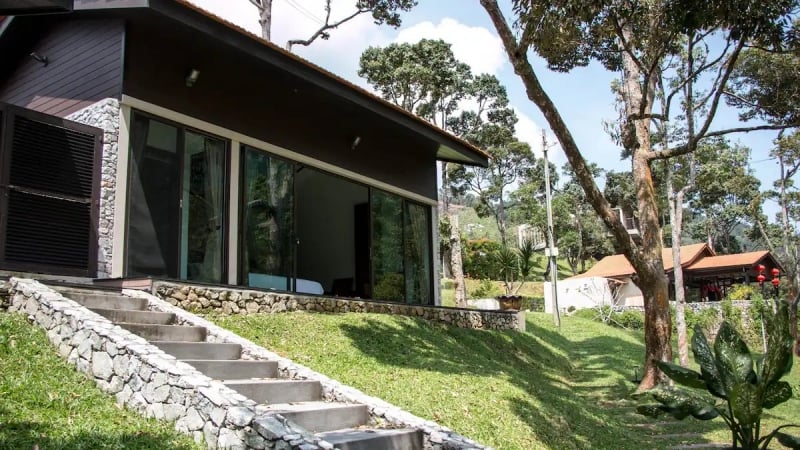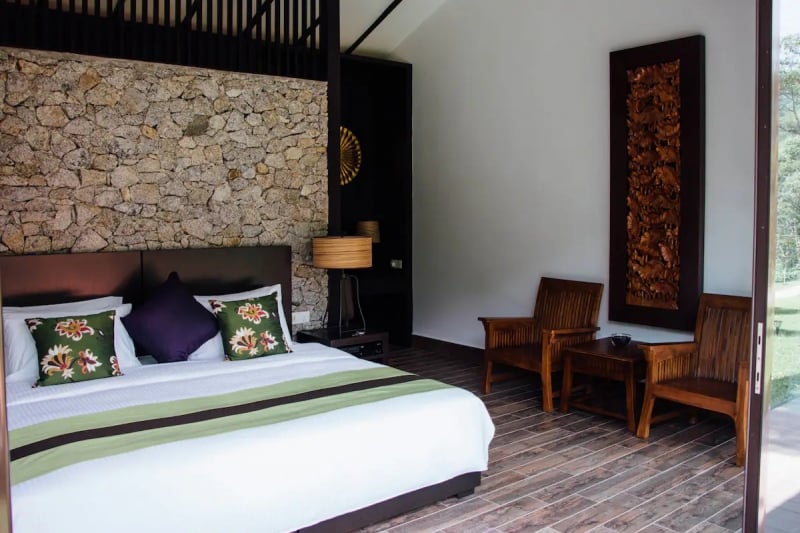 Listing name: Karuna Hill - Villa Indriel
Listing type: Private room in farm stay 
Max. no. of guests: 2
No. of bedrooms: 1 
Up to escape the city? There are fantastic Penang Airbnb options tucked in nature for travellers who prefer a quiet getaway. For example, this tranquil villa in the middle of a farm surrounded by tropical fruit trees that's just as magical as it sounds. Modern yet homey, this hideout known as Villa Indriel is one of the many rooms in Karuna Hill: a durian orchard resort teeming with endless greenery. 
The friendly owners are usually on site to welcome new guests, and they're often happy to help travellers explore the neighbourhood. As a bonus, guests are even treated to a complimentary fusion breakfast during their stay!
2. This inviting Gurney Drive suite with a private balcony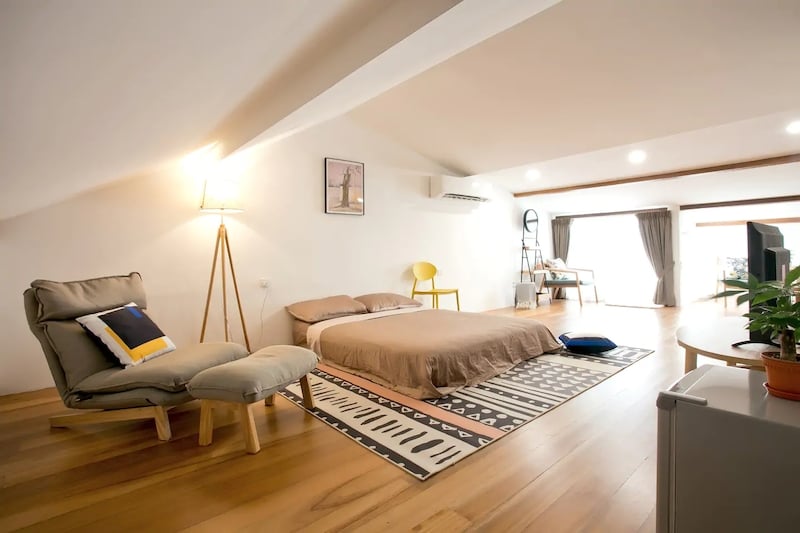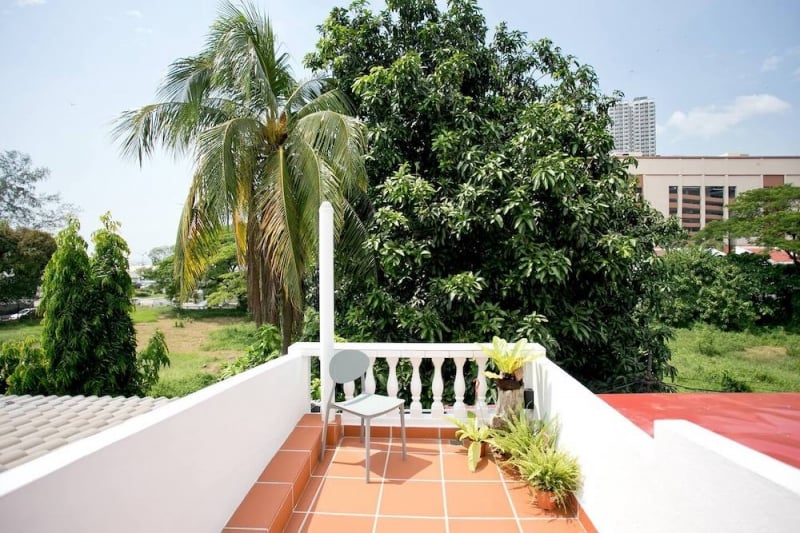 Listing name: Charming Suite at Gurney (Private Balcony + Bathroom)
Listing type: Private room in guest suite
Max. no. of guests: 2
No. of bedrooms: 1
Ready your bellies, folks, because this is an area where any foodie is bound to go absolutely nuts! We're no strangers to Penang's glowing reputation for belly-warming dishes that draw tourists from every part of the world. That's why we're choosing to stay where the food is! 
At this stylish, pristine condominium near the Gurney Drive promenade, you're just a few minutes away from all the delicious Malaysian cuisine at Gurney Hawker Centre. After chowing down on the local fare, you can head back to the suite and relax on a private balcony that greets you with the calming sight of palm trees. 
Also read: A Foodie's Guide to Malaysia: Where and What to Eat in Penang, Ipoh, Kuala Lumpur, and Melaka
3. This luxurious beachfront loft in George Town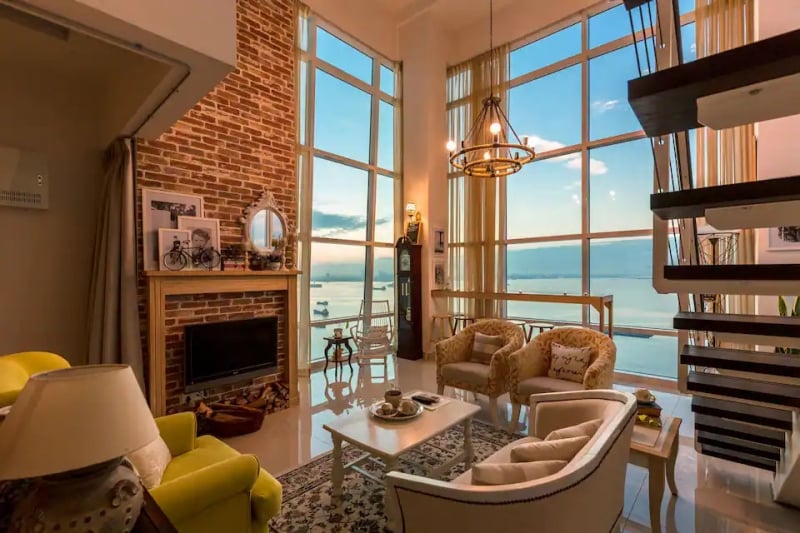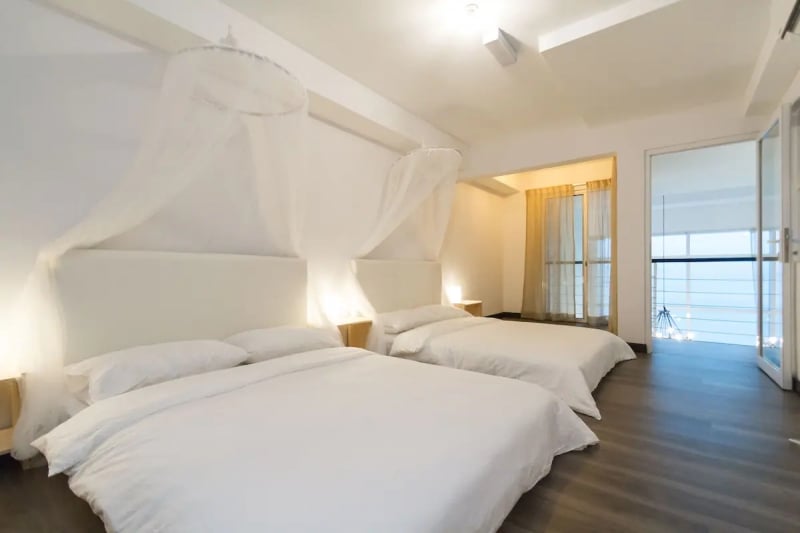 Listing name: Maritime*7 The Panoramic Seaview Cottage ‖ 日出无敌海景
Listing type: Entire loft
Max. no. of guests: 7
No. of bedrooms: 2
If you're searching for elegant accommodation with an unobstructed ocean view, then this beachfront loft is the place for you. Situated along Kapal Singh Drive, this Penang Airbnb welcomes you with interiors that juxtapose retro furniture with classic fixtures. Think plush couches in vibrant hues, exposed-brick walls, and even a sculptural chandelier.  
The elevated floor-to-ceiling windows treat you to a gorgeous panorama of the sky and sea without having to step outside. Due to the large space and adequate amenities, it is also an ideal place to gather with friends and family. 
4. This rustic industrial house steeped in history and style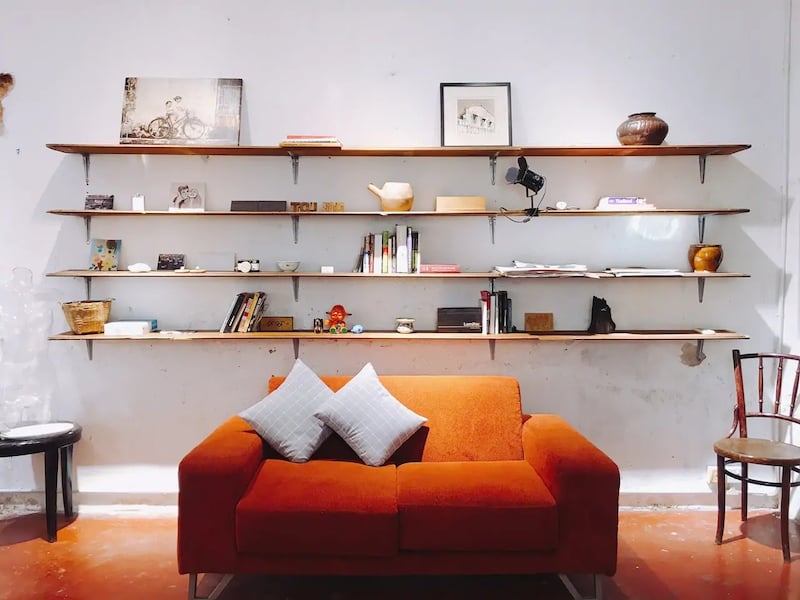 Listing name: Soo Hong (Off Lebuh Armenian) 
Listing type: Entire house 
Max. no. of guests: 4
No. of bedrooms: 1
If the down-to-earth vibe is more your style, and you're on the hunt for a more affordable Penang Airbnb, this creative nook was made just for you! Hidden away in an alley off Armenian Street, this refurbished pre-war home evokes an interior designer's studio. Carefully arranged books and potted plants add playful touches to the house, while a rustic ambience gives you a glimpse of how the locals really live. 
With famous street art and speakeasies just around the block, this house couldn't be a more ideal spot to explore popular sites such as Kuan Yin Temple, Cheah Kongsi, and Khoo Kongsi.
5. This lively beachside getaway with a jacuzzi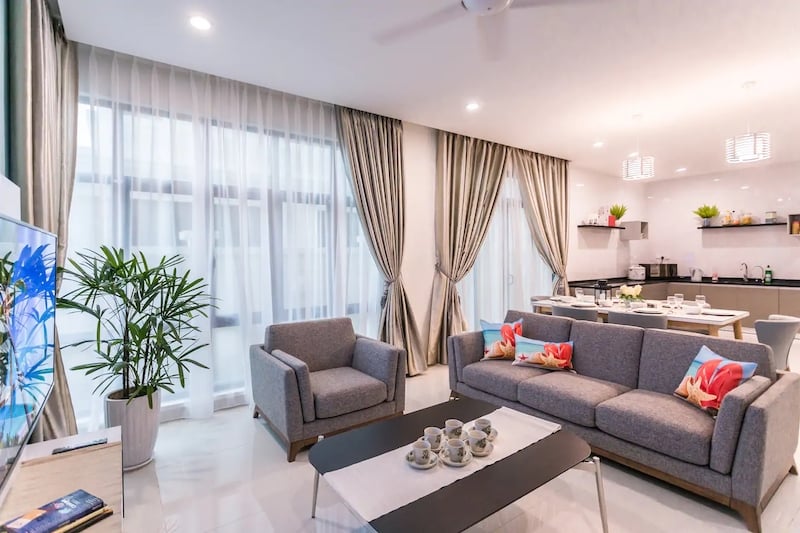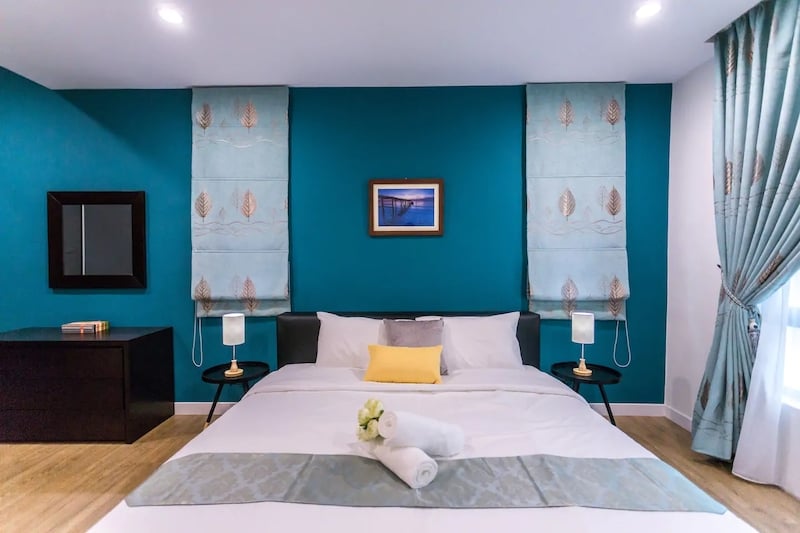 Listing name: Modern Luxury Holiday Home 
Listing type: Entire house 
Max. no. of guests: 11
No. of bedrooms: 5 
For your next family getaway, stay in this sparkling clean house with five bedrooms, four baths, one powder room, and an enormous living room in the Batu Ferringhi area. With the lure of the beach being, well, practically right there, this three-storey villa offers a more laid-back experience compared to the urban sprawl of city life. 
As you venture out to try the Penang night markets and seafood eateries, be sure to take in all the refreshing views of the Andaman Sea before returning to your Airbnb!
6. A minimalist executive room with a garden patio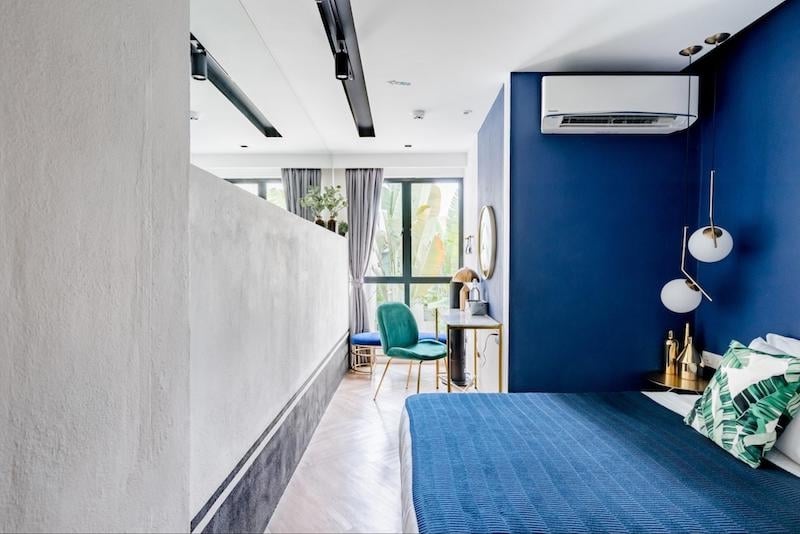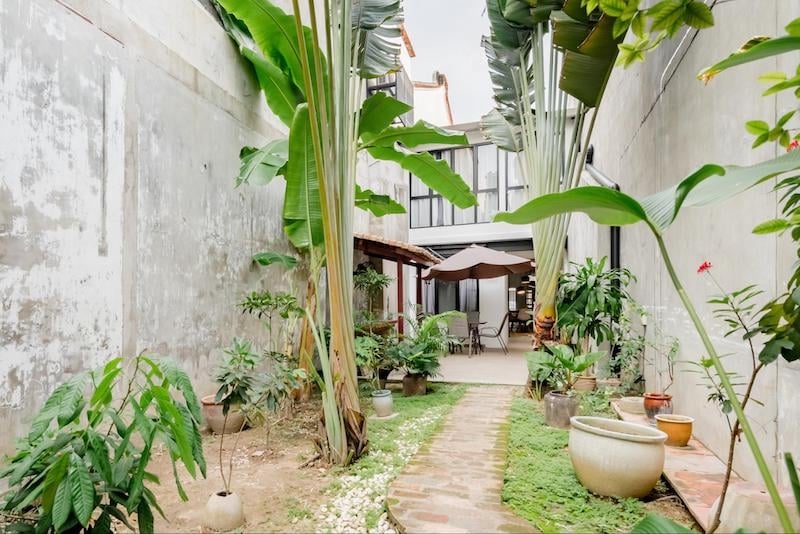 Listing name: Gen-Z Executive Room in an Exceptional Home
Listing type: Private bedroom in a house
Max. no. of guests: 2
No. of bedrooms: 1 
Decked with Scandinavian flair, here's a Penang Airbnb perfect for travellers who are looking for a clean, vibrant place to crash after a busy day. Step into this classic 1920s house and feel all your troubles and worries disappear, whether you lounge in front of the 60-inch Smart TV or walk through a patio fringed by garden plants. 
You won't need to look too far for activities near the area, as this listing keeps close to restaurants, cafes, and boutiques. It is, after all, strategically located at the heart of George Town's heritage zone.  
7. This vibrant Penang Airbnb with a terrace and a hammock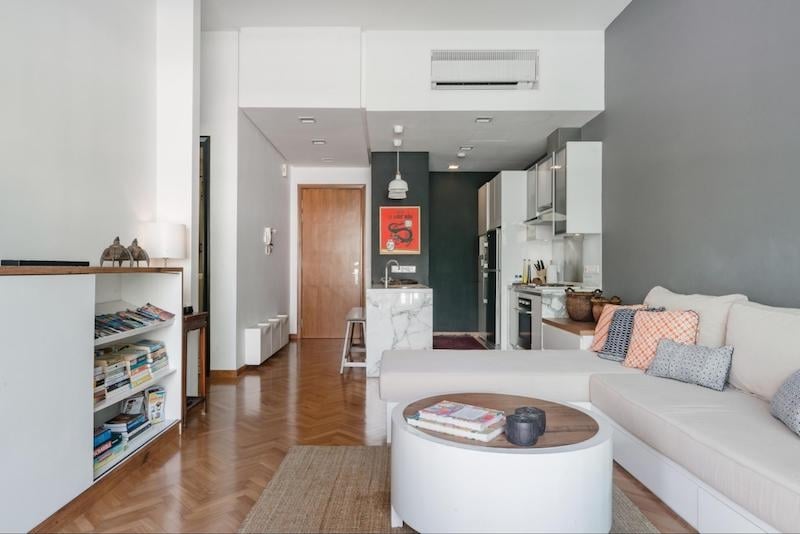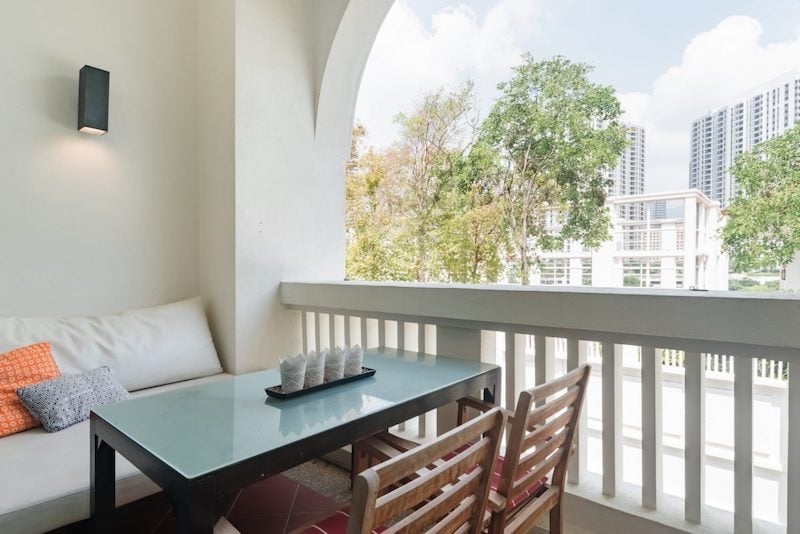 Listing name: Satrisna Home by Straits Quay Marina 
Listing type: Entire apartment 
Max. no. of guests: 2 
No. of bedrooms: 1
Let the hours scroll by in this breezy, chic apartment in Tanjung Tokong that's filled with artworks, chevron floors, and vintage decor. Outside, you can choose to wade in the spacious pool or wander along the waterfront. We hear the marina is especially beautiful in the evening! 
At this well-appointed apartment with a gym and a tennis court, you will have plenty of options for both rest and play. You'll even have a private terrace and a hammock all to yourself! This way, every day will feel like a holiday. 
8. This dreamy condo with bedrooms overlooking the city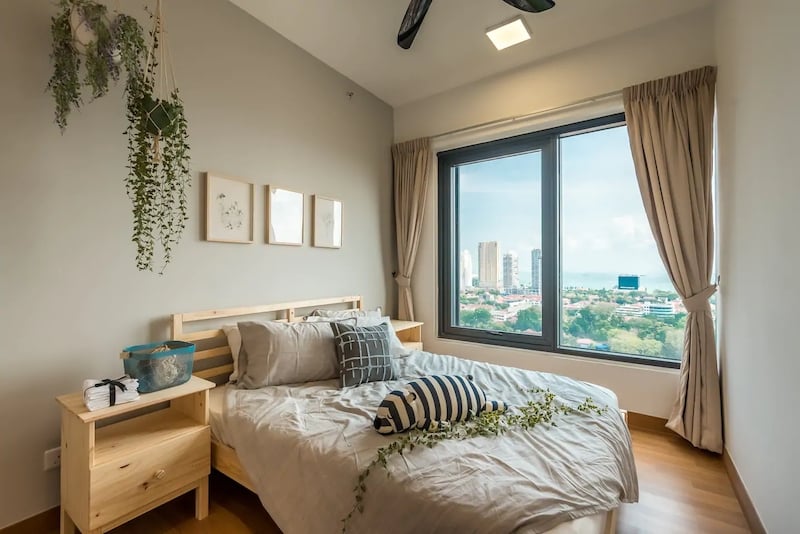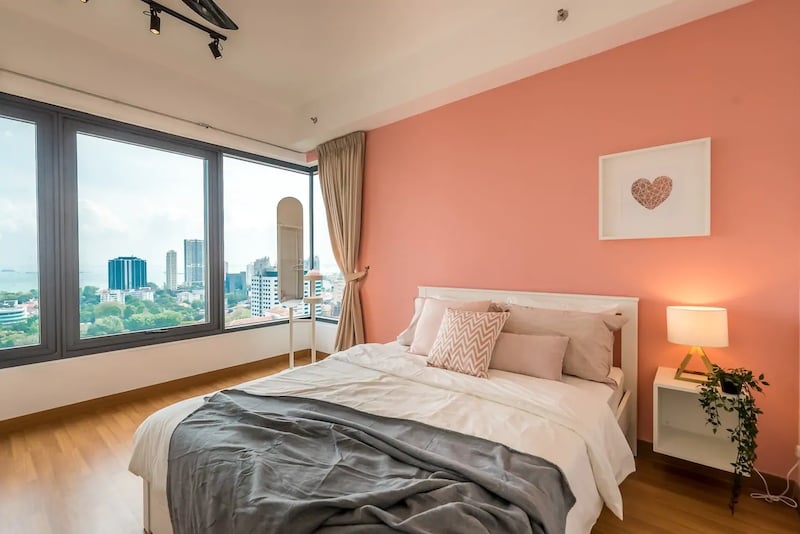 Listing name: Seaview 218 Macalister George Town 
Listing type: Entire condominium 
Max. no. of guests: 9 
No. of bedrooms: 3
All three of the bedrooms in this delicately furnished condominium embrace you in their soothing colours, while the large windows open into a bright blue sky. Roll back the curtains to bask in obstructed vistas of the city and the sea. 
You'll find this Penang Airbnb in George Town city centre. Beyond its convenient location, it also promises wide-ranging amenities and facilities. If you stay here, you can enjoy the garden, playground, infinity pool, gym room, barbecue deck (reservation needed), and giant swing! 
9. This spacious house with an indoor pond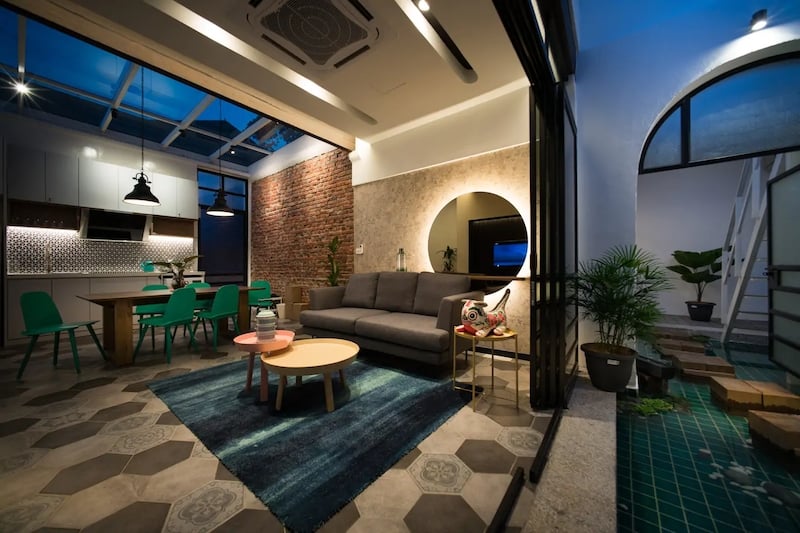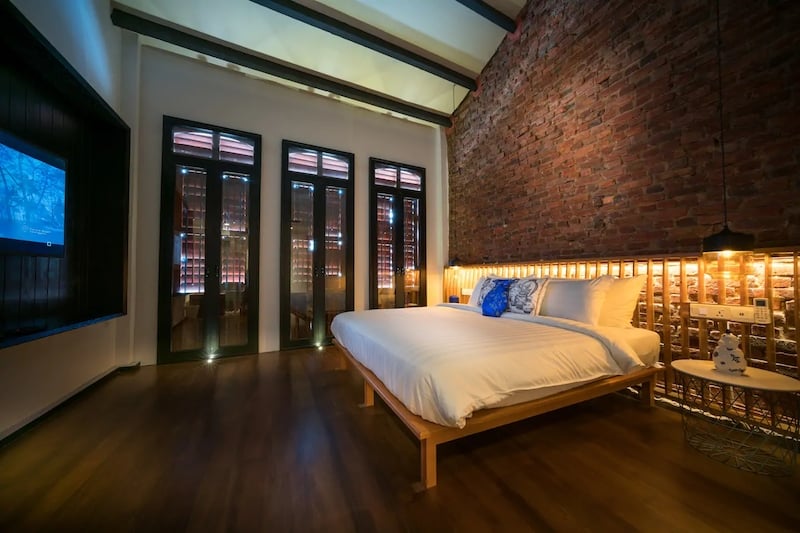 Listing name: Tien 186 Master Suite George Town 
Listing type: Entire house 
Max. no. of guests: 2
No. of bedrooms: 1
This modern house with an open-air balcony and a fish pond beckons to every weary traveller in need of a restful stay. Bold pops of colour are integrated with a practical approach to design that allows for plenty of space to move around in. This Airbnb in Penang will keep you cocooned from the bustling commotion around George Town, as you sink into the best sleep of your vacation.
10. This sophisticated renovated pre-war home with antiques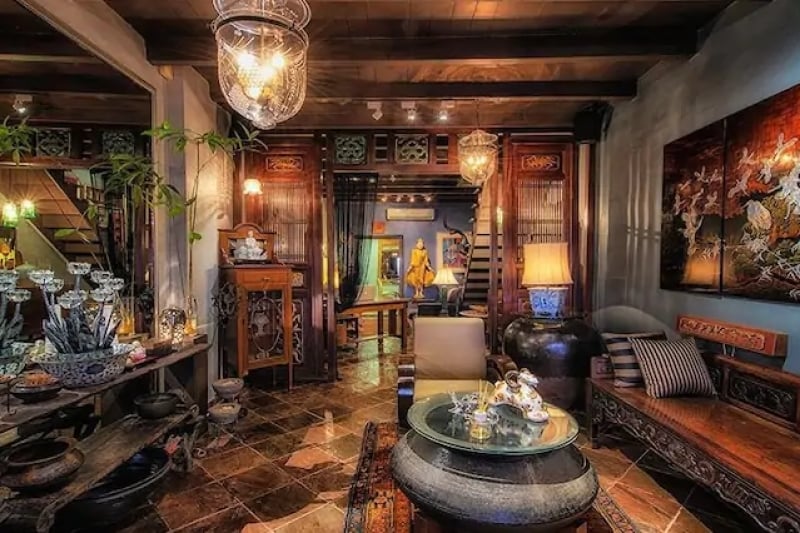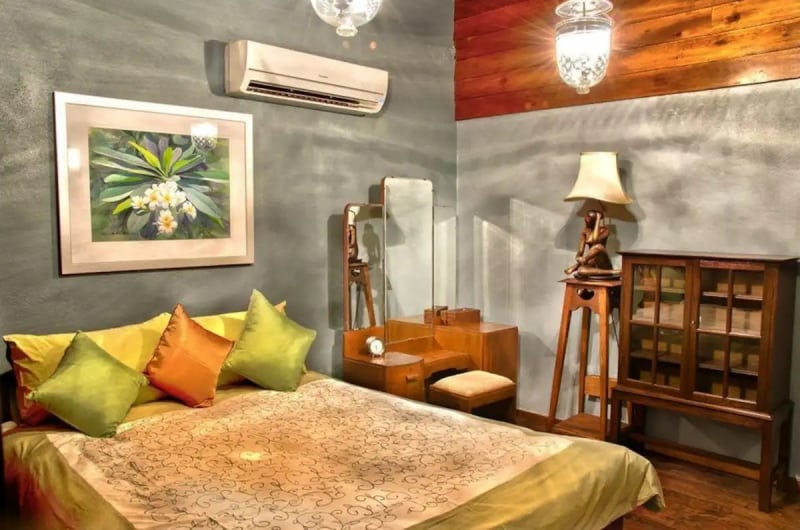 Listing name: Heritage Home George Town, Penang
Listing type: Entire townhouse
Max. no. of guests: 4
No. of bedrooms: 2
Sometimes your mind needs a break from all the classy and polished hotels. If you're in the mood for Penang Airbnb homes with a little more character, staying in this exquisitely decorated heritage shophouse will take your vacation to the next level! 
Tucked in a quiet neighbourhood, this pre-war townhouse is adorned with antiques and vintage furniture that will make you feel like you're crossing into another era, one of endless mysteries and wonder. But don't fear: there's still Wi-Fi and a flat-screen TV! Additionally, this endearing heritage home puts you at an easy distance from George Town's Chinatown and other main attractions.
11. This designer studio overlooking the magnificent skyline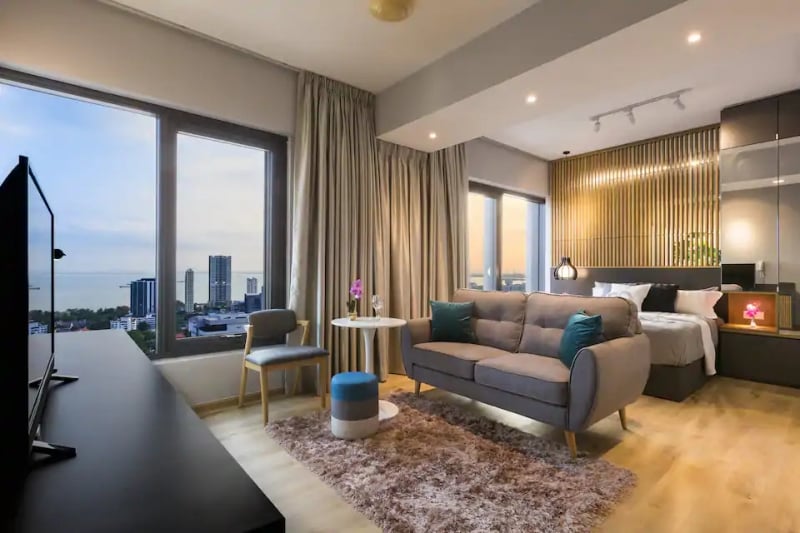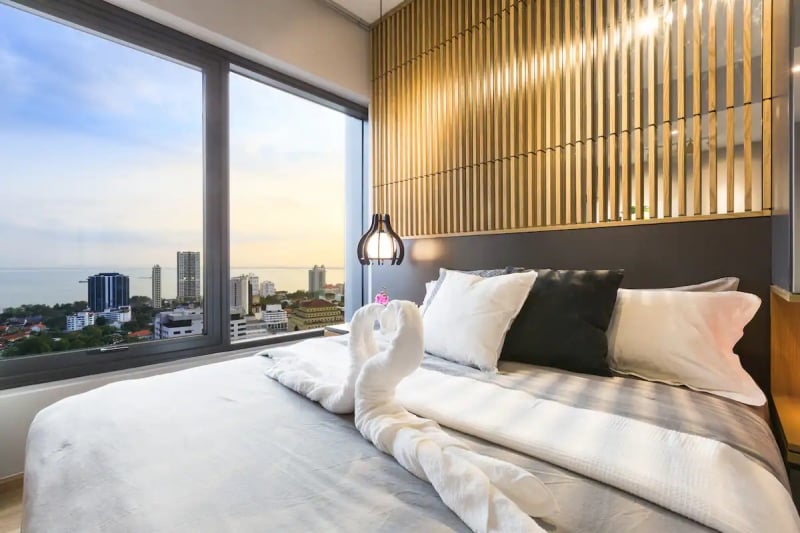 Listing name: Unique Seaview Designer Studio 乔治市海景套房 Georgetown
Listing type: Studio
Max. no. of guests: 2
No. of bedrooms: 1
Nothing represents a romantic staycation more than living in a modern luxury room with a majestic sea view. This simple yet exquisite studio unit is the perfect go-to for a short staycation with your partner. Its design combines both warm and cool tones, and the entire studio is decked with sleek, minimalist decor like a Japandi-style bed frame and a descending pendant light.
It offers a great view of the island and the sea, and comes with all the basic amenities; including a washer, dryer, and a kitchenette for light cooking. This Airbnb in George Town, Penang also has other shared facilities available, such as a swimming pool, fitness centre, pool deck, and garden. 
12. This adorable and colourful cabin in Butterworth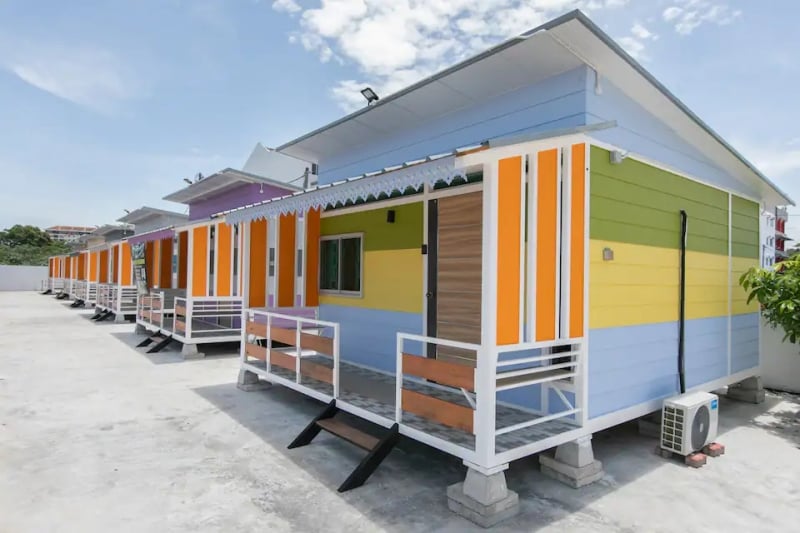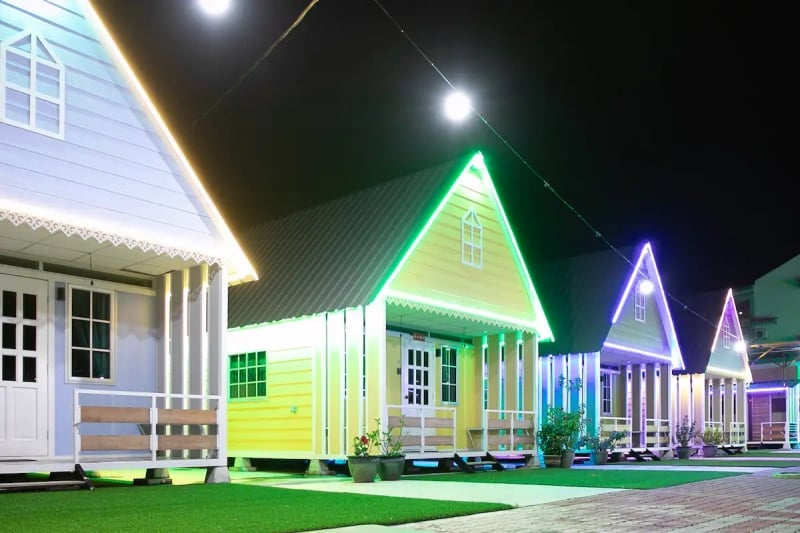 Listing name: Razo Mini Cabin House w/Bathroom 2pax BBQ Queen 1
Listing type: Place to stay in a cabin
Max. no. of guests: 2
No. of bedrooms: 1
These cute and vibrant cabin houses look identical to the Brighton Bathing Boxes in Australia. If you're looking for a spacious and unique Penang Airbnb, this capsule accommodation might appeal to you. It features a bright and colourful exterior with a private bathroom and a queen-size bed. It's located in Butterworth, providing easy access to both the island and the mainland. 
There are a total of 10 houses available which can accommodate up to 20 people overall. The large open area is also suitable for holding events like weddings, BBQ sessions, and birthday parties, with an extra charge. Just reach out to the house if you'd like to book for a big group! At nighttime, LED neon lights embellish the compound, elevating the entire atmosphere. 
13. This grand Peranakan townhouse with an indoor koi pond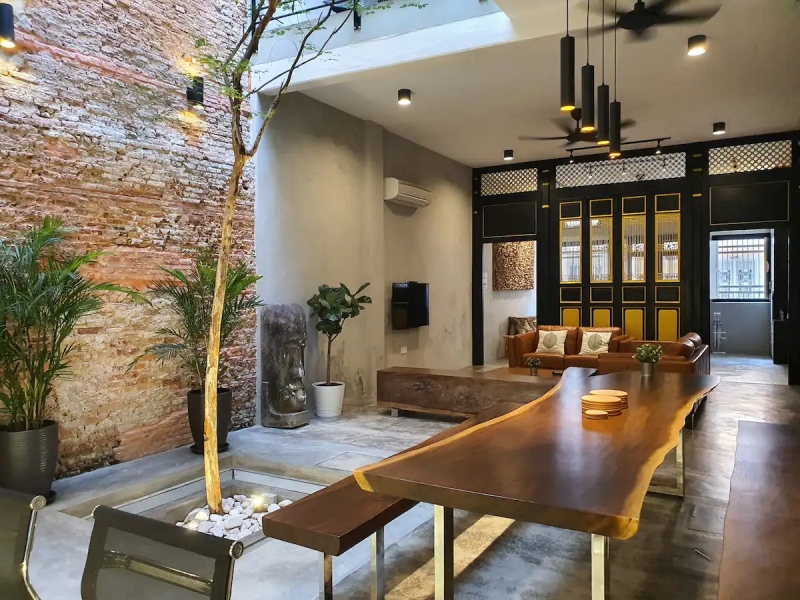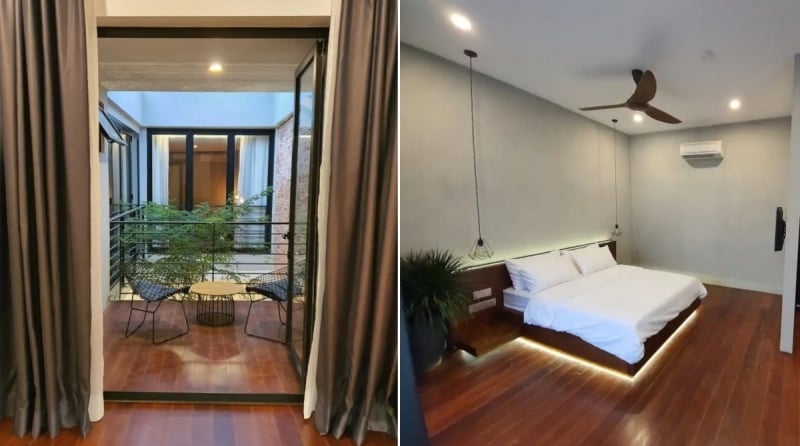 Listing name: Luxurious House 7 ensuite rooms in great location
Listing type: Entire townhouse
Max. no. of guests: 14
No. of bedrooms: 7
This majestic home is one of the best Airbnbs in Penang. It's where traditional meets trendy; despite the mostly contemporary interiors, the space still retains its classic Peranakan elements. It features an eco-contemporary design, with indoor trees and plants adoring every room and even a mini koi pond on the ground floor. There's also a skylight in the centre of the house — making for an even more stunning atmosphere. 
And if those weren't enough, this Penang Airbnb is also right in the middle of George Town's heritage zone. So, expect plenty of restaurants, pretty cafes, and hawker stalls nearby. Truly a perfect base for your cafe hopping and street food sampling adventures! 
14. This sunny holiday apartment with a panorama of the sea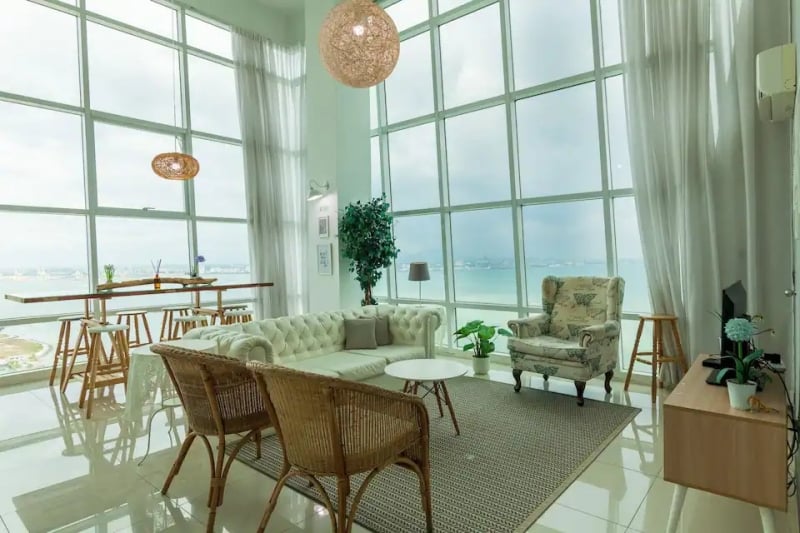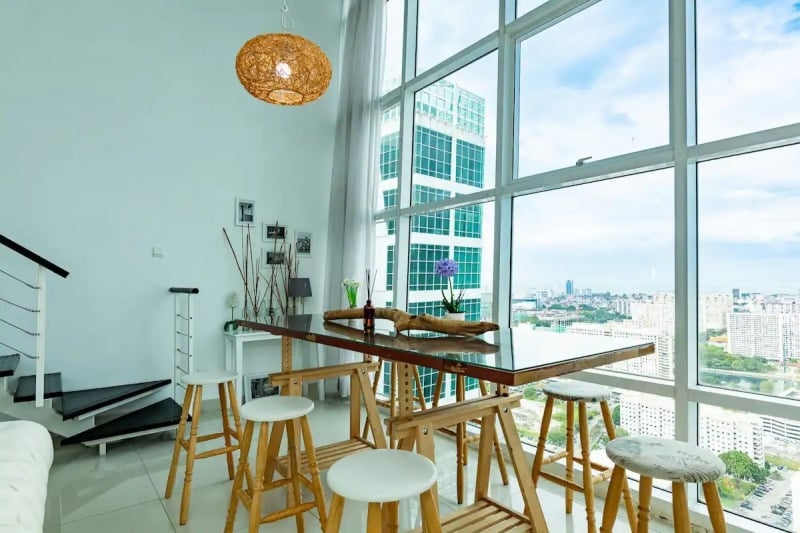 Listing name: 224 Maritime Seaview Luxury Suite 2Carpark 2-9pax
Listing type: Entire apartment  
Max. no. of guests: 9
No. of bedrooms: 2
Who doesn't want to wake up with a view of the sea in the morning? This gorgeous duplex apartment along Karpal Singh Drive boasts high ceilings and wide windows that will give you a sweeping view of the harbour. At sunset, you can watch the sun paint the walls of the living room in a golden summery light. 
Homey interiors and a strategic location near George Town make this Airbnb a favourable base for anyone who wants to get a crowd together and have a great time in Penang. 
15. This cosy Penang Airbnb with a rooftop swimming pool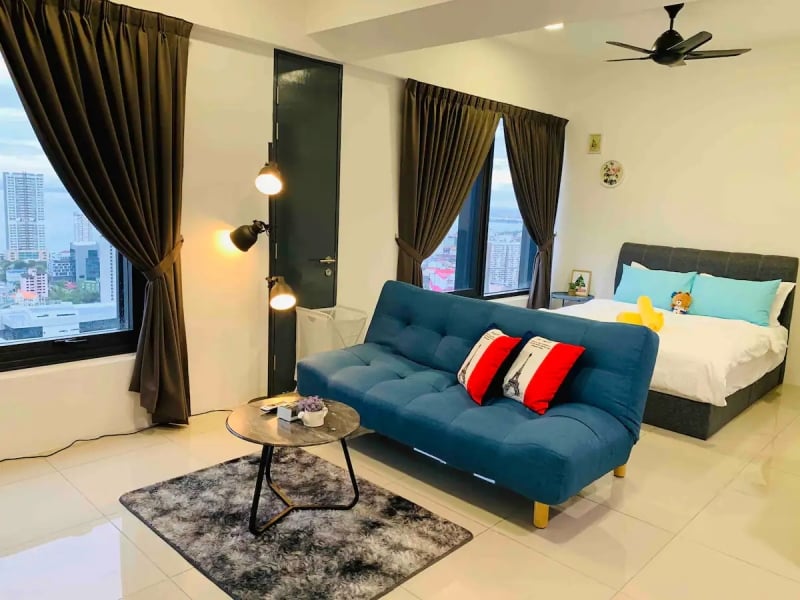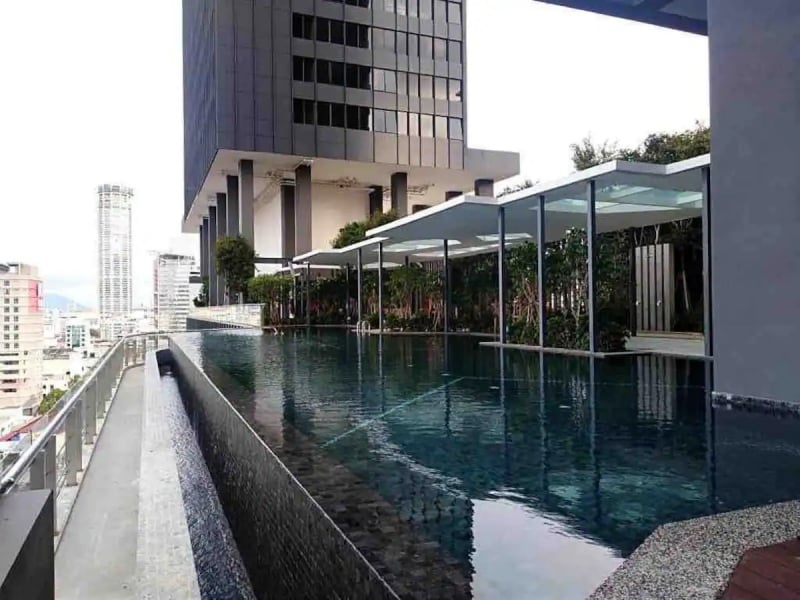 Listing name: SkyHome Five Studio Seaview @218 Macalister
Listing type: Entire serviced apartment
Max. no. of guests: 3
No. of bedrooms: 2
Though there's no fancy renovation or decoration like other Airbnbs, this studio unit still makes a decent stay. This Penang Airbnb is located in the heart of George Town, only around a five- to 15-minute drive to landmarks such as KOMTAR, Penang Hill, and Kek Lok Si. It is close to famous eating spots like Chulia Street Hawker Food and New Lane Street Foodstalls, too.
The studio lets you take a glimpse at the skyscrapers on the island, as well as the beautiful sky and sea. A rooftop swimming pool, children's rock climbing area, and large swing sofas are also available if you are up for some fun activities in the building. 
16. This quaint farmhouse surrounded by a garden and rice fields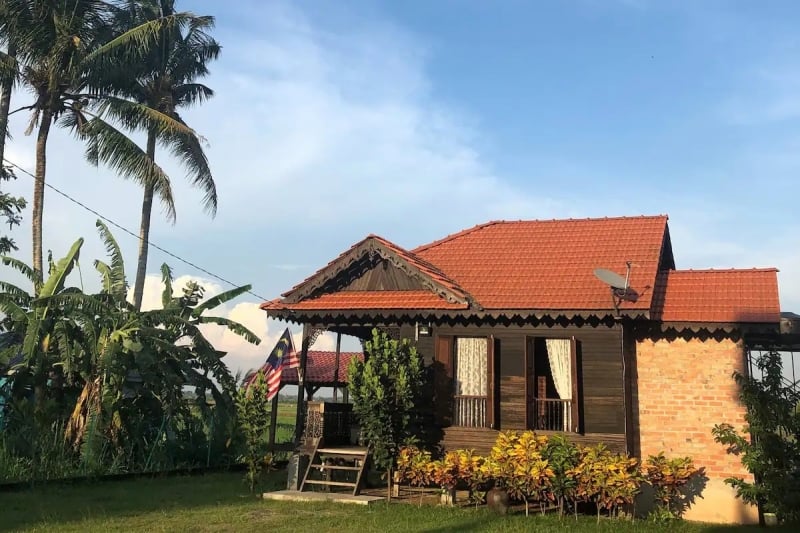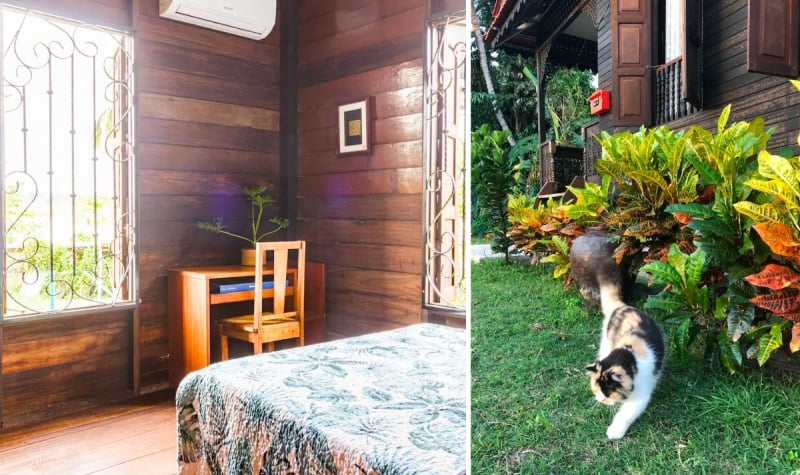 Listing name: pondok.penang
Listing type: Entire cottage
Max. no. of guests: 4
No. of bedrooms: 2
Tired of the concrete jungle you see every day and would like to escape to a place fully blanketed with tropical greenery? Check out this charming traditional cottage nestled amidst a large paddy field. This beautifully furnished Malay attap house is similar to other houses in rural areas, allowing you to experience what it's like living as a countryside local. The house is made up of both wood and bricks and is slightly elevated. 
There's also an old giant well, which you can probably never see in most places in Penang nowadays. Aside from the enchanting scenery of the paddies, the gardens around the house are home to adorable animals like cats, roosters, ducks and geese. How cute!
17. This simple yet homey Penang Airbnb that lets you be one with nature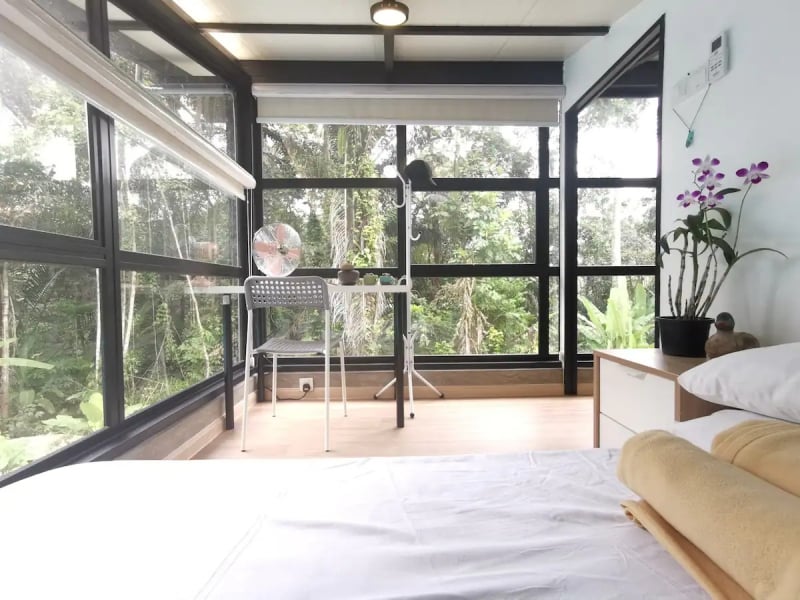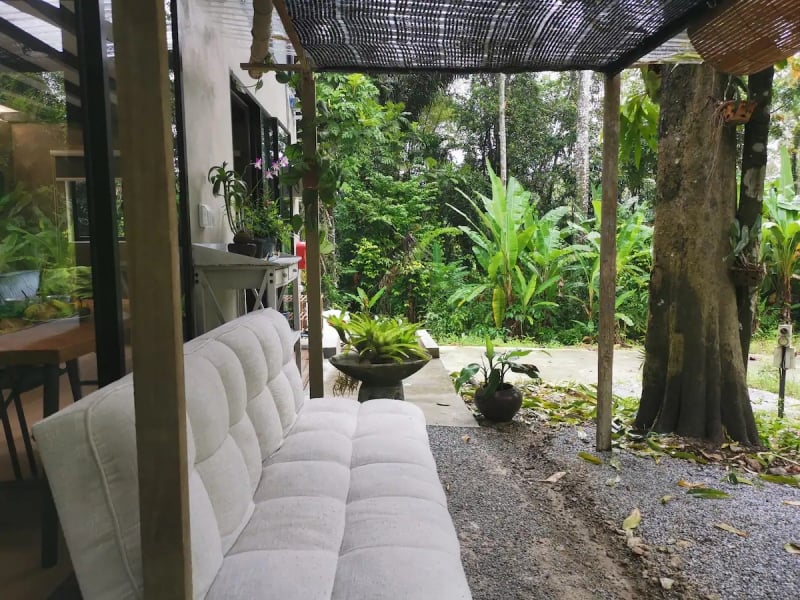 Listing name: Daze in Nature II 大自然发呆农民住宿 | Balik Pulau | Penang
Listing type: Room in a farm stay
Max. no. of guests: 2
No. of bedrooms: 1
Another place that allows you to get in touch with Mother Earth is this Penang homestay Airbnb. It's located in Balik Pulau, a town in the southwest of Penang Island. The owner describes the place as an excellent stay to unwind and rejuvenate, accompanied by the "natural orchestra" constructed by the sounds of birds, frogs, leaves, and wind.
The place is encircled by floor-to-ceiling windows that boast a view of the farm. Simply step outside and say hello to the ducklings, pitcher plants, lotus, snails, and forest geckos. At night, lay down on the patio couch, look up, and be dazzled by the starry sky!
Also read: 15 Unique Airbnbs in Thailand — From Beachside to Mountain Getaways!
We hope this list of the best Airbnbs in Penang tickled your itch to explore Malaysia. Time to plan a trip to this amazing island and have a fantastic time! 
Got a property you'd like TripZilla to feature? Inquire with us here.
---
This article contains affiliate links. When you book through these links, we may earn a small commission at no additional cost to you. All images courtesy of the respective property listings.