For many years, Melbourne has topped the list of the world's most liveable cities . This being said, how could we not be curious about what it would be like to live there ourselves? A stay at one of these Airbnbs in Melbourne would definitely make great practice! Below, we've selected our top 10 picks — and trust us when we say you'll want to move in ASAP!
Also read: 10 Unique Airbnbs for an Unforgettable Travel Experience
Best Melbourne Airbnb homes for an unforgettable getaway Down Under
1. This whimsical apartment in the CBD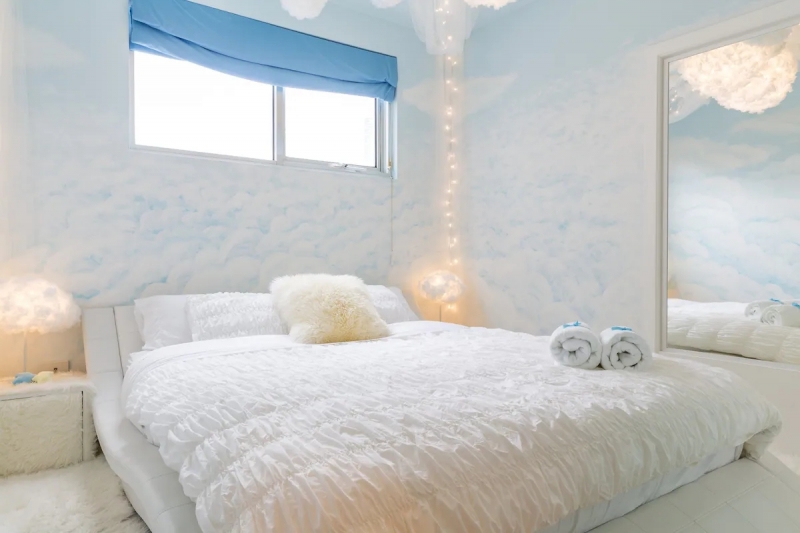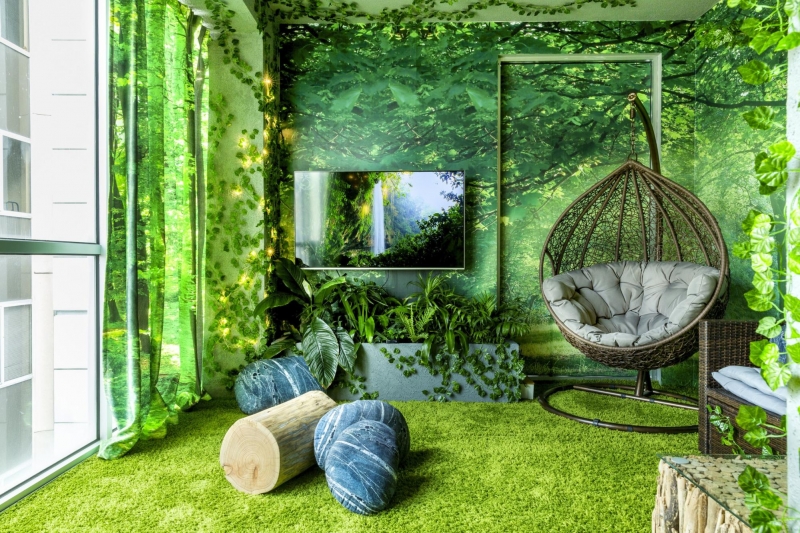 Listing name: Forest & Heaven Themed Apartment in Melbourne CBD
Listing type: Entire apartment
Max. no. of guests: 2
No. of bedrooms: 1
No, you're not dreaming. You can make this little wonderland your Airbnb home away from home . Can you imagine falling asleep in the heavenly (pun intended!) bedroom and lazing around in the forest-themed living room? We sure can! Even better, this Airbnb in Melbourne CBD is not just a sight for the senses — it's also centrally located and well-equipped with amenities such as a full kitchen, an espresso machine, and speedy WiFi! 
2. This wallet-friendly Airbnb room near central Melbourne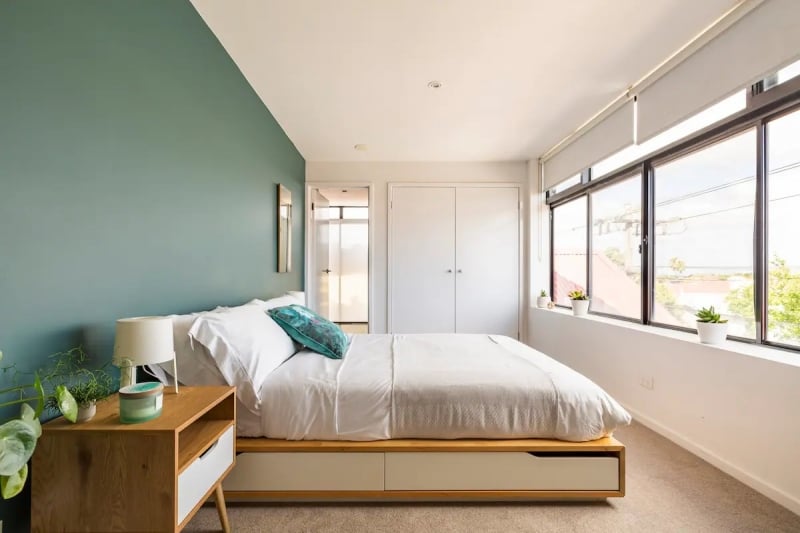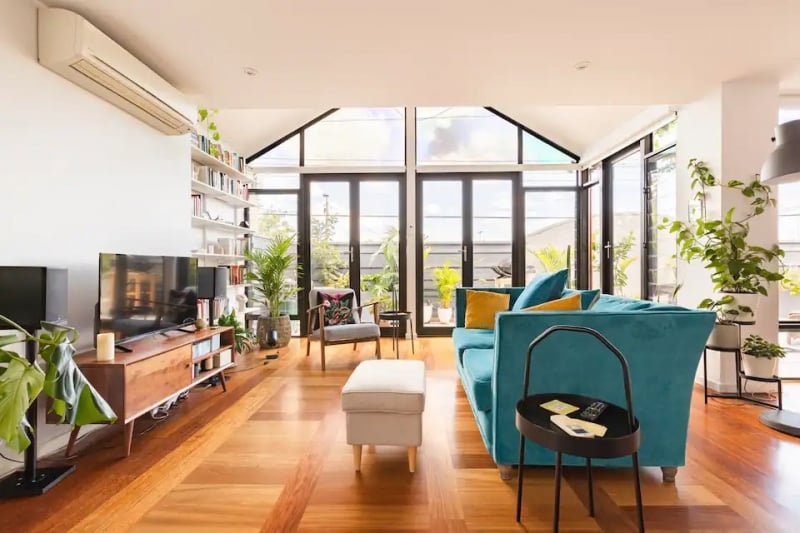 Listing name: Comfy room in modern apartment
Listing type: Private room in a home
Max. no. of guests: 2
No. of bedrooms: 1
Budget travellers, this one's for you: This modern bedroom is pristine, conveniently located, and best of all, affordable! It has all the essentials for a comfy vacay, including a private bathroom, a desk for working, and even free breakfast by the hosts. Not to mention, it's in the charming neighbourhood of Seddon, a great springboard for exploring the city's top attractions. This relatively cheap Airbnb in Melbourne is just a short walk from the train station, where the rails will take you to the CBD in just under 15 minutes. 
3. This chic converted warehouse in a trendy location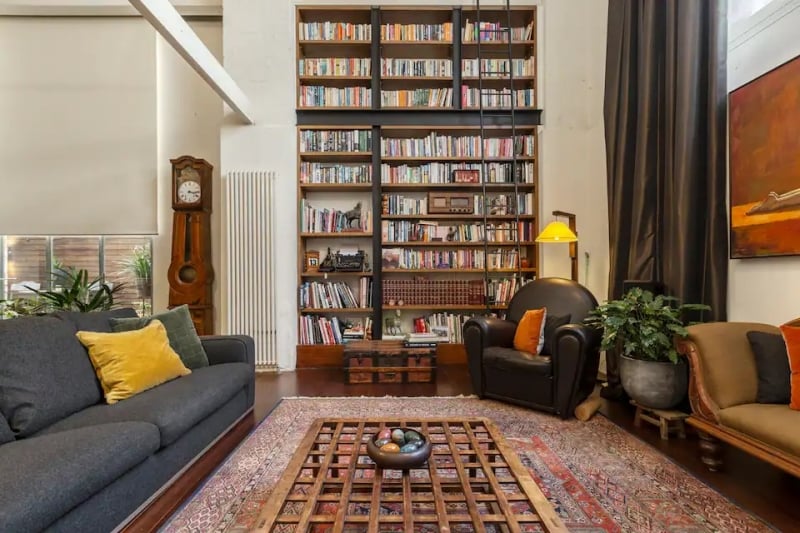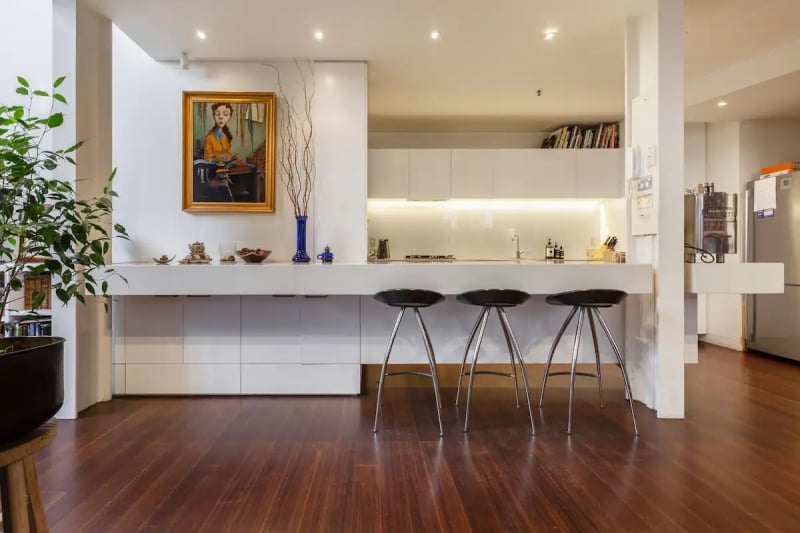 Listing name: Find Luxury in an Old-Charm Converted Warehouse
Listing type: Entire apartment
Max. no. of guests: 4
No. of bedrooms: 2
Looking for Airbnbs in Melbourne that capture the city's cosmopolitan allure? Check out this luxurious two-bedroom escape , a converted warehouse that combines old-world charm and new-age style. Think four-poster beds and beautiful artworks sitting next to a smart TV and an ultra-contemporary kitchen. 
Moreover, the Melbourne Airbnb is located five minutes from the famously trendy Smith Street. That means you'll be in a buzzy neighbourhood with easy access to cool dining spots, eclectic boutiques, live music spots, and public transport.
Also read: 15 Cosy Airbnbs With Libraries That Are Every Book Lover's Dream
4. This Pinterest dream come true in the suburbs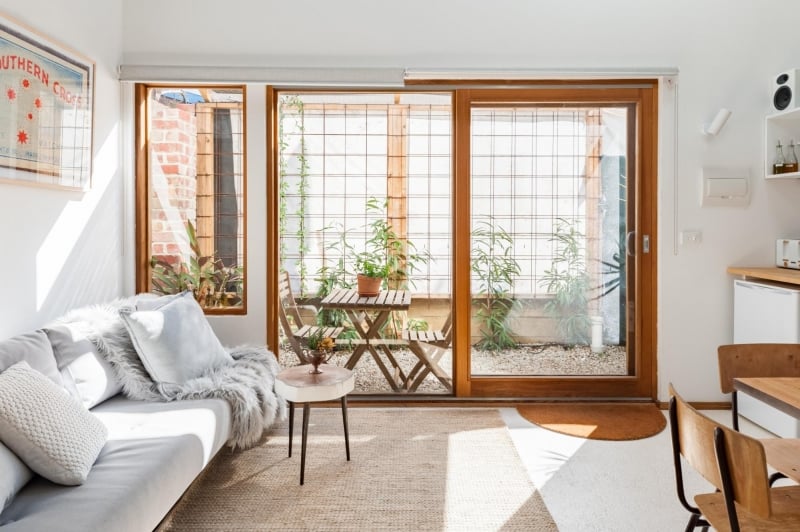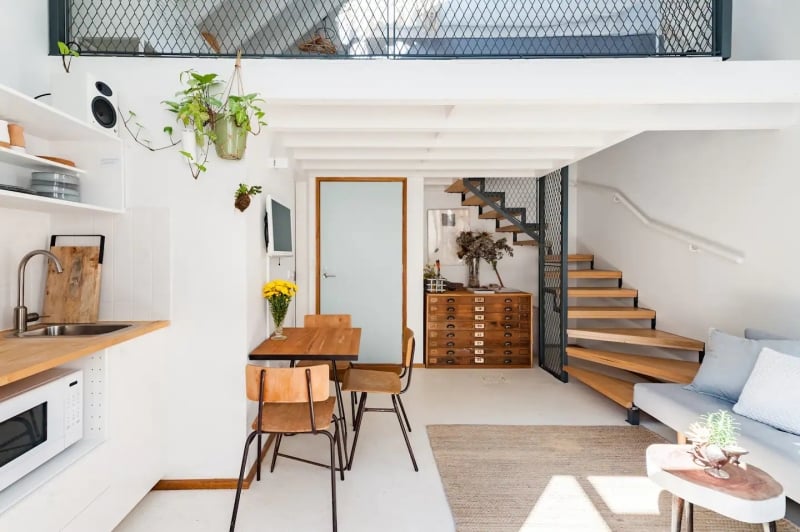 Listing name: Stunning Architecturally Designed Studio
Listing type: Entire home
Max. no. of guests: 2
No. of bedrooms: 1
Yes, this dreamy home exists outside of Pinterest! Both cosy and stylish, this one-bedroom Melbourne Airbnb loft is located in North Fitzroy, a trendy suburban neighbourhood just minutes away from the CBD. Public transportation is your ticket to the city centre, and it's easily accessible from this Airbnb — but make sure to explore the nearby restaurants and cafes, too! 
5. This beautiful apartment with a secret rooftop garden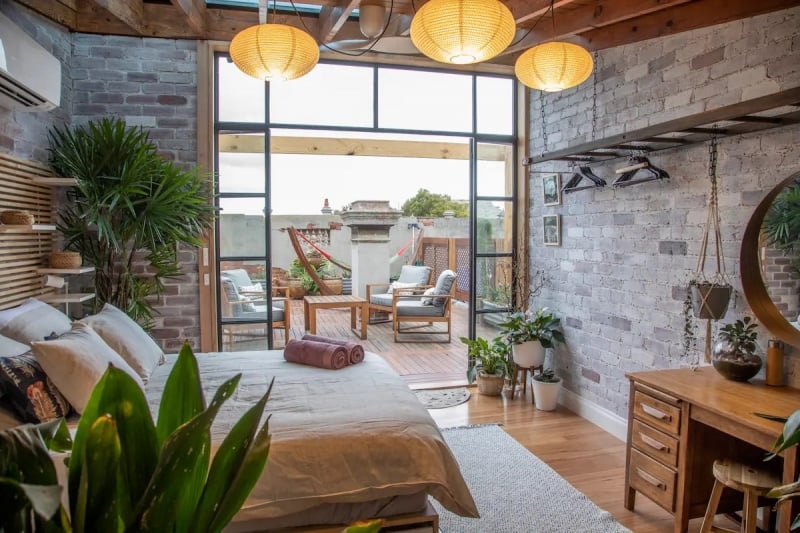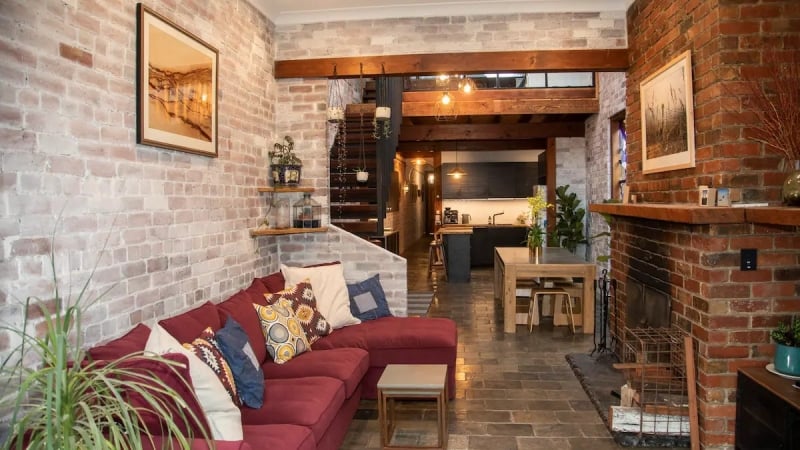 Listing name: MoonLightHouse.Sleeps8/3BR/2BA CloseAirpt/CBD
Listing type: Entire home
Max. no. of guests: 8
No. of bedrooms: 3
There's plenty to love about this dreamy home that features cosy courtyards and uniquely vintage vibes. Honestly, we don't know where to look first: the rooftop garden, the skylight spa, the generously sized rooms opening to private courtyards, or the spectacular views of the city skyline. The hosts definitely spared no expense to renovate this stunner! Beautiful, comfortable, and just a quick train or bus ride away from the CBD, this apartment is ideal for groups on the hunt for a Melbourne Airbnb that can fit the whole crew.
6. This sunny Melbourne Airbnb close to popular hotspots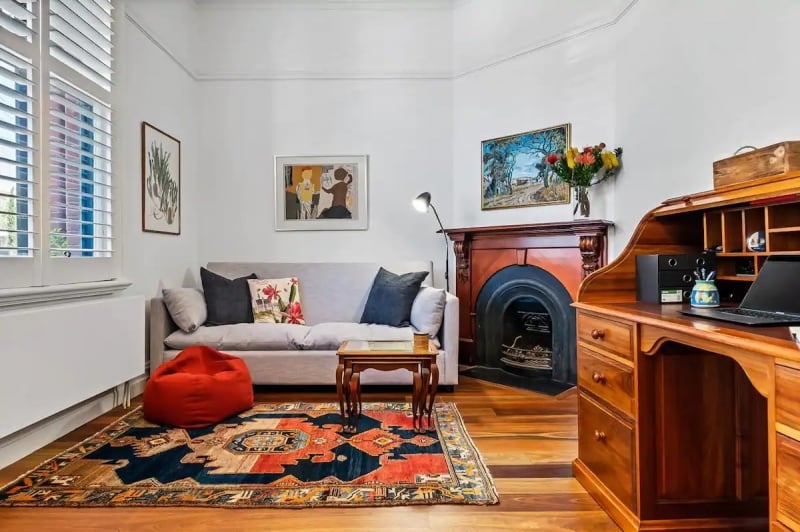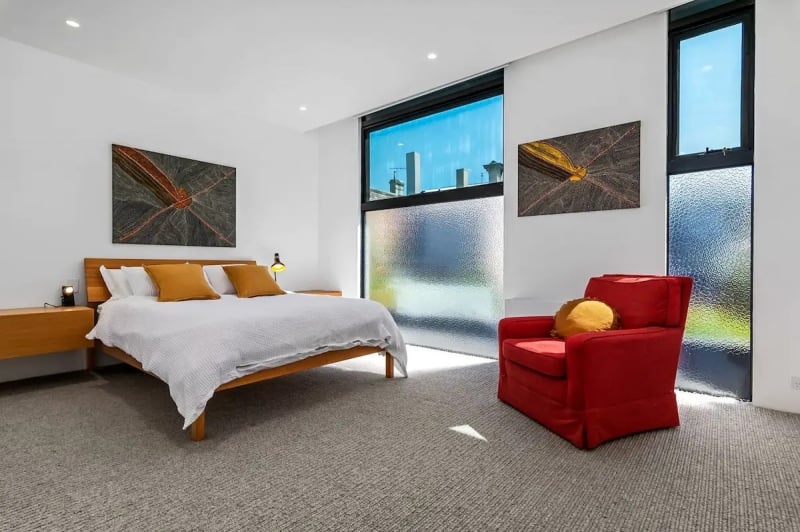 Listing name: A1 Architectural Sth. Melb. Home. Sleeps 6. Martin
Listing type: Entire home
Max. no. of guests: 6
No. of bedrooms: 3
Truly, some of the coolest Airbnbs in the city are found in buzzing South Melbourne. Case in point, this sunlit haven filled with contemporary art. Bright, airy bedrooms, a gleaming modern kitchen, and a cosy study with a sofa bed — it has everything you need, whether you're staying for three days or three weeks. 
The location of this Melbourne Airbnb is also a winner. Here, you'll be tantalisingly close to popular spots like Albert Park, Emerald Hill, and South Melbourne Market. Great shops, cafes, and restaurants will also be right outside your doorstep!
7. This stylishly renovated Victorian home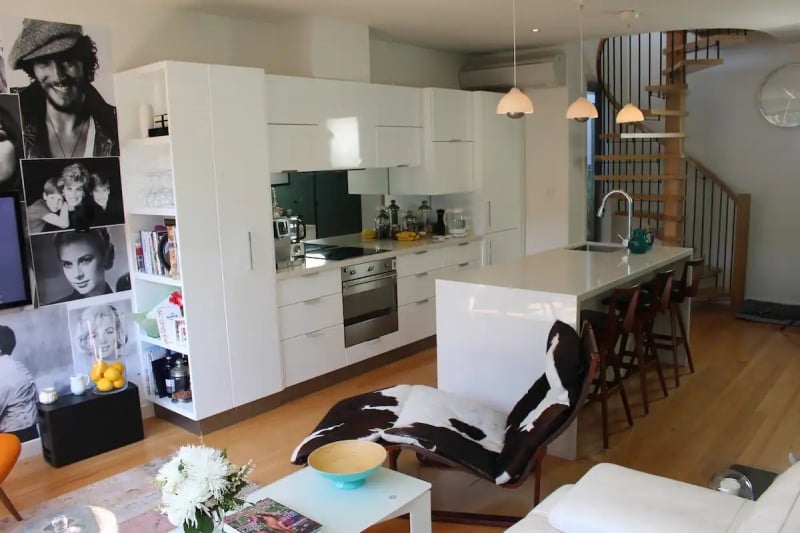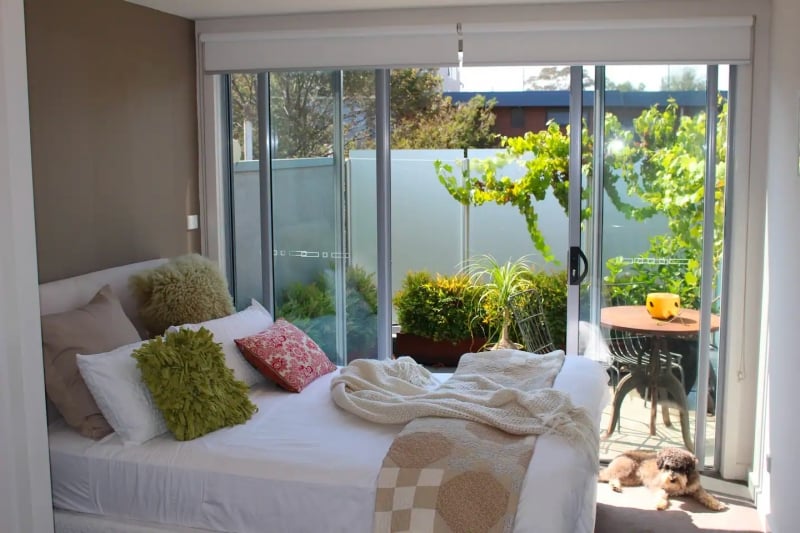 Listing name: 10 mins from CBD! Up to 6 people
Listing type: Entire home
Max. no. of guests: 6
No. of bedrooms: 3
Staying at this stylishly renovated abode , you'll feel like a true-blue Aussie! Both comfortable and aesthetically pleasing, this Melbourne Airbnb is beautifully furnished and fully equipped with everything you'll need to make it feel like your own home. A great pick for families travelling with children, it's also conveniently located within walking distance of the Melbourne Zoo! Just nearby on Flemington Road, you can also catch a quick tram ride to the CBD. 
Also read: 18 Things to Do in Melbourne with Kids
8. This ambient studio apartment with a great location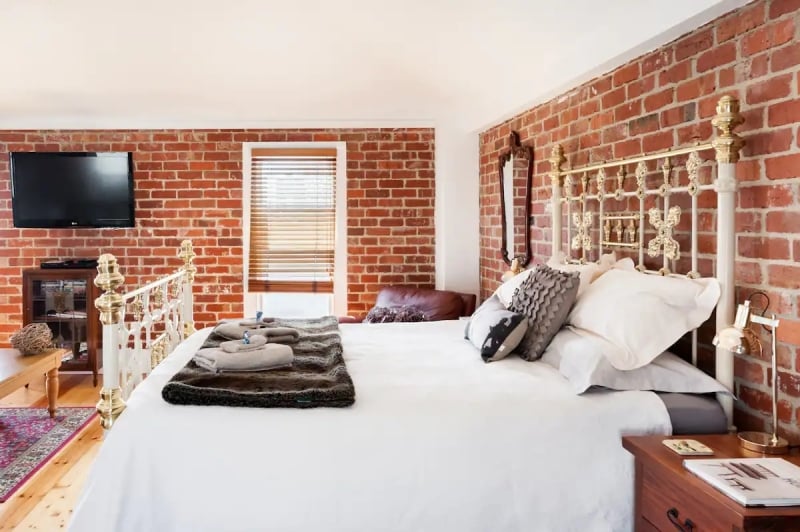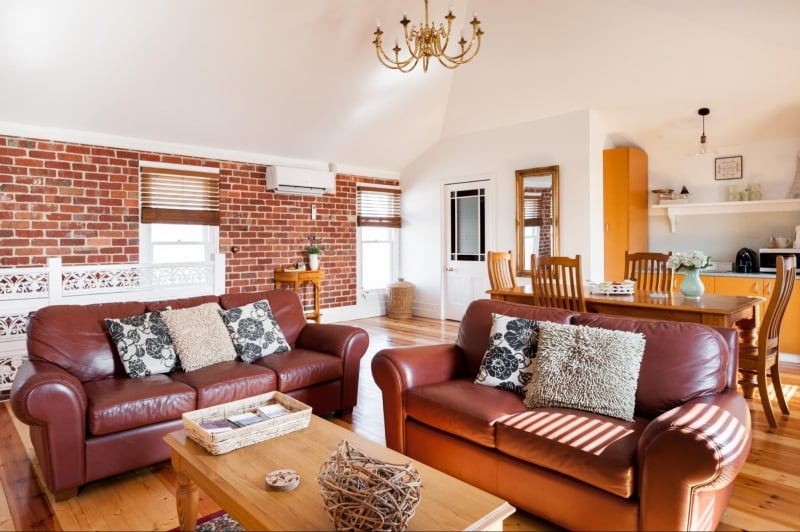 Listing name: Studio Alouette, Albert Park
Listing type: Entire guest suite
Max. no. of guests: 2
No. of bedrooms: Studio
With way more than eye-catching brick walls, this open-plan apartment has it all: style, comfort, and accessibility. Historic touches and modern furnishings create a cosy space for solo travellers or couples. Set in idyllic Albert Park, the Airbnb is right on the edge of Melbourne CBD, in close proximity to restaurants, parks, and St. Kilda Beach. 
This is definitely an Australian hideout that's easy to love. Reading through the reviews, you'll find that this is one of the Airbnbs in Melbourne you'll want to come back to again and again (at least two guests have even stayed here a total of four times each!). 
9. This heritage-listed Airbnb apartment in South Melbourne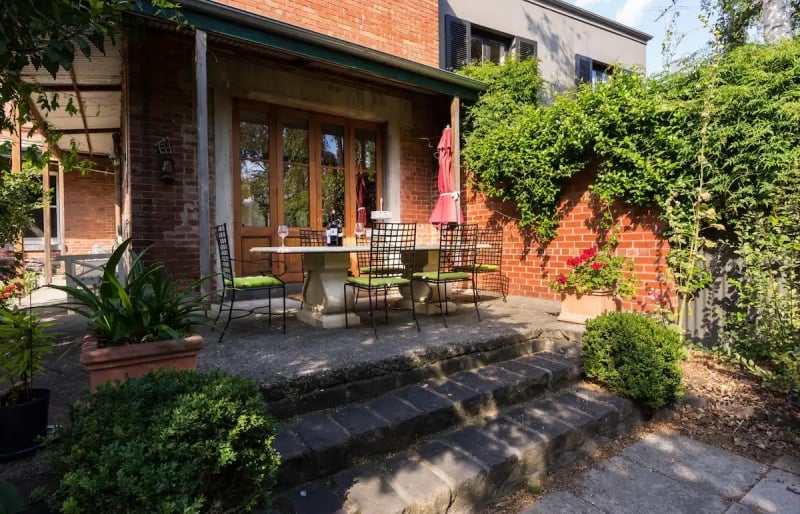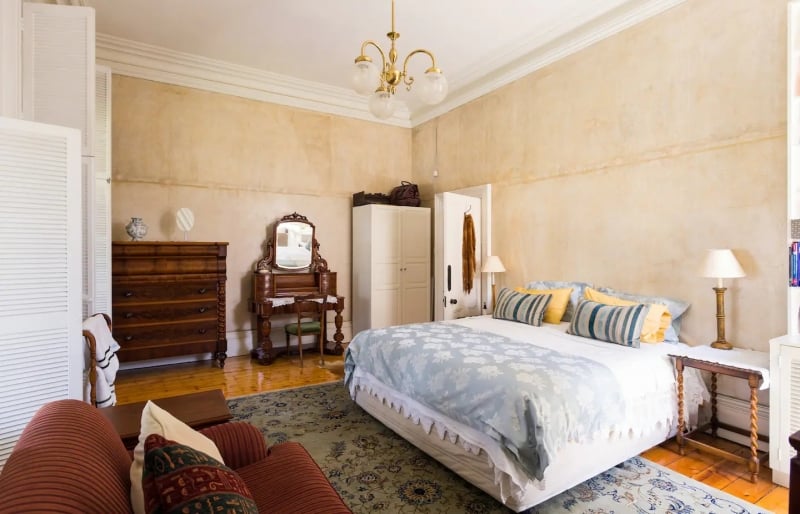 Listing name: South Melbourne Terrace with off street Parking
Listing type: Entire home
Max. no. of guests: 9
No. of bedrooms: 5
Come home to this classic heritage-listed terrace for luxe Victorian architecture, modern comforts, and large open spaces. Centrally located in South Melbourne, this Airbnb lies close to everything: restaurants, shops, grocery stores, and various modes of public transportation. Sparkling clean and well-equipped, it comes with everything you'll need for a comfortable stay. 
Additionally, you'll enjoy off-street parking. Not all Airbnbs in Melbourne offer free parking for guests, so this is a real perk!
10. This sleek apartment that feels like a luxurious hotel stay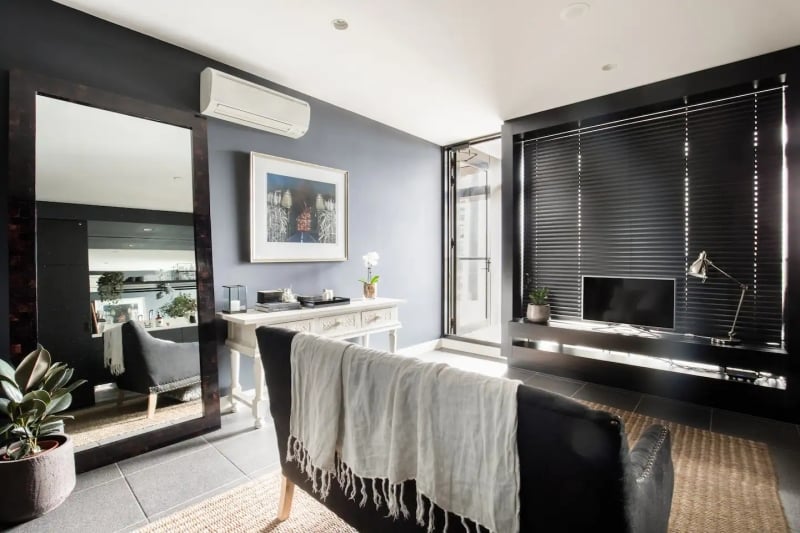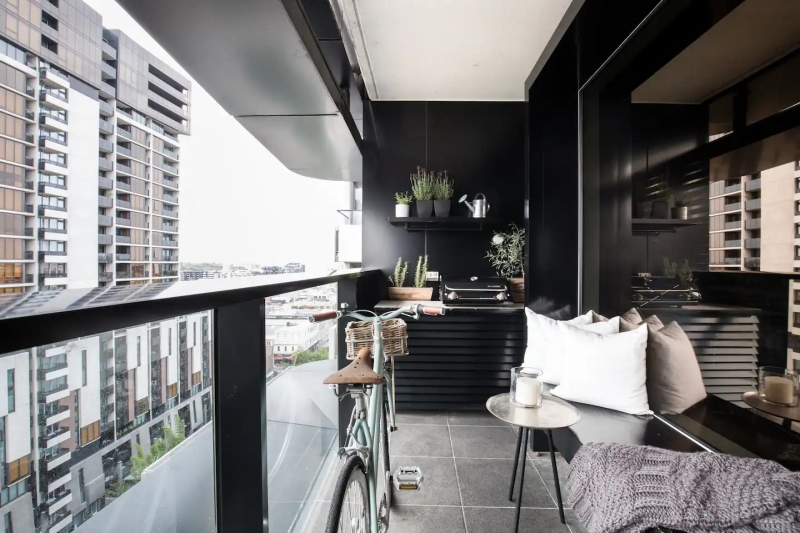 Listing name: Unique, Intimately Styled South Yarra Sanctuary
Listing type: Entire apartment
Max. no. of guests: 2
No. of bedrooms: 1
Impeccably designed and spotlessly clean, this pristine apartment promises a luxurious hotel-quality stay. With high-end toiletries, a comfortable bed (you'll want to steal their pillows!), and a lovely balcony overlooking the city, you can't go wrong with this Melbourne Airbnb in the suburbs. 
Thanks to public transportation options within the vicinity, the city centre is easily accessible. At the same time, there are lots of spots for great food and coffee nearby; Chapel Street is also just around the corner!
11. This beachfront penthouse with spectacular views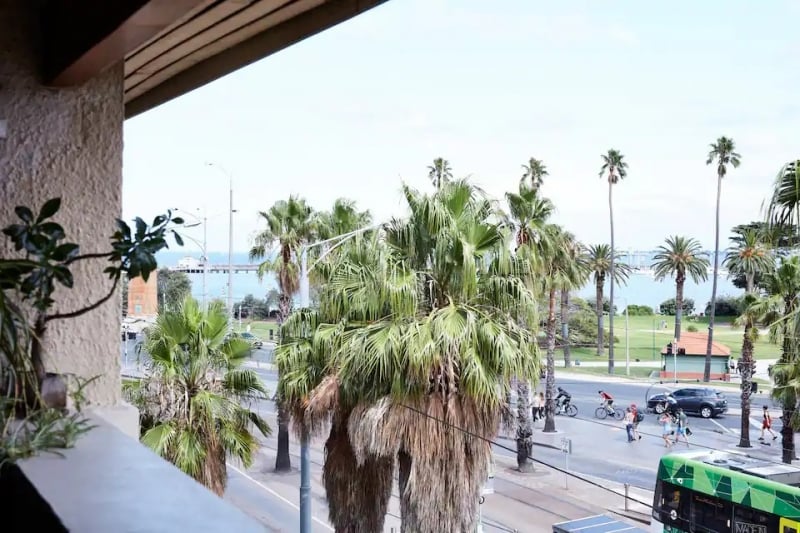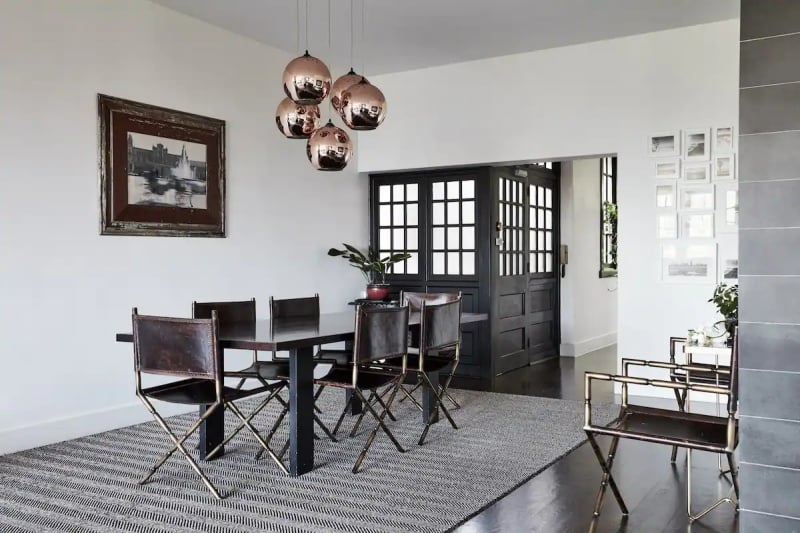 Listing name: St Kilda Beachfront Penthouse
Listing type: Entire apartment
Max. no. of guests: 6
No. of bedrooms: 3
Even a few nights' stay in this glamourous seaside haven is a memorable experience. Featuring stunning views of the bay and Catani Gardens, tasteful modern decor, and an amazing chef's kitchen with state-of-the-art appliances, it's completely outfitted for VIPs, so how could we not have the best time? There's also a bit of history in these walls; the rental is in a heritage building designed by renowned architect Christopher A. Cowper. 
Not to mention, its address is among the best. Just steps from the sprawling beach, this penthouse Airbnb puts you in Melbourne's colourful St. Kilda suburb. And good news for foodies: You'll only be a short stroll away from a couple of the city's best restaurants. 
12. This sunny beach oasis in St. Kilda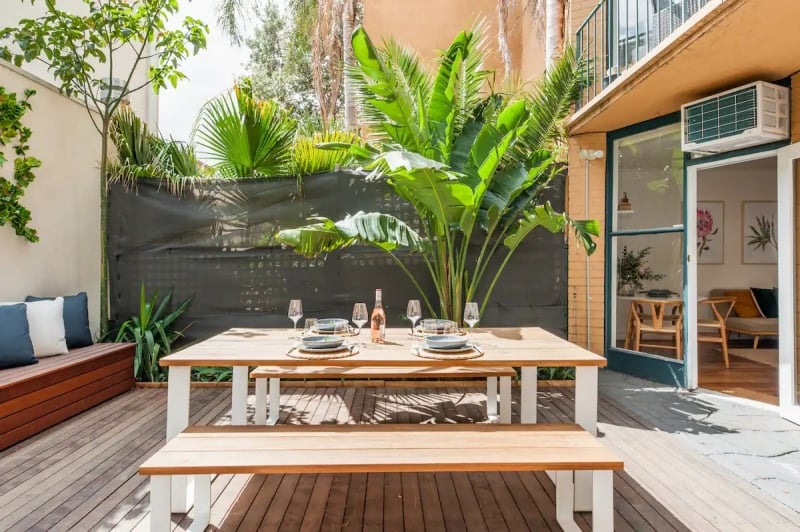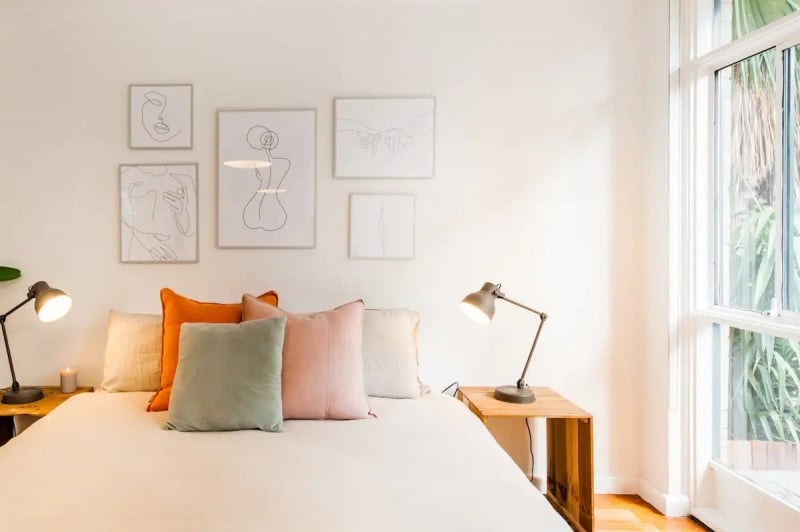 Listing name: Beachfront Oasis with Private Courtyard
Listing type: Entire apartment
Max. no. of guests: 2
No. of bedrooms: 1
For a quintessential beach holiday in Melbourne, try this sun-kissed escape that exudes an abundance of Aussie charm. Inside, minimalist interiors with nature-inspired touches offer a pretty backdrop to your downtime. And if you want to enjoy fresh air and sunshine, a private courtyard offers the perfect hangout spot for the whole crew. Plus, there's free coffee and tea, too!
Best of all? When you stay at this Airbnb, St Kilda Beach awaits right outside your door. Some of Melbourne's best attractions are in the neighbourhood, such as Acland Street, Fitzroy Street, Luna Park, and Palais Theatre.
13. This chic Melbourne pad with a pool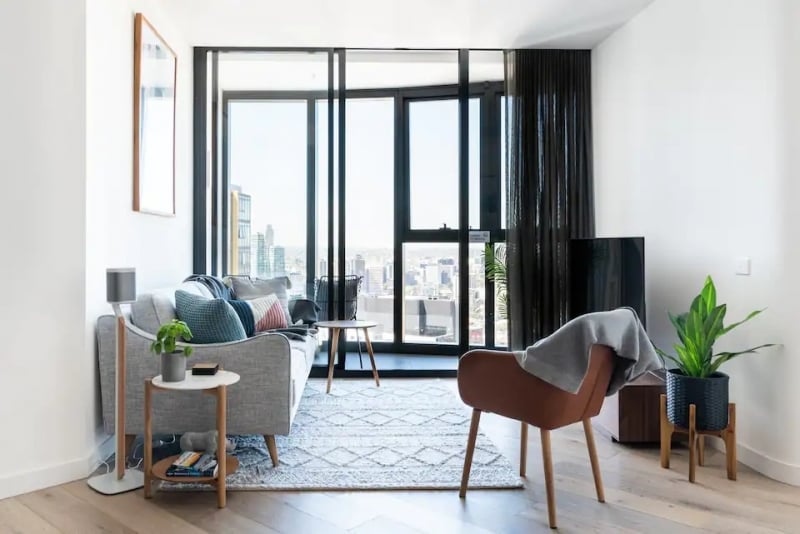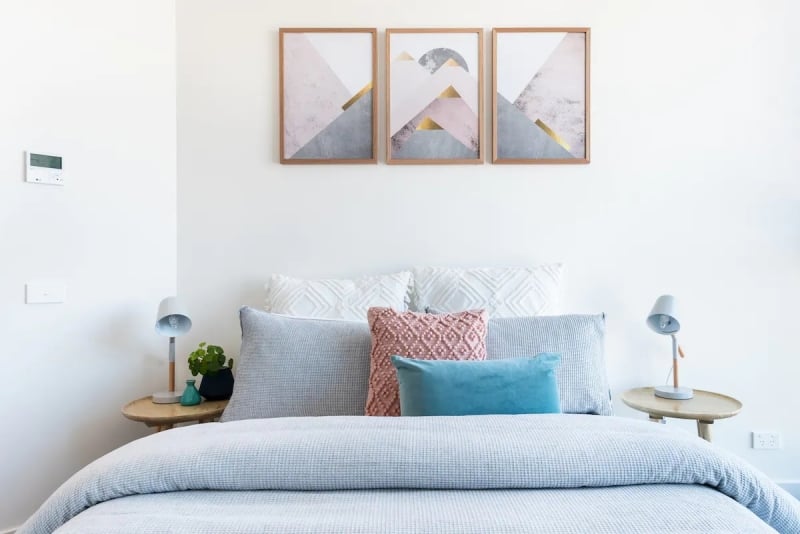 Listing name: Stylish Southbank Apartment with Spectacular Bay Views
Listing type: Entire apartment
Max. no. of guests: 6
No. of bedrooms: 3
Travellers hunting down an Airbnb in Melbourne with a pool will delight in this super-stylish flat in the suburb of Southbank. Not only is there a shared swimming pool, but guests enjoy access to other building amenities: a gym, a sauna and steam room, a library, and a cocktail bar, among others. 
Designer touches and high-quality beddings promise a hotel-style stay. Meanwhile, floor-to-ceiling windows at the Airbnb overlook the dazzling bay and beautiful Southbank, Melbourne. Neighbourhood attractions include the Melbourne Exhibition Centre and the Crown Casino Complex.
14. This stunning, spacious Airbnb in Mornington Peninsula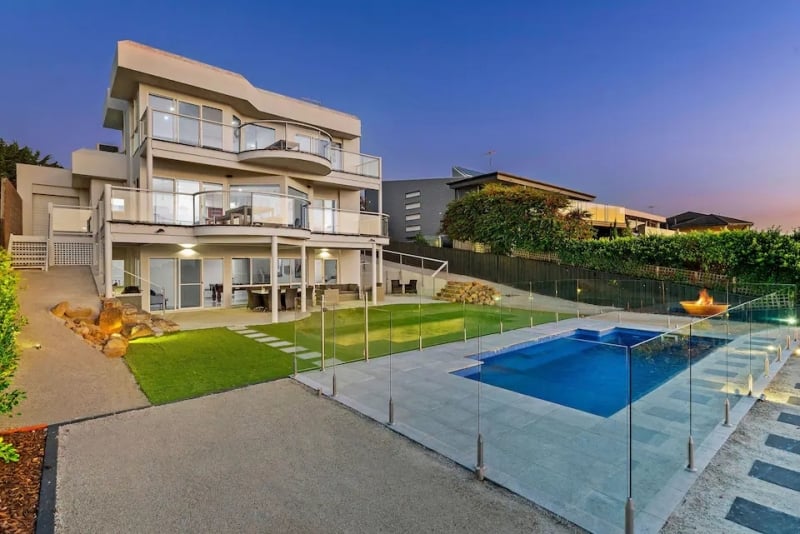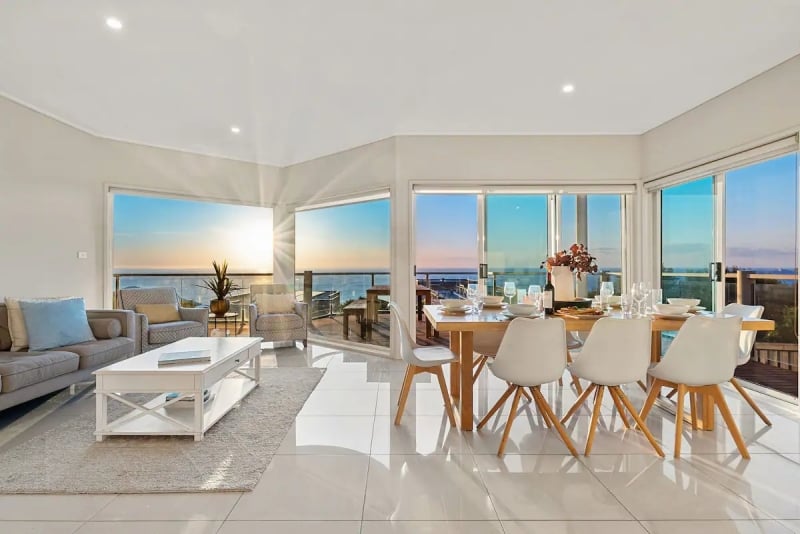 Listing name: Clifftop Family Retreat with Views & Pool
Listing type: Entire home
Max. no. of guests: 8
No. of bedrooms: 5
Willing to venture further away from central Melbourne? Well, we've got the perfect Airbnb in the Mornington Peninsula. Meet this luxe clifftop retreat , a stunning Mount Martha rental that's definitely one of the most scenic Airbnbs in the Greater Melbourne area. Breathtaking views of Port Phillip Bay greet guests from the two balconies and the pool. Come sunset, the vistas are postcard-perfect!
Given this Airbnb's luxurious facade, it's not surprising that this Melby hideaway is all decked out. The modern interiors are elegant yet homey, and there are three levels of living and entertainment areas. Our top three spaces? Definitely the game room, yoga studio, and outdoor solar-heated pool.
Also read: Road Trip Beyond Melbourne: 5D4N Self-Drive Itinerary in Springtime
We'll definitely be daydreaming about these Airbnbs in Melbourne. We won't be surprised if you will, too! And if you're exploring Australia beyond Melbourne, make sure you check out our Airbnb picks in Sydney , Brisbane , and Perth .
Got a property you'd like TripZilla to feature? Inquire with us here .
---
This article contains affiliate links. When you book through these links, we may earn a small commission at no additional cost to you. All images courtesy of the respective property listings.