Valentine's Day is just around the corner, so what do all of you lovebirds have up your sleeves? Take things one step further beyond the usual dinner and flowers, and make this year's celebration a truly special one. Why not do something different this year and plan a romantic (read: private) retreat for just the two of you?
We'll let you in on a little secret – Bintan may just be the next hottest Valentine's Day destination for all lovey-dovey couples. This little slice of paradise is located just an hour's catamaran ride from Singapore, which is even better for those looking for a weekend getaway that's still close to home. 
Whether you're a hopeless romantic, a beach buff or an adventure seeker, here are 6 of our favourite resorts that are perfect for any kind of couple retreat this Valentine's Day.
1. Angsana Bintan – for Beach Bums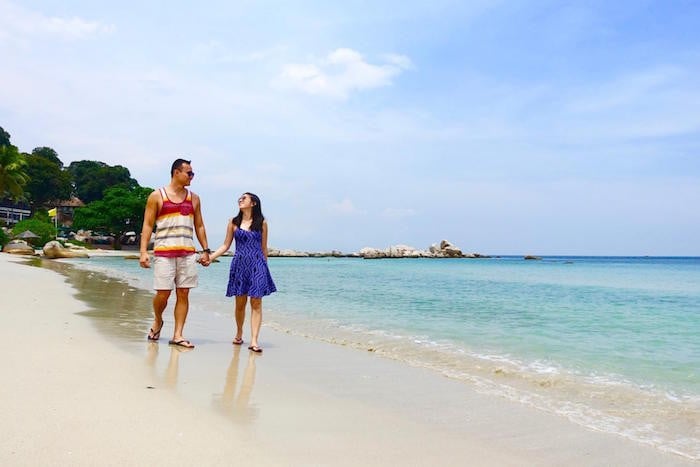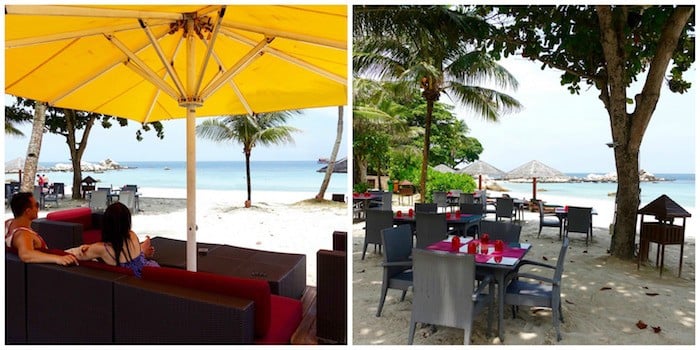 For couples that love the sun, sea and sand – both of you are in the right place! Angsana Bintan is renowned for its pristine beach, offering long stretches of powdery white sand for you to dig your toes into. Walk hand in hand along the stunning coastline, or indulge in a meal at the Pantai Grill & Beach Club located right on the sand. Take the opportunity to work on that sun-kissed look, or simply bask in the sun in each other's company!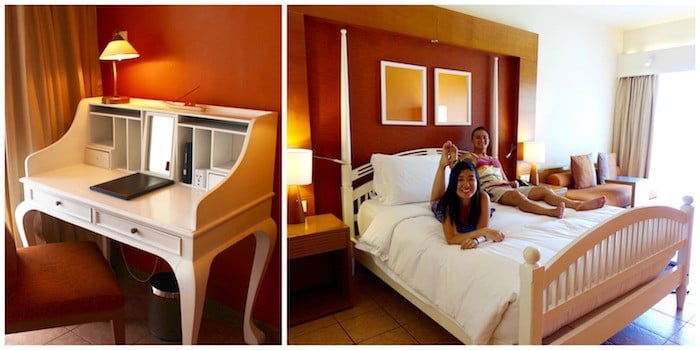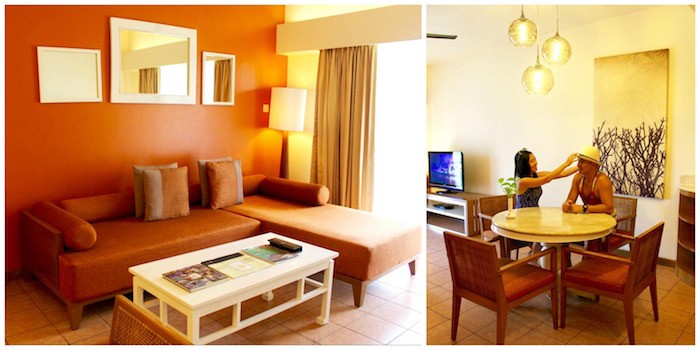 The rooms here at Angsana are all bathed in a warm homely glow, and have large floor-to-ceiling windows which allow natural light to flood the rooms. Pamper yourselves with an Island Suite, which comes with separate living and dining areas, as well as a pantry that comes fully-stocked with snacks and drinks. The bed is soft as a marshmallow, and there's even a large flat-screen TV where you can indulge in a romantic comedy marathon. Trust us, both of you might find it hard to even leave the comforts of your suite!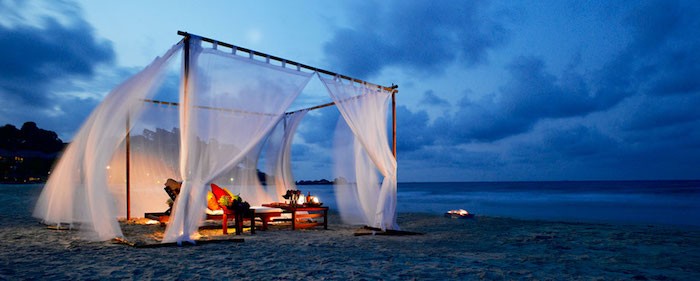 Image credit: (top) Bintan Resorts; (bottom) Angsana Bintan
Set the mood with a session of Destination Dining, an activity that would put all your previous date nights to shame. Imagine this: a dramatic dining experience under a blanket of stars complete with flickering candlelight and the sound of crashing waves in the background. Take the chance to up your game and surprise your loved one with this experience like no other.  This dining extravaganza can be found at most resorts in Bintan – simply enquire at each resort for more information. Choose to have this experience on a sprawling golf course, on the rocks, on a secluded part of the beach or even on a rustic kelong.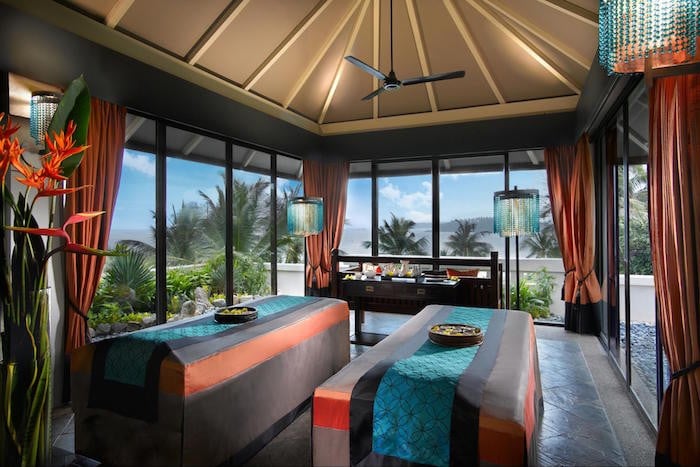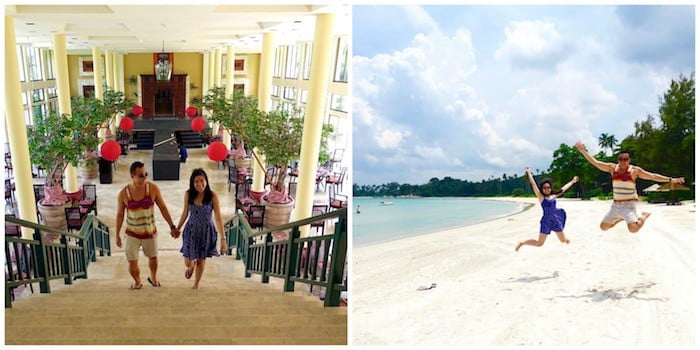 No romantic getaway would be complete without a day at the spa, and there's no better way to rejuvenate than with one of Angsana Spa's award-winning massages. Opt for their 'Duet' package and enjoy flower petal body polish treatments in the privacy of your own couple room. The resort is also filled with Insta-worthy spots; the lobby alone is home to a magnificent grand staircase. Otherwise, knock yourselves out with trying (read: attempting) to take lots of jump shots at the beach!
Depending on season, you might even be able to participate in the highly-anticipated turtle release! Play a part in ensuring safe passage for baby turtles returning to sea – an extremely cute activity that will get anyone squealing in delight. Alternatively, you might also be able to experience a coral replanting session, or join a morning stroll led by one of the resort's knowledgeable guides. Check with the concierge at your resort for more information.
Click HERE for more information and to book your stay at Angsana Bintan.
2. Banyan Tree Bintan – for Hopeless Romantics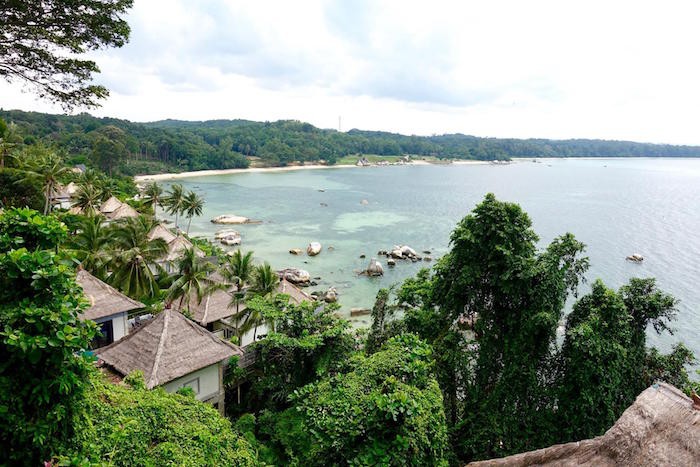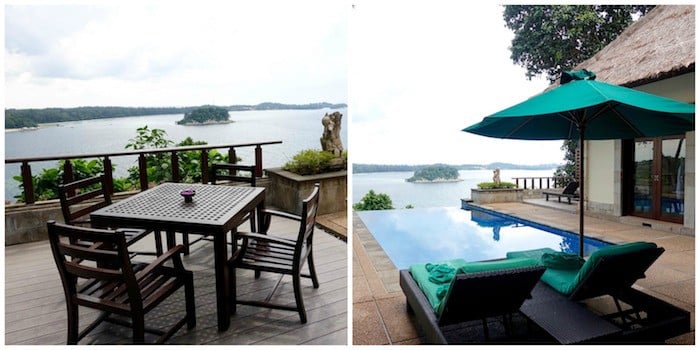 Have that well-deserved couple alone time at Banyan Tree Bintan, which is the epitome of seclusion. Take your pick from 64 Balinese villas perched on stilts along a cliff, each boasting stunning panoramic views. The most popular type of villa is the Ocean-view Infinity Pool Villa which overlooks a breathtaking view of the South China Sea.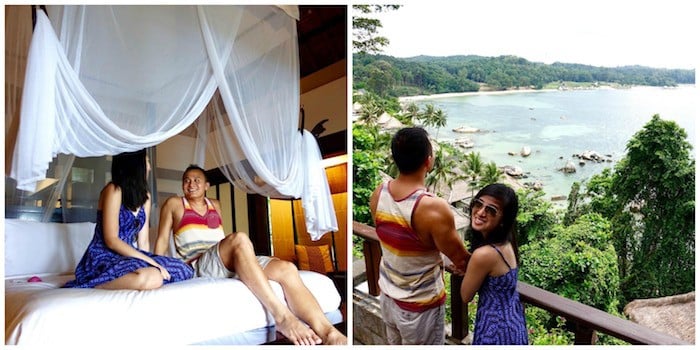 Have a languid swim in your very own private pool, or share a bottle of wine whilst gazing out over the sea; some villas even come with a private jacuzzi! Add in that view to the mix, and you'll basically have no reason to even step out of the villa during your stay. #seriousholidaygoals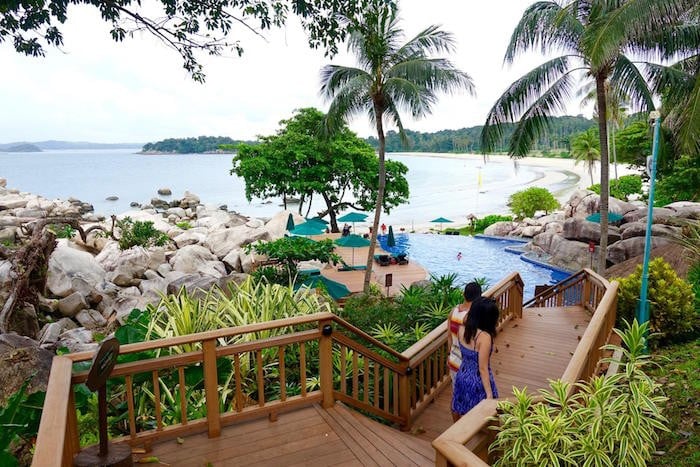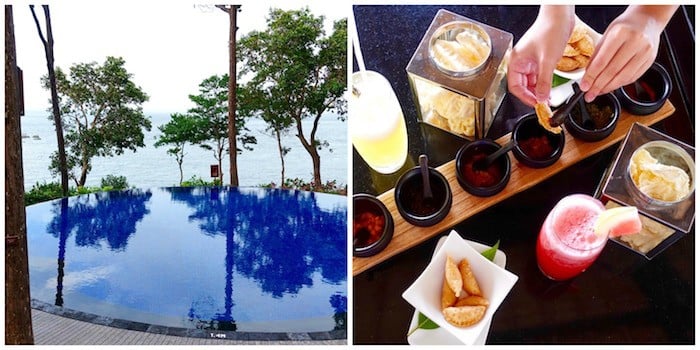 Have a scrumptious meal at Treetops, followed by a refreshing dip in the resort's rock-edge pool. Treetops is an extravagant showcase of Indonesian cuisine at its finest, which is kickstarted by a sampling of a range of different chilli dips paired with crackers and crisp puffs.
Both of you can even choose to participate in a cooking class – conducted daily with advance booking – during which you can whip up two courses of your choosing. Choose from traditional and well-known dishes such as Gado Gado, Nasi Goreng or Klepon dessert. Both of you will even get to dine on your own creations for lunch!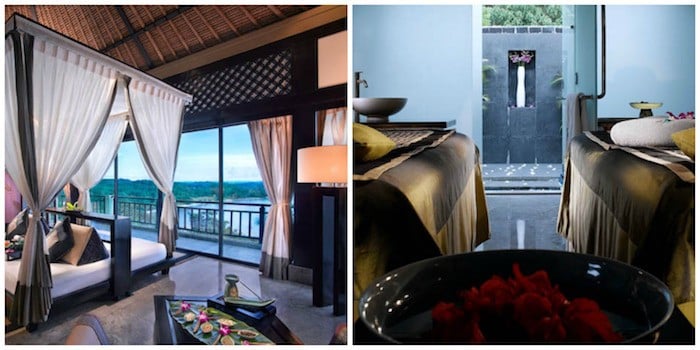 Image credit: Banyan Tree
For ultimate indulgence, book a Spa Sanctuary Pool Villa for your other half and you! Besides a gorgeous private pool, you'll gain access to unlimited spa treatments right in the comfort of your own villa. Have soothing massages and therapies using traditional Indonesian ingredients at any time of the day! Top it off with a pillow of your choice from an extensive pillow menu that will more than guarantee a night of restful sleep.  
Click HERE for more information and to book your stay at Banyan Tree Bintan.
3. The Canopi, Treasure Bay Bintan – for Adventure Seekers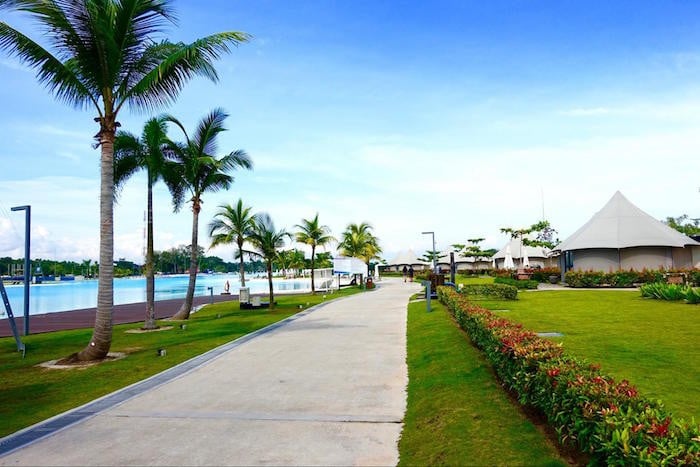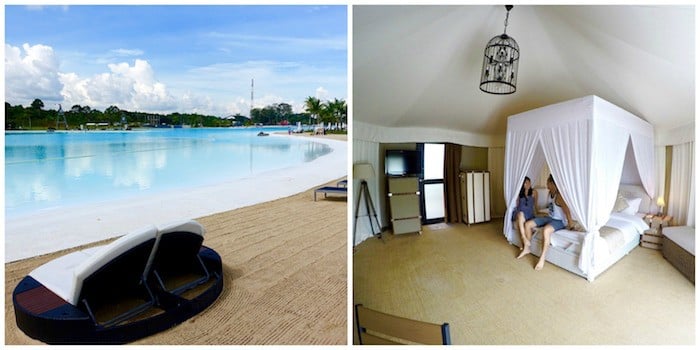 The Canopi, Treasure Bay Bintan is one of Bintan's newest offerings and dangles the promise of a whole new type of retreat – glamping. The highlight of the resort, however, is the drop dead gorgeous 6.3-hectare saltwater Crystal Lagoon that takes centre stage. Believe it or not, but the lagoon is up to 2.5 metres in depth and spans 800-metres from one end to the other!

Short for glamorous camping, glamping allows couples to stay in fully furnished tents that come fully-equipped with air-conditioning, a plush bed, comfy sofa, and rustic furniture. Interestingly, each tent comes with an outdoor bathroom as well. If you're looking for a truly novel way to spend your Valentine's Day – this is it! There are currently 40 tents on the property, with plans underway to expand the total number to 100.


Couples can partake in TONS of adventure activities here at Treasure Bay that are great for bonding as a pair! Float languidly in the Crystal Lagoon on board a solar boat, race each other with an underwater scooter or around the lagoon on a Segway, rent a Vespa for a day, trundle through the jungle on a muddy ATV adventure or even kayak through the resort's own private mangroves. The options are endless – all you have to do is head to the resort's Attractions Centre and take your pick from a large range of land and water activities. For a more comprehensive list of adventure activities in Bintan, read more HERE.
There's even an option to have a private BBQ outside your tent! Place your order with the resort's in-house restaurant, The Patio Bar and Restaurant, where you can choose from a set menu or a range of a la carte items. Come evening time, the food – meat skewers, rice/noodles and so on – will be delivered right to your doorstep. The friendly staff will help to light a fire that glows a bright unicorn blue, and you'll be left to your own devices. Take all the time you want to cook and savour your food!
Another option would be to dine at the aforementioned Patio Bar and Restaurant, where you can gobble down a delicious plate of Nasi Goreng whilst enjoying a picturesque view of the Lagoon.
Click HERE for more information and to book your stay at The Canopi, Treasure Bay Bintan.
4. Grand Lagoi Village – for Cool Urbanites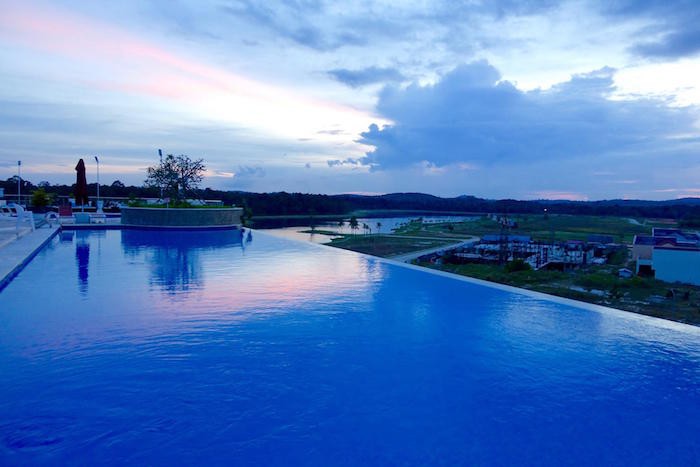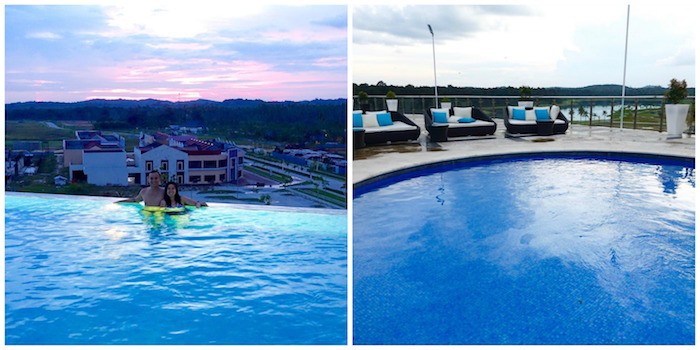 Formerly known as Swiss-bel Hotel Lagoi Bay, Grand Lagoi Village is a spanky new hotel that is a mere 3-minute walk to the nearest beach. Couples will also be glad to discover that the modern hotel is home to a stunning infinity pool which overlooks views of the Lagoi Bay area and the sea! Take a swim just before sunset to score yourselves front-row seats for a resplendent show; the pool deck also has a lounge area should the both of you choose to enjoy the sunset whilst staying dry.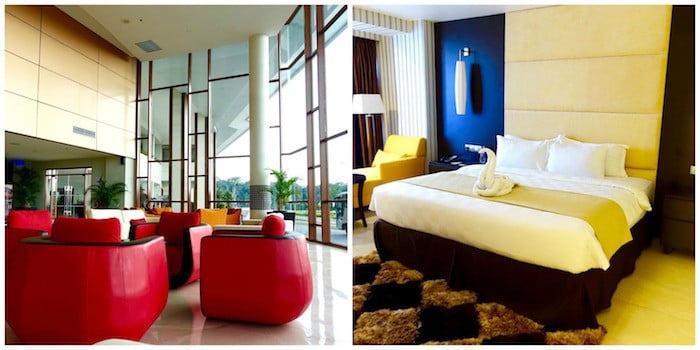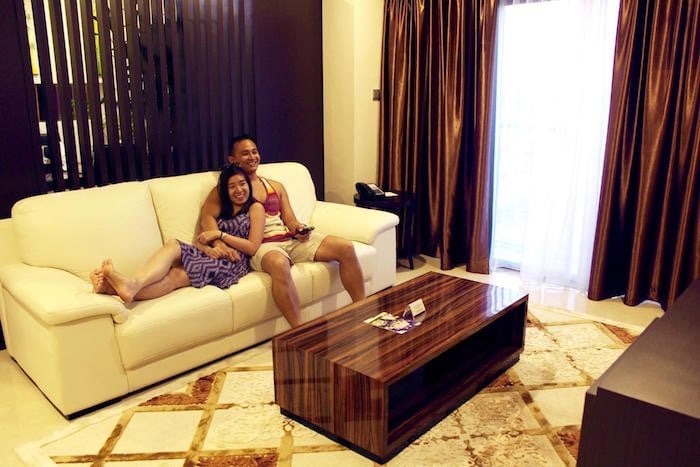 There are 195 rooms here at Grand Lagoi Village that come in two categories – the Deluxe Standard and Grand Deluxe Standard – as well as one executive suite. There is only one suite in the hotel, so if you have your eyes on that, it's recommended to make your booking early.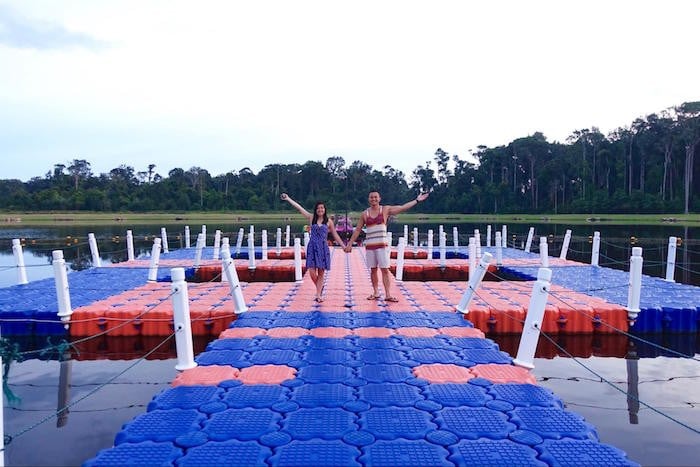 The hotel is minutes away from Lagoi Beach, where you can go snorkelling or try riding a jetski. For a greater adrenaline rush, check out Air Adventures where you can take to the skies on a seaplane! But one really cool activity you can do here as a couple is fishing for your own meal at the Angkringan & Fishing Farm Lagoi Bay, an idyllic fishing spot located just next to the hotel. Either work together to catch something, or compete against your other half to see who can snare the bigger catch!
Afterwards, enjoy the spoils of your labour where your catch of the day can be cooked on the spot! Choose to have your fish either deep-fried or grilled, topped off with a variety of sauces such as sambal chilli, sweet sauce and so on. Note that there is an IDR100,000/fish cooking fee, but that basically adds up to only S$10 per meal! It's really worth it, especially as a 1-hour complimentary fishing session is thrown in – together with one free fishing rod and bait – with every night's stay at the Grand Lagoi Village.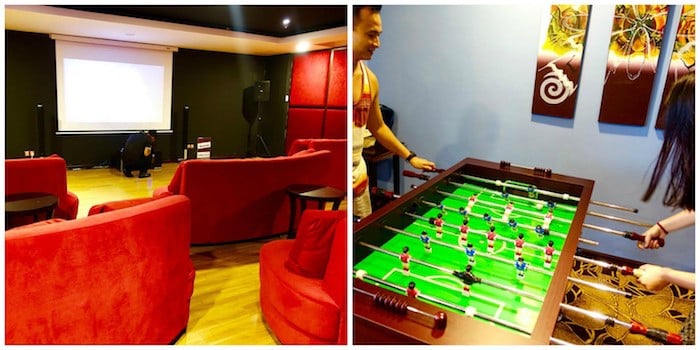 If fishing isn't your thing, battle it out at the hotel's in-house entertainment centre, which is fitted with state-of-the-art game consoles, foosball tables and even a plush movie theatre which screens a large variety of movies. The centre also hosts weekly karaoke nights, so get ready to belt out all your latest shower tunes in a heated sing-off against each other!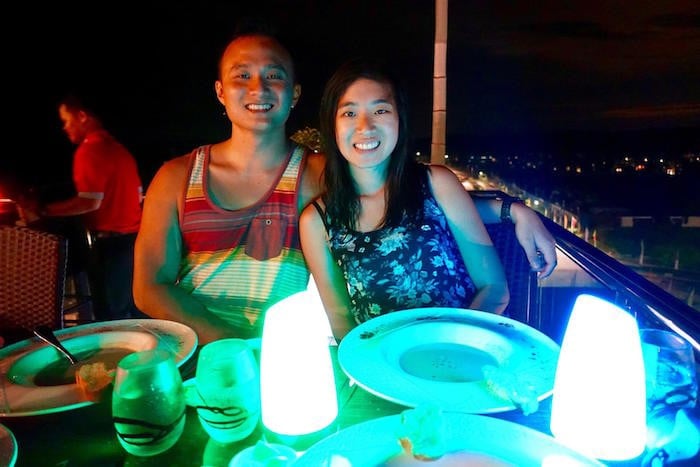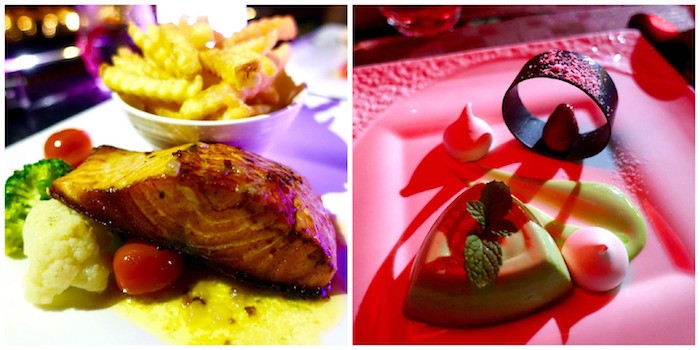 When night falls, make your way to Bar7 Rooftop Bar and Grill for a romantic candlelight dinner. The restaurant has a splendid view of the sunset, and also overlooks Plaza Lagoi Mall – a shopping complex that comes alive in a myriad of lights when night falls. Dine on a selection of grilled meats and seafood – the salmon is absolutely delicious! – while basking in the atmosphere. Don't forget to look up during your meal, chances are that you'll be able to spot a sky of stars twinkling overhead! On weekends, there are even live barbeque stations as well as a live band.

Hold up, your romantic night out doesn't have to end even after dinner ends! Head over to Lagoi Bay's newest attraction, Underwater World Lagoi Bay Lantern Park, for a lovely stroll amidst 21 different kinds of brightly-lit animal lanterns that showcase the various endangered species in Indonesia! Wander among huge elephants and rhinoceroses and watch as they cast a iridescent glow far into the night sky. The entire park covers an area of 4000 square metres, and the lanterns line a winding 300-metre path. The lantern park is the first of its kind in Bintan, so be sure to be among the first few to check it out!
Click HERE for more information and to book your stay at Grand Lagoi Village.
5. The Sanchaya – for Luxurious Dreamers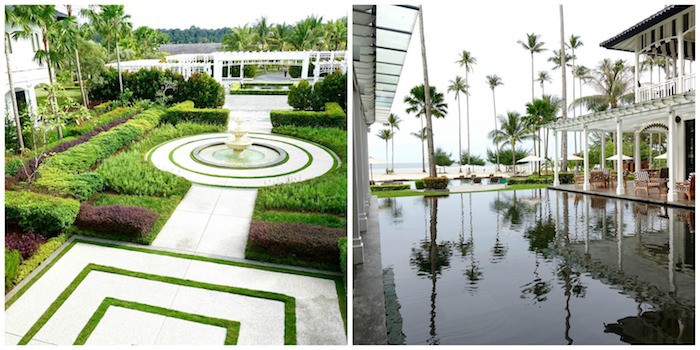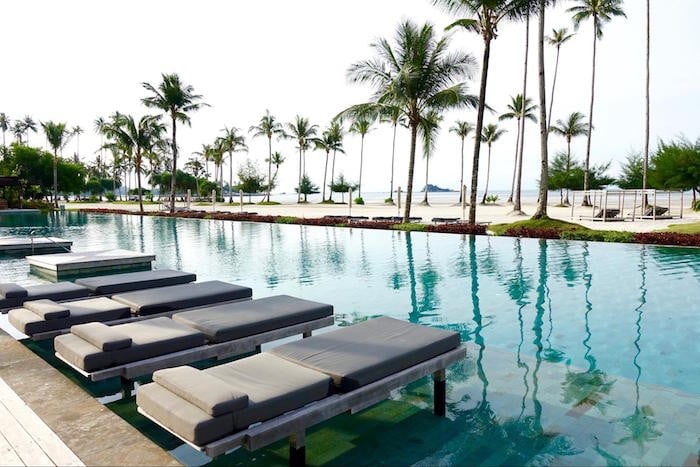 The Sanchaya is easily Bintan's most luxurious offering. Be transported hand-in-hand with your other half to an entirely different world, a world where opulent colonial architecture drips with sparkling chandeliers and polished wood panelling. Their infinity pool is named 'Tasanee', which aptly means 'beautiful view' in the Thai language. Swaying palm trees, a sense of calm in the air and smiling staff that eventually feel like family;  there's no better way to describe the place – everything spells 'beautiful' no matter which direction you look.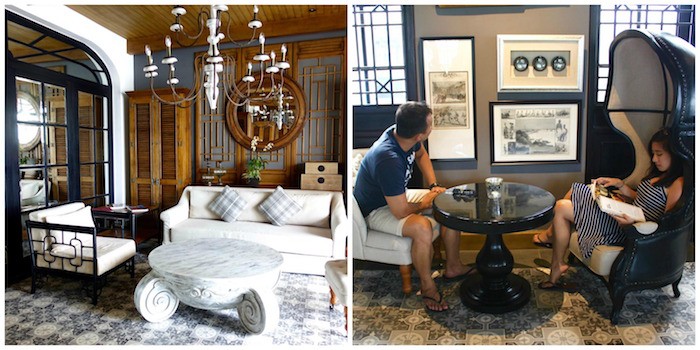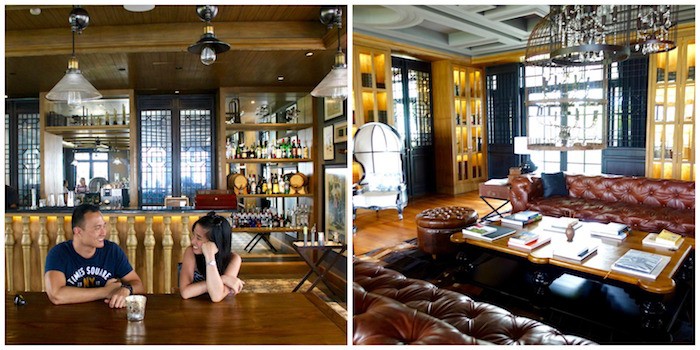 The interiors are decked out in regal overtones, adorned with spotless mirrors and plush leather armchairs. Despite the grandeur of it all, we didn't feel out of place – somehow, the owners managed to intricately weave the luxuriant decor seamlessly with the unmistakable warmth of someone's home.
One highlight would be the 'no menu presentation' with the Bartender, where you order your drinks based on an exchange of conversation rather than from a standard list of drinks. Why not try something fun and order a drink for your other half based on what you think they'd like? Both of you can also choose to indulge in a personalised wine and cheese tasting session conducted by your own sommelier – a service unique only to the Sanchaya.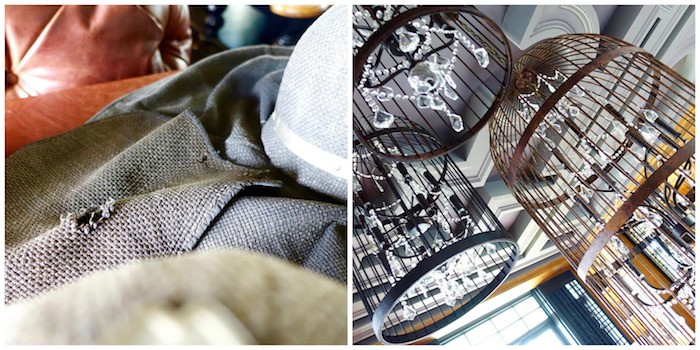 'The Sanchaya' means 'collection' in Sanskrit, and the entire property is a lavish embodiment of a personal collection of sorts. In addition, the collection pays tribute to the continent of Asia and seven different countries are represented in one way or another. See if you can spot all the references to Asia before your partner can!
One of the best things to do would simply be to explore the property in its entirety; every nook and cranny is filled with things that you'd never expect to come across – an aged timepiece, a tweed jacket rumoured to have a bullet hole in it from World War II, chandeliers encased in bird cages and the like. You never know what you would find, and that's exactly the beauty of the place's enigmatic quality.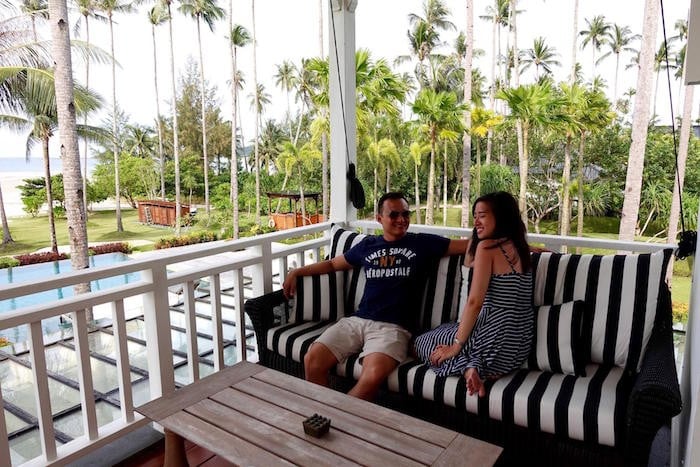 The rooms at the Sanchaya are no less grandiose; the beds are covered with 64 thread count Egyptian cotton, and guarantee many a night of blissful undisturbed sleep. Wake up in the morning wrapped in silky soft sheets and the sun shining gently on your face– it's pure luxury at its best. If you're staying in a suite, relax on your private verandah as you sip on the 'Sanchaya blend', a customised blend of tea for the property.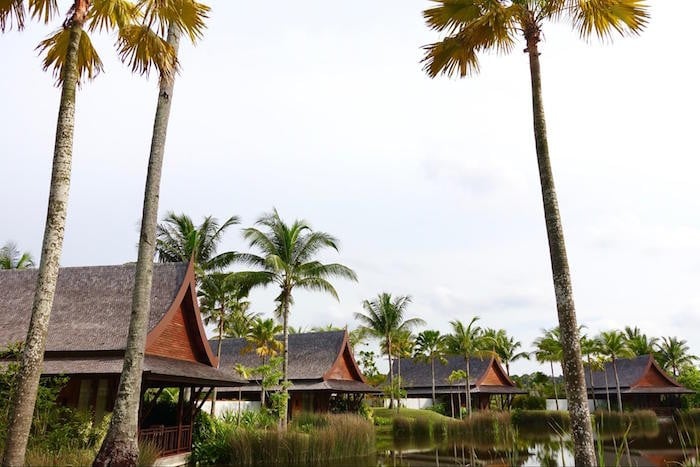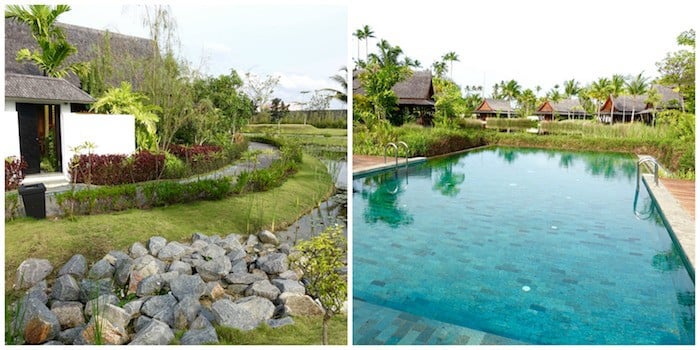 The Lawan Village (pictured top), a cluster of 7 one-bedroom villas, are a section of the property that surrounds a picturesque lake. Leelawadee (pictured bottom right) consists of 3 one-bedroom villas surrounding a private pool. If both of you are looking for a bespoke weekend getaway from the hustle and bustle of a city, either might very well be your best bet.
Click HERE for more information and to book your stay at The Sanchaya.
6. Bintan Lagoon Resort – for Intrepid Explorers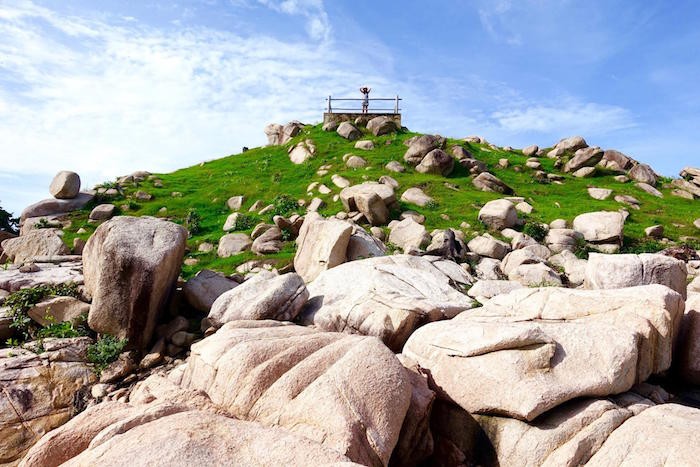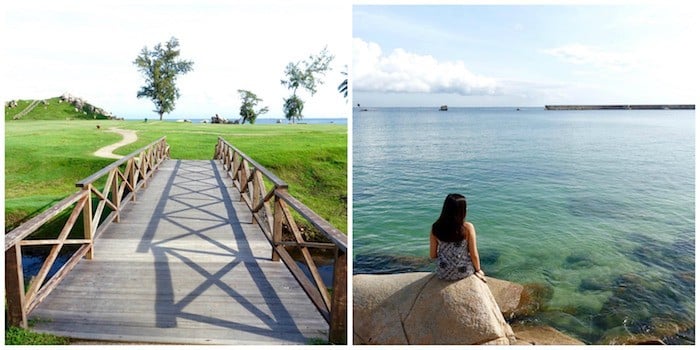 Bintan Lagoon Resort is a godsend for couples who love exploring new places together! The entire resort looks like it came straight out of a picture book, and every inch of the compound is so picture-perfect that it's absolutely surreal. Slather sun tan lotion on each other at the private beach, or clamber up a short flight of steps to reach a lookout point that overlooks the sea. Or simply revel in each other's company as the sound of crashing waves washes around the both of you. The resort oozes an unbelievably tranquil vibe, and occupies such a large area that you'll feel like you pretty much have the place to yourselves!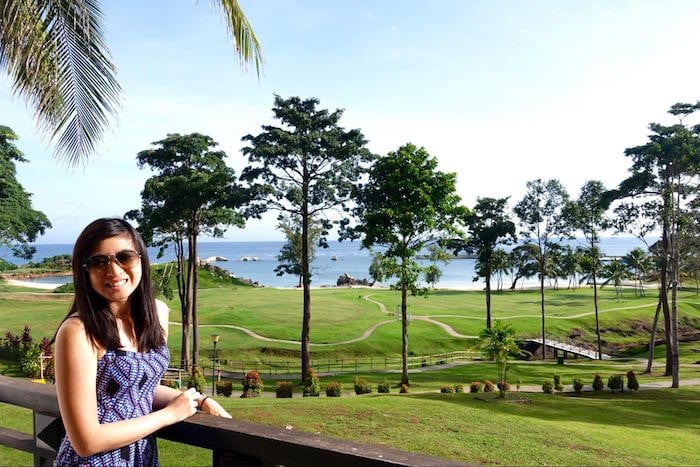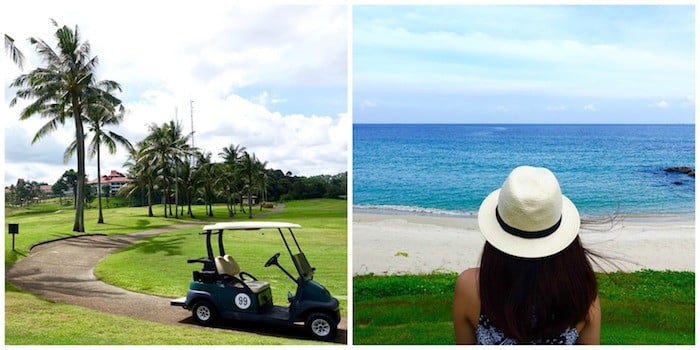 Feast your eyes on spectacular views from your very own balcony (top picture), or rent a buggy and take a whirl around the grounds. Drive along the extensive golf course, and trundle alongside tall palm trees swaying in the wind. Alternatively, join guided bike tours or race each other on All Terrain Vehicles (ATVs). There's lots to do here at Bintan Lagoon Resort as a couple – challenge each other to a bout of archery, or battle it out under the sun with a game of beach volleyball and more!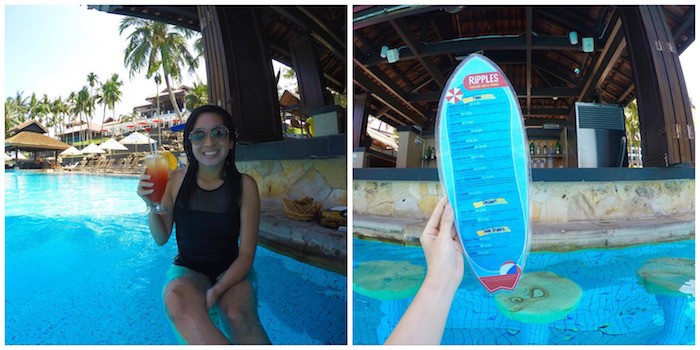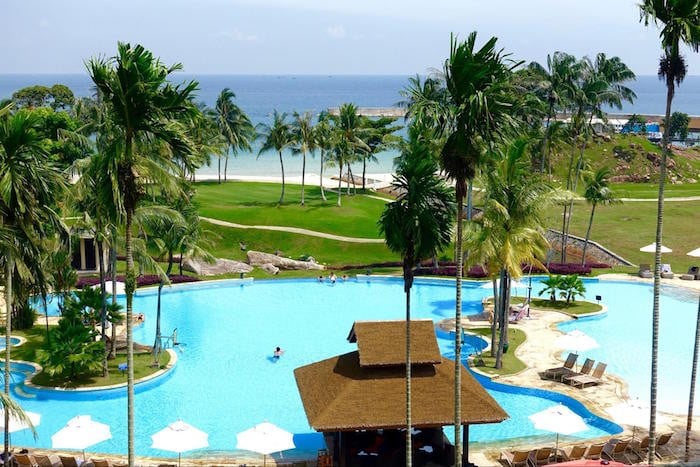 It's hard to believe how gigantic the pool is – just look at it! The clear waters are irresistibly inviting on hot humid days and there is even a half-submerged bar, Ripples, offering light snacks and cocktails throughout the day. If you're lounging on the deckchairs in a bid to get a tan, you can also place an order and have your meal delivered right to your side in no time!
Splash out on a spacious villa should you want your own private pool; some of these villas are situated right on the beachfront, so you'll have easy access to the beach at any time of day.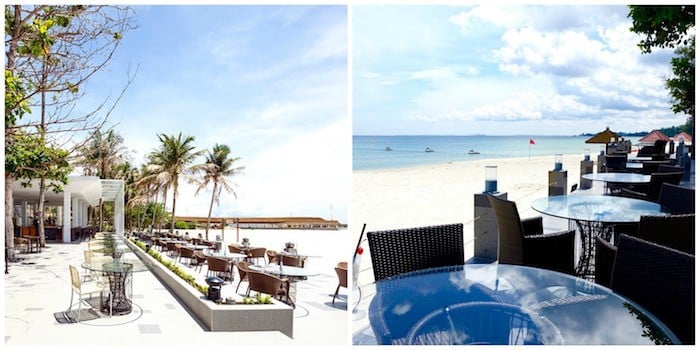 Image credit: (left) Bintan Resorts
Nelayan, a stunning sea-view restaurant, is a hotspot for couples looking to unwind after a long day. The restaurant serves a dazzling fusion of Asian and Western cuisine, and transforms from an idyllic hangout in the day to a romantic nook at night. Nelayan also offers its guests an unobstructed view of the sunset, which makes it a lovely place to end the night in your other half's arms.
Click HERE for more information and to book your stay at Bintan Lagoon Resort.
No matter which type of couple you are, there's bound to be something in Bintan to suit your needs this Valentine's Day! The cherry on top, however, would be how Bintan is located only an hour's catamaran ferry ride away from Singapore's Tanah Merah Ferry Terminal.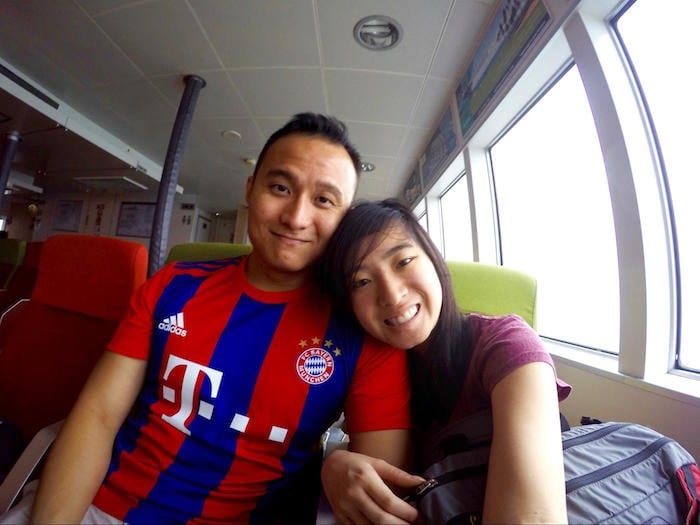 We get to minimise all the trouble that comes with booking a flight, especially for a short weekend, or even a 2D1N getaway. All we have to do is to hop on a ferry and we'd be at our destination in no time – and that's exactly what we like the most about Bintan!
Should you have time to spare, we highly recommend venturing beyond the resort and exploring what else Bintan has to offer. Night markets, a temple swallowed by a giant Banyan tree and sea gypsies villages… You'll never look at Bintan the same way again. Check out what else there is to do in Bintan right HERE.
Check out Bintan Resorts' official website for more information. 
That's right – your perfect Valentine's Day getaway is just around the corner. Book your ferry tickets now, and get ready for a romantic lovey-dovey time. Life is an adventure, an adventure best embarked on with your special someone. What else is holding you back? <3
---
Brought to you by Bintan Resorts.