Planning a trip to Honolulu? Instead of your typical hotel stay, opt for one of these chic yet homey Airbnb residences! We've narrowed your options down to a selection of highly-rated listings — keep scrolling and take your pick of some of the best Airbnbs in Honolulu.
CHECK AIRBNB OPTIONS IN HONOLULU
Also read: You Haven't Been To Paradise Until You've Visited Hawaii: Here Are 10 Reasons Why
Best Airbnbs in Honolulu for a sun-soaked vacation
1. This sunny tropical home that's off the beaten path, but still close to Honolulu's attractions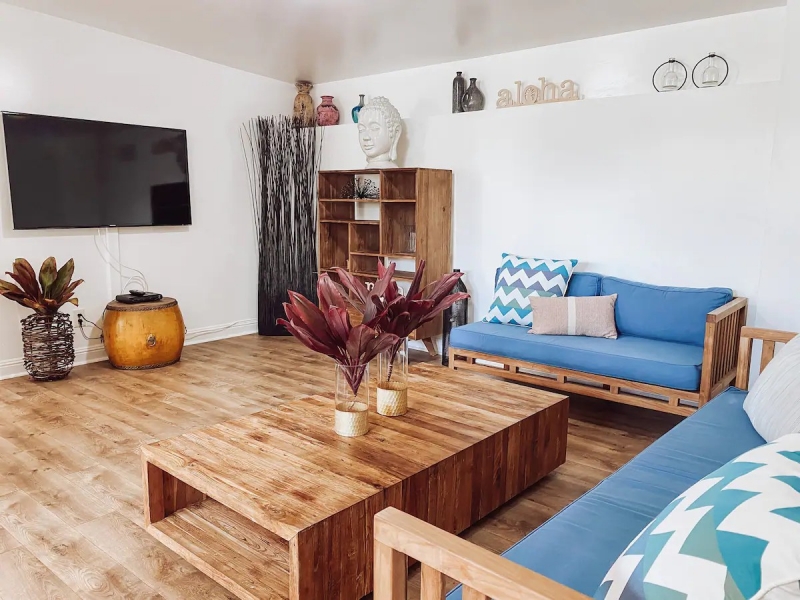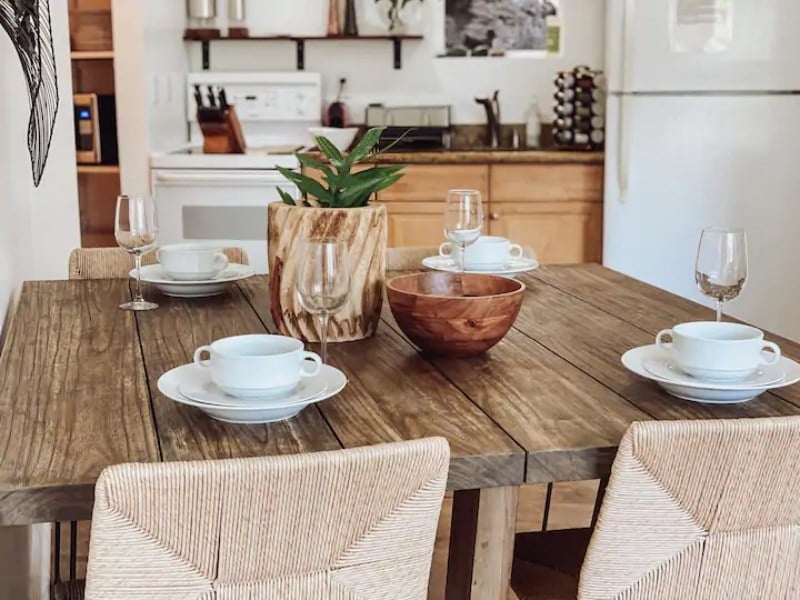 Listing name: AMAZING SPACE 2 MILES FROM WAIKIKI.
Listing type: Entire home
Max. no. of guests: 16
No. of bedrooms: 5  
Guests looking for an escape from Honolulu's busy streets will appreciate this chic oasis' chill location. This listing is situated in a private residence in the middle of lush greenery, making guests feel like they're in the middle of a tropical rainforest. That said, this serene Airbnb is conveniently a quick ride away from downtown Honolulu.
Travellers will feel like a true-blue Hawaiian in this beautiful home thoughtfully designed to highlight both style and comfort. It comes with five spacious bedrooms, so you can bring the whole crew without worrying about fitting everyone into one house! Learn more about this Airbnb here .  
2. This picture-perfect apartment you'll want to model your own home after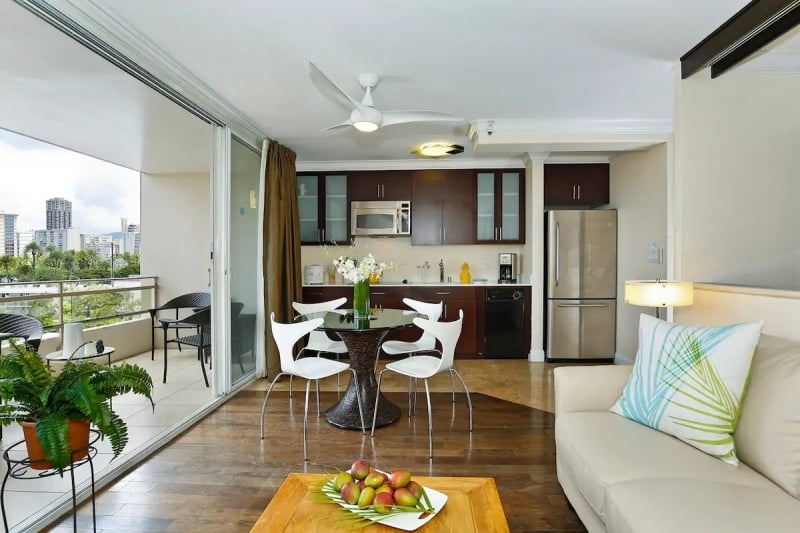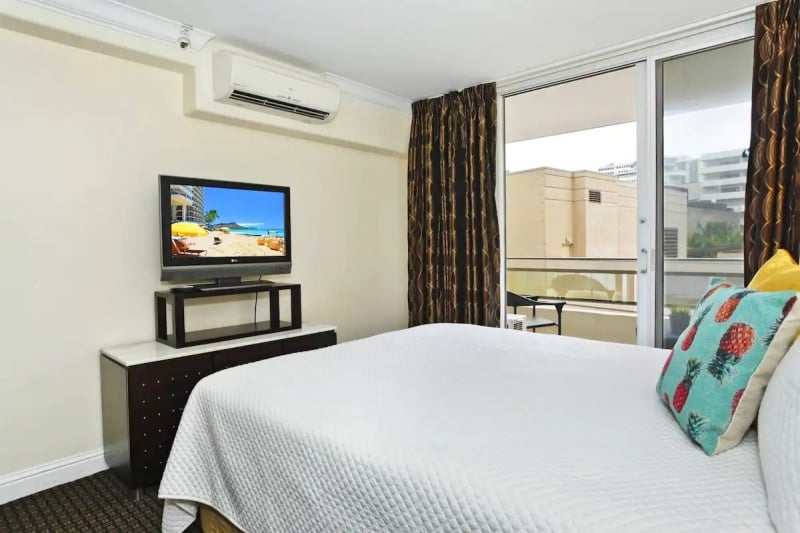 Listing name: 2 bed/1 bath, 2 Blocks to beach! WASHLET! RBW51
Listing type: Entire condominium
Max. no. of guests: 6
No. of bedrooms: 2
Here's one of the Airbnbs you'll want to book for longer stays in Honolulu. This centrally located Airbnb in Honolulu is gorgeous, spacious, and fully furnished — so chic yet homey, you'll probably be tempted to move in permanently! Ideal for small groups, this two-bedroom apartment has comfortable furnishings that promise a relaxing place to rest after a full day of enjoying Honolulu activities.
Accommodating superhost Captain Cook Resorts is dedicated to providing guests with everything they might need for a stress-free trip. Among these are beach towels, beach chairs, and a resort kitchen fully equipped for your cooking needs. Set in the centre of Waikiki, this Honolulu Airbnb gives you easy access to the best beaches, activities, restaurants, and nightlife in the city. Learn more about this Airbnb here .
3. This ocean view apartment in the middle of all the action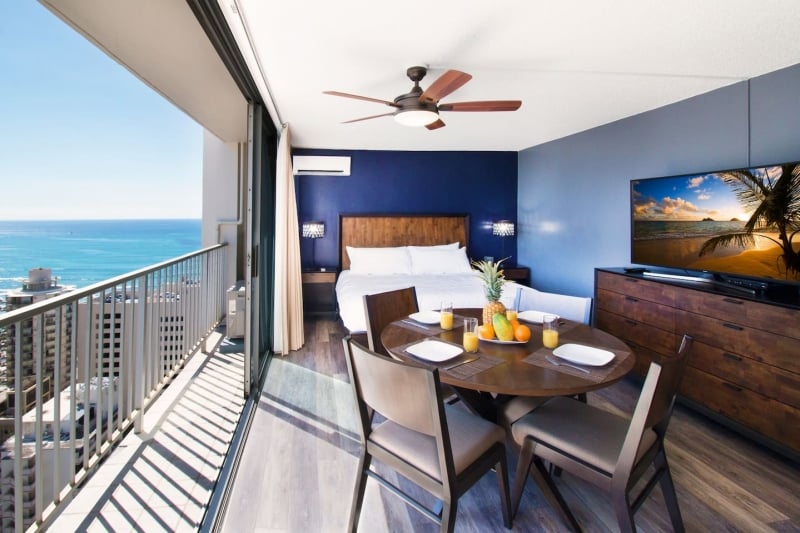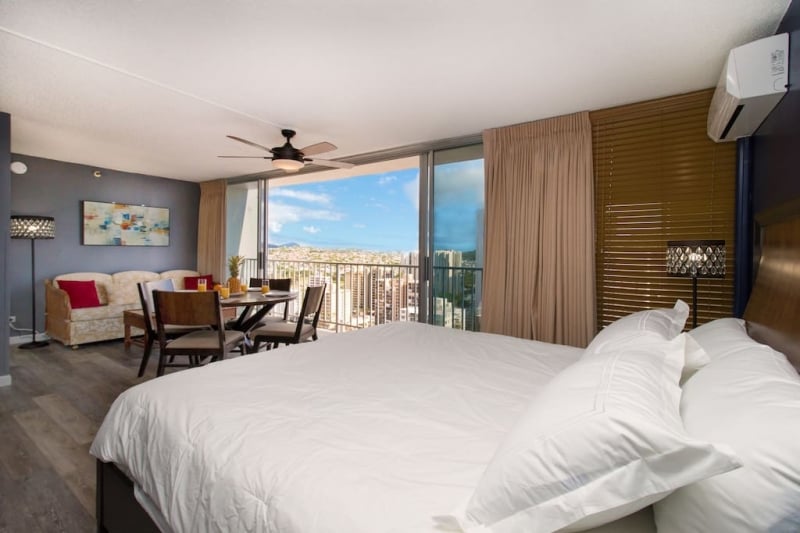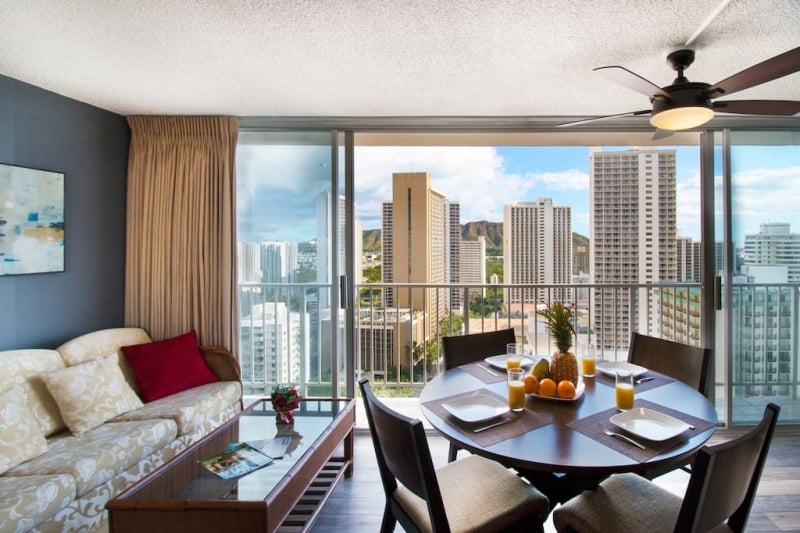 Listing name: 25th Fl. Ocean Views | 1 Block to Beach | WiFi
Listing type: Entire apartment
Max. no. of guests: 4
No. of bedrooms: Studio
This newly remodelled studio apartment is for travellers who prefer to be right by the tourist spots. Because parking around the city can be really pricey, guests love how this listing is a walk away from most places — all previous guests have given its location a five-star rating!
A compact home away from home that's perfect for two, this listing is equipped with a comfy king-size bed, a fully stocked kitchenette and dining area, and a couch that doubles as a bed for two more guests. Since this listing is a room at Honolulu's Pacific Monarch, guests can also enjoy access to the building's recreational amenities like the rooftop pool, hot tub, and sauna. Learn more about this vacation rental here.
4. This bright and breezy condo on Waikiki Beach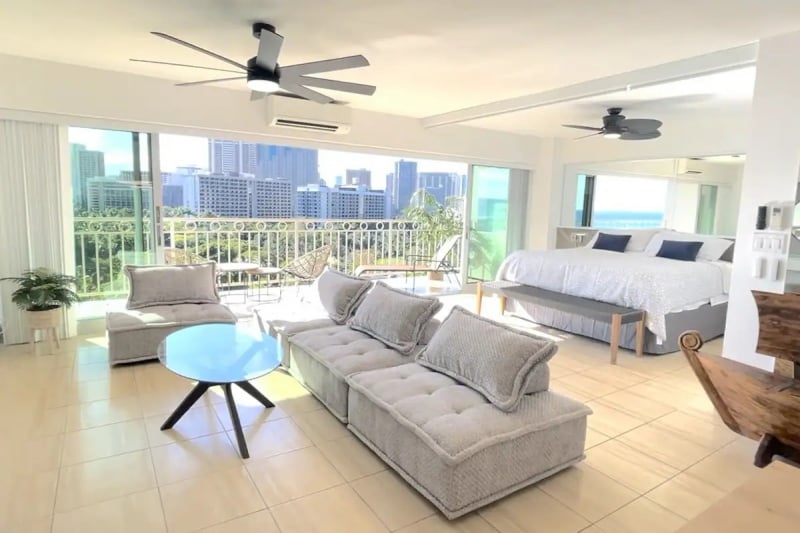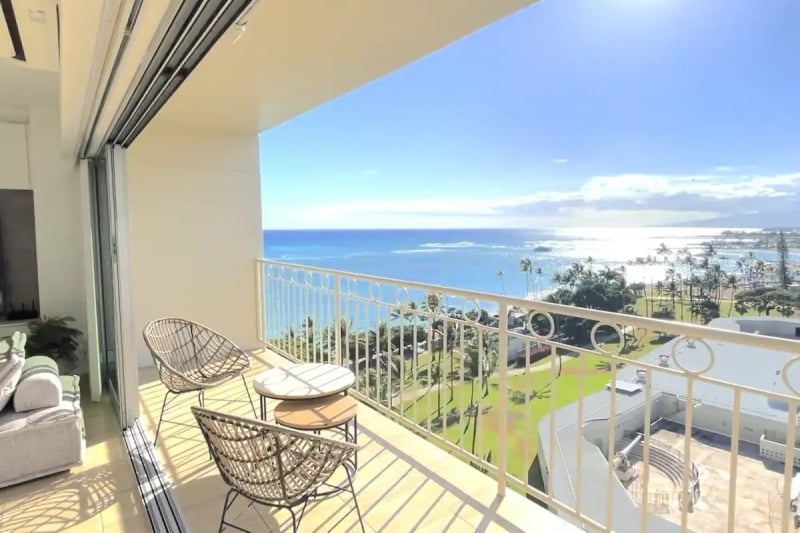 Listing name: (((Upgraded June.2021!))) 1 Bedroom oceanview
Listing type: Entire apartment
Max. no. of guests: 4
No. of bedrooms: 1
Travellers who are looking for luxe Airbnb accommodations will love this ocean view Honolulu apartment! This recently upgraded one-bedroom listing comes with a breezy lanai and living area, a fully equipped kitchen and dining table, as well as a washer and dryer — everything you might need to call this place home. Entertainment perks like cable TV and Bluetooth speakers are a big bonus, too!
With its premium location on Waikiki Beach, this Airbnb provides easy access to much of Honolulu's attractions. Fantastic dining and shopping are within arm's reach. There's even discounted parking across the street, a major plus in Hawaii's busy streets. Learn more about this Airbnb here .
5. This Instagram-worthy studio steps from Ala Moana Beach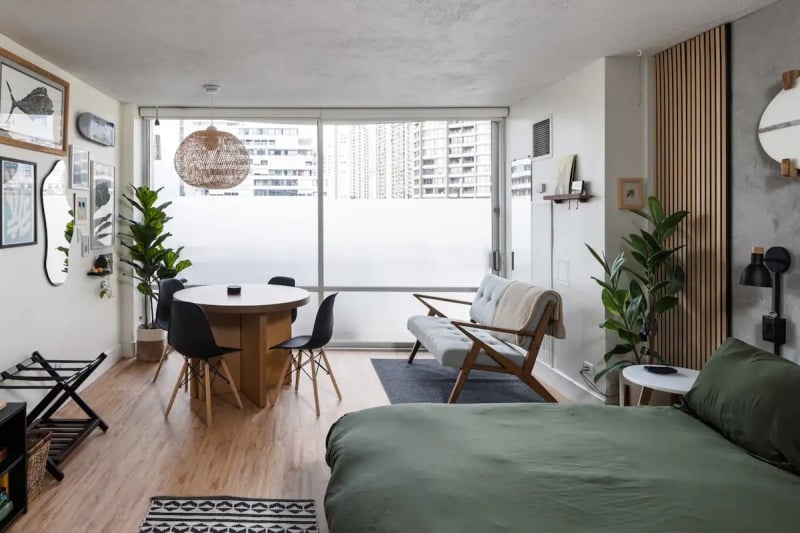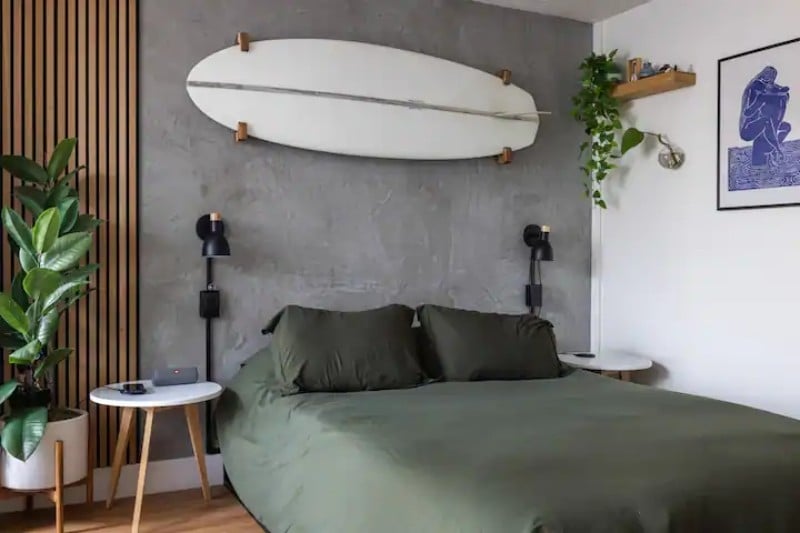 Listing name: Eight Thousand Waves
Listing type: Entire apartment
Max. no. of guests: 2
No. of bedrooms: Studio
This studio apartment hidden in the heart of the city is cosy, cute, and Instagrammable. With its secure and convenient location, it's a great choice for solo travellers or girlfriends on a BFF bonding trip! No doubt this newly renovated listing provides good value for money; it offers a comfortable queen bed, a pristine bathroom, a fully equipped kitchenette, and a little dining area. Designed to reflect the "ideal day in Honolulu," this Airbnb features top-of-the-line appliances and unique décor touches like homemade pottery.
Additionally, this pretty rental is mere minutes from top Honolulu attractions like Waikiki, Ala Moana Beach, and Ala Moana Mall. Laundry facilities are right next to the unit. Learn more about this Airbnb here .
6. This open-plan loft with sleek modern interiors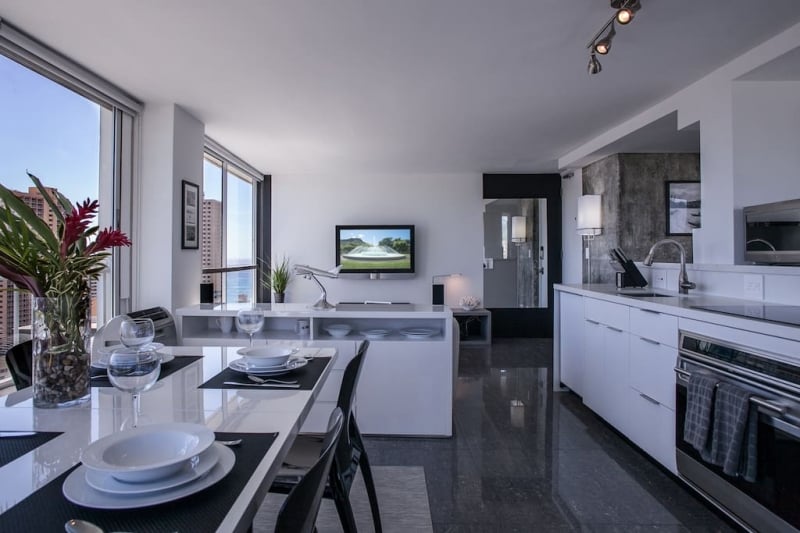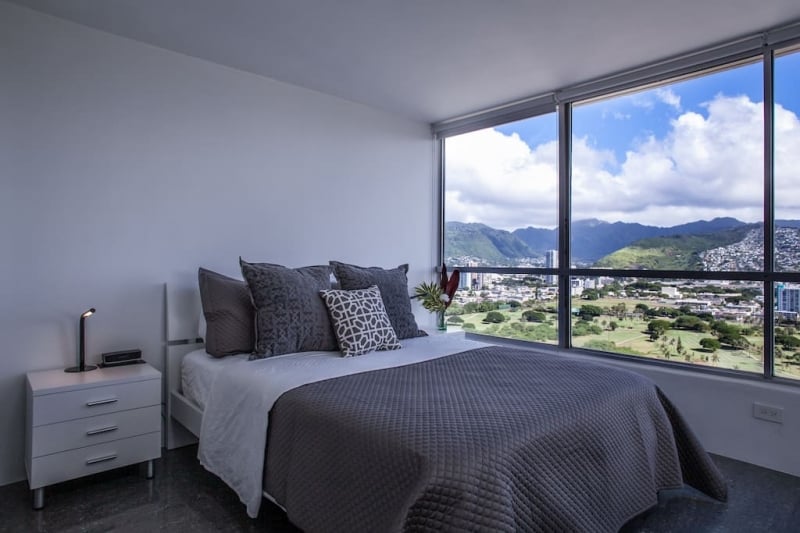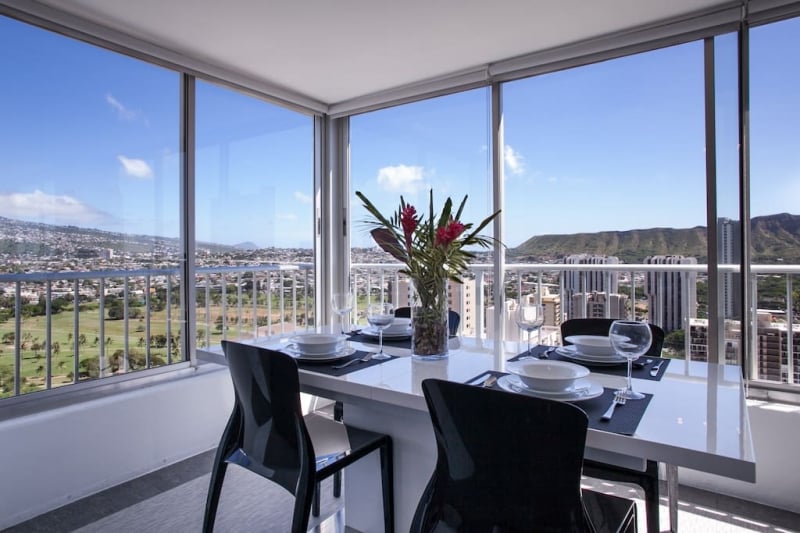 Listing name: Open plan one bedroom 29 Floor Penthouse.
Listing type: Entire apartment
Max. no. of guests: 4
No. of bedrooms: 1
Would you believe this sleek apartment sits at the top of an old, unassuming building?
This one-bedroom unit was renovated and transformed into a cool, open-plan loft perfect for couples. Just walking distance to Waikiki Beach, its penthouse location provides guests with some of the most beautiful beach and mountain views — a sight to behold, both in the day and night. This modern listing comes with everything you might need to call it home: a kitchen, living and dining area, laundry area — even Bose speakers and an Apple TV! Learn more about this Airbnb here .
7. This luxury vacation home perfect for big groups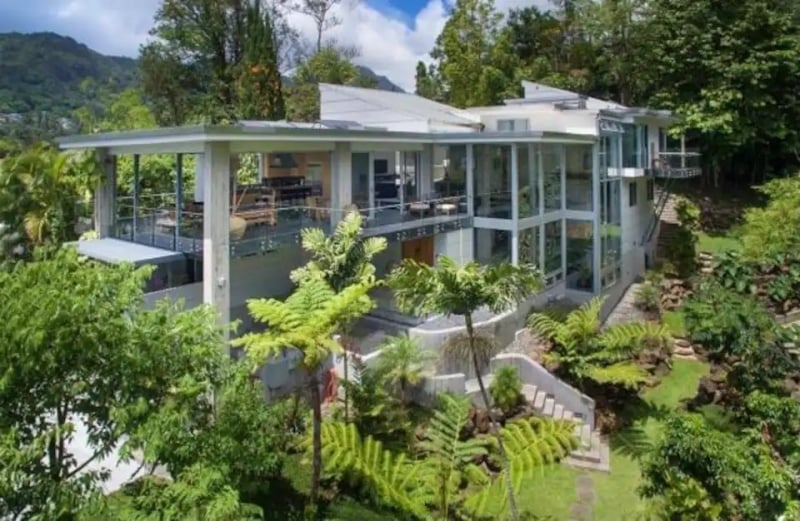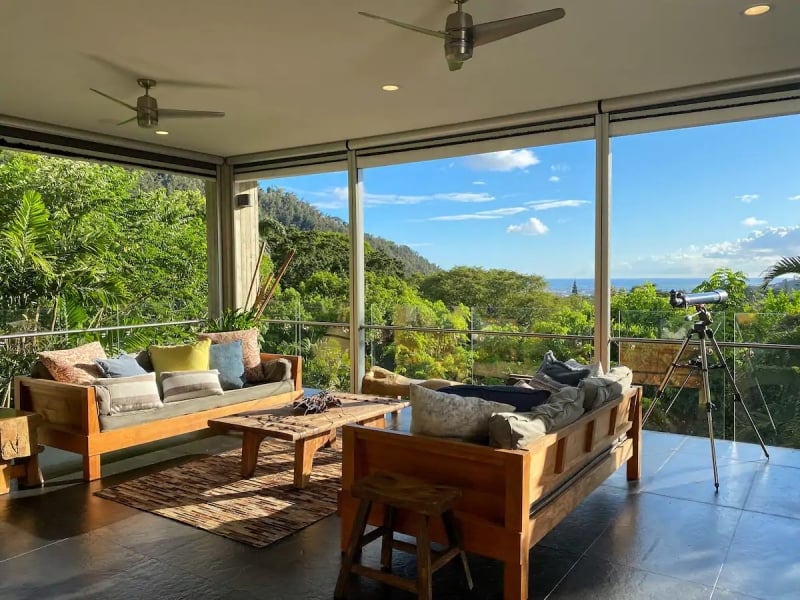 Listing name: Stunning Estate w/ Ocean Views & Luxury Amenities
Listing type: Entire house
Max. no. of guests: 16
No. of bedrooms: 4
An excellent choice for those travelling in big groups, this beautiful hilltop home is perfect for family vacations. Hawaii being a top wedding destination, this listing is also a great pick for housing wedding parties, or families of the bride and groom. With four bedrooms, 5 and a half baths, and generous living areas, this house can fit up to 16 guests.
Nestled atop a verdant hill, this spectacular estate enjoys privacy and peace away from the bustle of downtown. That said, this Airbnb is only minutes away from Honolulu essentials like stylish restaurants and bars. The famous Kailua Beach Town remains a close 15-minute drive away. Learn more about this Airbnb here .
8. This sprawling oceanfront estate with spectacular views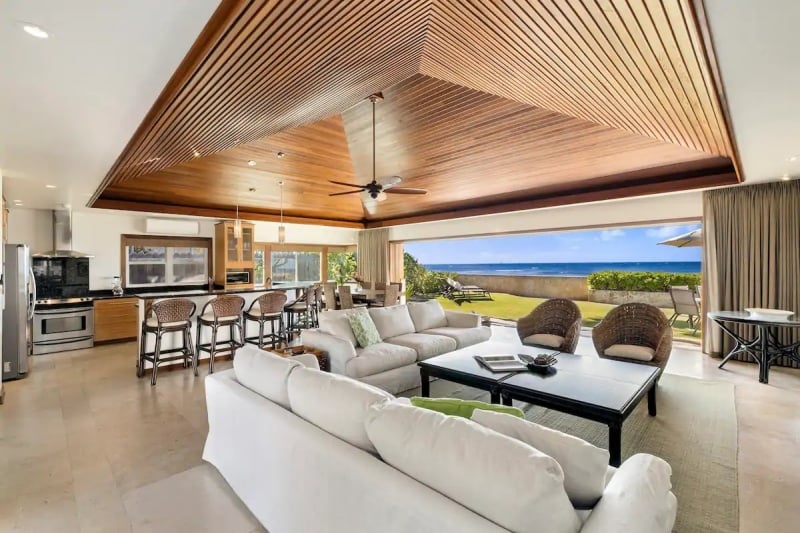 Listing name: Stunning Oceanfront Estate w/Private Pool & AC: Hale Makai at Diamond Head
Listing type: Entire home
Max. no. of guests: 8
No. of bedrooms: 3
This is one of those jaw-dropping Airbnbs in Honolulu definitely worth travelling for! A three-bedroom oasis, this grand estate comes with tasteful, modern interiors and opens to spectacular views of the sea. The home is nestled on a quiet private property, but it's less than 5km from buzzy Waikiki. Get your money's worth when travelling with a group — this rental can fit up to eight guests!
With its tasteful design and generous living spaces, you'll be sure to enjoy your time bonding with family and friends at this home just as much as when you're out and about. Step out to the lush gardens to enjoy the tropical scenery of the island. A private pool offers an alternative to the wild ocean. Learn more about this Airbnb here .
9. This surf-inspired suite near all Waikiki's main attractions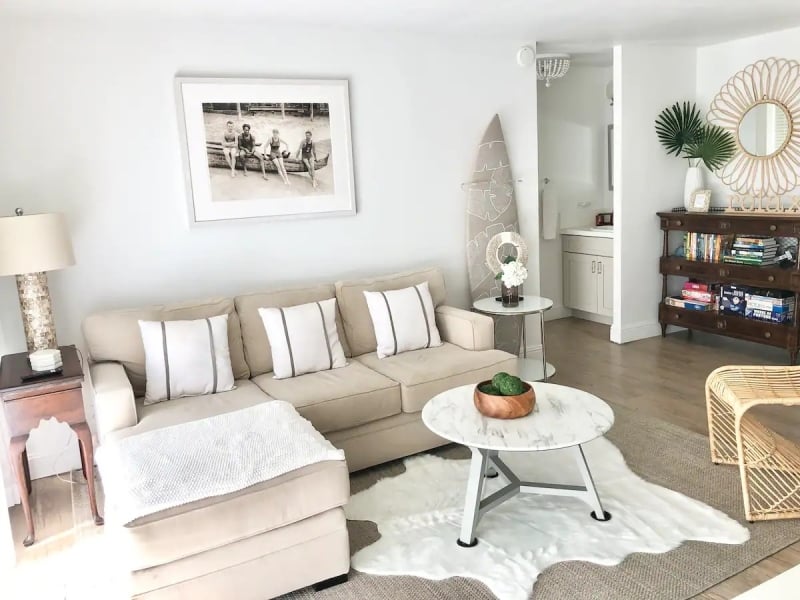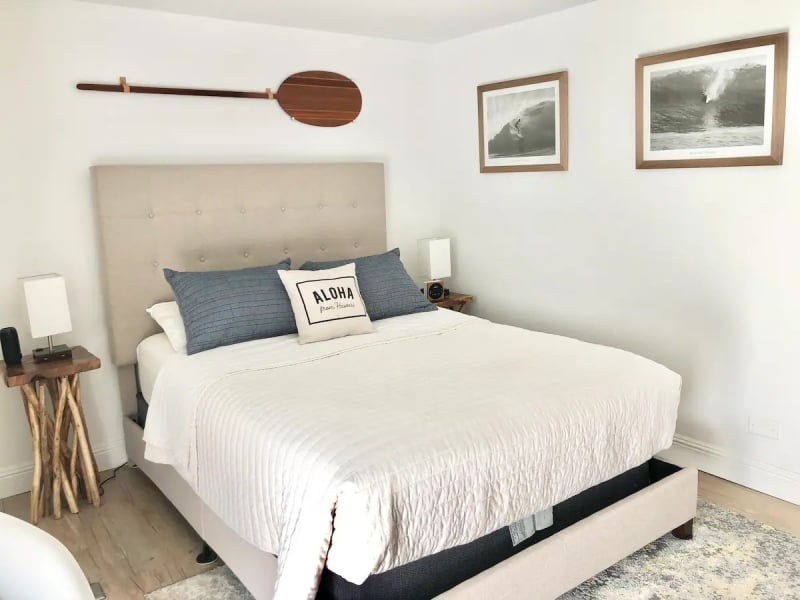 Listing name: Steps to Waikiki Beach From Your Luxe Island Oasis
Listing type: Entire condominium
Max. no. of guests: 4
No. of bedrooms: 1  
Bask in local culture at the Surf Suite, an apartment designed to pay homage to Waikiki's legendary surf culture. Natural materials, surf-inspired décor, and vintage photographs create an inviting vibe for surfers and non-surfers alike. Plus, you'll find everything you need in this rental, including beach chairs and boogie boards!
This is one of the best Airbnbs in Honolulu to use as a base, just a block away from hotspots like Waikiki Beach, Honolulu Zoo, Kalakaua Avenue, Kapiolani Park, and dining and shopping options. Guests will even have access to a free parking spot in the building – definitely a big plus in Honolulu. Learn more about this Airbnb here .
10. This private studio in lush Moana Valley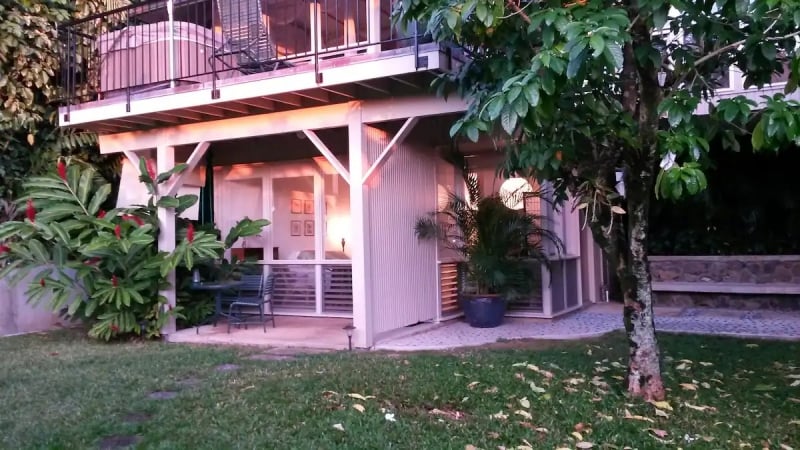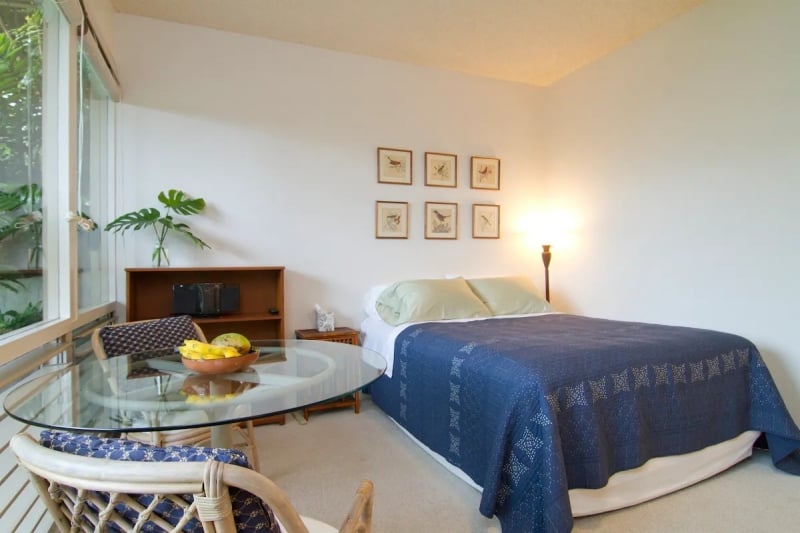 Listing name: LOVELY MANOA RAINFOREST STUDIO
Listing type: Entire home
Max. no. of guests: 2
No. of bedrooms: Studio  
If you're looking for serene Airbnbs in Honolulu, you'll love this cosy self-contained studio in Moana Valley. Although it's only a short drive to the exciting restaurants, shops, and beaches in the city, this unit's quiet location is a welcome respite for anyone who wants to enjoy Hawaii's quiet side. It's on the ground floor of a secluded family home, but the studio is completely self-contained with all the essentials, including a full kitchenette. Learn more about this Airbnb here .
Also read: Top 10 Stunning Airbnbs for the Best Experience in Hawaii
CHECK OTHER ACCOMODATION OPTIONS IN HONOLULU
Well, what do you think? We won't be surprised if you have a hard time selecting just one of these Airbnbs in Honolulu! We hope your stay on the island is nothing short of magical.
Got a property you'd like TripZilla to feature? Inquire with us here .
---
This article contains affiliate links. When you book through these links, we may earn a small commission at no additional cost to you. All images courtesy of the respective property listings.