Need some privacy for the upcoming Valentine's Day? Or perhaps inspired by the blockbuster Fifty Shades of Grey? Check out our take on the 7 most kinky hotels in Asia and get cracking.
Also read: 8 Quirkiest Themed Hotels in Japan
1. Aiwei Boutique Themed Hotel, Hefei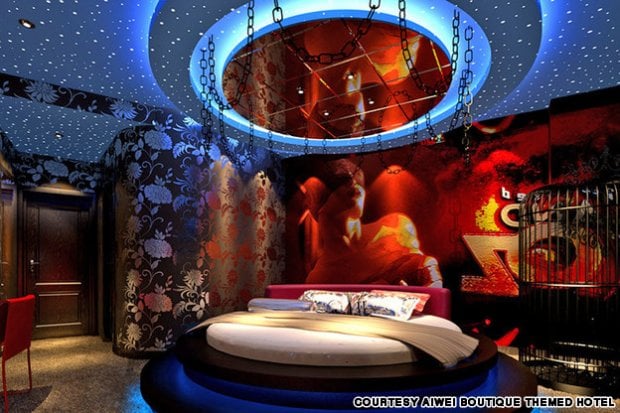 Image credit: Aiwei Boutique Themed Hotel
This "love hotel" in Hefei stands out in direct contrast with the rest of conservative China. It has a wide array of themed rooms that provide for the different fetishes of guests. Vibrators, waterbeds, red lights are all commonplace and will help to set the mood for a night of little sleep and lots of exercise. The most popular room in the joint? Try the prison room, which comes with its own set of handcuffs, chains, and even a cage. Don't lose the key or else it might lead to an awkward encounter with hotel staff…
2. Banana State Fashion Hotel, Bangkok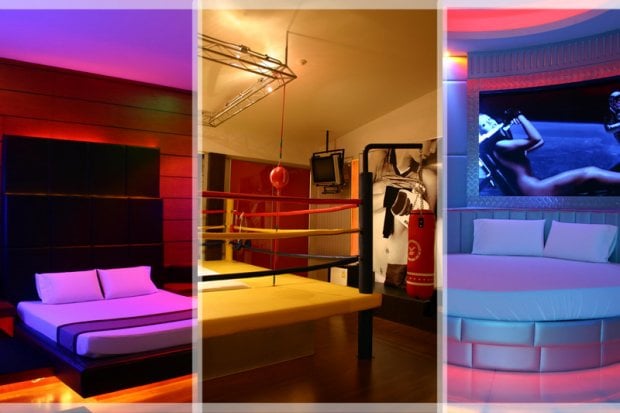 Image credit: Banana State Fashion Hotel
Don't be fooled by its name, this place is really a love hotel. With amenities such as an outdoor shower and an indoor Jacuzzi in the Spa Room, this suits the more exhibitionistic couples out there. Some of the themed rooms include a Star-Wars suite for those into intergalactic amorous relations, and a boxing ring themed room for those who like it rough. A condom menu has you covered if you forget to bring your own protection.
3. Hotel Alpha-in, Tokyo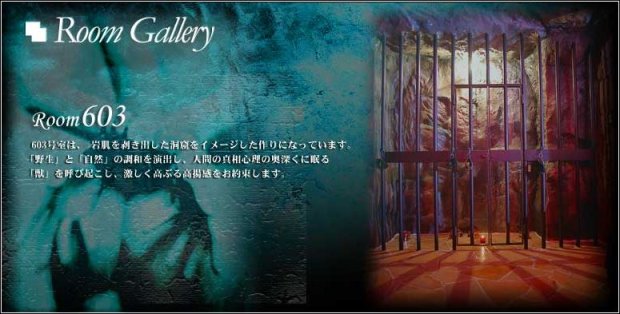 Image credit: Hotel Alpha In
One of Tokyo's more infamous love hotels, Hotel Alpha-in has many themed rooms from "Medical Style" rooms, "Shame Style" rooms, to "Mirror Style" rooms and everything in between. You and your partner are only limited by the power of your combined imaginations, as the room is stocked full with all kinds of equipment and props. Overwhelmed by all of this? Don't worry, there is a "Beginner Style" room for those who aren't ready to plunge into the world of love hotels headfirst and prefer to take things slower. Metaphorically speaking of course.
Also read: 9 Unique Getaway Retreats in Asia to Escape The City
4. The Time Movement, Chiang Mai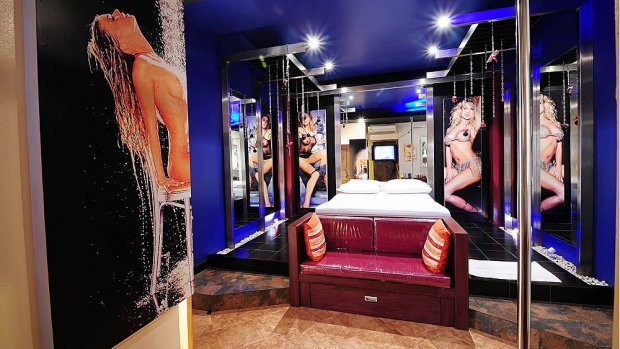 Image credit: The Time Movement
With 20 different themed rooms, this themed hotel should comfortably cover any weird fetish you might have. Ever fancy doing the dirty dance in an exotic country but lack the budget? Be transported to locations such as the Africa, Las Vegas and even the Arctic by stepping into the respective themed rooms and you'll feel like you're in a whole new world. A huge selection of adult content on demand will help get you in the mood for some lovin'.
5. New Majestic Inn, Singapore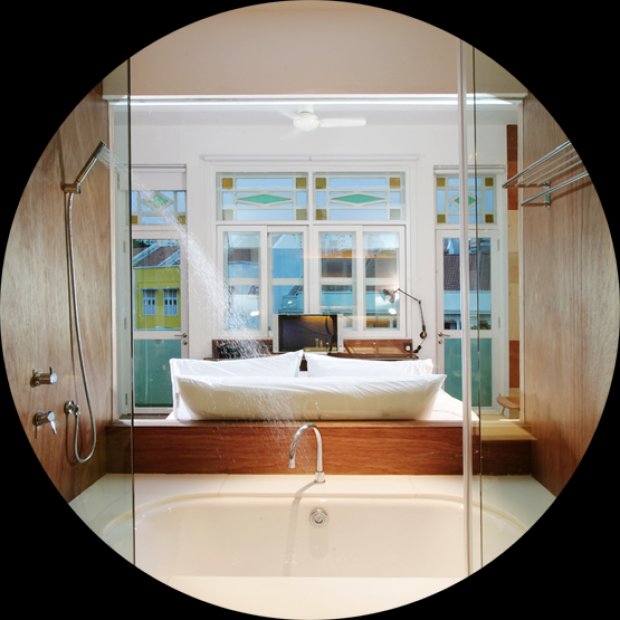 Image credit: New Majestic Hotel
This boutique hotel in the middle of Chinatown isn't necessarily a love hotel in the traditional sense of the word, but it has a few sneaky tricks up its sleeve. As if featuring a "central glass-encased aquarium bathtub" right smack in the middle of the room wasn't enough, it also has not-so-subtle installations such as ceiling mirrors in a room named the Pussy Parlour. Make what you will of that.
6. For You Inn, Bangkok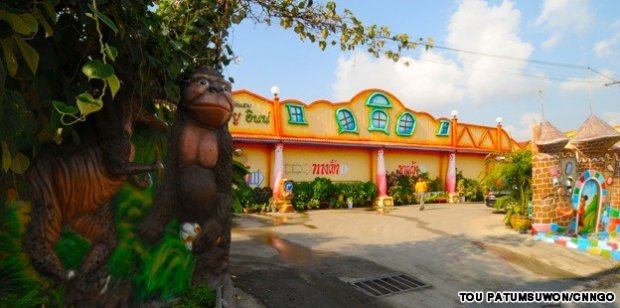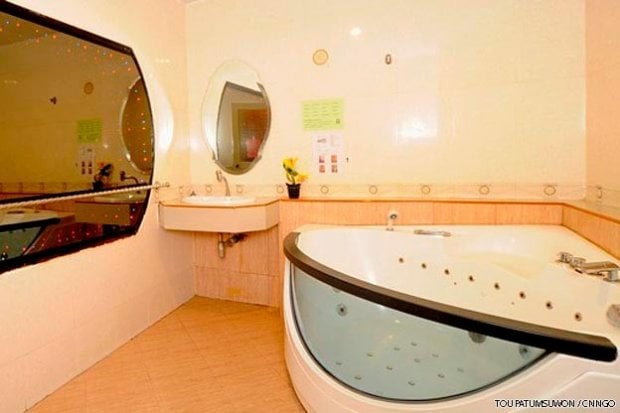 Image credit: CNN Travel
Part of Bangkok's 'man root' (curtained) motels, For You Inn has a somewhat out-of-place theme of beloved cartoon characters such as Mickey Mouse and Donald Duck. On the upside, it makes for a very discreet exterior, looking more like a kindergarten, and the curtains will ensure that passer-bys won't think to look twice. With a two-way mirror into the bathroom and a see-through whirlpool bathtub, the rooms certainly do not lack in the kink factor.
7. Hotel Jzauruss, Tokyo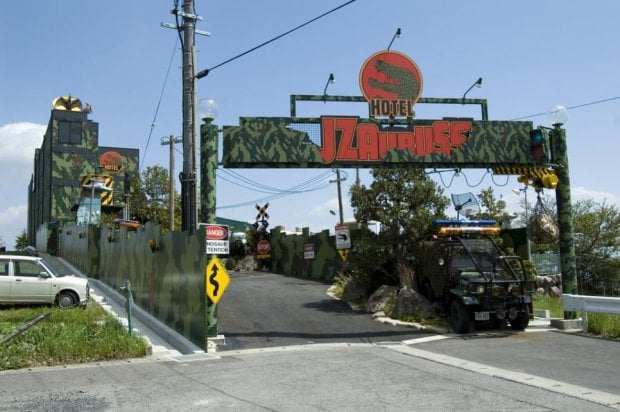 Image credit: jeffreydonenfeld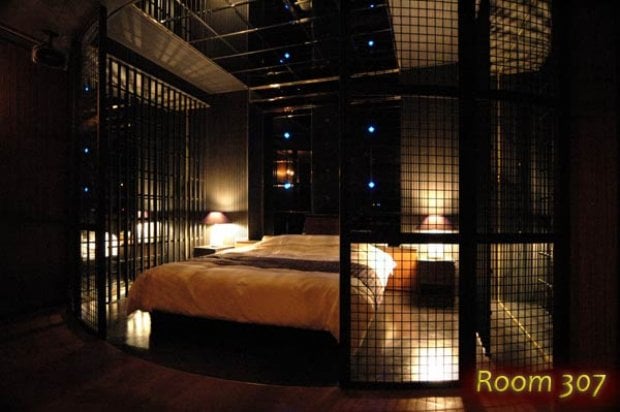 Image credit: Jzauruss Hotel
Jurassic Park fans, this one is for you. With a facade that mimics the iconic Jurassic Park gate in the movies, you can literally spot the theme before you even step foot into the building. With the requisite caged bed and mummy-themed room, Jzauruss certainly does not lack in the kink department. Where it truly stands out however is that while other hotels have different themed rooms, Jzauruss wholeheartedly commits to the Jurassic Park theme, which lends to the atmosphere and authenticity of the hotel.