Travellers flock to Bali for its art markets, beautiful beaches, and buzzing nightlife. But most of all? The stunning villas! To make the most of your next Balinese holiday, stay at one of these amazing Airbnbs in Ubud. At these stunning villas, you'll be just minutes away from amazing rice terraces, hot spots for coffee and tea tasting, and the famous Bali swings.
Also read: The Do's and Don'ts of Bali
1. This tropical oasis close to Ubud's centre
Listing name: GrahaSandat Luxurious Private PoolVilla UbudCenter
Listing type: Private room in villa
Max. no. of guests: 2
No. of bedrooms: 1
While this tropical-inspired villa feels like a private hideaway in the middle of the jungle, it's actually quite close to all of Ubud's attractions! At this quiet Airbnb in Ubud, you're sure to get all the rest and relaxation you'll need while you're on vacation. In addition to the private pool, the spacious stone bathtub is a luxurious spot to unwind. You can also arrange for a traditional Balinese massage right in the comfort of your own home away from home.
2. This peaceful retreat in the heart of Ubud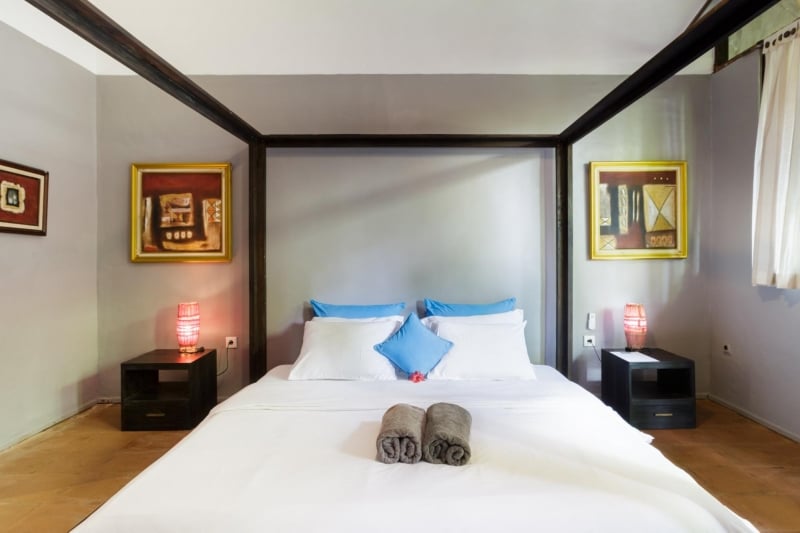 Listing name: ❤❤ PROMO! Private pool with view near Yoga Barn ❤❤
Listing type: Entire villa
Max. no. of guests: 4
No. of bedrooms: 2
Built by a famous local artist, this stunning Airbnb in Ubud is filled with art and traditional Balinese furniture. With its beautiful views of the river and rice fields, it's easy to imagine relaxing afternoons at the infinity pool! There's even a newly installed infrared sauna for guests who need to relax after a day of strenuous yoga or hiking around Ubud.
Despite its tranquil location, this villa is just walking distance from popular tourist spots like the Ubud Palace and Monkey Forest. At the same time, it's close to the famous Yoga Barn and over 50 different restaurants!
3. This gorgeous villa with five-star amenities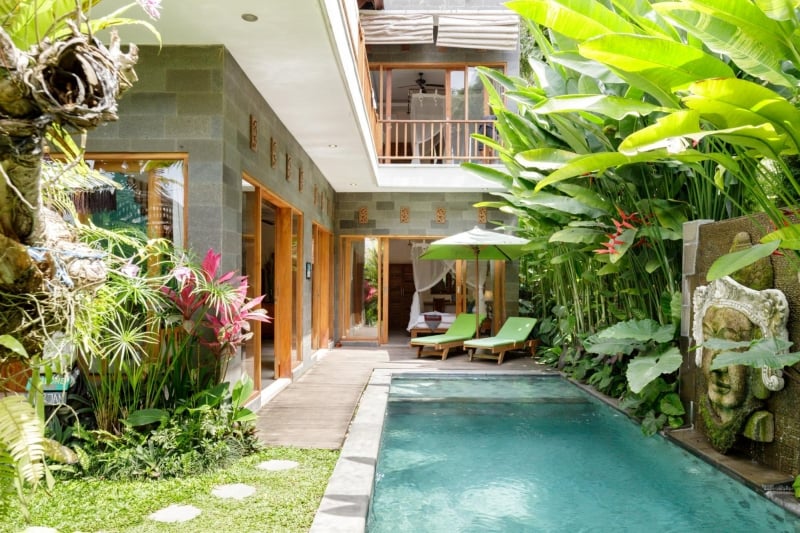 Listing name: Tranquil Paradise Villa with Pool and Attentive Staff
Listing type: Entire villa
Max. no. of guests: 7
No. of bedrooms: 3
This stunning villa can house up to seven guests, and is as affordable as it is gorgeous — a great pick for families and big groups of friends. More than the beautiful interiors and spacious bedrooms, this accommodation is best-loved for its warm, helpful staff. This is one of the Airbnbs in Ubud where you can expect to start your day with only the best breakfasts. We hear the chef, Dewa, makes the best omelettes, pancakes, and banana fritters!
4. This cosy, authentic Balinese home
Listing name: Cozy Boutique Private Pool Villa at Pondok Prapen
Listing type: Entire villa
Max. no. of guests: 3
No. of bedrooms: 2
At this traditionally designed Airbnb in Ubud, guests will be treated to spacious bedrooms, a private pool, and a relaxing terrace with jungle views. Expect to spend your mornings by the pool at this peaceful hideaway — it's the best spot to enjoy your coffee and breakfast (previous guests recommend the banana pancakes!).
About 10 minutes away from the main street, this villa is close to the famous Ubud Market — the perfect place to shop for cool local finds and souvenirs.
5. This slice of paradise with jungle views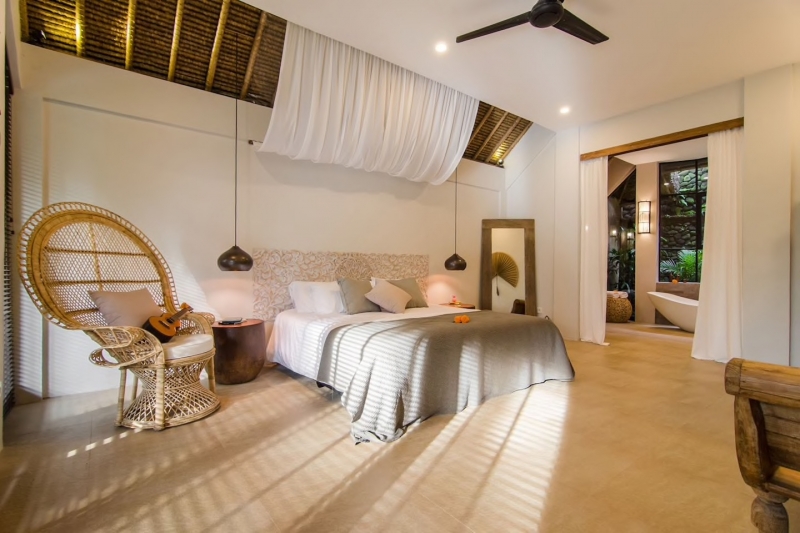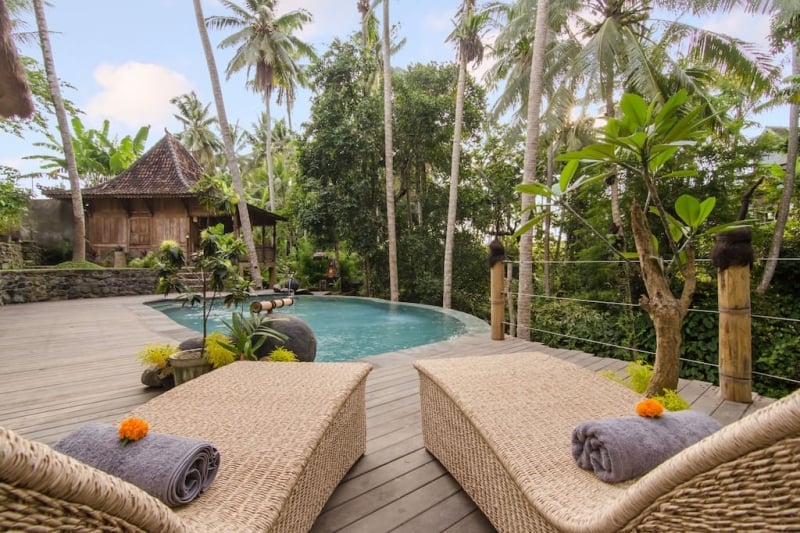 Listing name: 2 Peaceful Suites w/Private pool - 5 min from Ubud
Listing type: Entire villa
Max. no. of guests: 4
No. of bedrooms: 2
Looking for Airbnbs in Ubud that give you the best of all worlds? This two-bedroom villa may be situated in the middle of rice fields, but it's actually just a three-minute ride from the centre. Unwinding at this peaceful oasis is the perfect way to reward yourself after exploring the town's popular attractions on foot! Each and every corner is so cosy, we won't be surprised if you decide to dedicate an entire day of your itinerary to making the most of your stay at this villa.
6. This rustic sanctuary in the middle of a lush jungle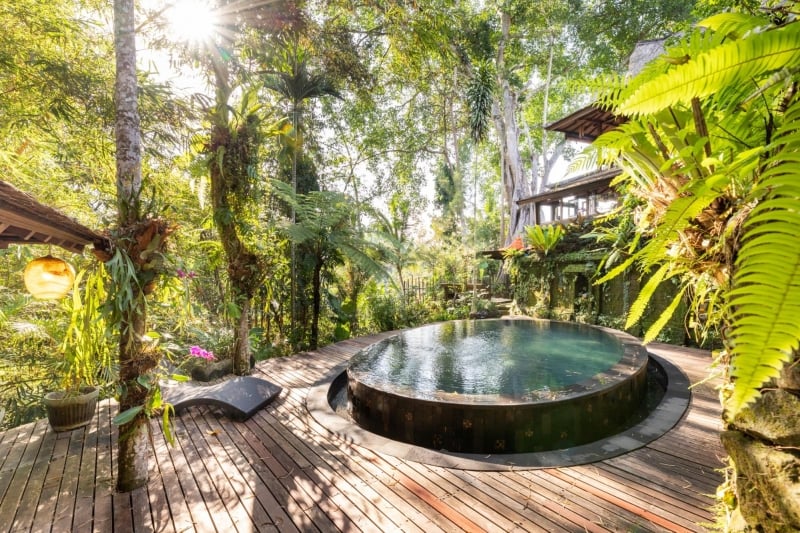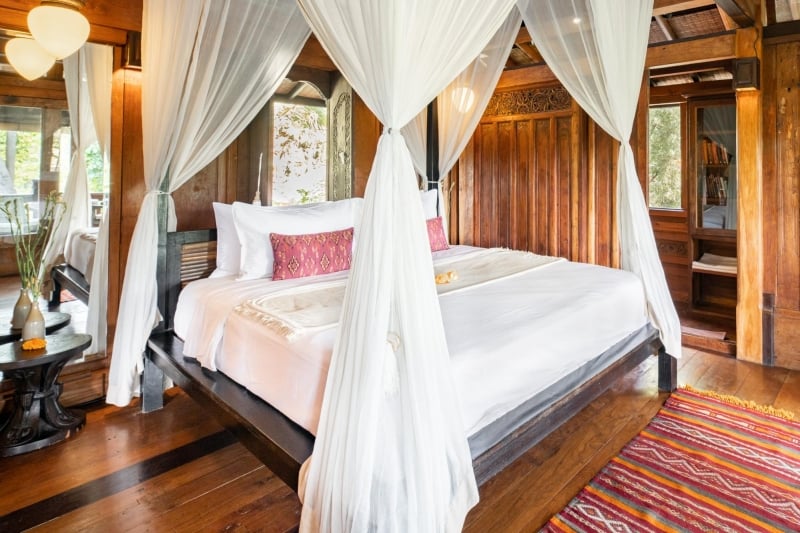 Listing name: Stunning Zen Sanctuary Villa with Incredible Views
Listing type: Entire villa
Max. no. of guests: 4
No. of bedrooms: 2
Travellers looking for a place to recharge won't want to miss out on this tranquil Airbnb! A zen hideout in the middle of the jungle, this villa is like a secret you'll be tempted to keep to yourself. With its many cosy corners, open-air spaces, lush views, you will surely get more than enough rest and rejuvenation!
Away from the noise of Ubud's central area, this villa is a 10-minute ride away from the famous Tegallalang Rice Terraces.
7. This modern villa just outside central Ubud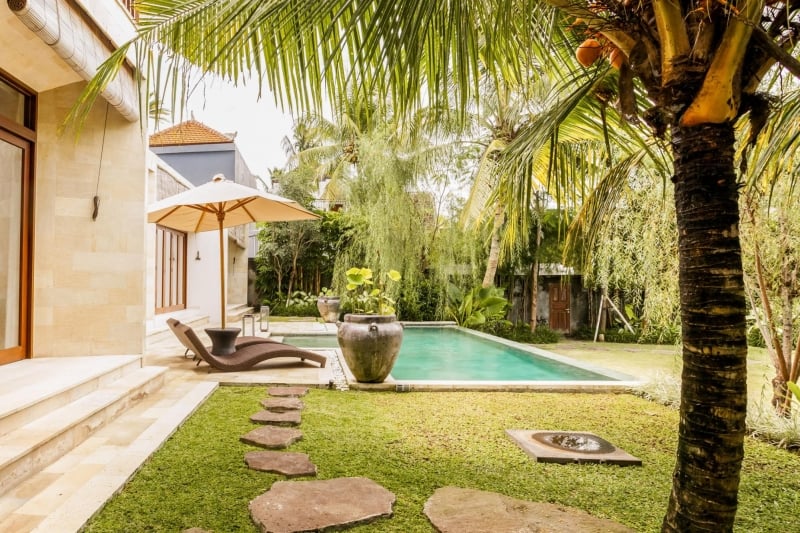 Listing name: Spacious and Luxury Modern Villa with Huge Garden and Pool
Listing type: Entire villa
Max. no. of guests: 6
No. of bedrooms: 3
This modern three-bedroom villa is ideal for groups who want to stay outside Ubud's busy central area. Here, you will feel spoiled not just by its luxurious amenities, but by the warm and accommodating staff. Previous guests commend the team for cooking the most amazing breakfasts, and happily arranging their transportation and in-house massages! They swear you'll miss their sweet smiles just as much as this serene hideaway.
8. This cool, industrial jungle villa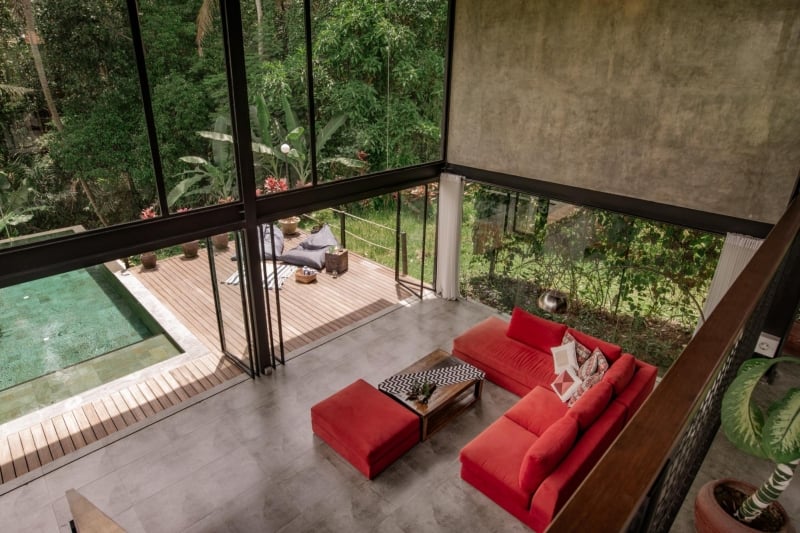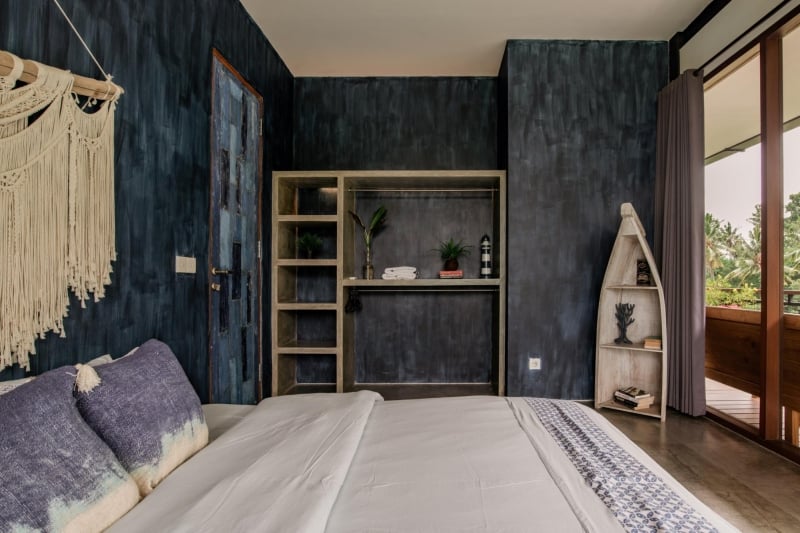 Listing name: Lush Deluxe Jungle Loft Villa with Rice Field Views
Listing type: Entire villa
Max. no. of guests: 7
No. of bedrooms: 2
One of the coolest Airbnbs in Ubud, this loft-style villa is great for getaways with friends! Rustic yet industrial, it's every bit as comfortable as it is Instagram-worthy. You'll love the infinity pool right under the palm trees, and the cosy bedrooms with amazing views of the rice terraces!
Despite being away from the hustle and bustle of Ubud, the Monkey Forest and other popular spots are still easily accessible from here.
9. This stylish villa with breathtaking views
Listing name: Fantastic View Quiet Full Kitchen Pool Walk to Ubud Center
Listing type: Entire villa
Max. no. of guests: 6
No. of bedrooms: 2
Just minutes away from Ubud's main street, you'll find this beautifully designed home in the middle of the rice fields. At this little slice of heaven, guests will enjoy the infinity pool (the perfect place to watch the sunset) and breezy patio (the ideal spot to enjoy a glass of wine)! You will also be treated to delicious breakfasts prepared by the most accommodating staff — don't forget to try the nasi goreng!
10. This luxurious riverside retreat that's worth the splurge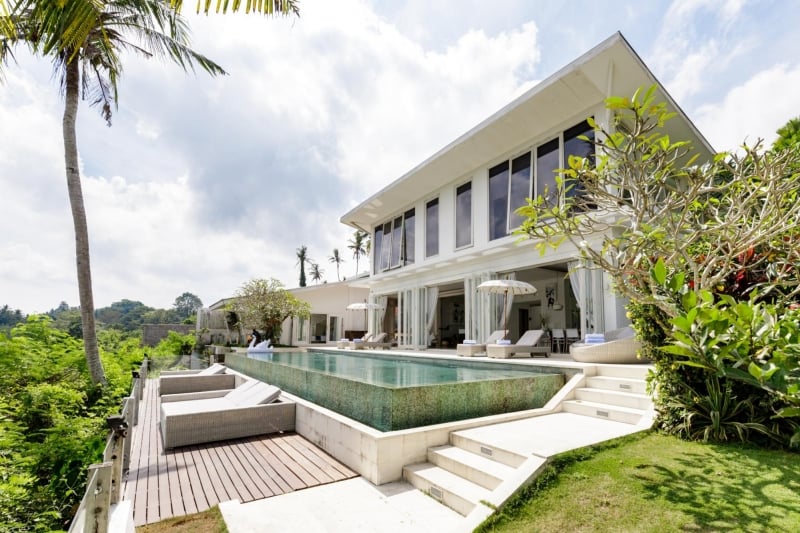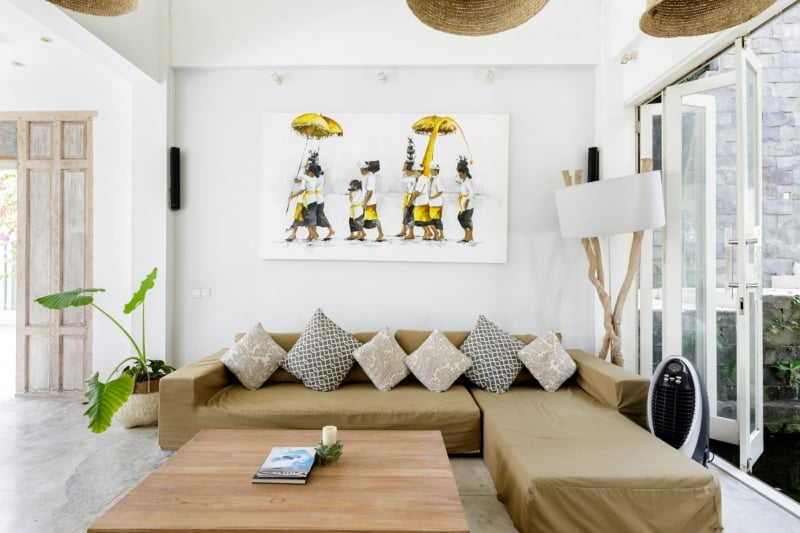 Listing name: Find Solace at Villa Santai - a Serene Riverside Retreat
Listing type: Entire villa
Max. no. of guests: 11
No. of bedrooms: 5
This dreamy home is located in a lush forest just 10 minutes away from central Ubud. A luxurious Airbnb that can comfortably fit 11, it's definitely a gem for big groups. With its stunning location, five beautiful bedrooms, a grand infinity pool, and a phenomenal staff, this villa is almost too good to be true!
11. This colourful bamboo house in the jungle
Listing name: Artistic Bamboo Jungle House in Central Ubud
Listing type: Entire villa
Max. no. of guests: 5
No. of bedrooms: 1
Tranquil rice paddies surround this bamboo loft that's one of the most eclectic Airbnbs in Ubud. Combined with the vibrant artistic furnishings and the unspoiled jungle surroundings, this setting will bring all your lush tropical fantasies of Bali to life. Travellers will have to hike a bit to get to this beautiful bamboo house, but true adventurers will take it all in stride. You'll be rewarded with one of the most beautiful Bali stays around, plus breathtaking sunsets at the end of every day.
12. This chic treehouse-style oasis
Listing name: Trinity Gardens Wild Beautiful Jungle Villa
Listing type: Entire home
Max. no. of guests: 5
No. of bedrooms: 3 
Although it's just an easy walk to town, this whimsical treehouse-inspired home makes the most of its location in the middle of rice fields and lush jungles. Enormous windows and open-air spaces keep the exquisitely designed villa flooded in natural light. Each of the three bedrooms are filled with eclectic décor and plush furnishings. In between sightseeing in Ubud, relax on the hammock outside, or explore shared facilities like a pool, yoga shala, and rooftop veranda.
Also read: A 4D3N Bali Itinerary For Your Next Family Getaway
Well, what are you waiting for? It's time to plan your perfect Balinese getaway! Booking a stay at one of these Airbnbs in Ubud is a great start!
Looking to stay in Kuta on your next trip to Bali? Check out our selection of Airbnbs here.
Got a property you'd like TripZilla to feature? Inquire with us here.
---
This article contains affiliate links. When you book through these links, we may earn a small commission at no additional cost to you. All images courtesy of the respective property listings.