There's just something about Joshua Tree. This Californian desert is a favourite group vacation spot for its middle-of-nowhere vibe and the blanket of stars that visitors are guaranteed to witness at night. While it may be a popular camping destination, not everyone is a fan of roughing it. Instead, check out this list of vacation rentals and Airbnbs in Joshua Tree — they're gorgeous, spacious, and chock-full of super-cool amenities. You may not want to leave these homes at all!
Also read: Why California is One of the Best Places to Have Your Dream Couple Holiday
Best Airbnb listings & vacation rentals in Joshua Tree, California
1. This luxe invisible house in the wilds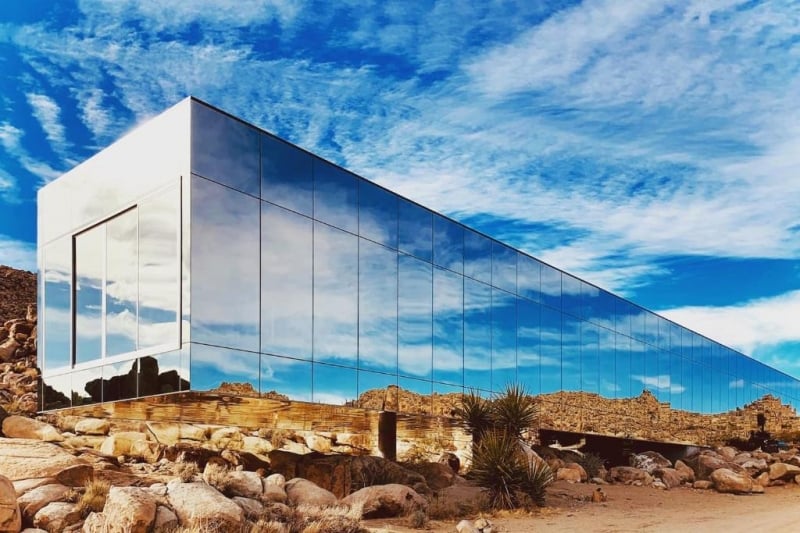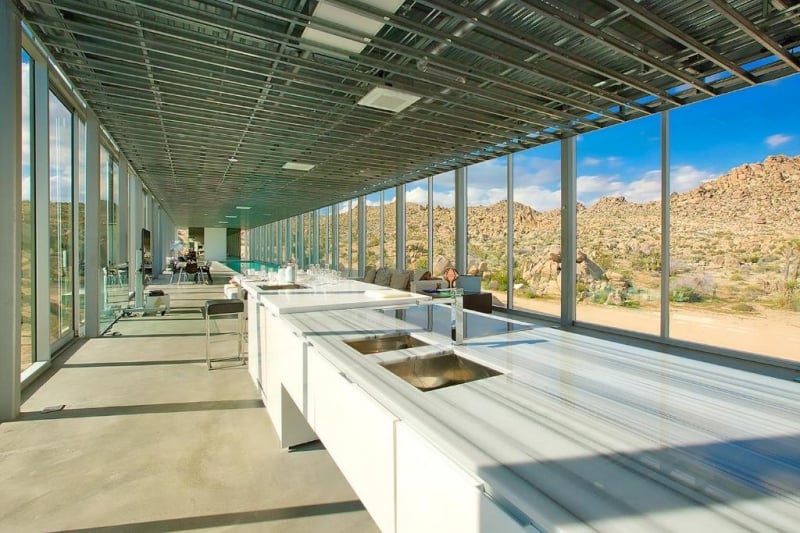 Listing type: Entire house
Max. no. of guests: 8
No. of bedrooms: 4
Step inside this luxurious glass home that almost disappears in the picturesque rough-and-tumble desert of Joshua Tree National Park. Inside the sprawling Invisible House in Joshua Tree, full-length glass windows allow travellers to feel one with the wild desert landscape. Every nook and cranny of this designer home is exquisitely decorated with chic and modern furnishings.
The most interesting spot? It's almost impossible to choose but we're quite taken with the solar-heated indoor pool. This Joshua Tree vacation rental also comes with five bathrooms, a fully-equipped kitchen, and free WiFi. Prepare for a memorable, hotel-quality experience in the Invisible House!
2. This eclectic residence near the park entrance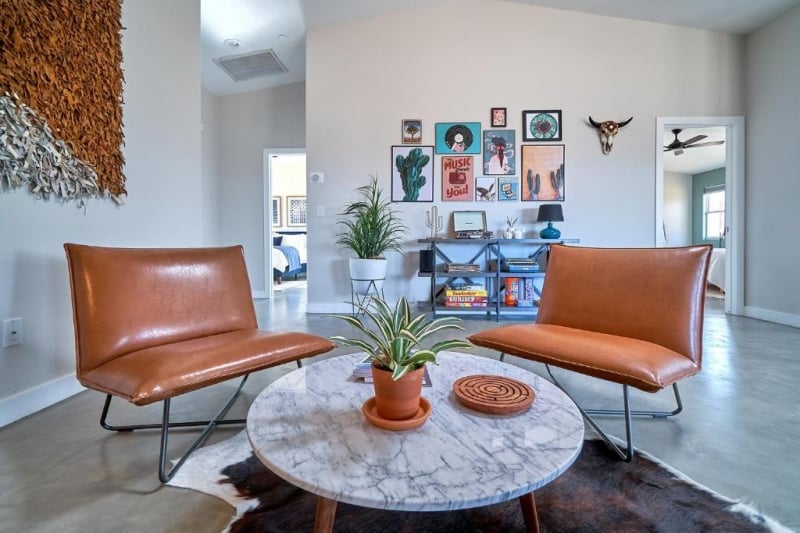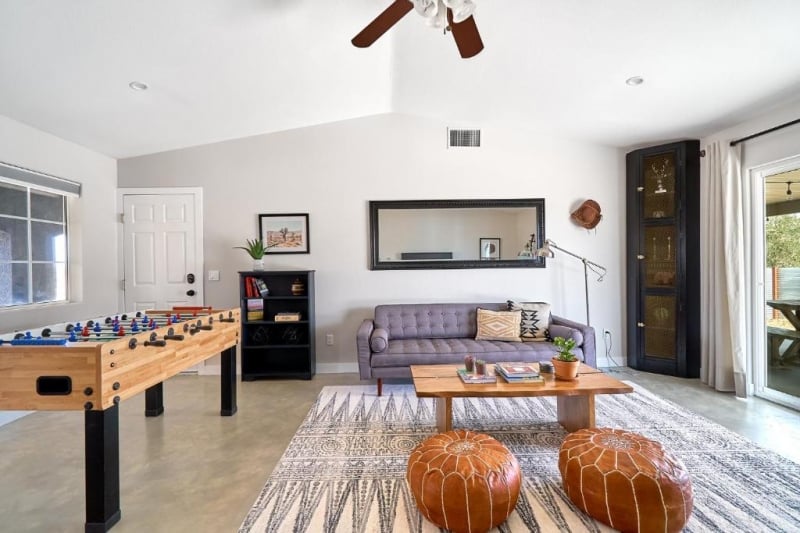 Listing type: Entire house
Max. no. of guests: 6
No. of bedrooms: 3
A modern holiday home, the Eclectic Joshua Tree features three sprawling bedrooms, making it a comfortable fit for three couples or groups who'd like plenty of space to relax. It has everything you need for an unforgettable vacation in California: cosy beds, a beautiful fireplace, vinyl records, and an expansive outdoor area with a bocce ball court and hammocks.
Beautiful interiors and high-quality furnishings make this holiday home one that's hard to leave. But if you'd rather explore Joshua Tree, you're in luck. This home is just a five-minute drive to the national park, and it's even closer to the downtown area!
3. This luxurious home with direct access to park trails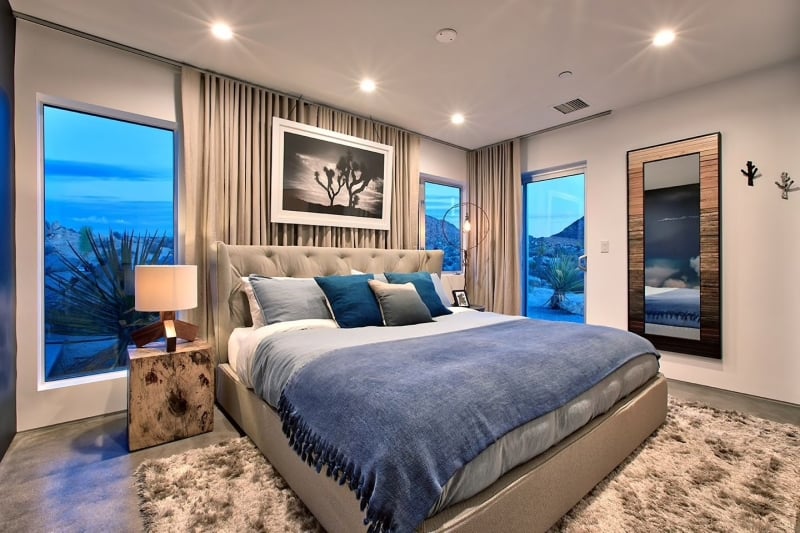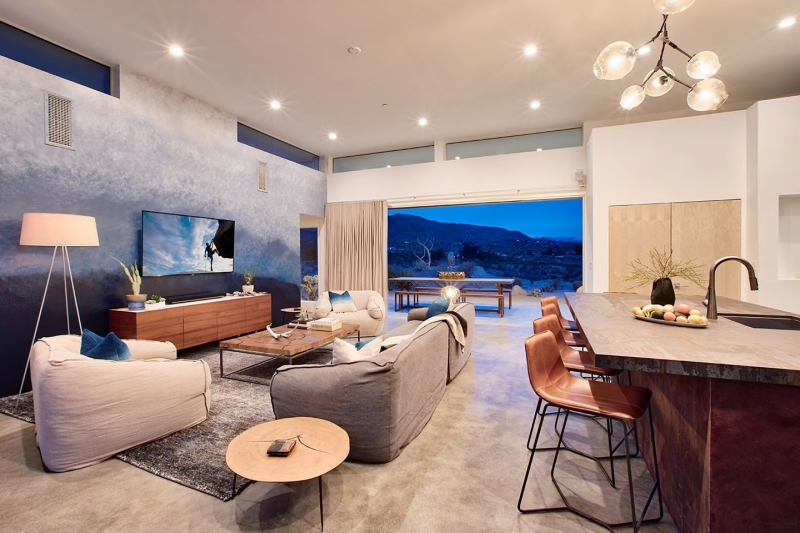 Listing name: SkyHouse Joshua Tree: Private Villa with Pool/Spa
Listing type: Entire house
Max. no. of guests: 6
No. of bedrooms: 3
Planning to do a lot of hiking? At this eight-acre property, guests can take advantage of its direct access to multiple hiking trails at Joshua Tree National Park! In addition to featuring all the comforts of city living, this luxurious hideaway comes with an expansive outdoor deck, a heated pool, hot tub, and fire pit. It's the perfect place to wind down after enjoying a whole lot of hiking! 
Nestled at the top of the hill, this home also boasts of unobstructed views of the valley and the night sky. Plus, if you're lucky, you might even catch a glimpse of the Milky Way! Learn more about this Airbnb here.
4. This stylish retreat that's ideal for large gatherings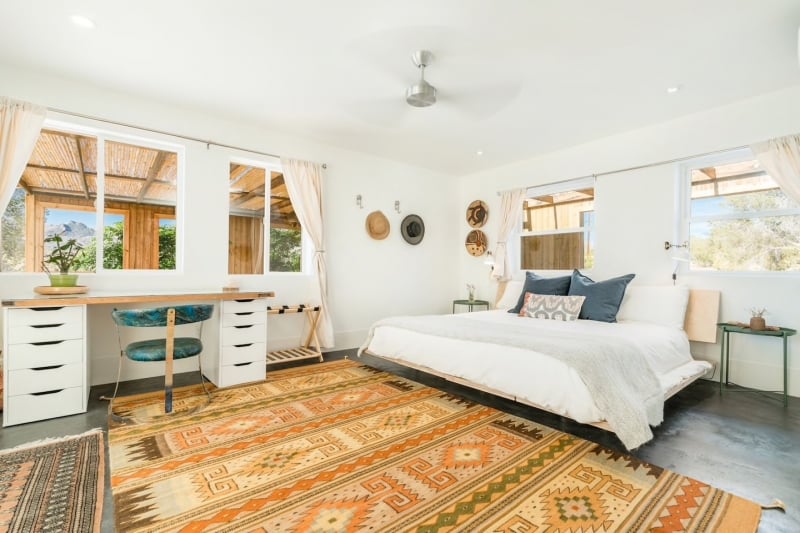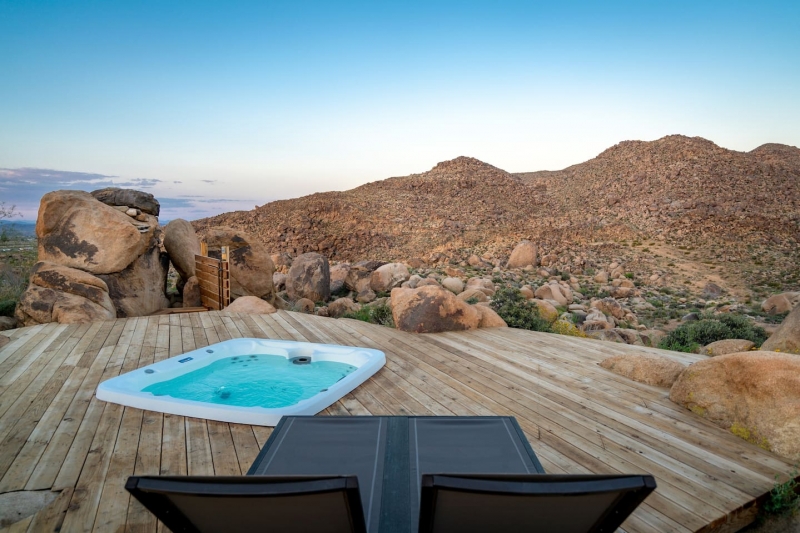 Listing name: Cielito Lindo Retreat
Listing type: Entire house
Max. no. of guests: 9
No. of bedrooms: 2
Having hosted a number of team retreats, birthday parties, and other big events, this sprawling Airbnb is an excellent choice for large gatherings! Its features include two cowboy tubs (each of which can fit two people), a large covered patio with outdoor seating for 12, and a custom outdoor rock shower.
Best of all, it's got a hot tub sunken into an infinity deck — and it's sure to be your favourite spot! From there, you can watch the sunset and moonrise. It's great for stargazing, too! Learn more about this Airbnb here.
5. This vibrant Joshua Tree Airbnb for groups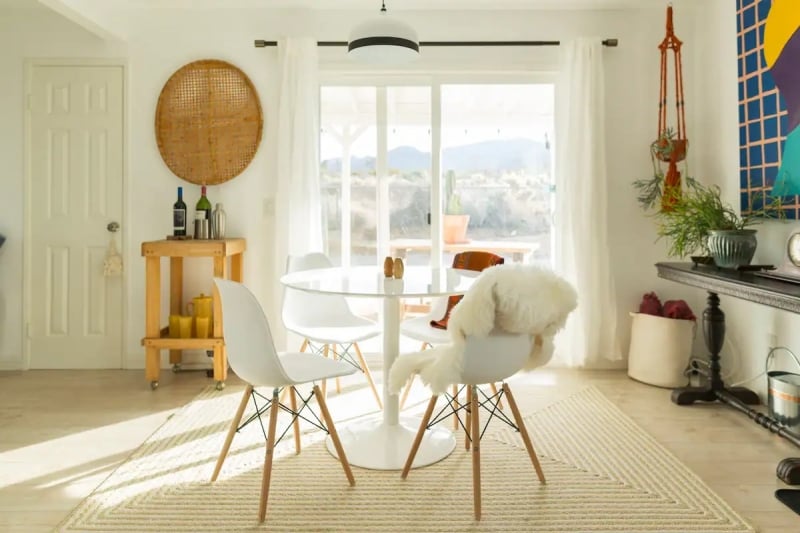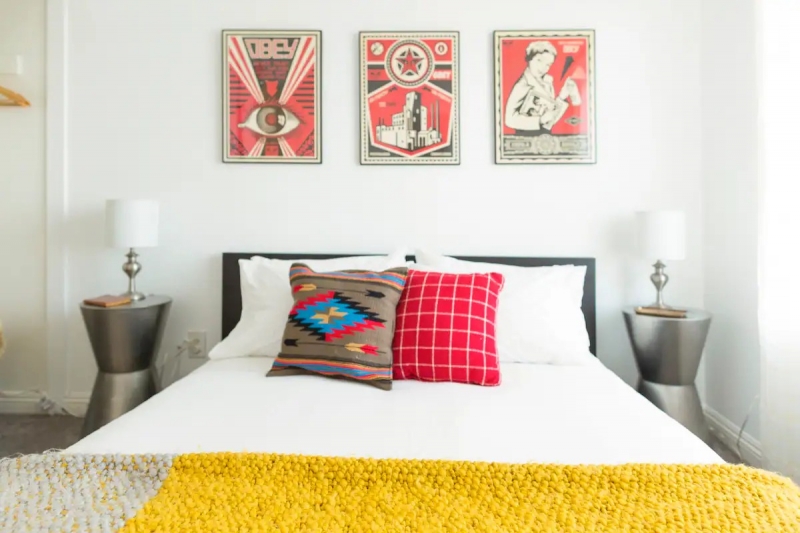 Listing name: The Desert Door in Joshua Tree Village
Listing type: Entire house 
Max. no. of guests: 8
No. of bedrooms: 4
Travelling with friends? You're definitely welcome at this cosy residence! In fact, this Joshua Tree Airbnb is equipped with everything you'll need to feel right at home — plus, quirky decor that makes it easy to believe that this is a space designed for artists and explorers. 
While Joshua Tree National Park is a minutes-long drive away, trust us when we tell you that you won't want to leave this home! Step outside at night, and you'll quickly be rewarded with breathtaking views of the desert sky and shimmering stars. Or, get up extra early to watch the sunrise — you definitely won't regret it! Learn more about this Airbnb here.
6. This sunny home with retro touches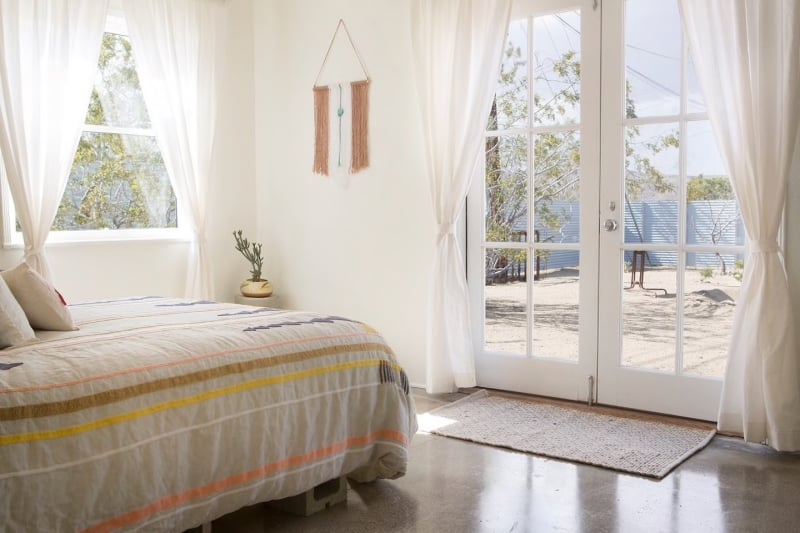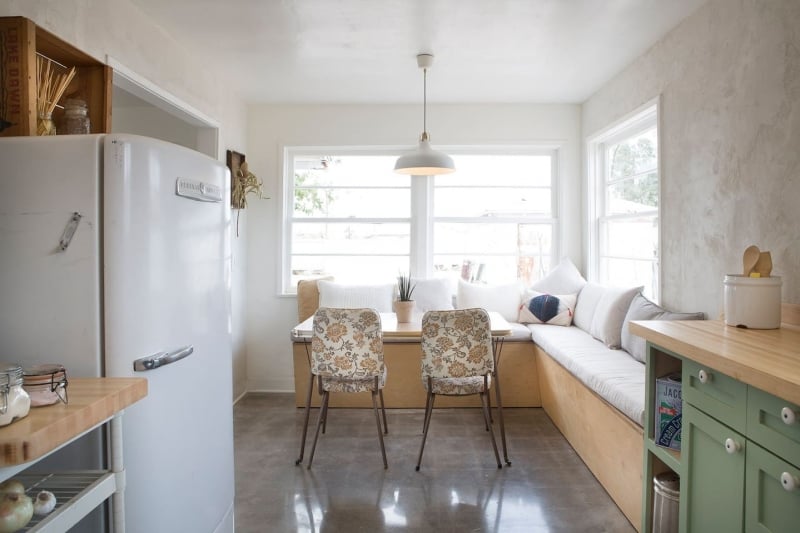 Listing name: j t v i l l a g e r
Listing type: Entire house
Max. no. of guests: 4
No. of bedrooms: 1
This carefully curated residence is one of the original 1947 homes you'll find in Joshua Tree Village. An eclectic mix of modern and retro decor, its standout features include a vintage piano and an excellent selection of vinyl records. It's one of the Airbnbs in Joshua Tree that any music lover would appreciate! 
Nearby, you'll find the National Park, local art galleries, coffee shops and clothing stores. After spending the day enjoying these facilities, this home is just the place to slow down and recharge. Soak in the hot tub, take advantage of the outdoor grill, or do what just about everyone loves doing when in Joshua Tree — relax under a sky full of stars. Learn more about this Airbnb here.
7. This beautifully furnished home that's perfect for families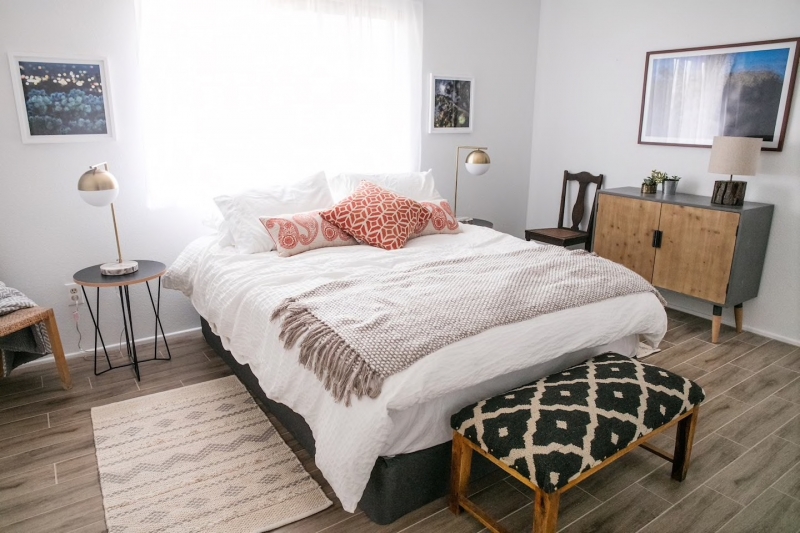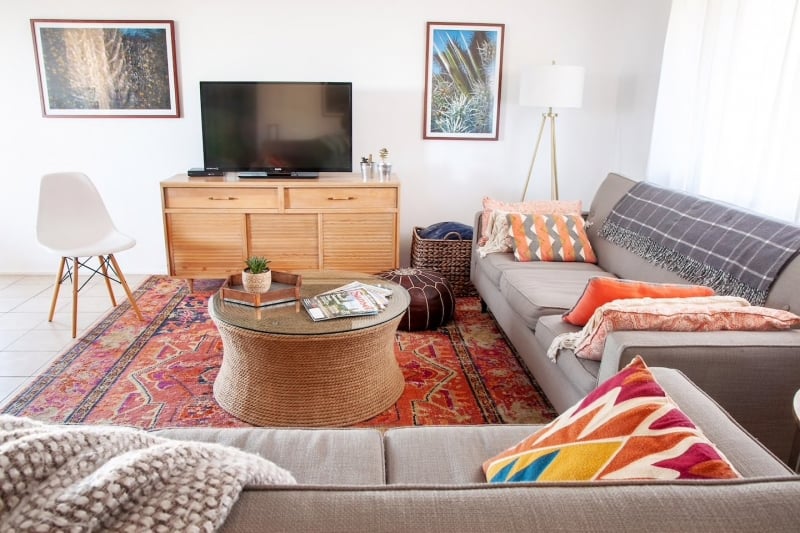 Listing name: Casa Linda Joshua Tree Near Park + View! 
Listing type: Entire house 
Max. no. of guests: 5
No. of bedrooms: 2
Picture this: Lazy mornings and relaxed evenings at the outdoor patio, board game nights with your loved ones, and Netflix viewing parties on the cosy couch. You can have these, and more, and this homey Joshua Tree Airbnb! This colourful house is perfect for families whose vacations are never complete without the experiences they share together at home.
A great choice for those making long-term bookings, this listing comes with everything you'll need for a lengthy stay: a fully-equipped kitchen, fresh linens and towels, bathroom essentials, as well as a washer and dryer! Learn more about this Airbnb here.
8. This curated home straight out of Pinterest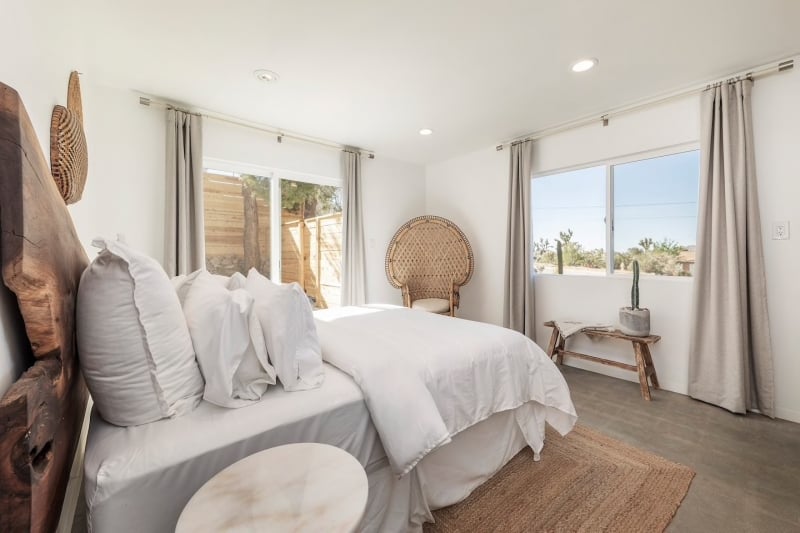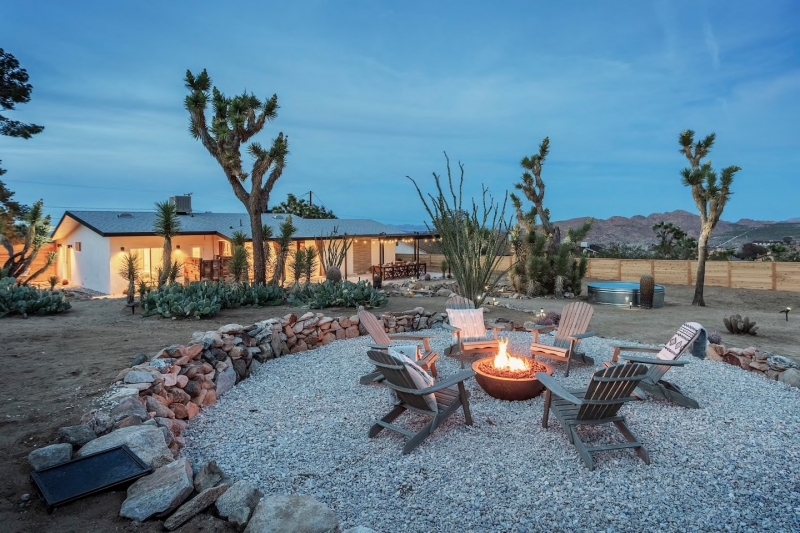 Listing name: Ravenrock | A Desert Luxury Retreat
Listing type: Entire house
Max. no. of guests: 6
No. of bedrooms: 2
This Joshua Tree Airbnb is one of those hidden gems you'll be tempted to keep to yourself. First of all, this remote retreat's stunning interiors seem to be straight out of Pinterest — and previous guests say it's even more impressive in real life! Second, its location places you in close proximity to the restaurants, cafes, galleries, and yoga studios. The backyard even gives you private access to several hiking trails!

Last, but not certainly not the least, this home comes with lots of cool amenities. You'll want to stay for more than just a few nights just to enjoy them all! These include the hot tub, dipping pool, and outdoor shower — which, interestingly, offers amazing views of the area. Learn more about this Airbnb here.
9. This Bohemian escape with lots of outdoor amenities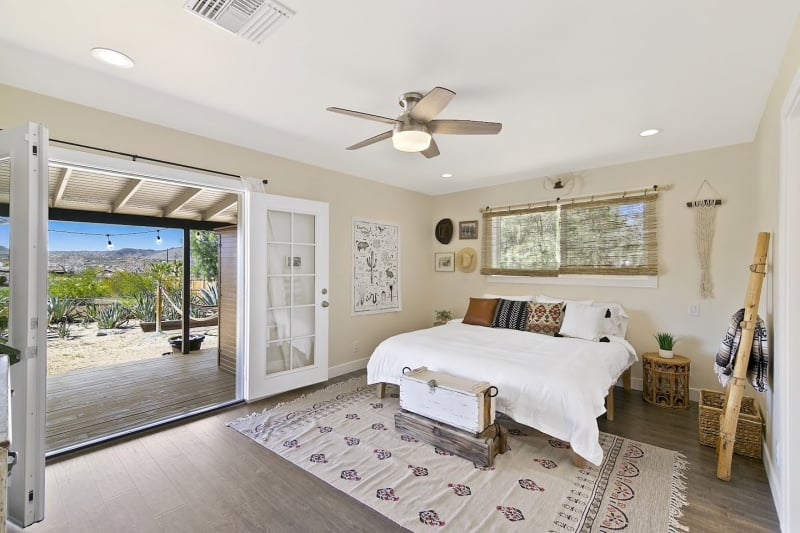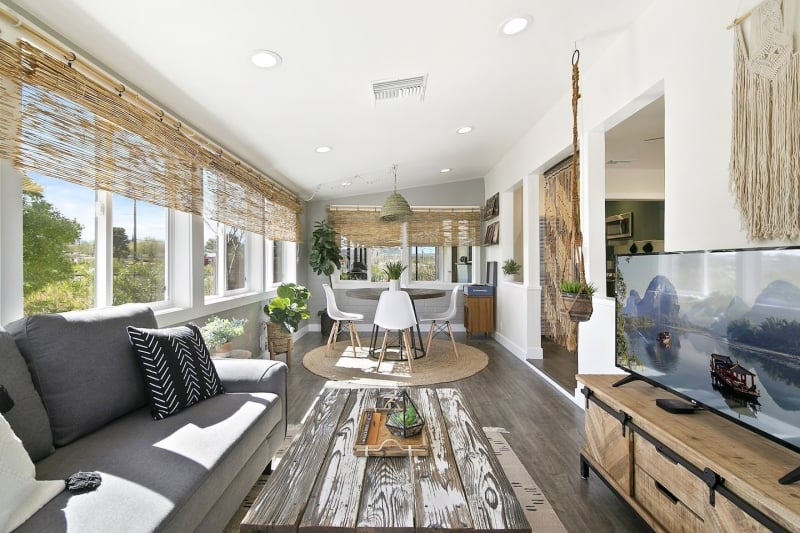 Listing name: ⭑ The Bohemian ⭑
Listing type: Entire house
Max. no. of guests: 8
No. of bedrooms: 3
Meet the Bohemian home of our dreams! If you love spending time indoors just as much as you enjoy sightseeing while on vacation, this bungalow offers a staycation experience you won't want to miss. Truly one of the more unique Airbnbs in Joshua Tree, it boasts of an impressive lineup of facilities. These include a jacuzzi, fire pit, outdoor shower, and its very own sauna!
In addition, you'll definitely love lounging around this home's beautifully sun-drenched rooms and cosy outdoor hammocks. You own little oasis in the middle of the desert, this quiet home has everything you'll need for a rejuvenating stay. Learn more about this Airbnb here.
10. This modern desert retreat with a backyard pool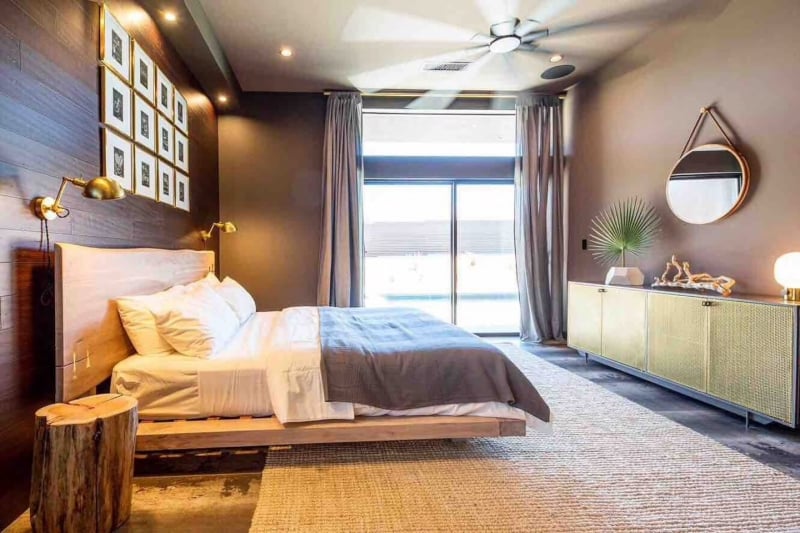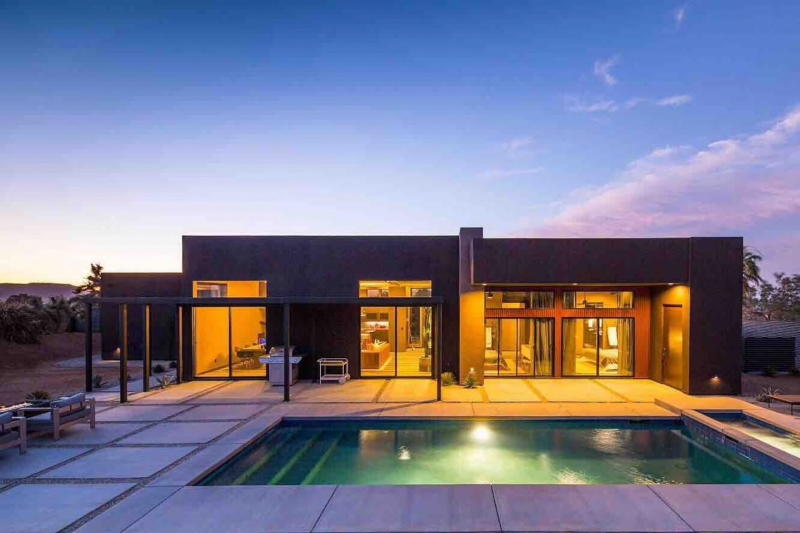 Listing name: M-House, Joshua Tree
Listing type: Entire house
Max. no. of guests: 4
No. of bedrooms: 2
At this modern desert retreat, you'll feel as though you have a slice of Joshua Tree all to yourself with one of the most beautiful Airbnbs! In actuality, though, this secluded getaway is just an eight-minute drive from Joshua Tree National Park, local shops, and restaurants.
A luxurious pick for small groups, this home has a gorgeous living room with vintage touches, and a spacious kitchen designed for gourmet cooking. Best of all, the backyard pool and in-ground hot tub are probably this home's coolest features! Learn more about this Airbnb here.
Also read: 10 Instagram-Worthy Los Angeles Airbnbs for Your Next Trip to La La Land
Well, what are you waiting for? Take your pick of these Airbnbs in Joshua Tree and bring your #SquadGoals to life!
Got a property you'd like TripZilla to feature? Inquire with us here.
---
This article contains affiliate links. When you book through these links, we may earn a small commission at no additional cost to you. All images courtesy of the respective property listings.