There's so much to love about San Francisco: gorgeous sights, rich culture, and an amazing culinary scene. It's also filled with beautiful houses that date back to the Victorian and Edwardian eras! On your next visit, stay at one of these San Francisco Airbnb listings that will make you fall in love with the city even more. 
We've selected the most stunning homes that are close to iconic landmarks like the Golden Gate Bridge, Fisherman's Wharf, and Union Square. Each one is a unique San Francisco Airbnb that offers Superhost-level hospitality, and is guaranteed to be well-maintained and thoughtfully designed. Find your perfect match below — whether you're looking to spend on a multi-bedroom space or a more budget-friendly one.
Also read: 18 Best Beach Houses to Book on Airbnb, From California to Hawaii
Luxurious Airbnbs in San Francisco that are worth the splurge
These San Francisco Airbnb homes might be on the pricey end, but if you're all about tons of space (especially if you're travelling with a group!), then these are definitely worth every buck. 
1. This cool, minimalist loft near Downtown San Francisco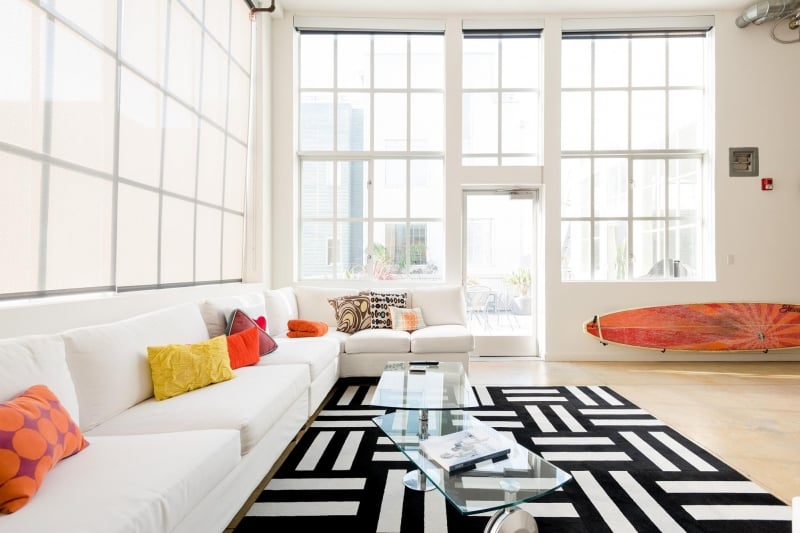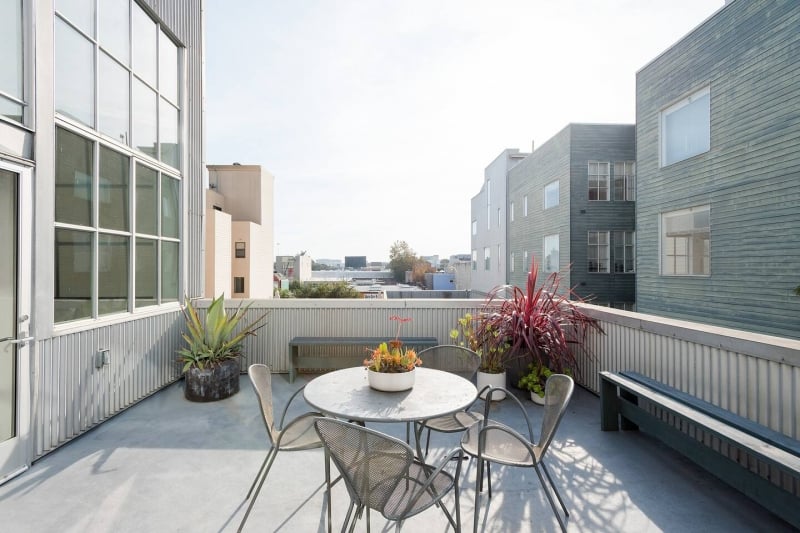 Listing name: Modern, Large & Luxurious SOMA Loft
Listing type: Entire loft
Max. no. of guests: 4
No. of bedrooms: 2
This modern apartment in the SoMa neighbourhood has a trendy, minimalist look and a sprinkling of vibrantly coloured touches. We just love how the wide windows let in a lot of natural light! Not only is it a beautiful living space, this spacious home gets points for having a great location, too! It's within walking distance of Downtown San Francisco, as well as the Moscone Center. Trendy bars and award-winning restaurants are just steps away, too! 
2. This rustic yet chic suite with a cabana at the heart of Mission District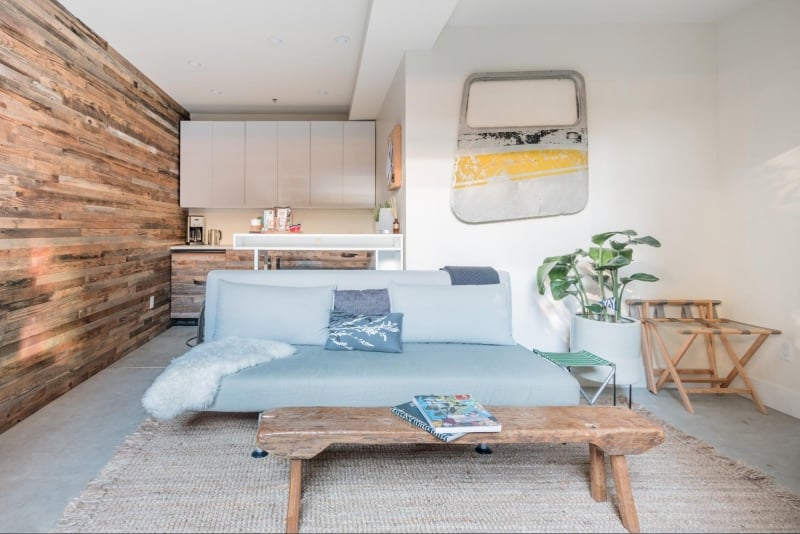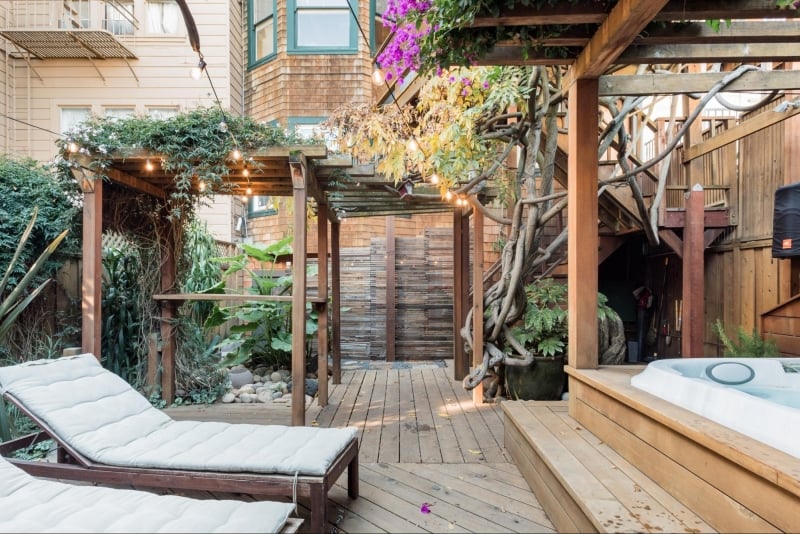 Listing name: Private Cabana · Hot Tub · Mission Dolores Park
Listing type: Entire guest suite
Max. no. of guests: 4
No. of bedrooms: 1
It's not hard to fall in love with this San Francisco Airbnb's rustic yet chic aesthetic. A cosy hideout in a charming neighbourhood, this guest suite is located close to popular spots like the Castro, Mission Dolores Park, Valencia Street, and Tartine Bakery. More than its stylish touches, this cabana's backyard area will definitely be your favourite spot! With comfy sun loungers and a hot tub, it's one of the most ideal Airbnbs to kick back after a busy day in SF! 
3. This posh San Francisco Airbnb with a view and an outdoor tub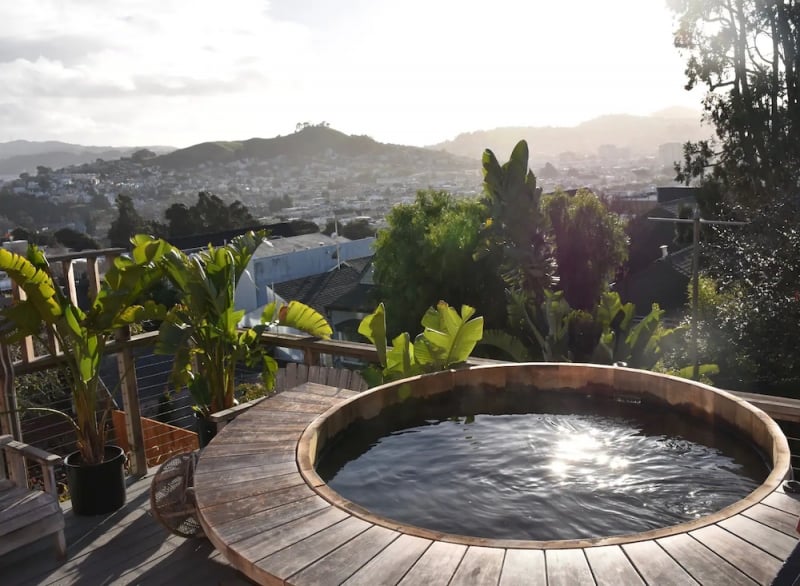 Listing name: Stunning Sky-high Getaway
Listing type: Entire home
Max. no. of guests: 8
No. of bedrooms: 4
Looking for a luxury Airbnb in San Francisco with fun amenities and unique decor? This dazzling four-bedroom home in Potrero Hill is your best bet. Think sculptural chandeliers, swing-like kitchen chairs, and pops of bright hues that add just the right amount of kitsch. There are a total of three balconies in different parts of the house, each overlooking the cityscape. And don't even get us started on the outdoor hot tub adjacent to the master suite, which is arguably the perfect spot to watch the sunset while enjoying the ever-present SF breeze. 
4. This sunny Marina Airbnb close to iconic San Francisco hotspots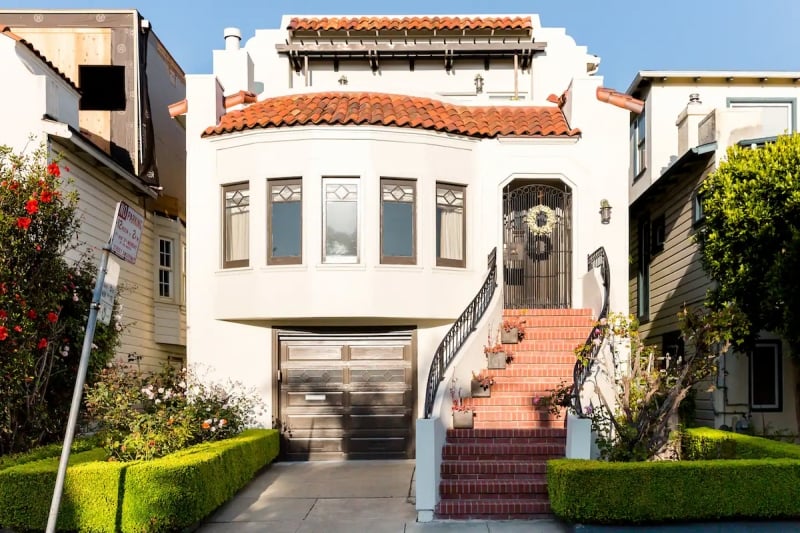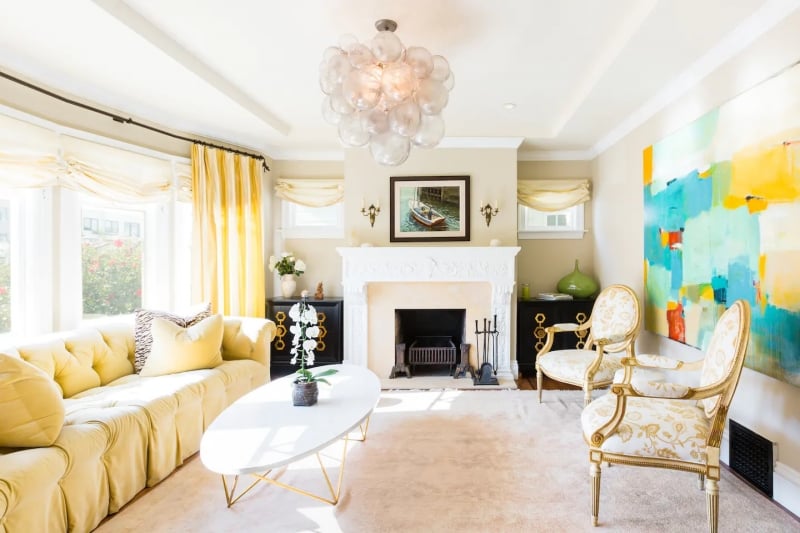 Listing name: Elegant, Spacious Marina Home Parking By Golden Gate Bridge
Listing type: Entire house
Max. no. of guests: 8
No. of bedrooms: 7
This seven-bedroom residence in SF's Marina District comes highly recommended for its incredibly accessible location. From here, you can easily get to most of San Francisco's iconic sights on foot; otherwise, everything is a quick drive or Uber ride away. Refined touches throughout the house invite guests to a VIP-level experience: fine art pieces, luxe designer mattresses, European-made sheets, and a beautifully appointed kitchen. If you're interested in a luxury Airbnb in San Francisco that offers both style and comfort, then this cheerful gem is definitely worth considering! 
5. This lush and light-filled Airbnb in San Francisco Downtown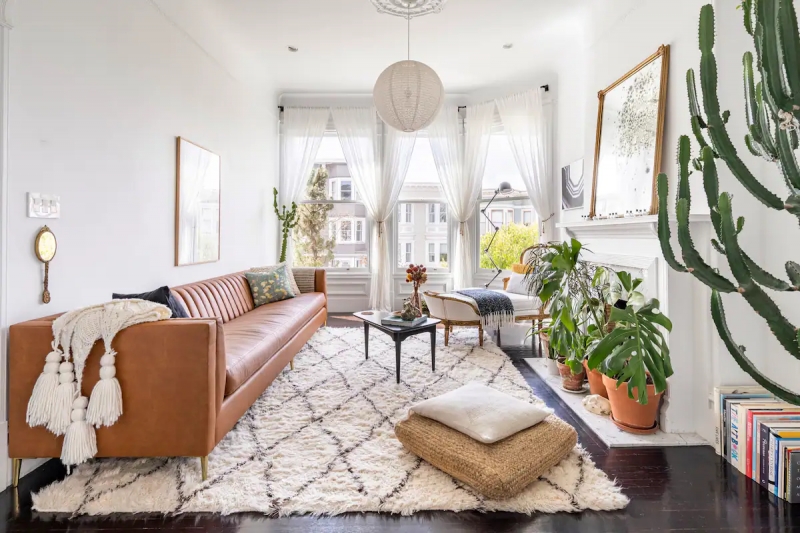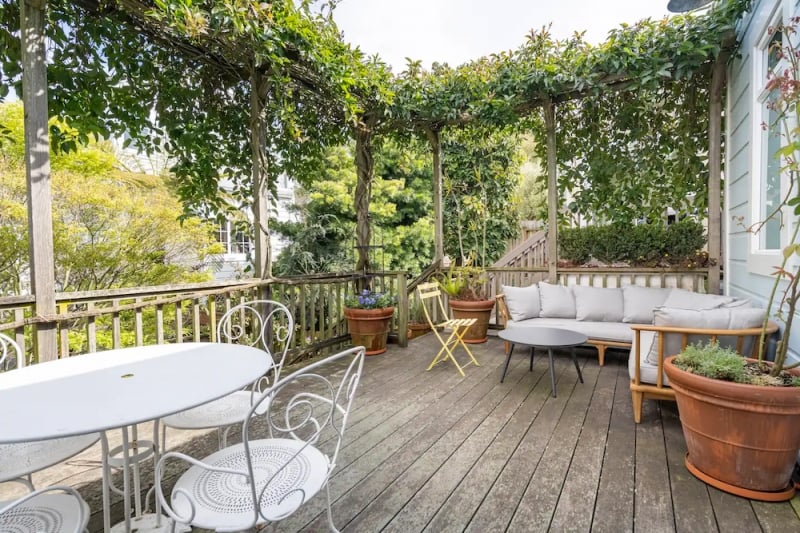 Listing name: Classic Architecture with Modern Design in City Center
Listing type: Entire rental unit
Max. no. of guests: 3
No. of bedrooms: 2
Looking for Airbnbs in San Francisco that matches the cool, offbeat Californian vibe? Nestled in the bustling Downtown neighbourhood, this sun-soaked home is a peaceful retreat despite its proximity to the city's must-see spots, including Haight-Ashbury, Golden Gate Park, and world-class museums. The Airbnb is filled with eclectic decor, indoor plants, and stunning antiques. Our number one pick? Probably the spacious deck, where you can relax with a cup of coffee while basking in The Bay's beautiful weather! 
6. This cosy, stylish apartment close to Mission Dolores Park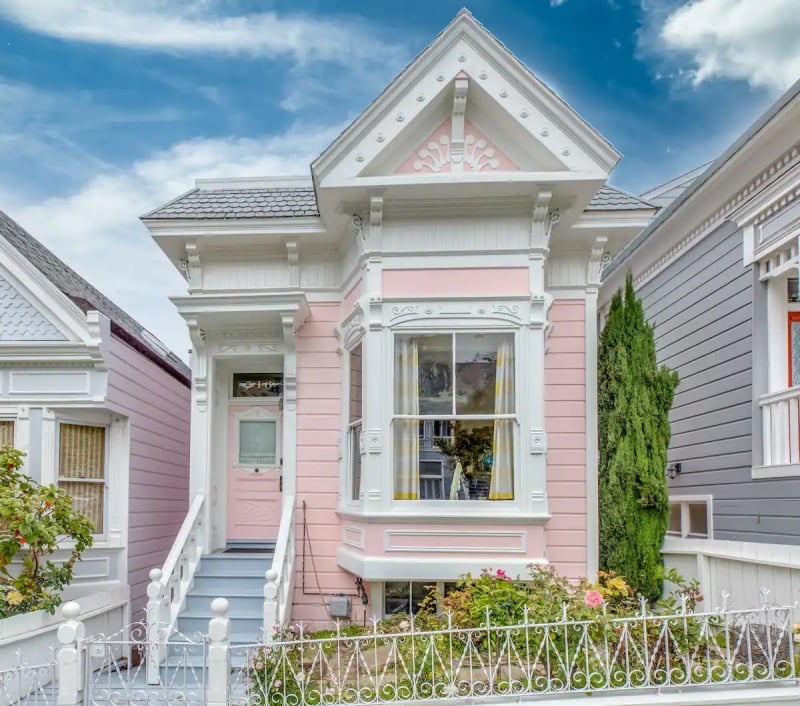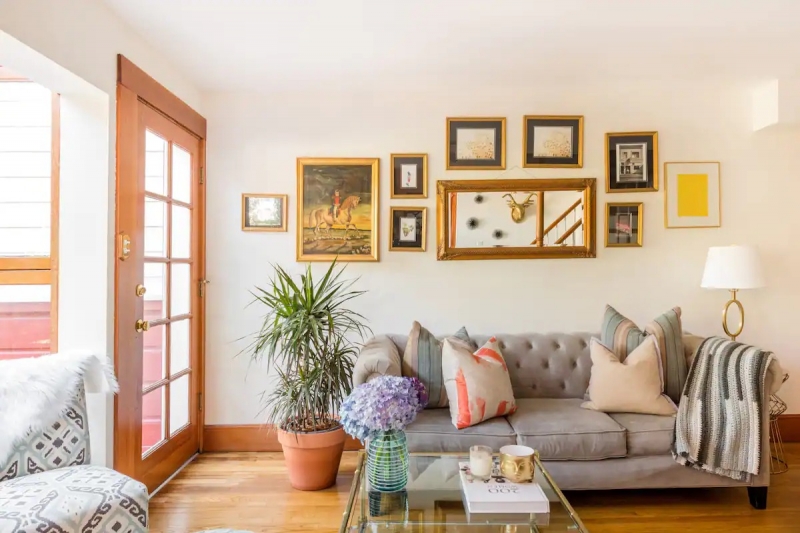 Listing name: Peaceful Victorian Inlaw, Short Ride to Downtown SF
Listing type: Entire rental unit
Max. no. of guests: 4
No. of bedrooms: 2
This picturesque Victorian unit is a short walk from Mission Dolores Park, where you'll find some of the best cafes, restaurants, and bars in San Francisco. Guests will feel right at home in this Airbnb, with its chic interiors and overall cosy feel. Our favourite spot? The beautifully designed living room. In addition to the big comfy couch, it comes with large windows that keeps it warm and sunlit all day long!
7. This cosy home away from home in the middle of the city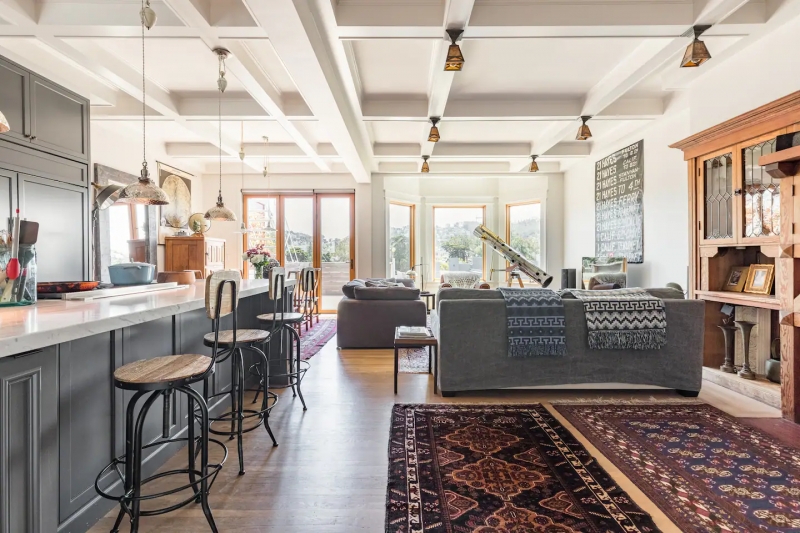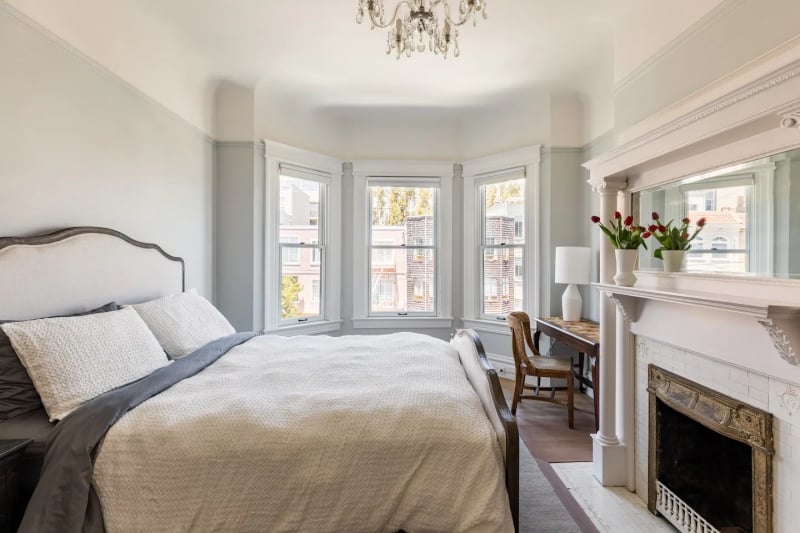 Listing name: Gorgeous Serenity in the City with Views near Haight Ashbury Golden Gate Park
Listing type: Entire rental unit
Max. no. of guests: 6
No. of bedrooms: 3
This charming house is a quiet Victorian Airbnb tucked in the middle of San Francisco. Designed to feel just like home, this three-bedroom home has lots of bright open spaces and cosy indoor and outdoor living areas — perfect for spending quality time with friends and family!
From its location in the Lone Mountain neighbourhood, you can easily find your way to famous spots like Golden Gate Park, the University of San Francisco, and the de Young Museum. Public transportation is easily accessible from here, too! 
8. This gorgeous art-filled Airbnb in Noe Valley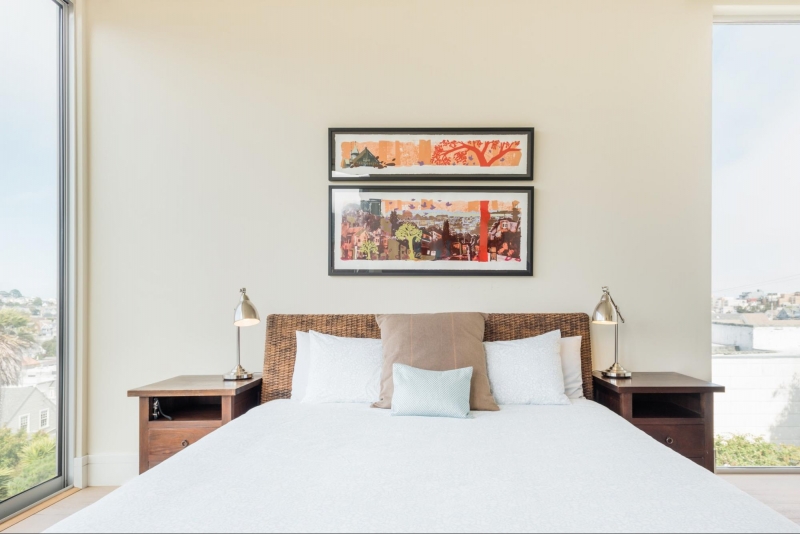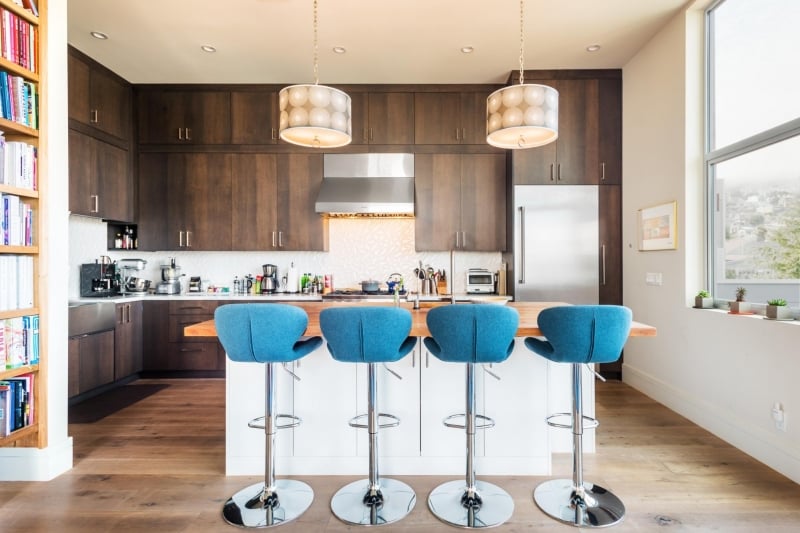 Listing name: Stunning Noe Family Friendly House - Enhanced Cleaning
Listing type: Entire house
Max. no. of guests: 6
No. of bedrooms: 4
In the quaint central neighbourhood of Noe Valley, you'll find this stunning home that looks like it was taken straight out of a magazine. This chic and comfy four-bedroom Airbnb is well-loved for its modern design, luxurious amenities, and amazing postcard views. Take in beautiful sights of the city from the comforts of your own bed, or while lounging at the patio. Make sure not to miss out on the hot tub in the backyard, either! 
9. This sleek modern house with an outdoor lounge area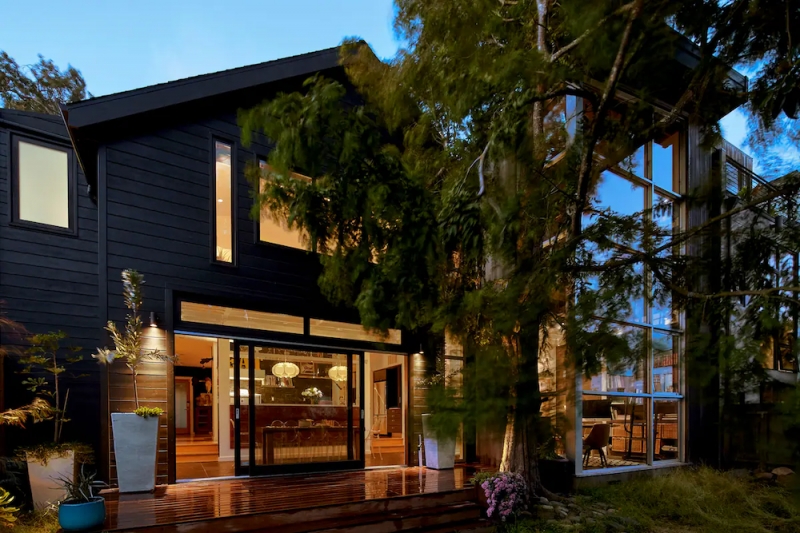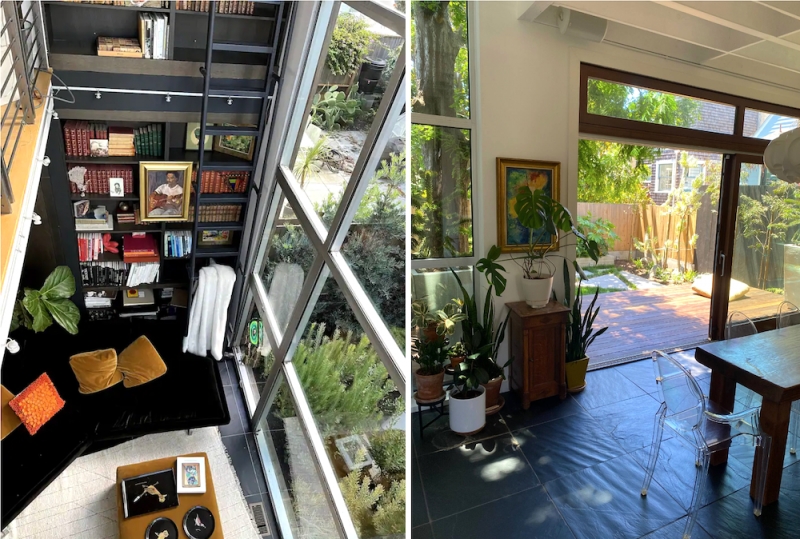 Listing name: A Modern Architectural Home
Listing type: Entire home
Max. no. of guests: 6
No. of bedrooms: 3
This spacious three-bedroom listing is loved for its gourmet kitchen, gorgeously landscaped garden, and well-curated interior. On the outside, it features an all-black facade that looks straight out of Wednesday Addams's mood board. But upon stepping inside, one will find an eclectic mix of decor — mainly artworks as well as travel and pop culture memorabilia. It even has a library-slash-sunroom that features floor-to-ceiling windows and equally tall bookshelves. 
Perfect for those travelling with children, its kid-friendly features include a playroom and stuffed animals in one of the bedrooms. Nestled in Bernal Heights, this San Francisco Airbnb is notably close to crowd favourites like Bernal Heights Park and the main streets of Mission District and Cortland neighbourhoods. 
Also read: 15 Cosy Airbnbs With Libraries That Are Every Book Lover's Dream
10. This chic, homey apartment in a sought-after neighbourhood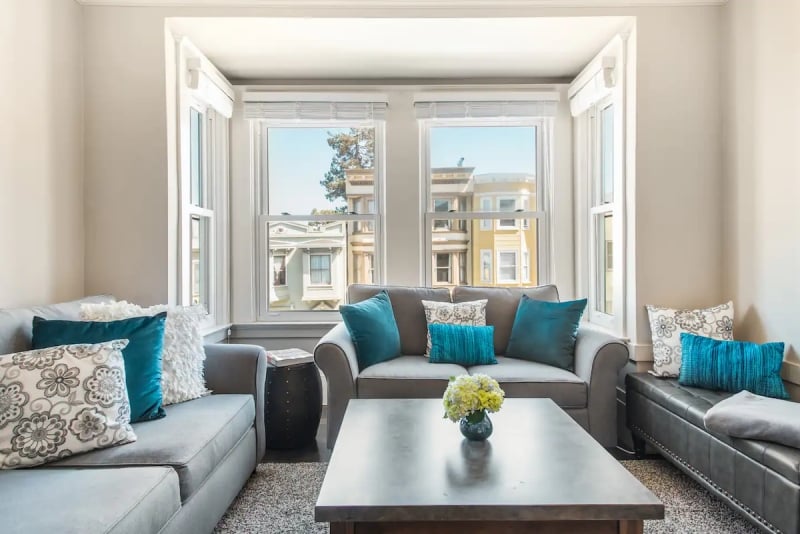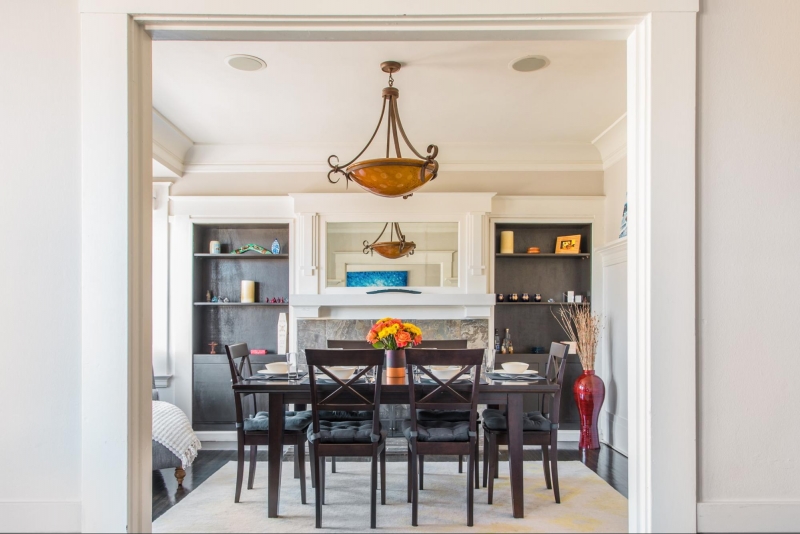 Listing name: Chic Full-Floor Edwardian Near Dolores Park
Listing type: Entire apartment
Max. no. of guests: 4
No. of bedrooms: 2
This two-bedroom apartment is tucked in one of the most sought-after San Francisco neighbourhoods, right across Mission Dolores Park. In addition to the nearby shops and restaurants, the Bay Area Rapid Transit station is also within walking distance.
Equal parts stylish and comfortable, this San Francisco listing is best loved for the thoughtful touches added by Airbnb Superhost, Janel. Around this home, guests were happy to find things like a white noise machine, exercise equipment, and a smart TV with Netflix and HBO GO! 
11. This hipster San Francisco Airbnb with art and iPods in almost every room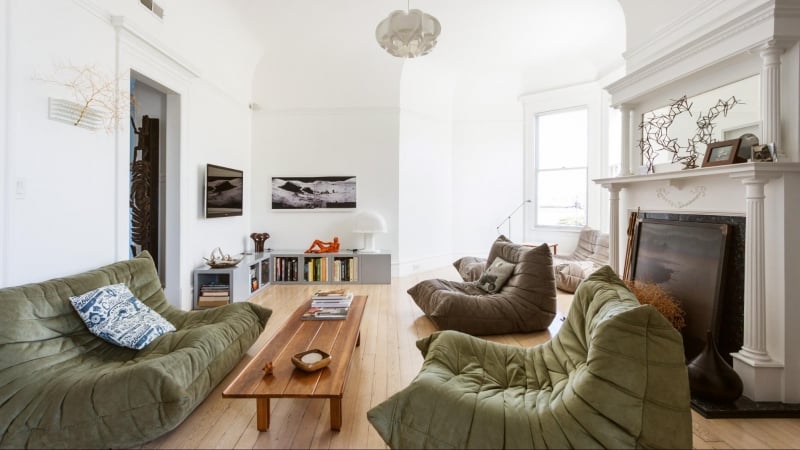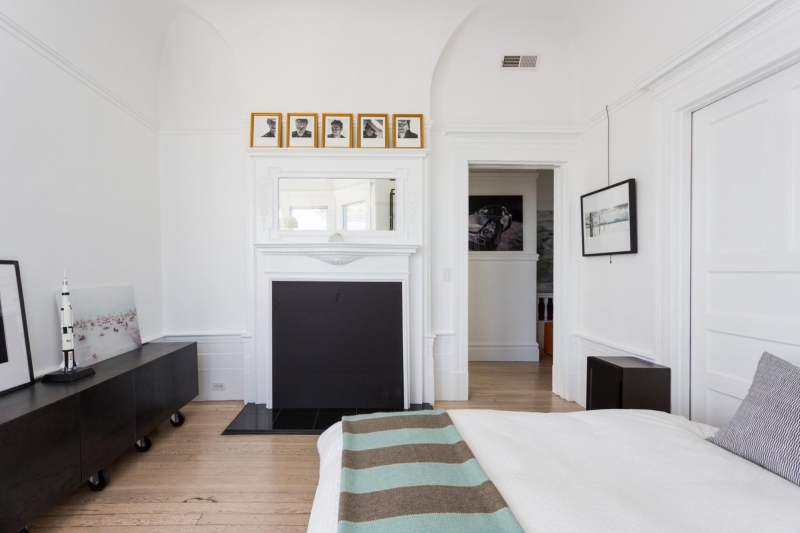 Listing name: Unique, Modern Apartment with Contemporary Art
Listing type: Entire apartment
Max. no. of guests: 5
No. of bedrooms: 3
This two-bedroom condo is situated close to Golden Gate Park and some of San Francisco's best restaurants. Clearly owned by someone with a great appreciation for art, this Airbnb is filled with an eclectic mix of modern paintings and sculptures. Previous guests loved Airbnb Superhosts Julia and Frank's special touches — the old-school iPods, CDs, and sound systems thoughtfully placed around the San Francisco apartment! 
Best affordable Airbnbs in San Francisco
You don't always have to spend a hefty amount just for top-notch accommodation. Take your pick among these (relatively) cheap San Francisco Airbnb stays that are ideal for budget and/or solo travellers! Don't worry, these are also located in some of the city's well-loved neighbourhoods.
12. This attic-turned-studio near Golden Gate Park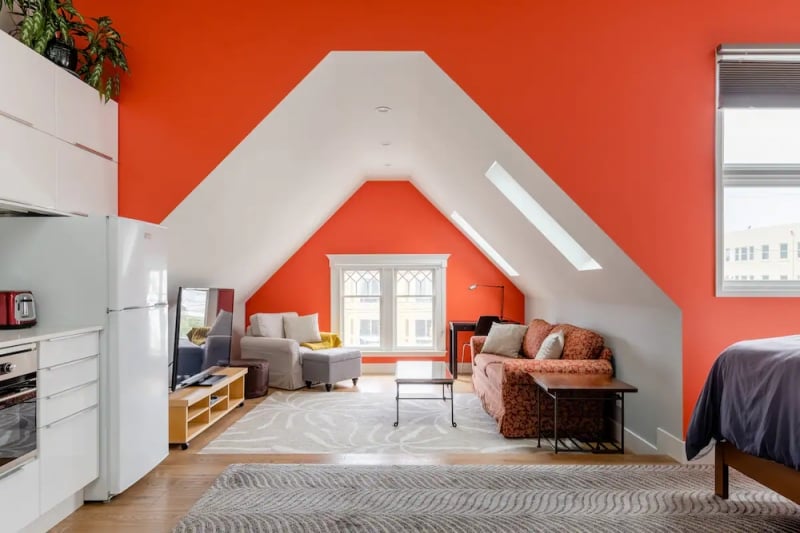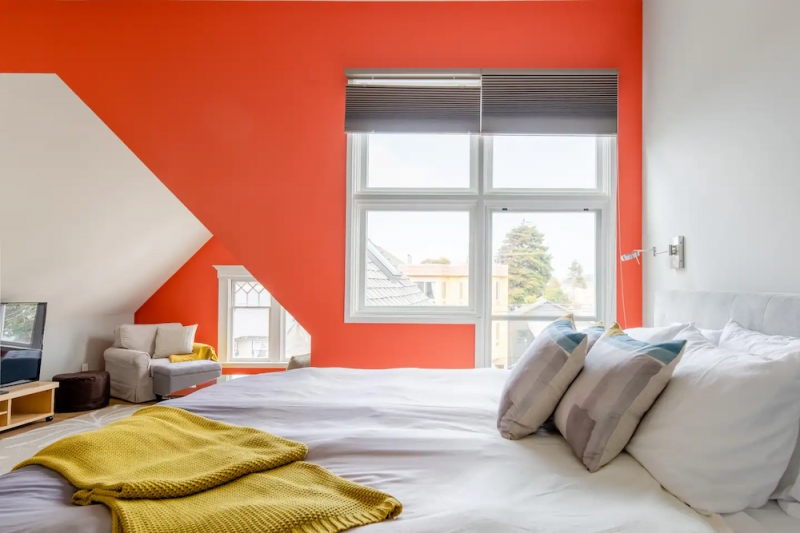 Listing name: Golden Gate Apex Hideaway
Listing type: Entire guest suite
Max. no. of guests: 2
No. of bedrooms: 1
Located on the top floor of a renovated Victorian home, The Orange Suite lets you wake up to rooftop views and sunshine streaming in through its many windows. It's quite reminiscent of an artist's studio, with its vibrant interior palette, slanted ceilings, and plush couches. It's ideal for both short- and long-term stays, as it comes with a washer and dryer as well as kitchen amenities like an espresso machine, microwave, and fridge. 
This Airbnb in Inner Sunset, San Francisco lets you stay close to top attractions like the d e Young Museum and the California Academy of Sciences, which are just a five-minute walk from the house. For those who would rather take public transport, a MUNI train station and bus stops are an easy two blocks away. 
13. This period-decorated space in an 1890 Victorian house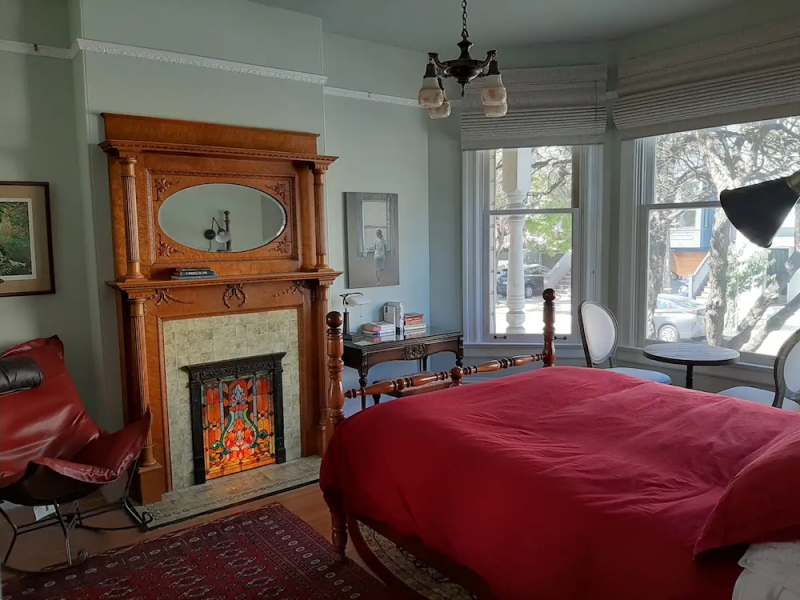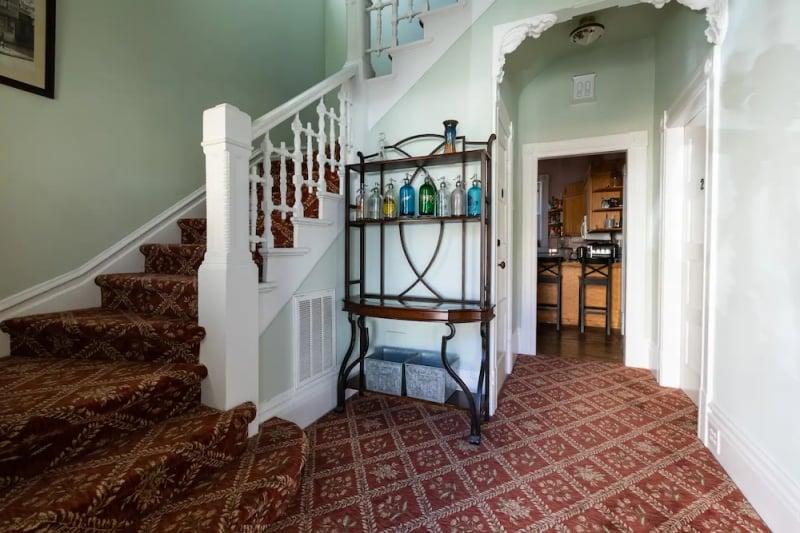 Listing name: Gorgeous period Victorian room in Noe Valley
Listing type: Room in a home
Max. no. of guests: 2
No. of bedrooms: 1
Curious to try living in one of SF's iconic Victorian homes, without leaving a dent in your wallet? This Airbnb in Noe Valley lets you experience just that! From the bedroom to the communal spaces, everything has been superbly maintained since the late 1900s. (Fun fact: Superhost Craig is an engineer who'll be more than happy to talk to you about the inner workings of the house.) 
The room alone will make you feel like you're travelling back in time — with its antique furniture, original architectural details, and even a stained-glass faux fireplace. Enjoy a vista of the street from the bay window as soon as you wake up. The house is in a fairly quiet area with small-town vibes, which is great if you don't want any hustle and bustle first thing in the morning. 
Note: This San Francisco Airbnb home has other rooms you can book, including one on the second floor and another on the third floor . 
14. This stylish monochromatic suite in Bernal Heights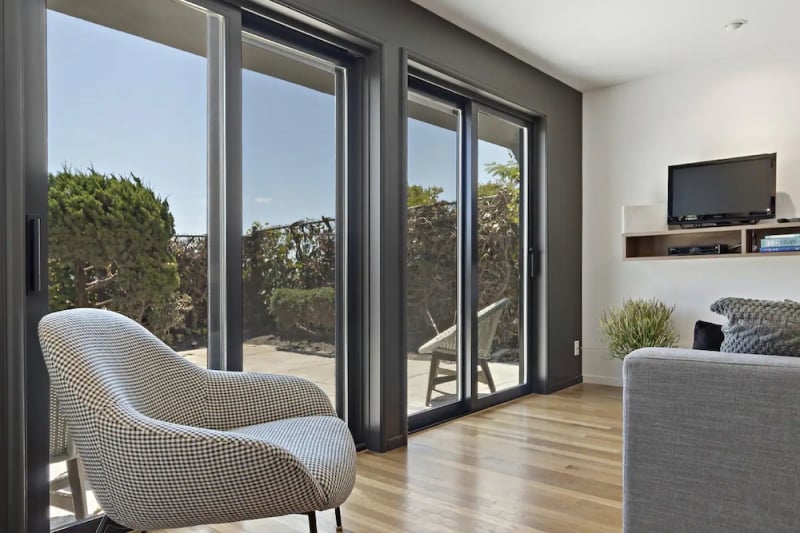 Listing name: Newly built Bernal Heights InLaw w/ Outdoor Space
Listing type: Entire guest suite
Max. no. of guests: 2
No. of bedrooms: 1
After a long day of touring the city, you'll certainly want to kick back and relax at this spacious ground-floor apartment . It even has a walk-in closet for those planning to stay a bit longer… or those who tend to pack a lot of extra outfits (hey, you do you!). Guests get to have the lush veranda all to themselves, along with a kitchenette and a patio perfect for BBQ nights. 
Just a few blocks away is Bernal Heights Park, where you can hike to the hilltop for a sweeping panorama of the city. There are also plenty of cafes, restaurants, and bars nearby, so go ahead and take your time exploring the neighbourhood like a local! 
15. This vibrant room with a private backyard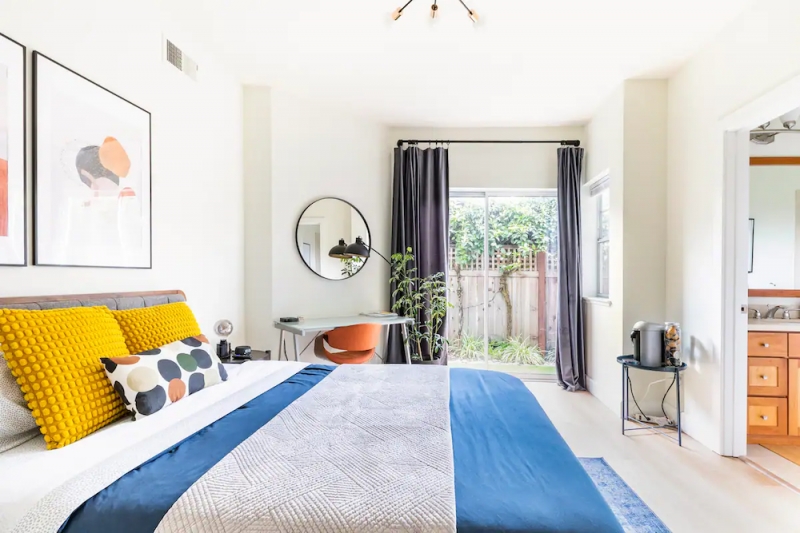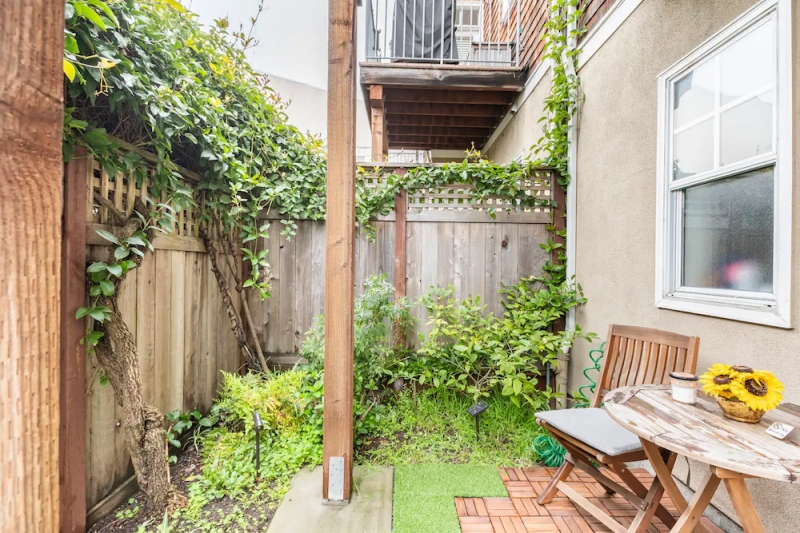 Listing name: New sunny central room w/ private bathroom & yard
Listing type: Room in a home
Max. no. of guests: 2
No. of bedrooms: 1
Who said homestay Airbnbs are only for countryside destinations? This well-furnished space lets you experience what it's like staying with a local family. Fret not, though, you're still guaranteed lots of privacy since you'll have most of the ground floor all to yourself. And yes, that includes the backyard adjacent to your room! 
The room itself has a fun, contemporary aesthetic and comes with a well-lit desk that's perfect for those on a workcation. Meanwhile, those who tend to be more anxious about security will be pleased to know that this SF Airbnb is inside a gated community. Outside the compound, you'll be a stone's throw away from must-see spots like Japantown, Alamo Square, San Francisco City Hall, and the Asian Art Museum. 
16. This minimalist flat in the Sunnyside neighbourhood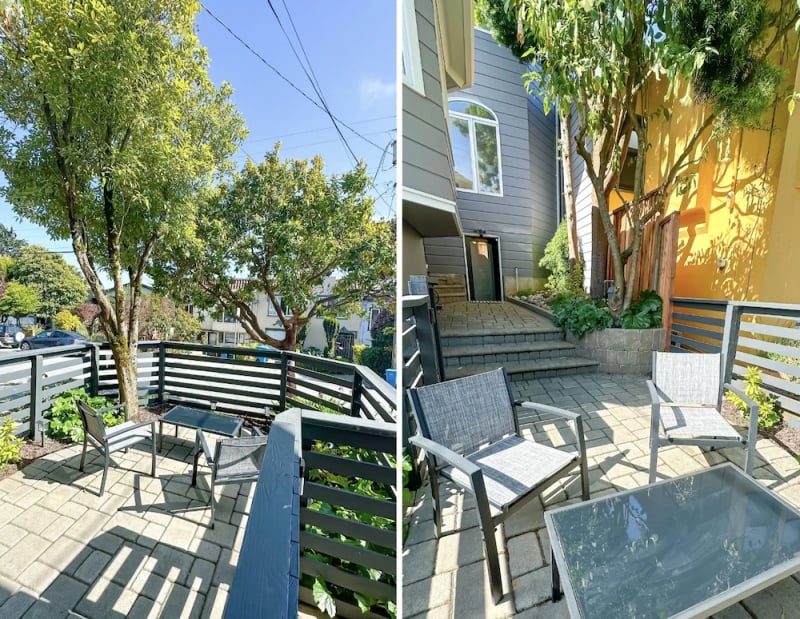 Listing name: SF Charm: Sunnyside Bungalow
Listing type: Entire guesthouse
Max. no. of guests: 2
No. of bedrooms: 1
Feel right at home at the Sunnyside Bungalow , with its whitewashed wood interiors that highlight its understated charm. It comes with a queen-size Tempur-Pedic bed that guarantees you a good night's sleep, while the dedicated workspace, mini-fridge, and coffee maker ensure absolute convenience. Speaking of coffee, we recommend enjoying your cuppa at the outdoor lounge overlooking the tree-lined street, as you listen to the sound of birds chirping. 
This listing is in a relatively less touristy neighbourhood, so finding street parking shouldn't be much of a problem. It's also quite possibly the best Airbnb in San Francisco for outdoorsy travellers! There are plenty of parks and hiking trails nearby, such as Mount Davidson, Sunnyside Conservatory, Glen Canyon Park, and the famous Twin Peaks. 
17. This cosy, antique-filled space in Haight-Ashbury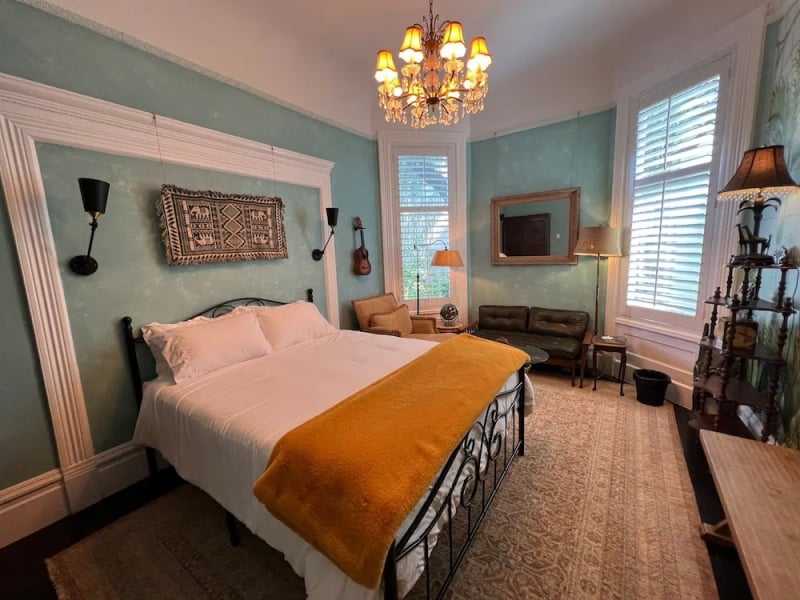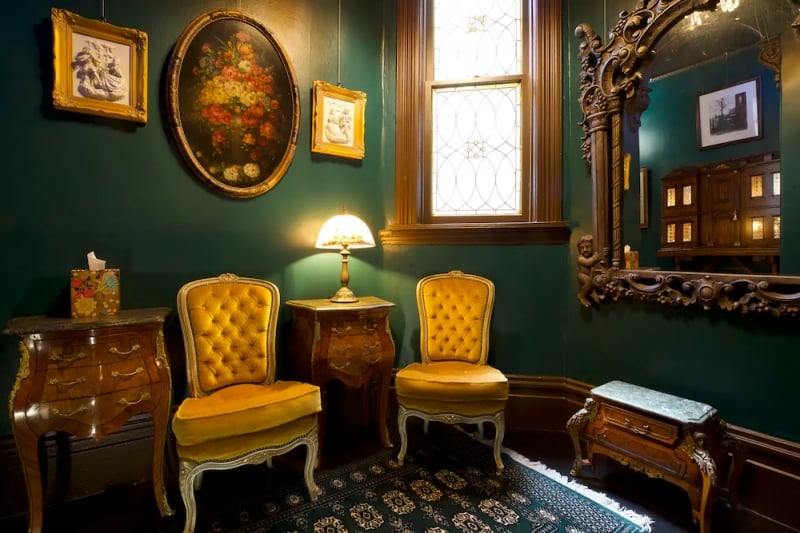 Listing name: The Solarium
Listing type: Room in a home
Max. no. of guests: 2
No. of bedrooms: 1
Situated in a Victorian house called The Lyoness, this Airbnb in the Haight-Ashbury district welcomes you with its tasteful decors that evoke both an old-world vibe and the city's hippie spirit. The room itself features cosy armchairs right next to the bay windows, where one can curl up with a book and bask in the serene atmosphere. Besides the communal kitchen and dining room, guests can hang out in the tea room, where there are books and board games that one can borrow. In fact, you may even invite visitors over (just make sure to let the Host know ahead of time)! 
This listing stands out among other affordable Airbnbs in San Francisco because there's no add-on service fee. Meanwhile, its strategic location puts you within walking distance of countless attractions; from The Painted Ladies, Golden Gate Park, and Buena Vista Park, to indie cafes and vintage boutiques around the historic area. 
Note: This SF Airbnb home has other rooms you can book, including one on the second floor and another on the third floor . 
Also read: 10 Incredible Airbnbs in Malibu, California for a Coastal Escape
Are you having a hard time choosing just one of these Airbnbs in San Francisco? We're not surprised! The medley of amazing choices make it a challenge to pick just one dream stay in the Bay, But we're confident you'll find the perfect San Francisco Airbnb for your holiday in no time!
Looking to stay in Los Angeles instead? Check out our selection of LA Airbnbs here .
Got a property you'd like TripZilla to feature? Inquire with us here.
---
This article contains affiliate links. When you book through these links, we may earn a small commission at no additional cost to you. All images courtesy of the respective property listings.