La dolce vita will greet you in the streets of Rome, where bustling markets, centuries-old churches, stone fountains, and Renaissance masterpieces entwine in a labyrinth of stories. Every neighbourhood shows a different side to the Eternal City; every street opens a different page. That's why staying in the right Airbnb in Rome is so crucial. Before you can say that you came, you saw, and you conquered, everything depends on your location. 
After all, Rome is a living museum that's best experienced on foot. Certainly, this means walking to your destination or going up a flight of stairs every so often. But hey, if it also means shedding all those calories from pasta and enjoying a glorious view at the end of the staircase, then it's going to be worth it.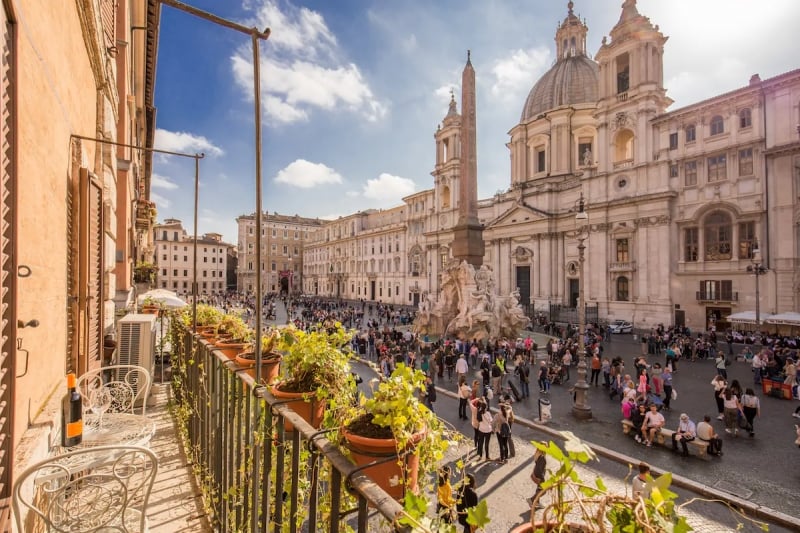 Whether you're heading down the cobbled streets for your morning run or following the footsteps of Roman gladiators, these apartments will help you soak up the wonders of Rome. You don't have to walk very far to find historic locations. All you have to do is open a window! 
Also read: 17 Fun Things to Do in Rome for First-Time Visitors
Top Airbnb homes in Rome
1. The charming hideaway with a terrace near Campo de' Fiori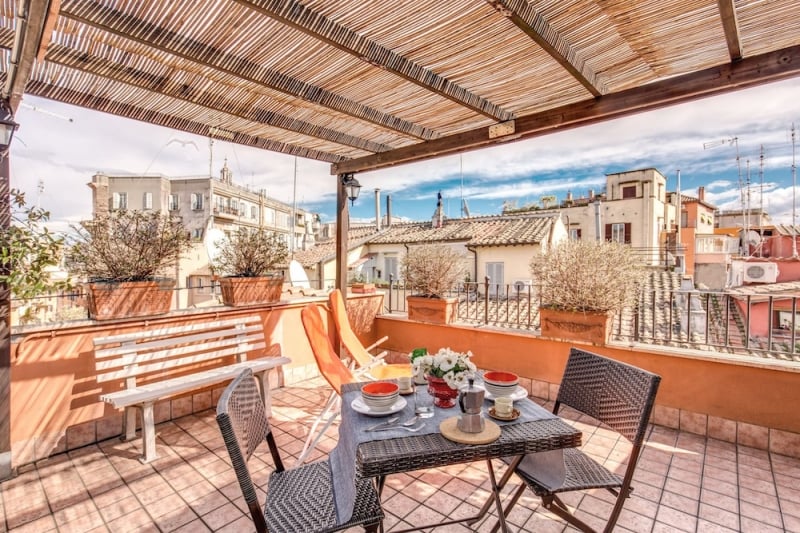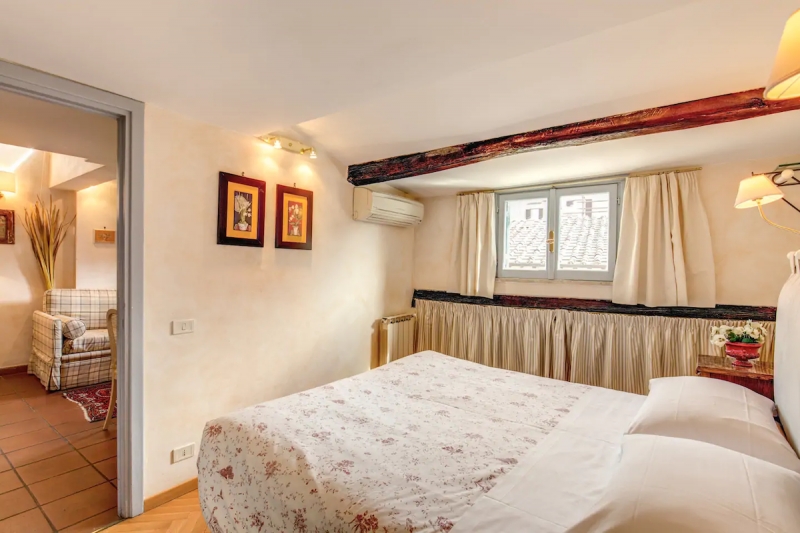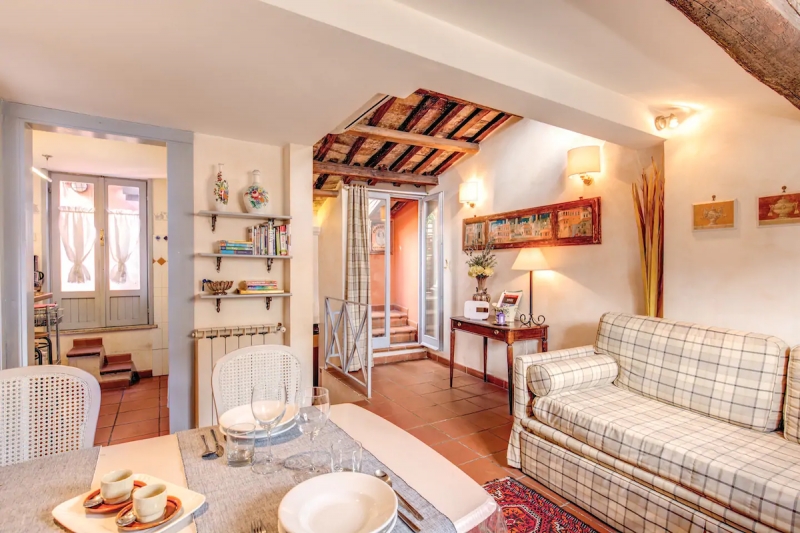 Listing name: Balestrari Terrace Campo de Fiori
Listing type: Entire home
Max. no. of guests: 4
No. of bedrooms: 1
With a view like this, you're pretty much at the top of the world! This brightly lit apartment comes with a roof deck overlooking Rome. Inside, guests will find a comfortable bed with large and fluffy pillows, along with a living room that exudes warmth and authentic Italian charm. Right around the corner of this Airbnb is Campo de' Fiori, a medieval square that hosts a daily market in Rome, where the vendors sell fresh produce, meats, cheeses, and local delicacies. 
On your way home from sightseeing, you might want to stop for pizza slices at Il Forno Campo di' Fiori, the best bakery in the neighbourhood. Take your food up with you to the terrace, where you can wind down with the sights and sounds of everyday life in Rome. Learn more about this Airbnb here. 
2. The retro nook in a historic building in Monti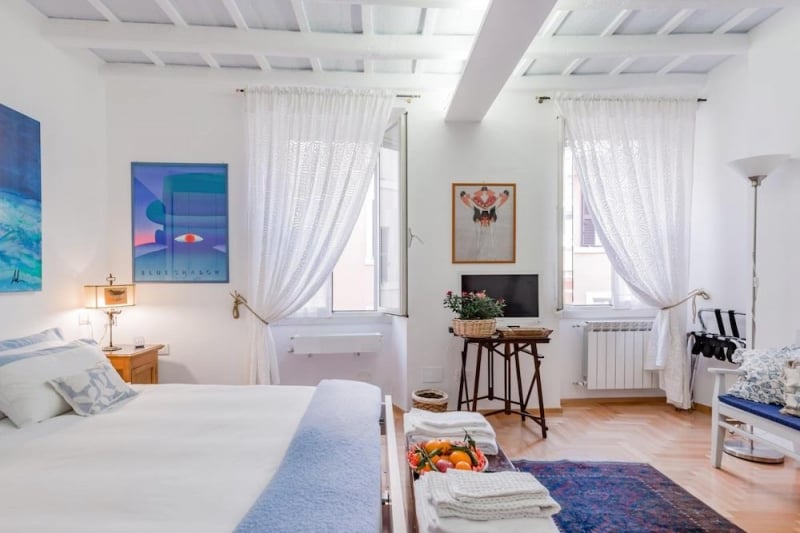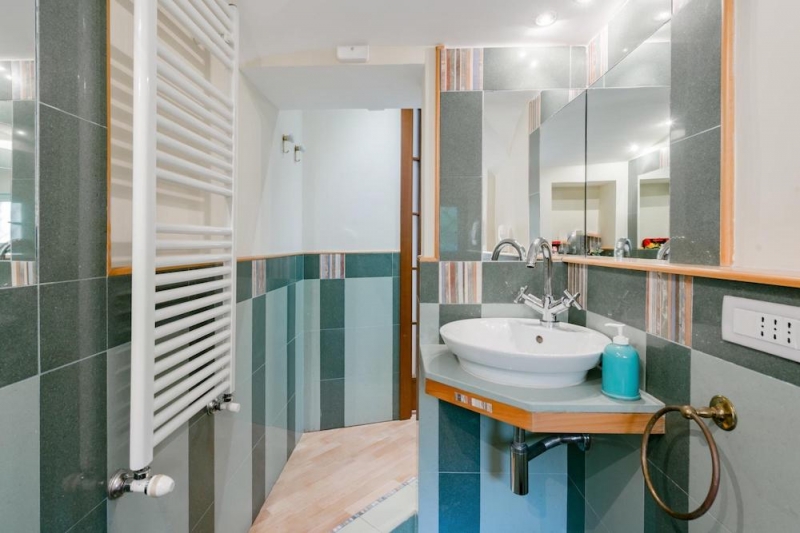 Listing name: Retro Inspired Apartment in Historic Building
Listing type: Entire apartment
Max. no. of guests: 2
No. of bedrooms: 1
Hip, eclectic décor is everywhere in this apartment. Between the vintage posters and the playful dabs of colour, each room in this Airbnb oozes character. Interiors are well-maintained and sleek — peppered with cool shades of blue to help guests relax. Additionally, it features a king-sized bed and a spacious bathroom where two guests can each have their own sinks. 
Savvy globetrotters will also be happy to learn that this Airbnb is situated in the heart of Monti, a trendy and bohemian neighbourhood in Rome. Therefore, you will always be walking distance from the top attractions in the city, such as the Colosseum, Palatine Hill, and the Roman Forum. Learn more about this Airbnb here.  
3. The colourful apartment that greets St. Peter's Basilica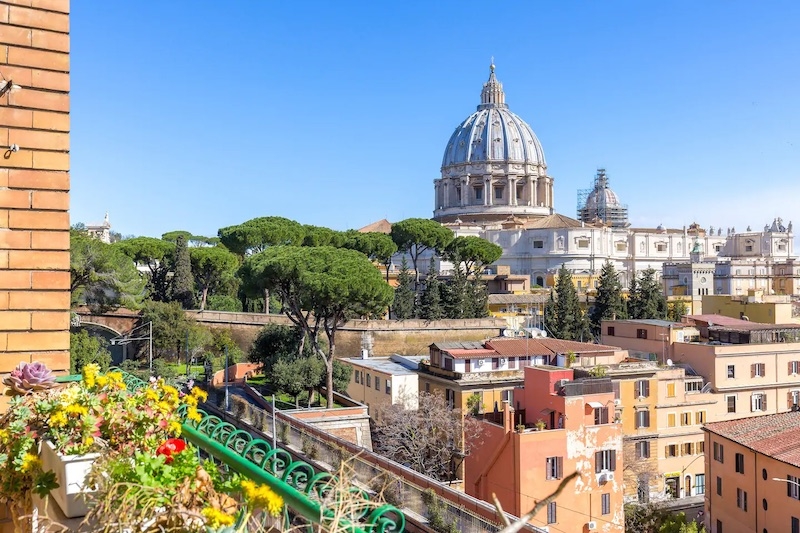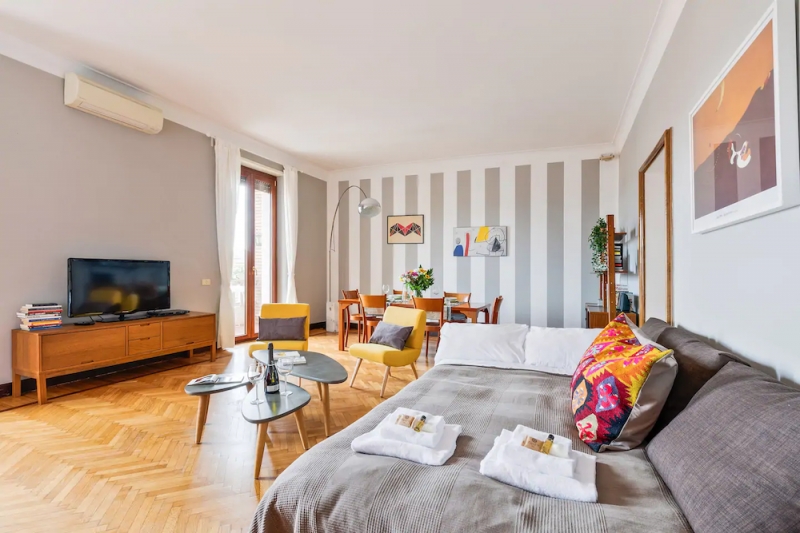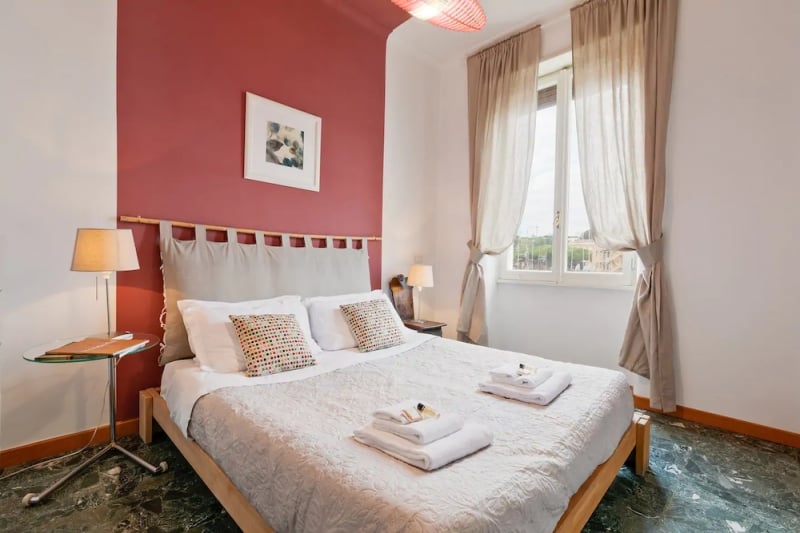 Listing name: St. Peter's Apartment With Terrace - St. Peter's View 
Listing type: Entire home
Max. no. of guests: 4
No. of bedrooms: 1
Begin your Italian journey with a skyline pierced by the iconic blue dome — the very image of Rome itself! Here, a private flower-lined terrace offers an unforgettable panorama of St. Peter's Basilica, which is one of the largest churches in the world! Imagine having this beautiful perch to yourself every day. We'd want to move here, too! 
Highlights of this Airbnb include a cosy bed, a well-equipped kitchen, a vibrant living room with paintings, and a bathroom tub. Even better, the property comes with an elevator! Naturally, this is a fantastic kick-off point for exploring tourist spots within Vatican City. Not only will you have the luxury to explore the Sistine Chapel inside the Vatican Museums, but you'll also be there before everyone else! Learn more about this Airbnb here. 
4. The vibrant holiday home close to the Colosseum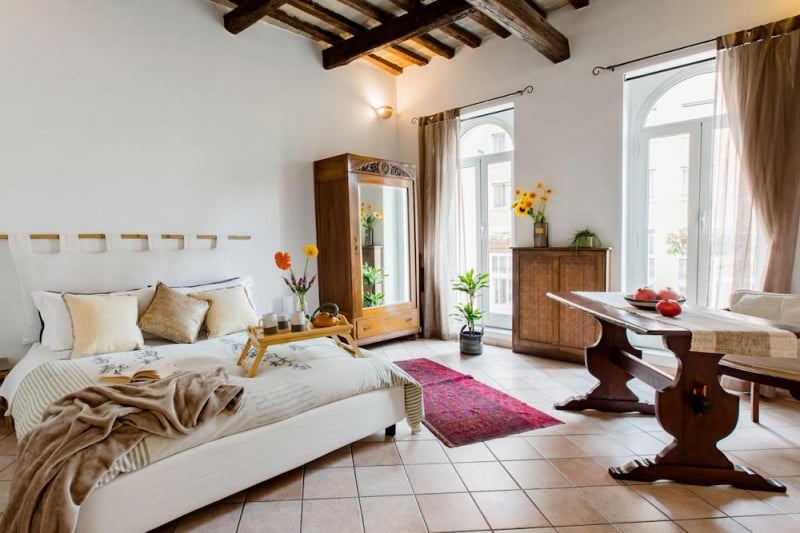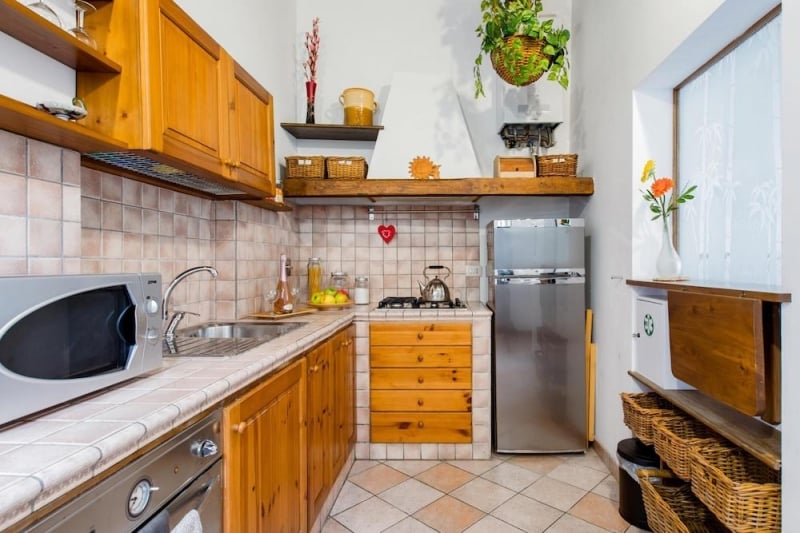 Listing name: Leonina Roman Holiday Apartment
Listing type: Entire apartment 
Max. no. of guests: 3
No. of bedrooms: 1
Only a few steps away from the Colosseum, this centrally located Airbnb in Rome is a blessing for every traveller. First, it's an easy walk from the metro station and lots of major tourist attractions. Second, it's set in a charming building that dates back to the 18th century, complete with two balconies where guests can look out onto the picturesque district of Monti. Third, the apartment also enjoys a family room with tall windows to let the sunlight in. 
But what really sets this place apart from the rest are the amenities! You won't have to bring your own soap and shampoo, or ever worry about running out of fresh towels and linens. In fact, treat yourself to coffee, tea, and fresh milk at the fully-stocked kitchen. Thanks to Ari, who helps guests feel at home, this retreat has the comforts of a house with all the amenities of a hotel. Learn more about this Airbnb here. 
5. The stylish getaway overlooking the Roman Forum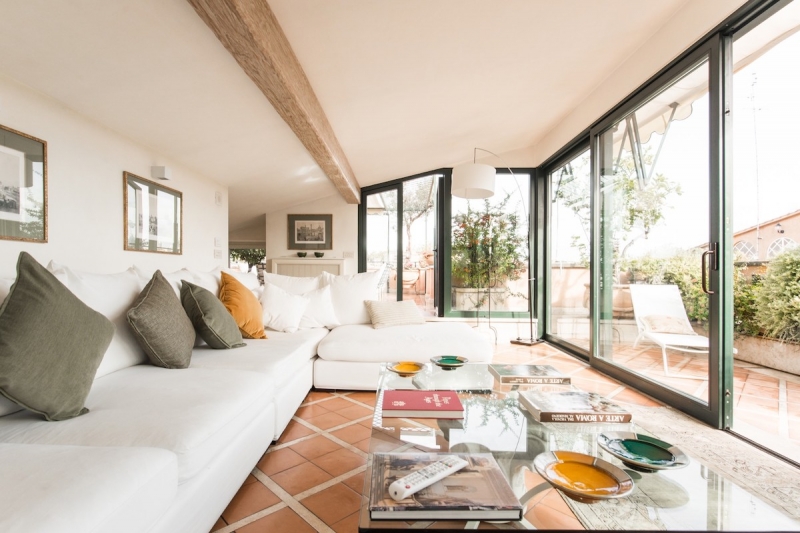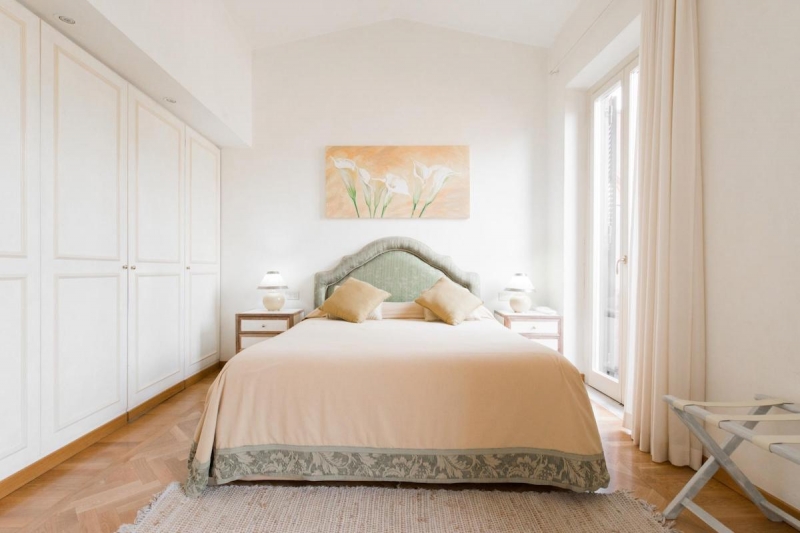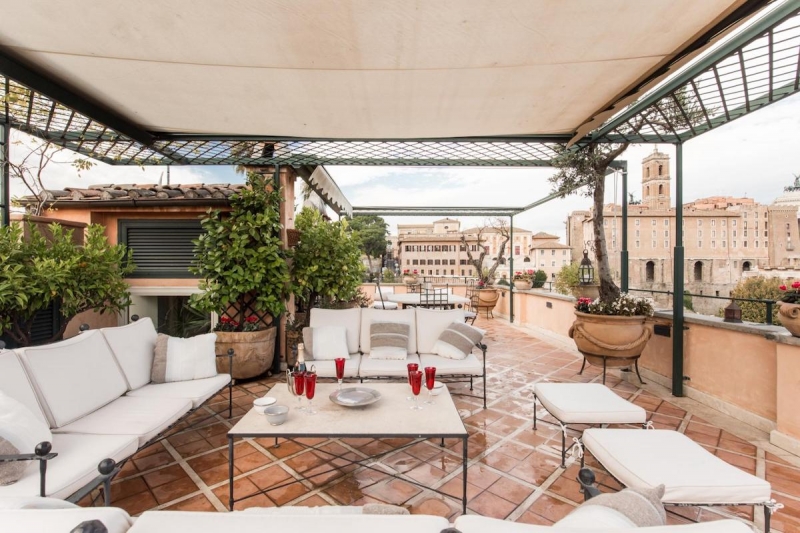 Listing name: Spectacular Forum Terrace Elegante Appartamento Di Lusso Sul Foro Romano
Listing type: Entire apartment 
Max. no. of guests: 6
No. of bedrooms: 3
What's better than sipping a perfect cup of espresso during your stay? Getting to savour it with a view like this! From the balcony of this Airbnb, you can already see the glory of the Roman Forum. Thankfully, the apartment building has an elevator, so you won't have to climb the stairs to witness the ancient ruins! 
With multiple long sofas in the living rooms — yes, there's more than one — the apartment offers a welcoming space where guests can retire at any time of the day. This Airbnb is large enough for a family, and it comes with a huge wardrobe and a safety box that will keep all of your belongings secure. Learn more about this Airbnb here.  
6. The serene retreat with a veranda near the Spanish Steps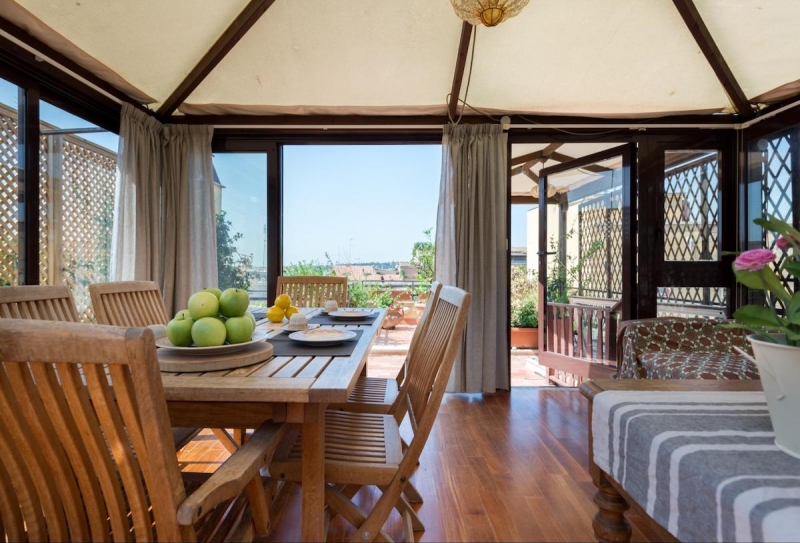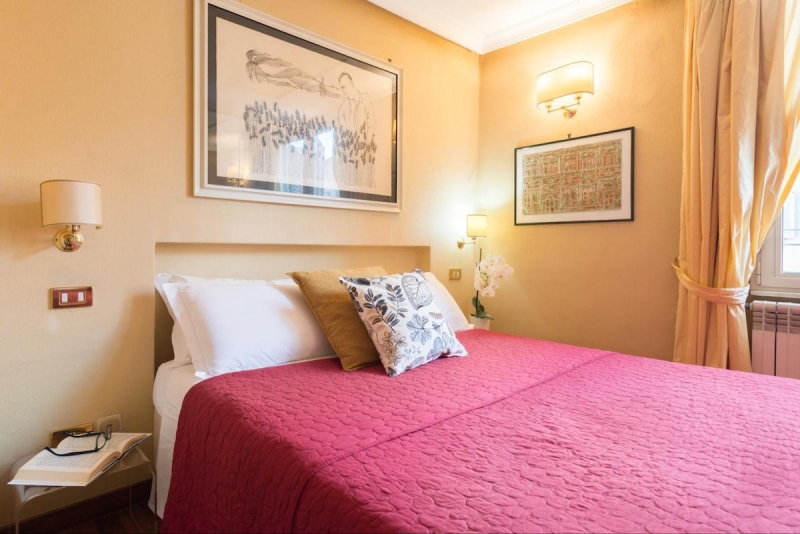 Listing name: Apartment With Terrace Near Spanish Steps and Trevi Fountain 
Listing type: Entire apartment
Max. no. of guests: 4
No. of bedrooms: 1
Tired of waiting in queues that take forever? This Airbnb in a highly-sought after location in Rome gives you a headstart in exploring the Spanish Steps and its surroundings. Just a few minutes away, for example, is Via dei Condotti, where you'll find Italian designer brands like Armani, Gucci, and Dolce & Gabbana. Even if fashion is not your cup of tea, it's pretty exciting to be where all the commotion is happening! 
This homey apartment features a king-sized bed and a glass-enclosed living room with a breakfast table and a veranda. It's supplied with every appliance you might need, from a washing machine to a hairdryer. Learn more about this Airbnb here. 
7. The picturesque haven for art lovers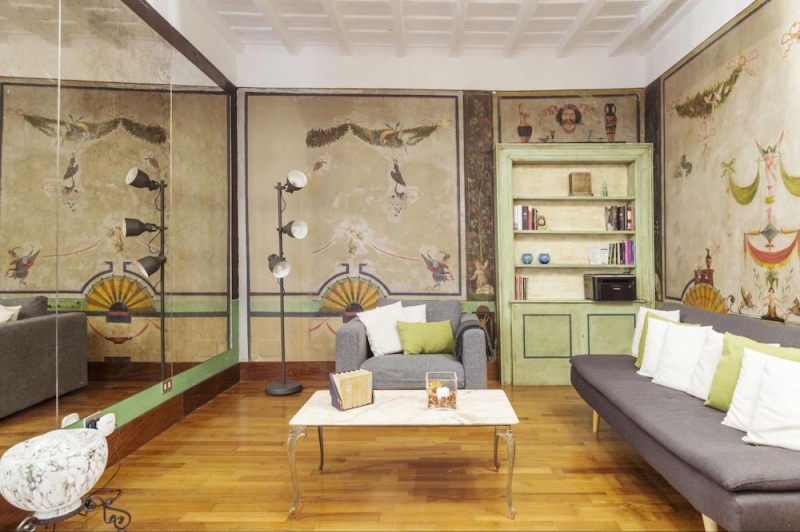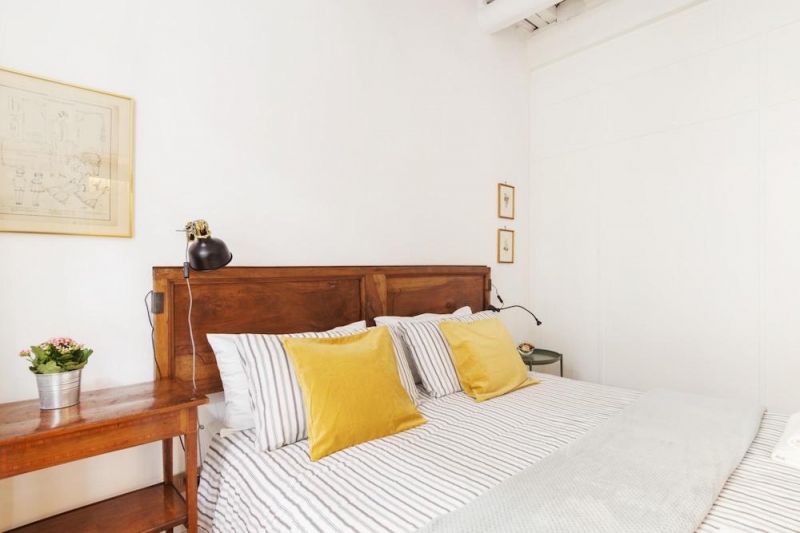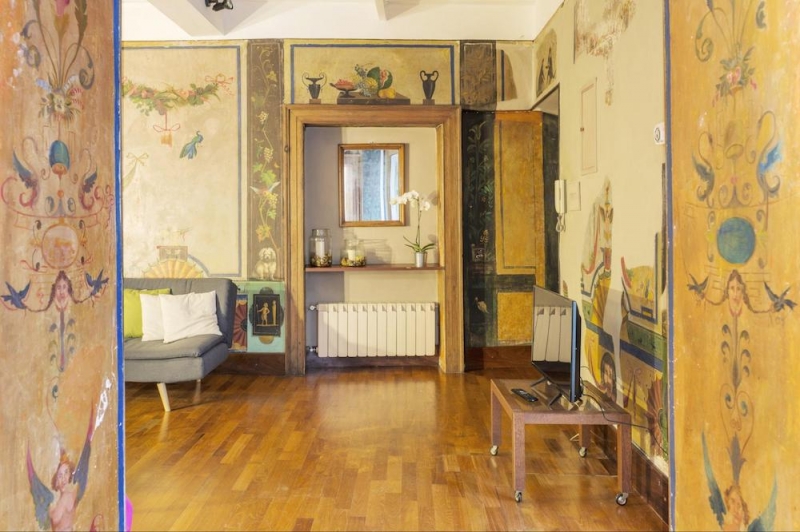 Listing name: Elegant, Unique Apartment With Frescoes
Listing type: Entire apartment 
Max. no. of guests: 5
No. of bedrooms: 2
They say that the Italians are proudest of three things: their art, their food, and their coffee. At this stunning Airbnb in Rome, you can enjoy all these and more! Valentina, your kind host, likes to provide coffee, a basic Italian breakfast, and sometimes even limoncello for guests. 
Like a canvas inside a museum, the space is filled with frescoes and whimsical touches. Curl up on the couch with a book and spend lazy afternoons in the living room amidst traditional wooden furniture.  You can also head out for a pleasant stroll through the cobbled streets towards Piazza Navona and Trastevere, where plenty of local cafés and eateries are waiting for you! Learn more about this Airbnb here. 
8. The elegant abode right next to Trevi Fountain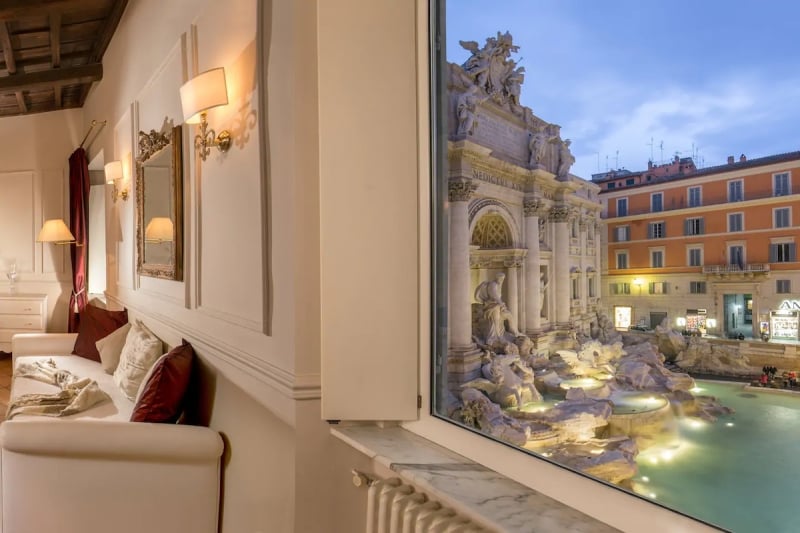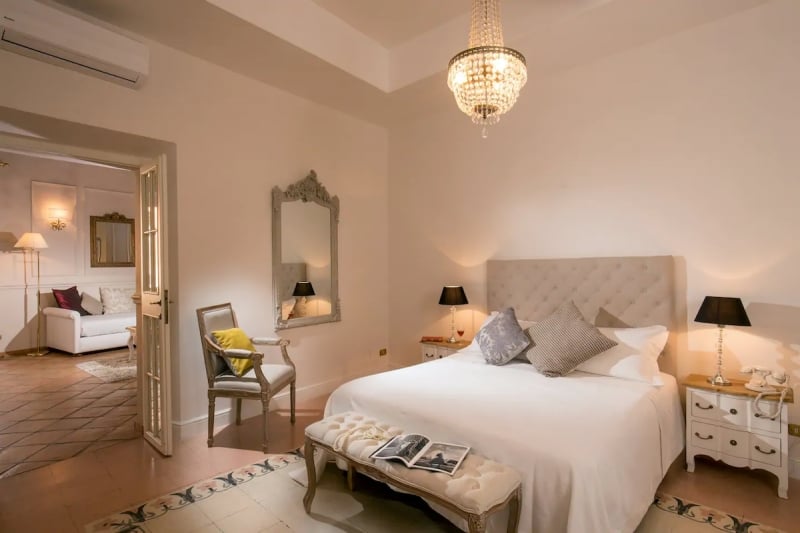 Listing name: Trevi Ab Aeterno - Amazing Fountain's View 
Listing type: Entire home
Max. no. of guests: 5
No. of bedrooms: 1
Legend says that whoever tosses a coin into the Trevi Fountain will return to Rome someday — and don't we all want that? Nevertheless, it's not every day someone can claim that the grand Baroque fountain is right next door. Staying in this apartment is a great way to beat the queues, that's for sure! Other things we're excited about this Airbnb: the classy lounge with two sofas, the Nespresso machine for Italian coffee, the hydromassage shower in the bathroom, and the wide bed you can sink right into! 
After making a wish at the fountain, you may also want to seek out Il Gelato di San Crispino. If you can recall Julia Roberts appreciatively licking her spoon in Eat, Pray, Love, this is the famous gelateria where that happens. Luckily, it's a stone's throw away! Learn more about this Airbnb here.
Also read: 10 Unique Gelato Flavours You Need to Try in Italy  
9. The stellar lookout in the middle of Piazza Navona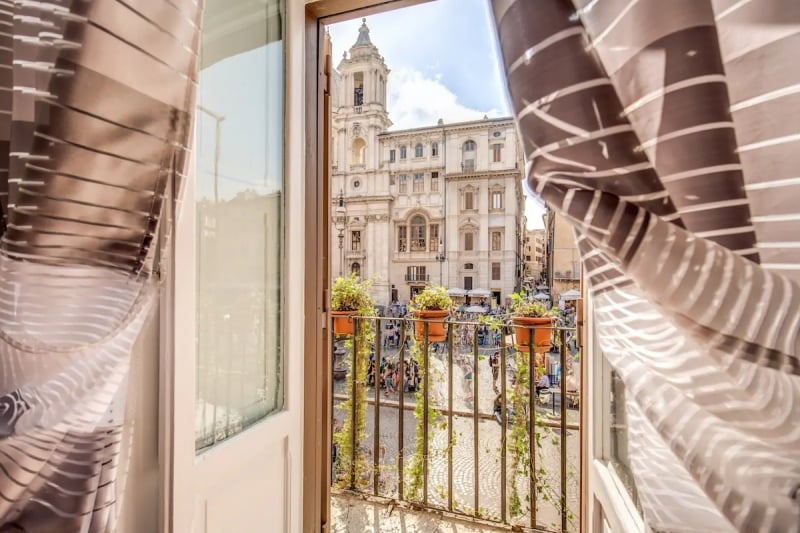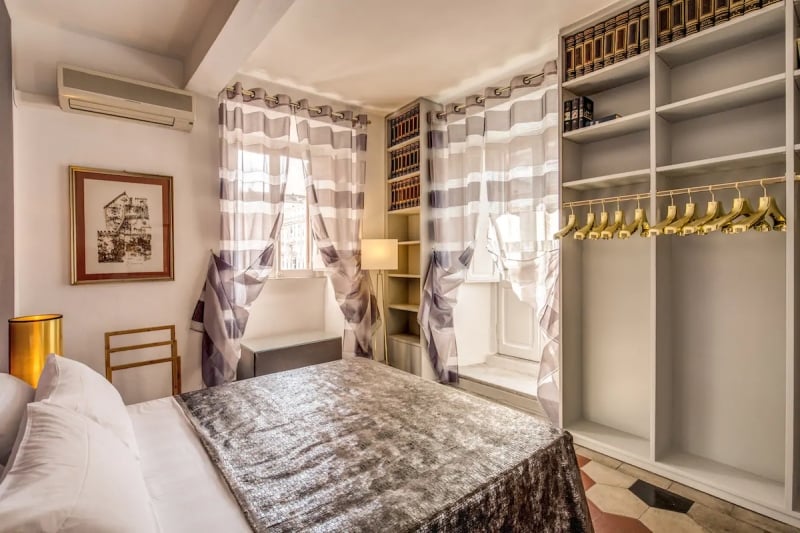 Listing name: Navona, 3 Bedrooms Unique and Spectacular View
Listing type: Entire home 
Max. no. of guests: 10
No. of bedrooms: 3
Tucked in one of the buildings in Piazza Navona, this three-bedroom apartment with a private balcony has enough room to host your friends and family! It's also equipped with air-conditioning for those sweltering afternoons from July to August, when the summer temperatures in Rome can rise to a sweltering 32 °C. 
Another great thing about this Airbnb is that it's only on the second floor, leaving no need for an elevator. At any moment, you can easily venture out to places like Castel Sant'Angelo and the Pantheon. Check out the Fountain of Neptune when it lights up at night. Better yet, open the windows to hear the musicians playing in the square. Just pull away the curtains, and you're already there! Learn more about this Airbnb here. 
10. The dreamy perch with a majestic view of Rome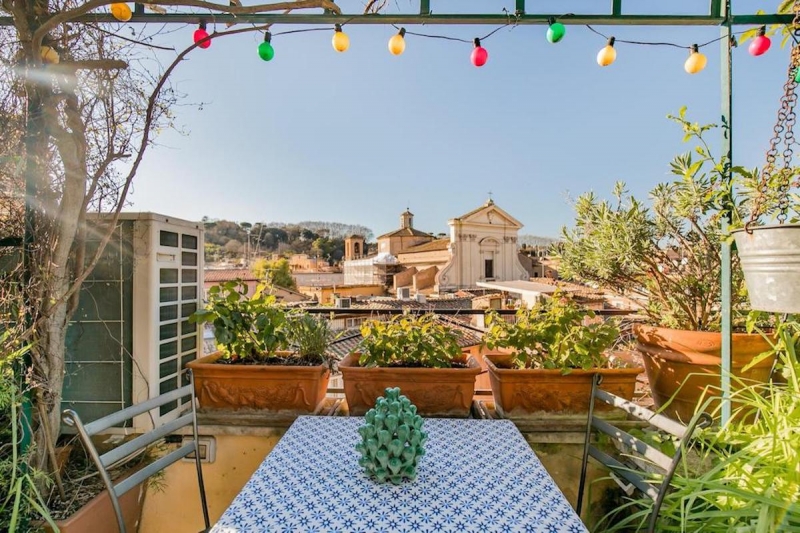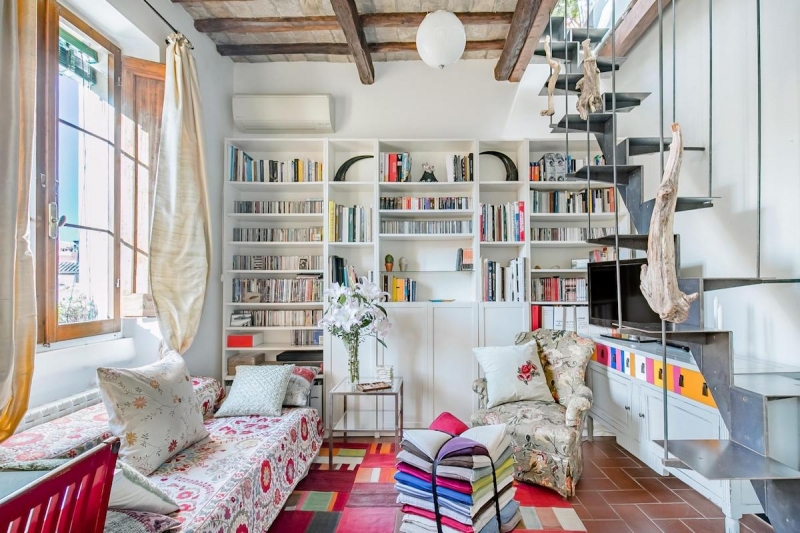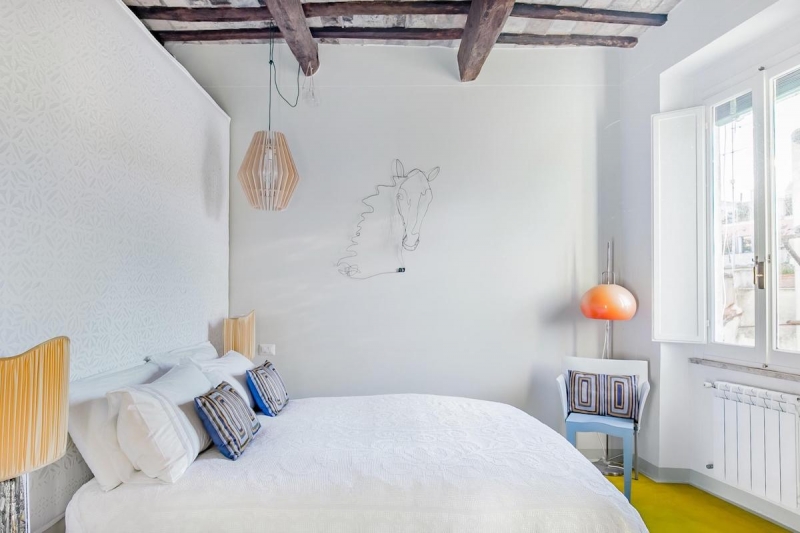 Listing name: Bright Apartment With Terrace in Classic Trastevere Building 
Listing type: Entire apartment
Max. no. of guests: 2
No. of bedrooms: 1
Bellissima! That means "gorgeous," and it's one of the words that come to mind when we see this view. We've reached the end of our list with this Airbnb, yet we will never get tired of showcasing the best of Rome. From the gazebo of this apartment in Trastevere, guests can take in the sweeping vistas of Gianicolo and St. Peter's Basilica. Must-visit destinations like the Colosseum, Trevi Fountain, and the Vatican are also well within reach. 
Both the bedroom and the living room are delightfully cosy. Find your spot in the reader's nook with a wide bookcase that's filled with local and international volumes. Or drink coffee as the locals do — using the espresso machine in the kitchen. Every now and then, you may hear accordion music drift up from one of the restaurants outside. We don't know about you, but that's one of the things we love about Italy! Learn more about this Airbnb here.
Also read: What to Expect When Travelling to Rome: Expectations vs. Reality
Have you chosen your vacation home from these Airbnbs in Rome? Bookmark these apartments for the future, and you'll be one step closer to making your Roman holiday a reality!