Ahh, Greece: a country rich in history (raise your hand if you love Greek mythology!) and studded with picture-perfect everything. But let's be honest. When we think of Greece, we're — more often than not — only thinking of two particular places: Santorini, dotted with its eye-catching blue-topped houses, or the ancient and breathtaking city of Athens.  Here's a tip: Make sure not to skip out on Mykonos, either!
Beautiful whitewashed homes, stunning views of the Aegean Sea, and golden-sand beaches await on this cosmopolitan island. While it may be well-known for its nightlife, don't be fooled — there are many pockets of peace and quiet, making it an excellent choice for a relaxing vacation. And here's the best part: We've already found the perfect Mykonos Airbnbs, so you can go ahead and start planning your trip!
Also read: 14 Fantastic Airbnbs in Greece to Make Your Dream Getaway Happen
Best Airbnbs in Mykonos for your sun-soaked getaway
1. This Mykonos Airbnb with a pool that's perfect for big groups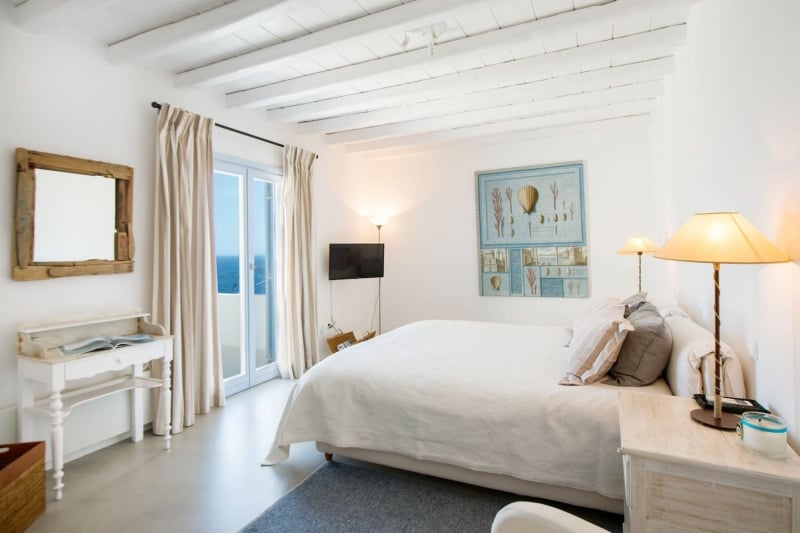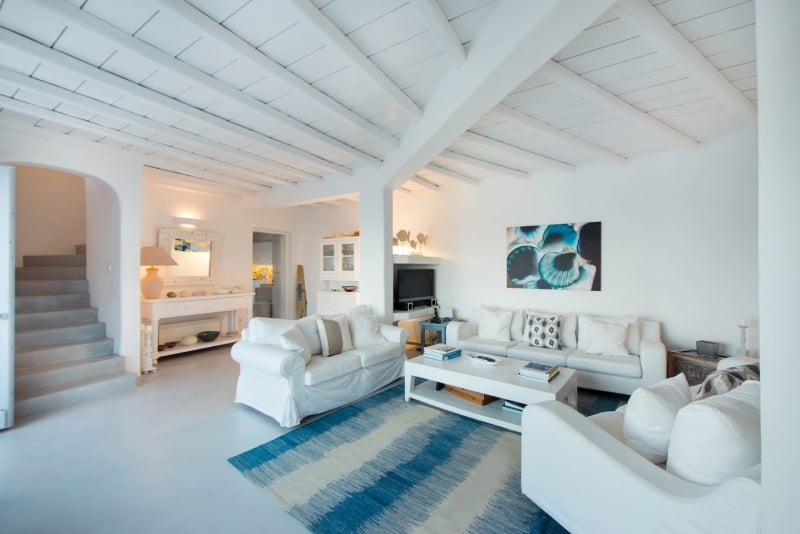 Listing name: Villa Isabella (16 Guests) - Psarou
Listing type: Entire home
Max. no. of guests: 14
No. of bedrooms: 7
Keeping close family ties is a big part of Greek culture; you'll often find gatherings among big, extended families no matter where you go! This being said, Greece is a perfect destination for big family vacations — and with a spacious home like this one, you'll all be able to fit under one roof.
Whether you're up for exploring all that Mykonos has to offer or would like to spend much of your family time at home, this sprawling hilltop Airbnb is an ideal choice. Its location positions you just minutes from the beaches, shopping areas, and Mykonos' nightlife. At the same time, it's clear that this home was made to host large gatherings: It's equipped with a private pool, barbeque facilities, and an outdoor dining area. Make sure to come by in the summer to maximise all these amenities! 
2. This homey villa made for restful retreats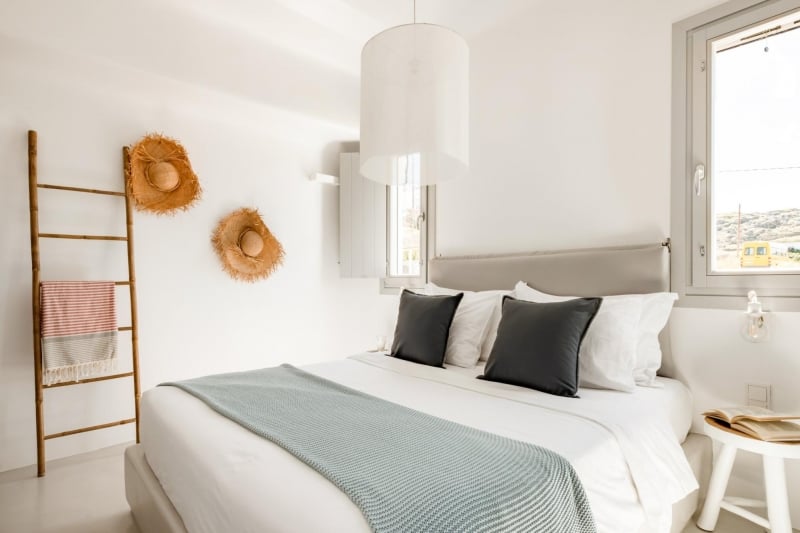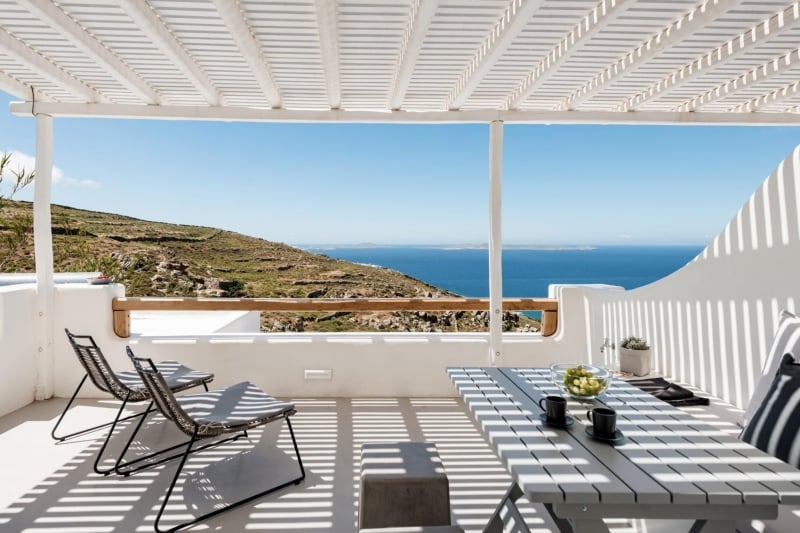 Listing name: Biatriza's Summer Shelter 1
Listing type: Entire apartment
Max. no. of guests: 4
No. of bedrooms: 1
Like we said earlier, Mykonos isn't all just about its club and bar scene. You'll find places that provide peace and quiet, too. Just 15 minutes away from downtown, this stunning home offers an escape from the island's hustle and bustle — promising guests a restful night's sleep, whether or not they're coming home from a night of partying!
Both comfortable and beautifully designed, this Airbnb in Mykonos is undoubtedly one of the island's gems. We're certain you'll easily fall in love with every bit of it — from the stylish bedroom to the spacious terrace with breathtaking views. 
3. This spacious home just a little outside the main town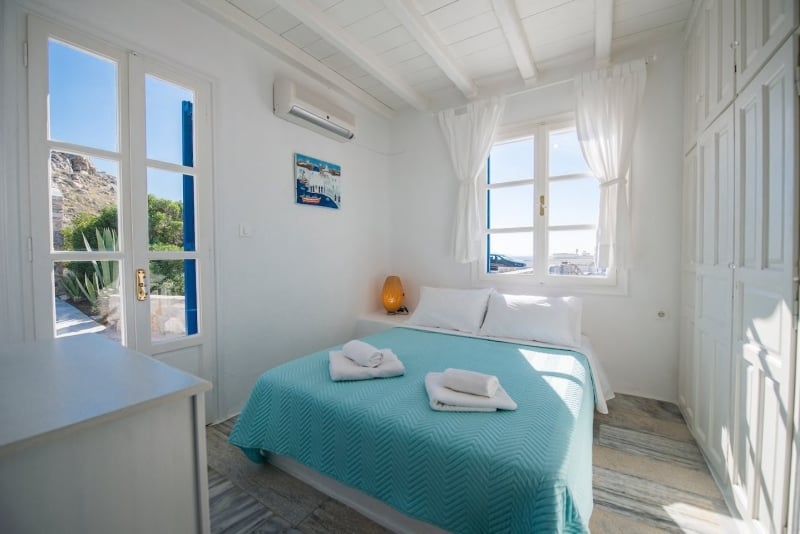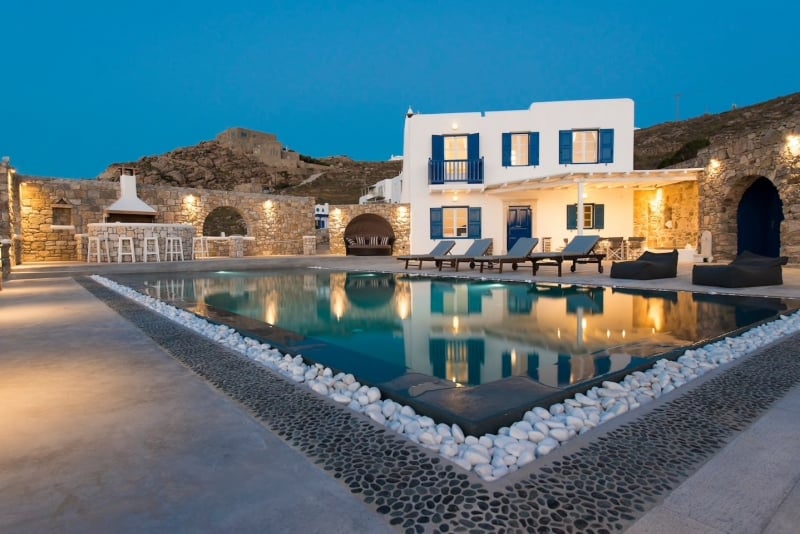 Listing name: Villa Orion Magnificent SeaView
Listing type: Entire home
Max. no. of guests: 10 
No. of bedrooms: 5
Another great choice for big vacations with family or friends, this picturesque home is located in an equally gorgeous area outside the main town. Made up of separate units (it's divided into a main house and two guest houses), it provides guests with a little extra privacy.
Large groups will love the spacious patio, complete with a sizeable pool, sun loungers, barbeque facilities, and an outdoor bar! To add to these amenities, guests also have access to daily housekeeping and transfers to and from this Mykonos Airbnb villa. 
4. This honeymoon-worthy hideout overlooking Mykonos Town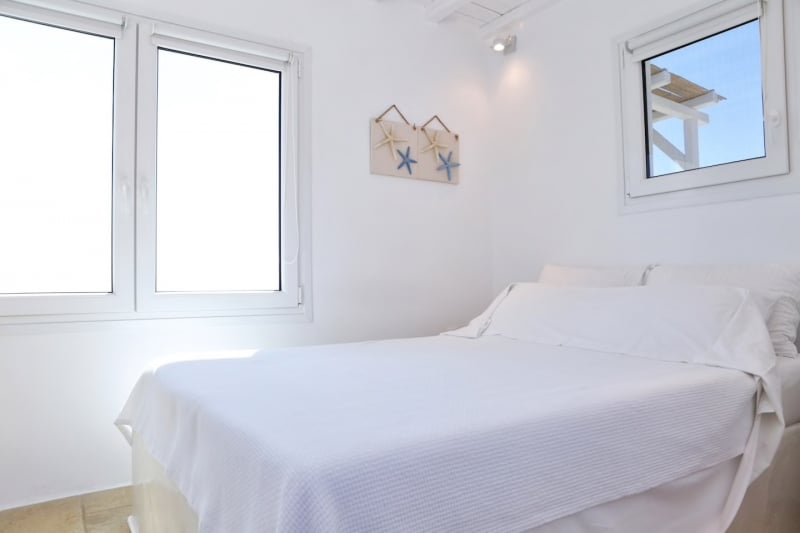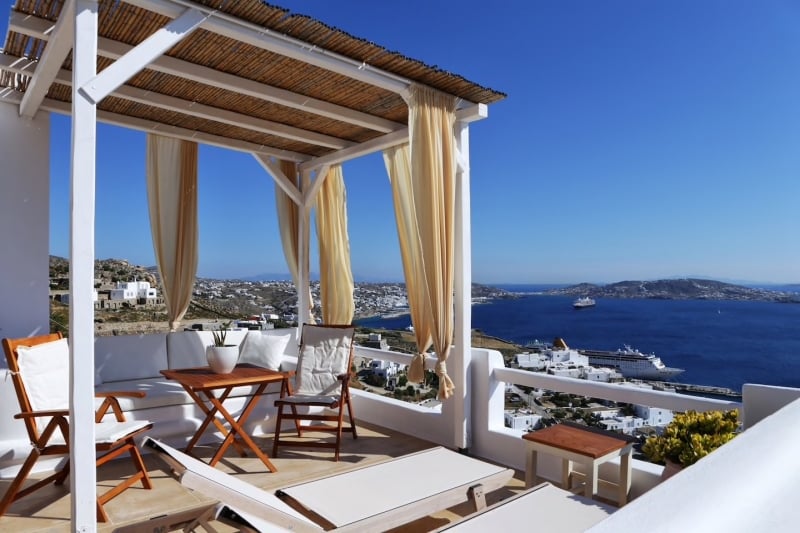 Listing name: Junior Suite Vol.3* La Maison Blanche Mykonos
Listing type: Entire home
Max. no. of guests: 2
No. of bedrooms: 1
Often chosen as a honeymoon destination, Greece is dotted with dreamy scenes that make it such a romantic setting. An entire home just for two, this cosy Mykonos Airbnb is one of those places where you and your significant other will easily feel as though you're the only people in the world. Nestled on a hill that overlooks the town and the Aegean Sea, it's known to offer some of the most unforgettable sunset views.
To perfect your honeymoon experience, the hosts will even help arrange massages, daily housekeeping, and your transportation around the island! We don't think there's anything quite like Greek hospitality. And this is certainly one of the Mykonos Airbnbs that prove that! 
5. This Mykonos Airbnb villa with sweeping views of the Aegean Sea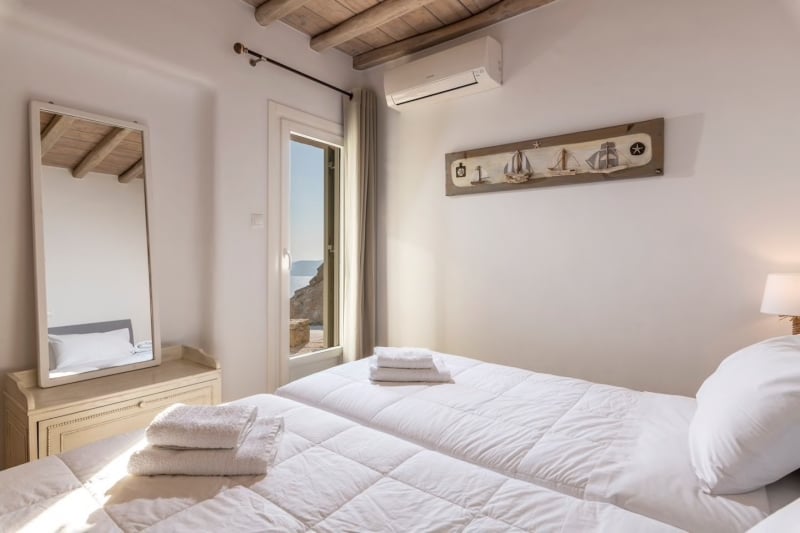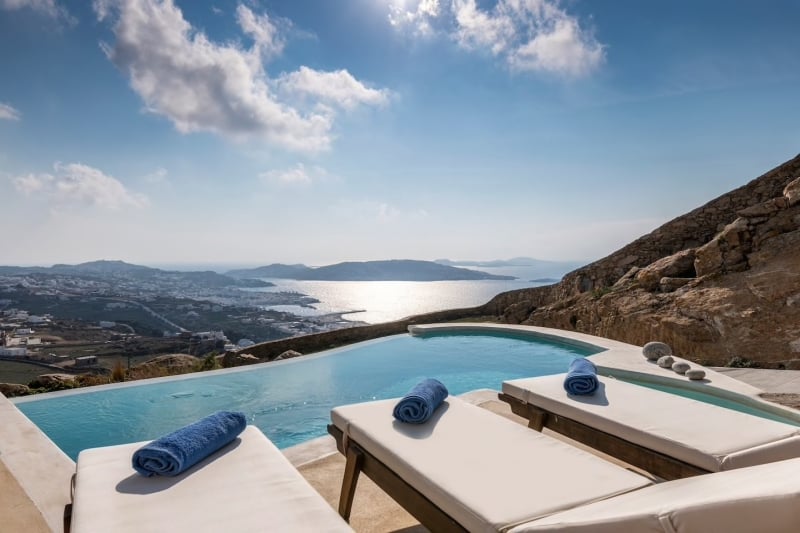 Listing name: Mykonos Divino 1bd Sea View Villa - private pool
Listing type: Entire home
Max. no. of guests: 4
No. of bedrooms: 1
Not up to spending your nights exploring the island's nightlife scene? This hilltop villa offers guests a peaceful retreat, as it's ideally situated away from Mykonos' bustling streets. 
Decked out with an infinity pool that overlooks the sea, this villa is undeniably irresistible. From this particular spot, you'll be treated to panoramic views of picture-perfect Mykonos and several surrounding Cyclades islands. Trust us — you won't want to leave! 
6. This modern yet traditional home in a central location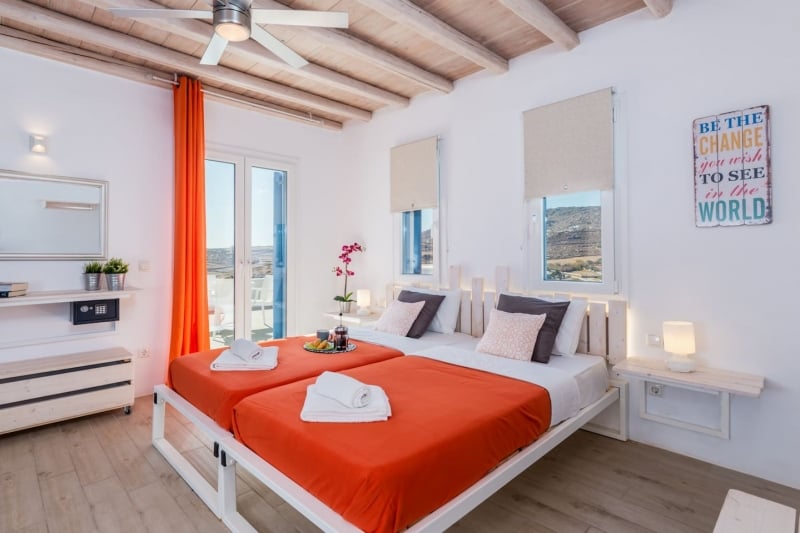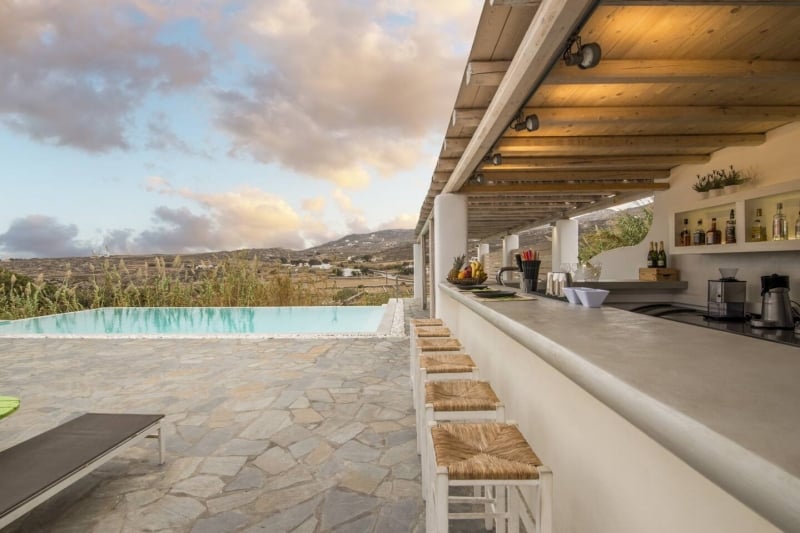 Listing name: INDEPENDENT FAMILY HOUSE
Listing type: Room in aparthotel
Max. no. of guests: 2
No. of bedrooms: 1
While this sunlit Airbnb in Mykonos is tucked away in an off-the-beaten-track location, it's still quite a great base for exploring the island's major attractions. At least four different beaches (Agrari, Super Paradise, Livadi, and Elia) are just within easy driving distance from here! Beach lovers, this one's definitely an accommodation you'll want to check out.
To add to its ideal location, this home also happens to be spotless and beautifully designed. It's an eco-friendly pick, too — this room is actually found in an aparthotel that runs on natural and renewable energy! What's not to love about it? 
7. This family-friendly villa near Kalafatis Beach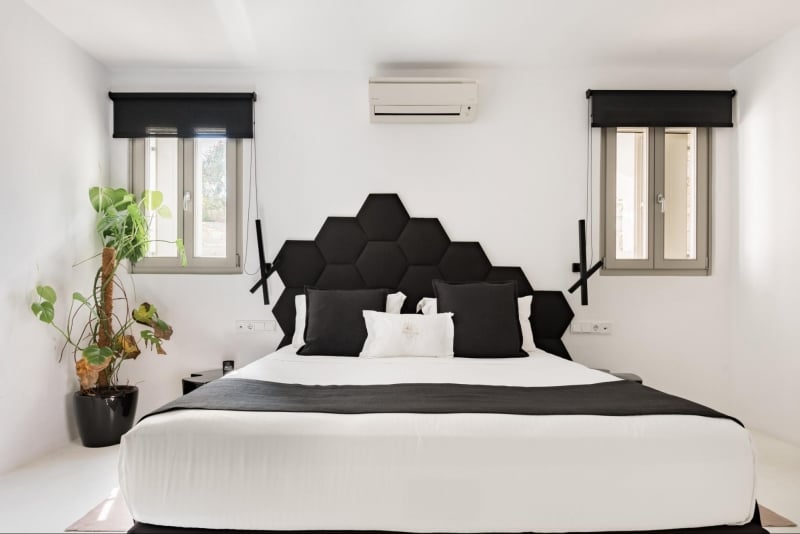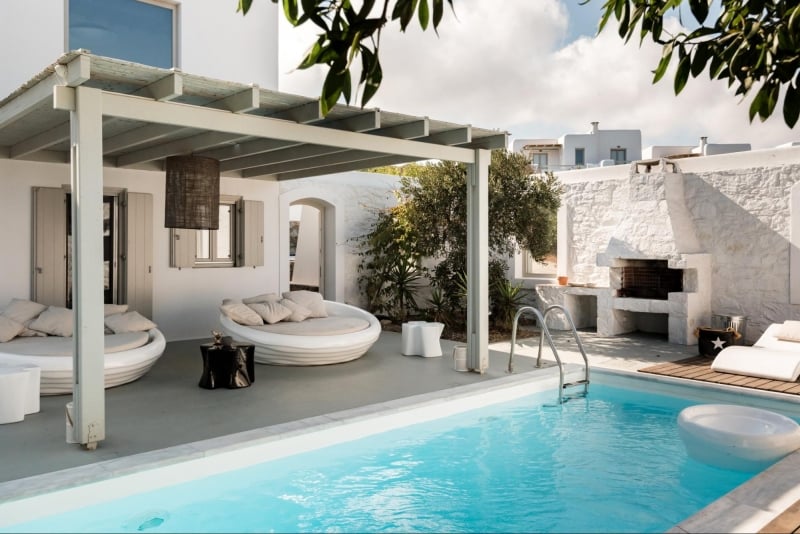 Listing name: Extravagant Four Bedroom Villa With Private Pool
Listing type: Entire villa
Max. no. of guests: 8
No. of bedrooms: 4
This spectacular villa may be the priciest home on this list of Mykonos Airbnbs, but it's certainly worth the splurge! It's the perfect place to treat your family to a few days of uninterrupted bonding time. You'll surely enjoy your stay at this home just as much as you'll love exploring the island!
From here, you'll easily be able to explore the vicinity on foot. Nearby, you'll find restaurants, groceries, and local boutiques! Best of all, Kalafatis Beach is just a few minutes away. With its golden sand and crystal-clear waters, it's said to be one of the best beaches around Mykonos!
8. This traditional stone house in an olive estate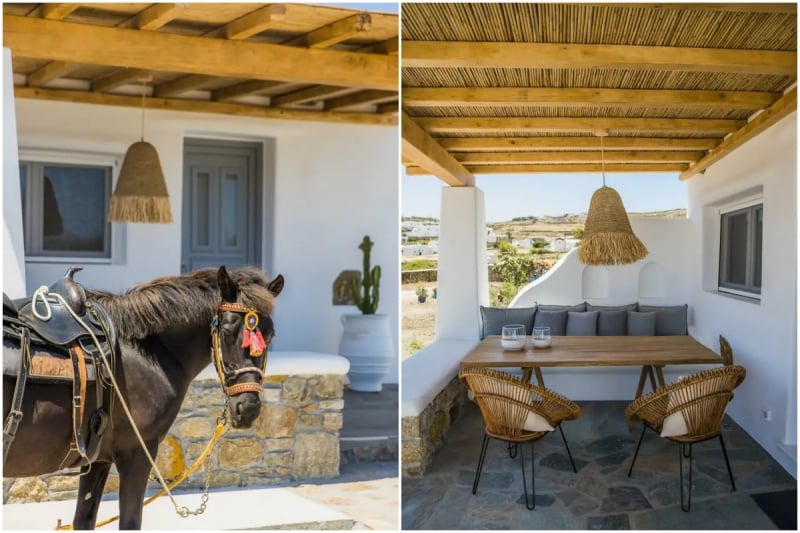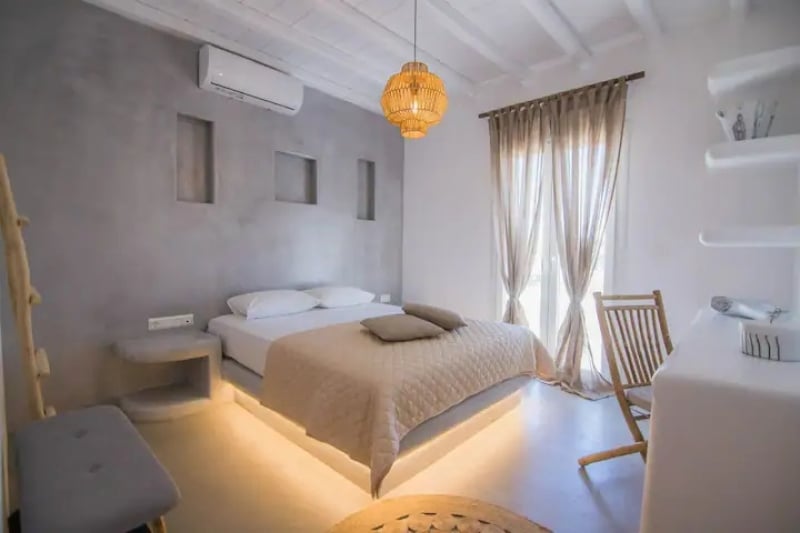 Listing name: Socrates' stone house, Triantaros
Listing type: Barn
Max. no. of guests: 2
No. of bedrooms: 1
Although the farm setting may be a departure from the usual white-washed aesthetic of Mykonos Airbnbs, this charm-filled stone dwelling is no less enchanting. It's found on a traditional farm where guests can rest and relax. Ride the friendly horse or donkey, then pop inside the private chapel for some quiet and contemplation.
Built more than 150 years ago, this Airbnb in Mykonos captures the spirit of old-world Greece. At the same time, it was renovated in 2017 to provide guests with modern comforts, including a well-equipped kitchen. Best of all, the barn is conveniently near famous beaches like Kalo Livadi and Elia Agrari.
9. This chic sanctuary with incredible views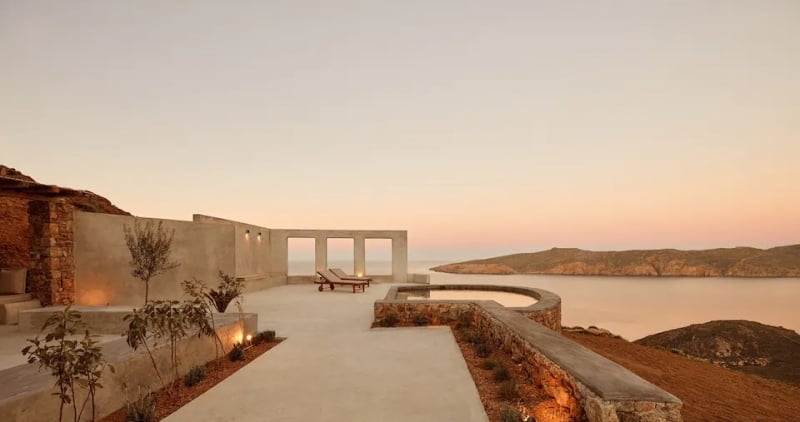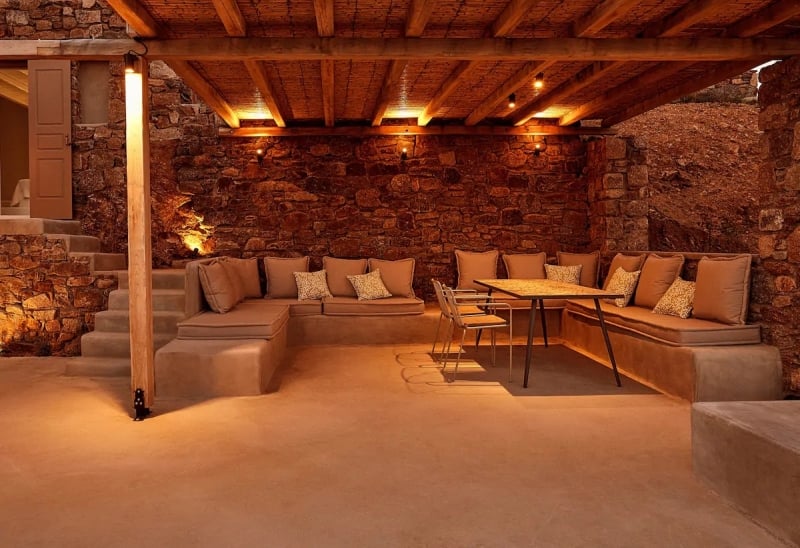 Listing name: White Dune Villa by Mykonos Dunes
Listing type: Entire villa
Max. no. of guests: 6
No. of bedrooms: 2
Located above the beaches of Panormos and Agios Sostis, this stylish villa combines laidback island vibes and urban sophistication. It's easy to be captivated by Greek's natural beauty from this Airbnb in Mykonos, with the glittering sea and mountains creating a picture-perfect backdrop.
Guests enjoy access to all of the indoor and outdoor areas of the villa, including a shared outdoor pool. Inside, there are two bedrooms, a sitting and dining area, plus a modern kitchen for stress-free meals.
10. This extra luxe oasis on a hill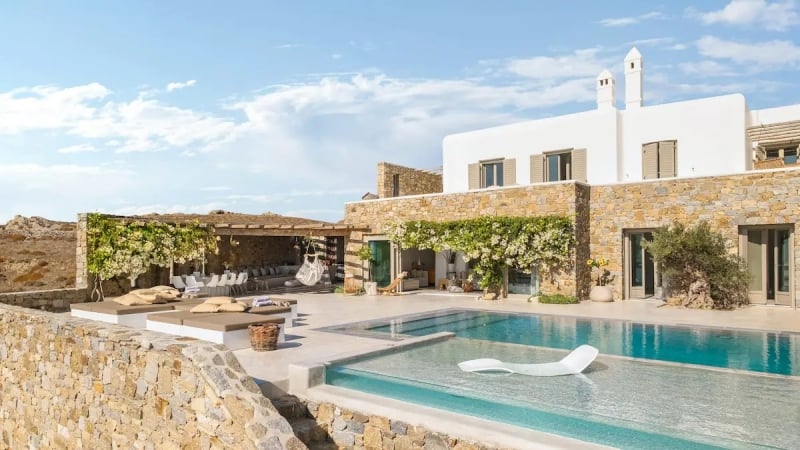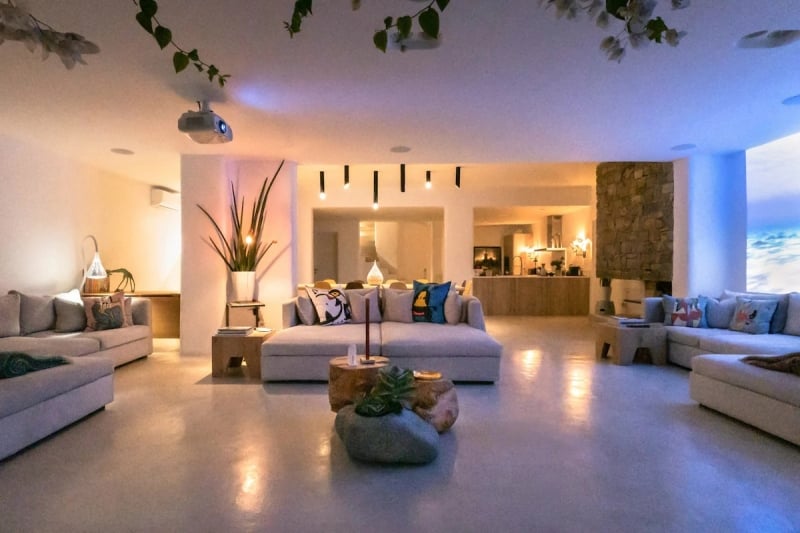 Listing name: Villa Fleur de Sel
Listing type: Luxury stay
Max. no. of guests: 12
No. of bedrooms: 6
If you're exploring the Greek Islands to live out your most luxurious fantasies, then you're in luck — this sun-soaked Mykonos Airbnb with a pool promises a VIP experience to travellers spending a few days on the island. Even seasoned travellers will be impressed with the design that blends contemporary cool and coastal charm.
Additionally, the six-bedroom setup is ideal for big groups. Hang out in the sunny gardens, featuring a shaded alfresco deck and a heated infinity pool. But our highlight? Breathtaking sunsets at the end of each day. It's definitely one of the most stunning Airbnbs in Mykonos.
Also read: Beyond Santorini and Mykonos: 8 Fairytale Islands in Greece You Need to Visit 
We're confident that you're in for a delightful stay at any of our top picks for Mykonos Airbnbs. Have the best time! Going on an all-out Greek adventure? You may want to check out our top Airbnbs in Santorini and Athens , too. 
Got a property you'd like TripZilla to feature? Inquire with us here.
---
This article contains affiliate links. When you book through these links, we may earn a small commission at no additional cost to you. All images courtesy of the respective property listings.