Let's be honest — whenever most of us hear "Iceland," one thing always comes to mind: the ever-elusive Northern Lights or Aurora Borealis. But did you know that there's so much more this Nordic island country has to offer? Gorgeous waterfalls, mountains, caves, and even breathtaking manmade structures await at this bucket list-worthy destination.
So, what are you waiting for? It's time to plan that trip! Here's a tip: Choosing a place to stay from this list of Airbnbs in Iceland is a great place to start!
Also read: 10 Unique Airbnbs for an Unforgettable Travel Experience
Stunning Iceland Airbnb stays worth booking
1. This cosy cabin in the Icelandic countryside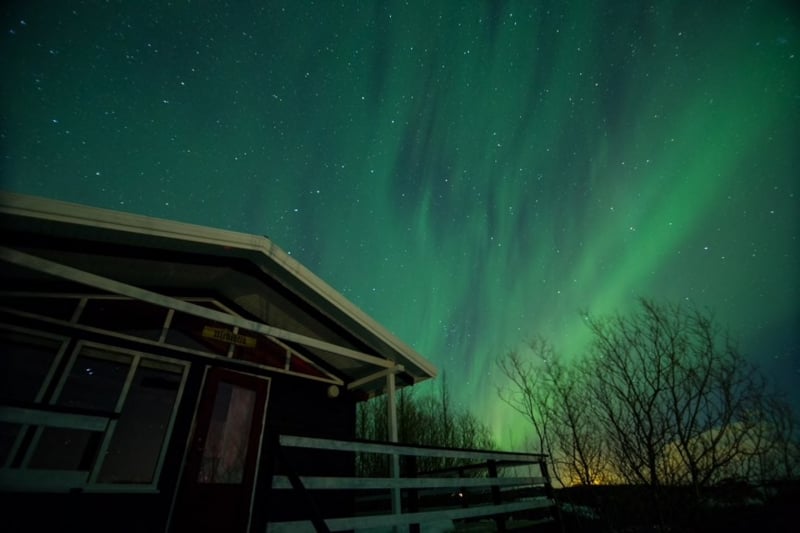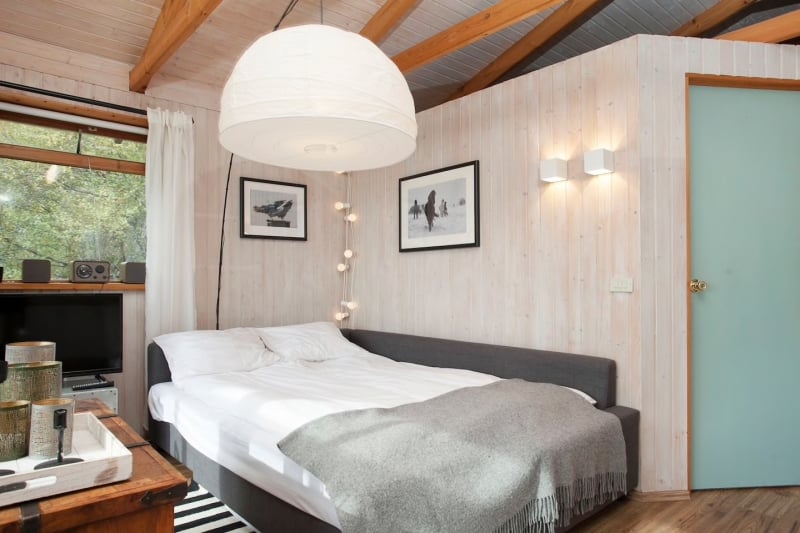 Listing name: Múlakot 5 Cosy cabin with incredible views
Listing type: Entire home
Max. no. of guests: 4
No. of bedrooms: 1
For a not-so-typical trip to Iceland, why not go for this quiet hideout in the countryside? Situated close to the picturesque town of Borgarnes, this Airbnb is not too far from Reykjavik, Iceland's buzzing capital.
Providing guests with the ultimate cabin experience, this rustic home offers views of the most gorgeous scenes: glaciers, volcanoes, and coastline beaches. Guests are also invited to explore the property, or hike through the hills that surround the cabin. Plus, thanks to this Airbnb's remote location in the woods, you're guaranteed to witness a sky filled with stars once night falls. If you play your cards right, you'll even get to see the Northern Lights from the comforts of this cosy home! 
2. This artsy Iceland Airbnb overlooking the famous Hallgrímskirkja Church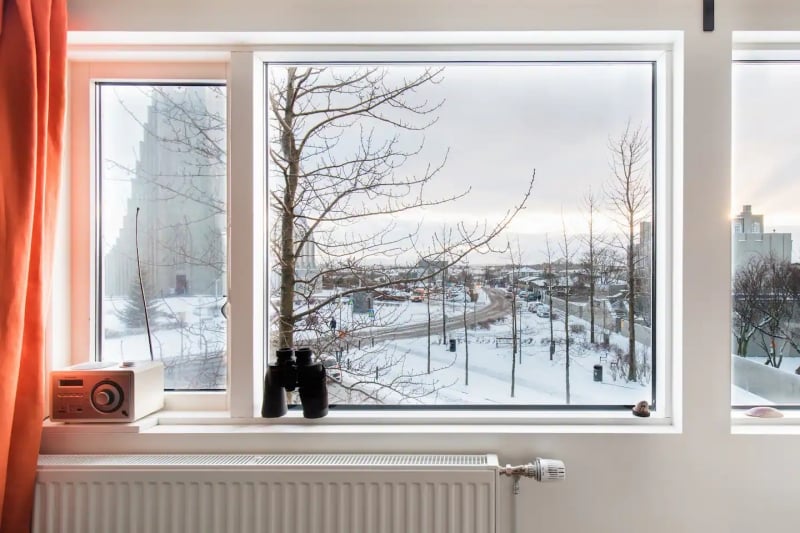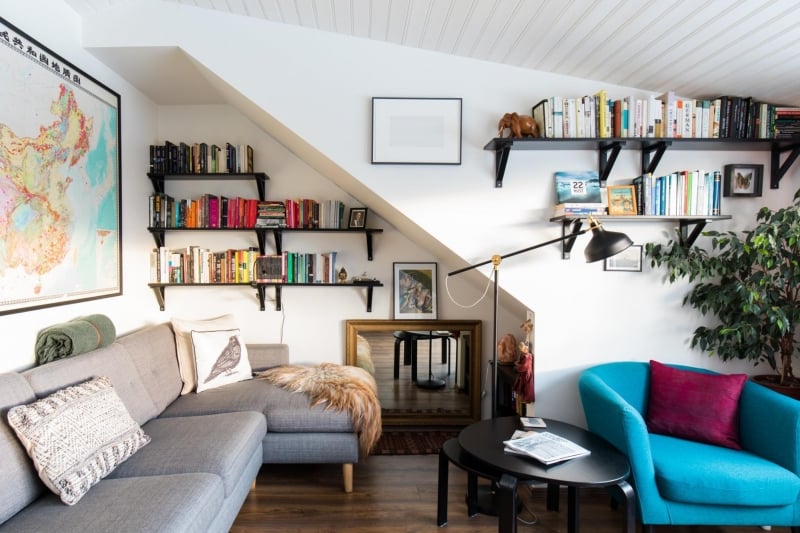 Listing name: One of a Kind Apartment with Landmark Views
Listing type: Entire apartment
Max. no. of guests: 2
No. of bedrooms: 1
If staying within close proximity to popular tourist attractions is your priority, then look no further than this centrally located apartment! Nestled in Reykjavik's trendiest neighbourhood, it places guests just steps away from lots of iconic sights. Right across, you'll find the famous Hallgrímskirkja Church. Meanwhile, just five minutes from here, you'll find Sundhöllin Public Baths — the oldest swimming pool in the city! Harpa Concert Hall, the National Theater, and the National Gallery are just a 10-minute walk away as well.
Not just a great pick for its location, this Airbnb in Reykjavik also comes highly recommended for its Instagrammable interiors and stunning views of the mountain ranges. In addition, this warm and inviting home is quite peaceful despite being located right in the thick of all the action! 
3. This stylish home with breathtaking nature views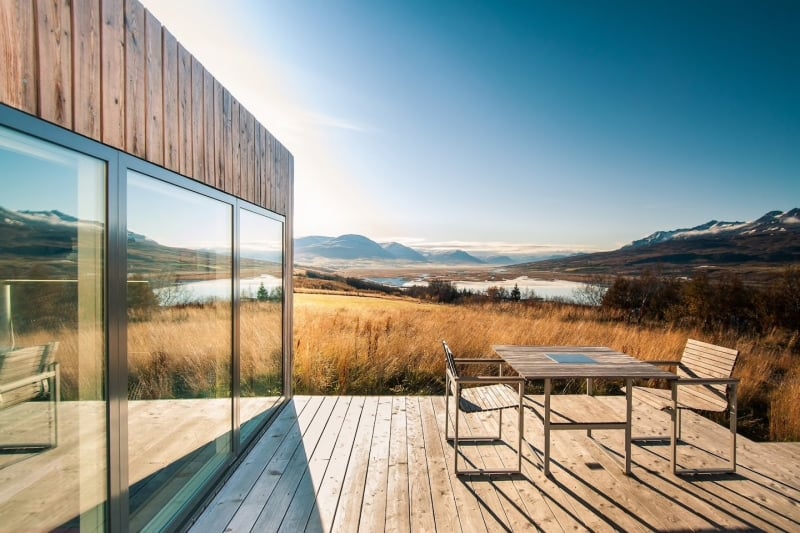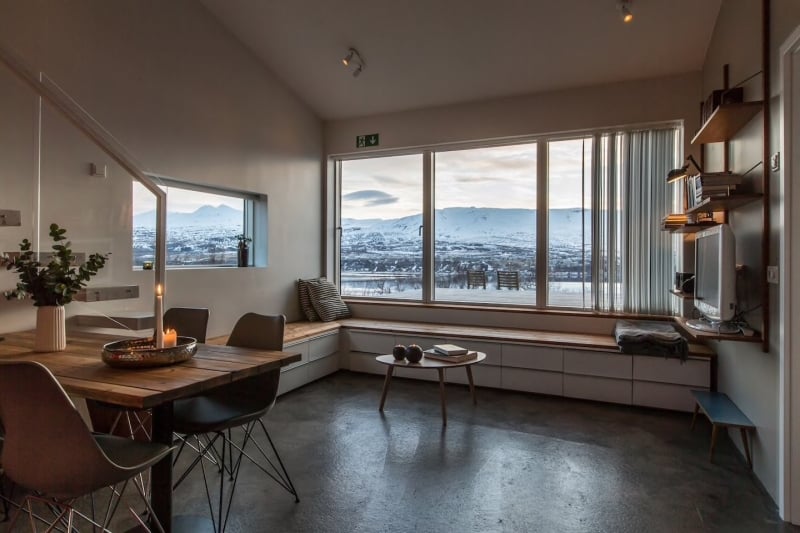 Listing name: Amazing view - Moderne apartment
Listing type: Entire home
Max. no. of guests: 4
No. of bedrooms: 2
When we speak of travelling to Iceland, we're often just talking about Reykjavik. For a little something different, you might want to stay in the lesser-known (but still quite popular) Akureyri. Known as the capital of North Iceland, this town is bustling with shops, restaurants, and galleries that are worth discovering. It's also known to host fun concerts and music festivals — so if that sounds like your kind of thing, you might want to schedule your trip accordingly!
No matter what time of year you book this Akureyri Airbnb, though, one thing's for sure: You're in for a memorable stay. It boasts a modern rustic architecture and dreamy golden paddy grass that encircles the house. As you witness its picturesque views of the bay and the beautiful Mount Súlur from the outdoor patio, we don't doubt you'll find yourself never wanting to leave this home!
In the winter, you just might be lucky enough to spot the Aurora Borealis from here, and you can take part in thrilling activities like heli-skiing, dog sledging and ice fishing. Or, if you visit in the summertime, you can expect to be rewarded with amazing views of the midnight sun! 
Note: This Iceland Airbnb offers another room option for up to two guests. It features one bedroom and you can book it at a slightly lower price!
4. This charming bed and breakfast in an idyllic, off-the-grid location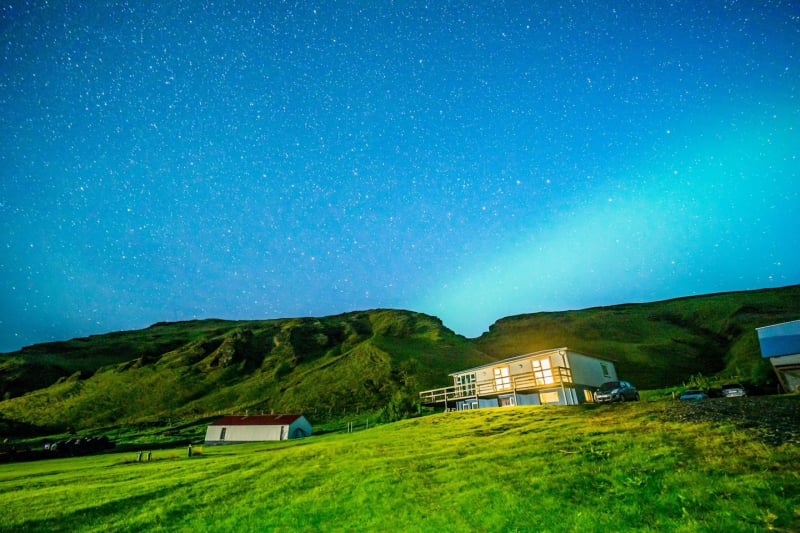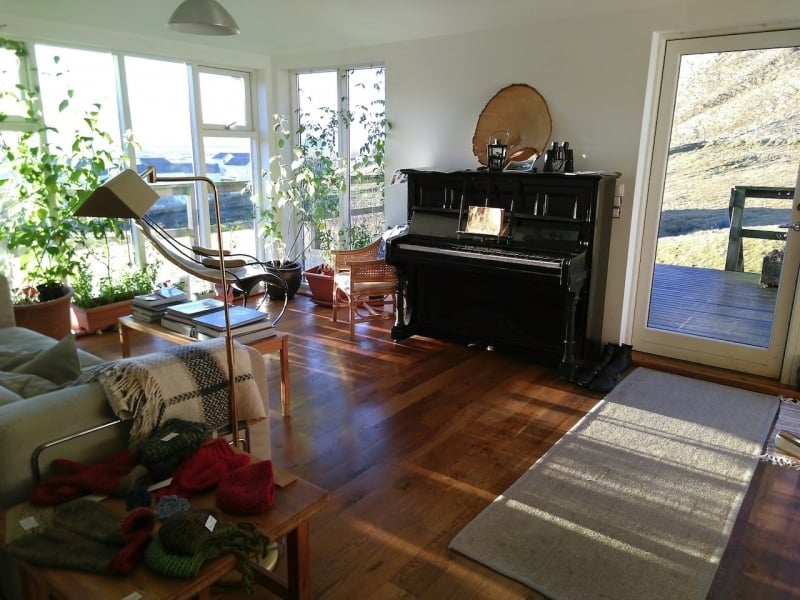 Listing name: Bed & Breakfast close to Vik
Listing type: Private room in bed and breakfast
Max. no. of guests: 3
No. of bedrooms: 1
This tranquil farmhouse sits on an idyllic property in Southern Iceland. Despite its off-the-beaten-path location, it actually provides guests with easy access to the area's major attractions. Close to the quaint seafront village of Vik, it's located close to black beaches and awe-inspiring wonders such as the Myrdalsjökullglacier Glacier and the Skógafoss waterfall.
In addition to having popular tourist sites within easy reach, this is one of the Airbnbs in Iceland ideal for travellers looking for a true home away from home. Your gracious hosts are dedicated to making you feel perfectly comfortable — and their amazing breakfasts are a major bonus! It's also surprisingly a cheap Airbnb in Iceland one can find. Plus, with a comfy bed and amazing views to wake up to, nothing is amiss at this restful hideaway. 
Also read: Iceland Too Expensive? Here's How to Travel There on a Tight Budget
5. This quiet, well-appointed cottage with a very inviting hot tub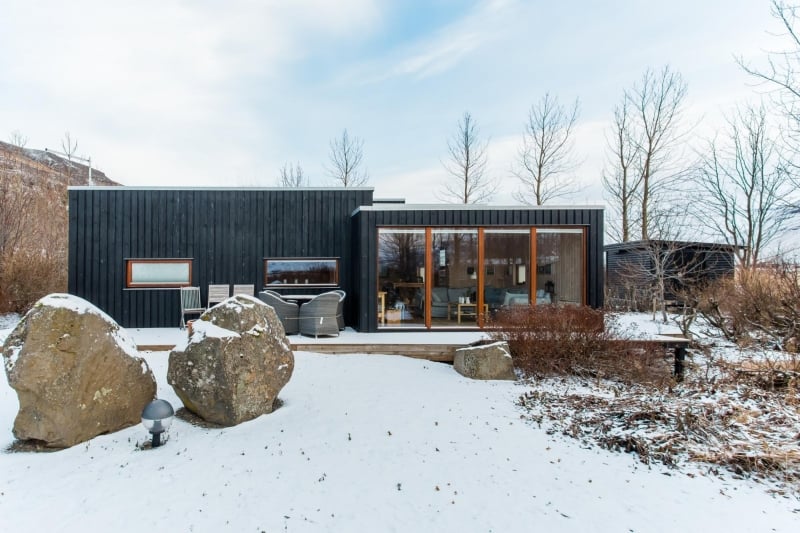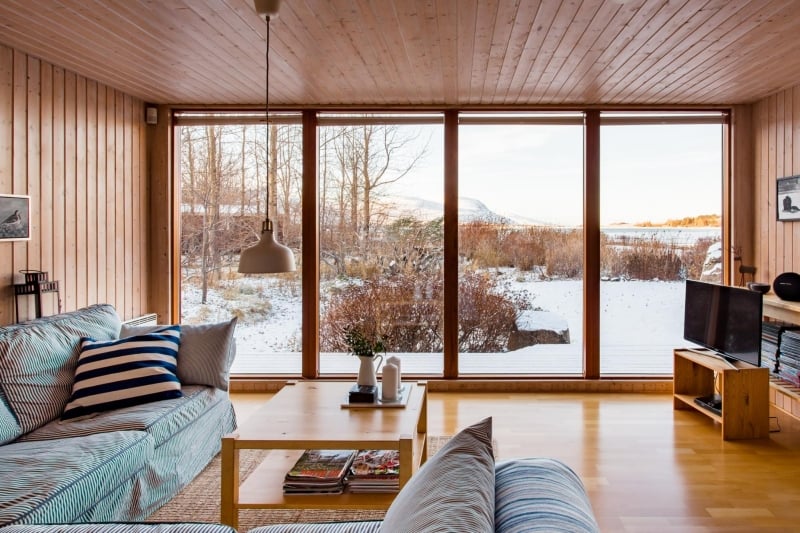 Listing name: Quiet, Secluded Lake Home with Stunning Views
Listing type: Entire cottage
Max. no. of guests: 4
No. of bedrooms: 2
We just love that this lakeside cottage is the perfect mix of rustic and modern! Its tasteful wooden accents give it a countryside feel, while its generous set of amenities makes it comparable to a hotel suite. Tucked in a quiet location overlooking stunning Icelandic hills, this home offers just the right distance away from the busy city. 
A great base for exploring Iceland's many attractions, this Airbnb is close to lots of must-see sights. Downtown Reykjavik, the Golden Circle, Langjökull, and the Blue Lagoon are under an hour away, and can easily be reached via a scenic drive. As you return home from your days spent sightseeing, the hot tub becomes particularly inviting. Filled with geothermal water, it's like having your own personal hot spring! 
6. This picturesque eco-cabin just outside Reykjavik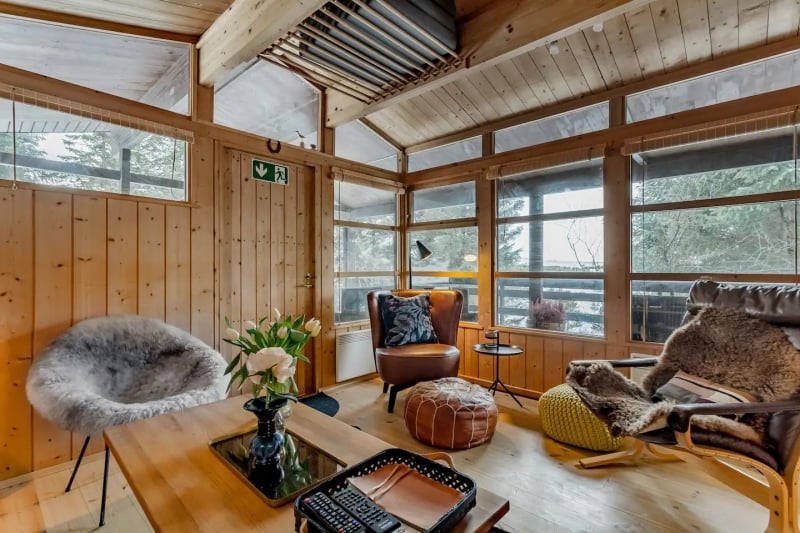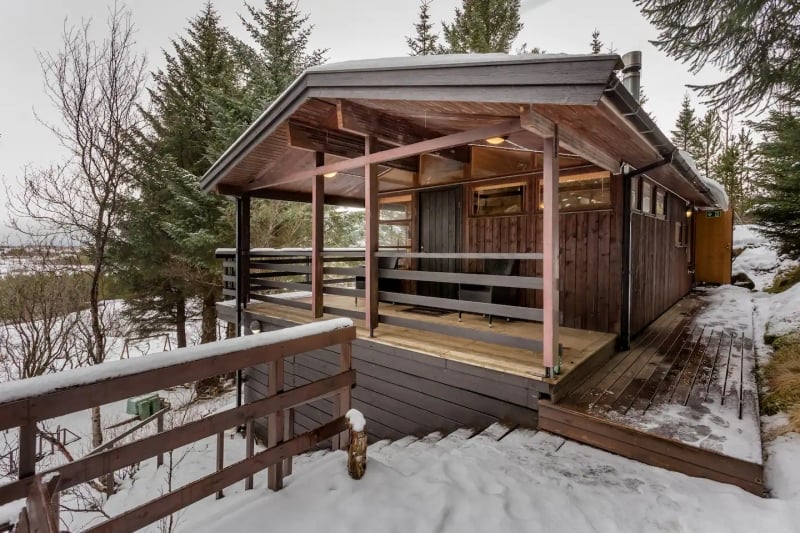 Listing name: The Secret Cabin near to Fagradalsfjall and the Blue Lagoon
Listing type: Entire cabin
Max. no. of guests: 4
No. of bedrooms: 2
A quaint home atop a hill, this inviting cabin house is one of the Airbnbs in Iceland for an authentic travel experience. Take note that having a car rental is a must when staying at this cabin, and that taking a 4x4 is essential when visiting in the winter! Expect to walk up a lot of stairs, too. But if you're physically ready for it, then don't you worry — the short climb is worth it! Time your visit right, and you'll even be able to catch the Aurora Borealis from here.
Located 20 kilometres from Reykjavik's city centre, this home is within driving distance to popular sights like the Blue Lagoon and the Golden Circle. It's a particularly great choice for those who'd like to explore Iceland's Southwest area! As it's tucked in a beautiful nature reserve, this Airbnb places you close to a picturesque hiking trail — you'll want to take advantage of this! 
7. This luxurious Iceland Airbnb surrounded by beautiful nature scenes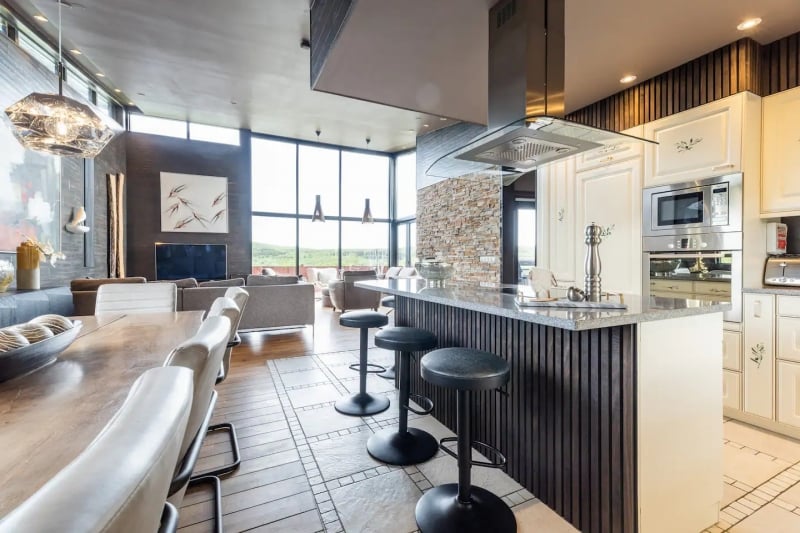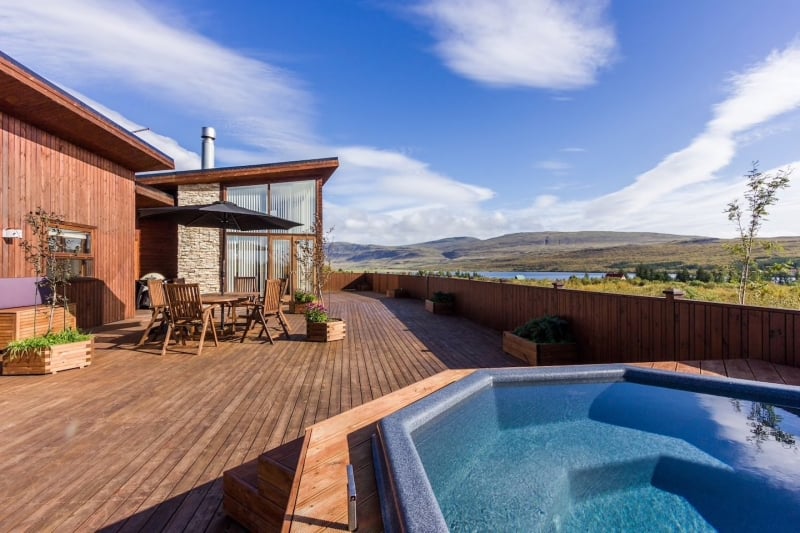 Listing name: MARIA Luxury Villa South-west
Listing type: Entire home
Max. no. of guests: 8
No. of bedrooms: 4
If you're the type of traveller who never settles for less than luxurious, then you'll definitely want to check out this sumptuous villa. As comfortable as it is well-appointed, it comes with four bedrooms and a spacious terrace — we're sure it'll be your favourite spot in the house! We hear it's an ideal location for watching the Northern Lights, too.
Surrounded by some of the most gorgeous scenes, this Airbnb provides guests with direct access to walking and hiking trails to the Salmon River and a nearby lake. From here, you can also easily reach the town of Akranes and explore the wonders of West Iceland. But here's something you might want to keep in mind: Previous guests recommend that you allot an entire day of your itinerary to simply spending time just hanging out at the villa and enjoying all the amenities it has to offer (because yes, it's that great)! 
8. This peaceful studio apartment with panoramic sea views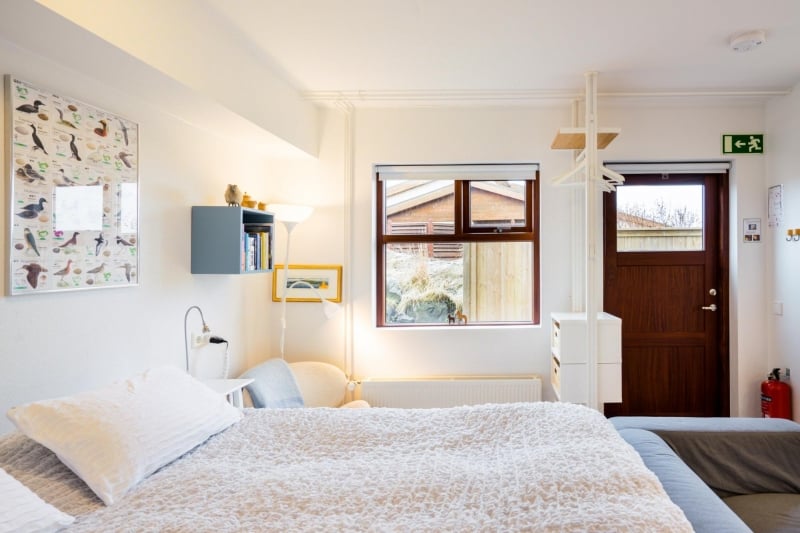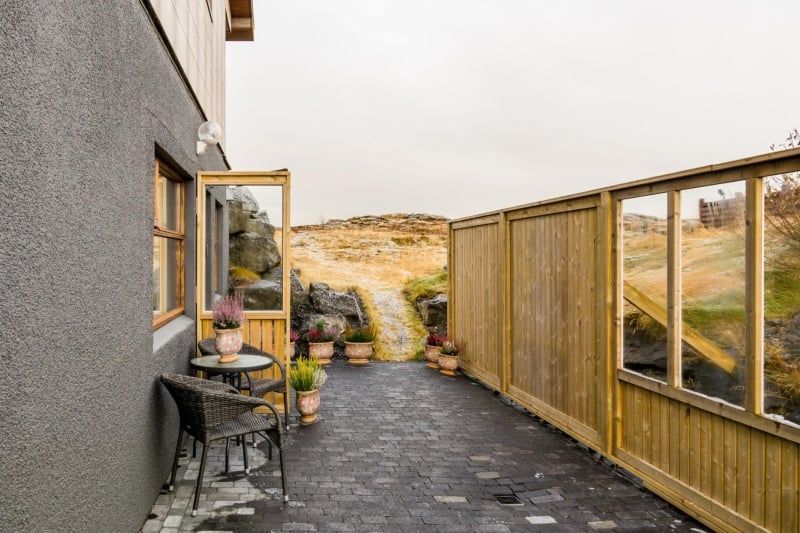 Listing name: Admire the Rugged Landscape at a Nature-Inspired Coastal Pad
Listing type: Entire apartment
Max. no. of guests: 2
No. of bedrooms: Studio
Ever fantasised about getting to see the Aurora Borealis from your own backyard? At this Airbnb in Iceland, you might finally make that dream come true! Located just 15 minutes from the centre of Reykjavik, this quaint studio apartment offers guests the best of both worlds. Here, you can enjoy quiet nights, gorgeous nature views, and easy access to buzzing city.
As you step into this cosy home, you'll immediately be able to tell that it was thoughtfully put together. Lovingly decorated and well-equipped with more than just your basic necessities, it will undoubtedly make you feel right at home. The best part? You'll have some of the most beautiful Icelandic landscapes right at your doorstep!
9. This adorable countryside A-frame cabin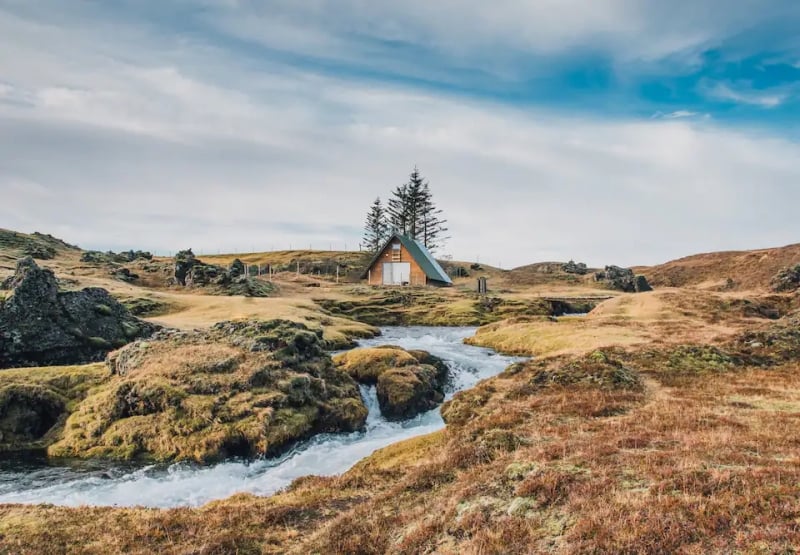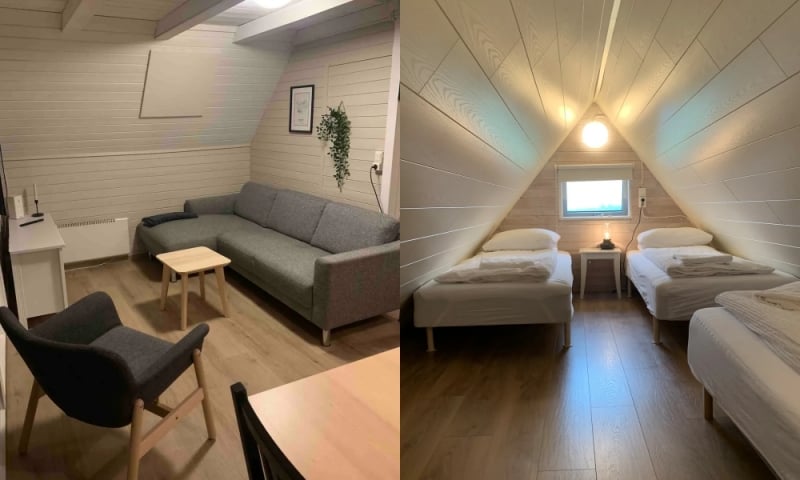 Listing name: Fossar Cabin
Listing type: Entire cabin
Max. no. of guests: 4
No. of bedrooms: 2
Located in Kirkjubæjarklaustur, the Southern region of Iceland, this small and cosy country house makes the perfect getaway for your trip in the Land of Fire and Ice. Originally built in 1962 and renovated in 2015, it houses modern amenities while still retaining its traditional charms — it has a wooden triangular roof and a clean and simple interior. 
While the cabin is well-equipped and comfortable, it's not what the past guests loved most. Its peaceful surroundings, like a small river, waterfall, and even sheep running around in the massive backyard will make you fall in love with this place! You may even be able to see glaciers on clearer days. It's definitely an Iceland Airbnb for those who enjoy tranquillity and natural beauty. 
10. This tiny house near Mount Kirkjufell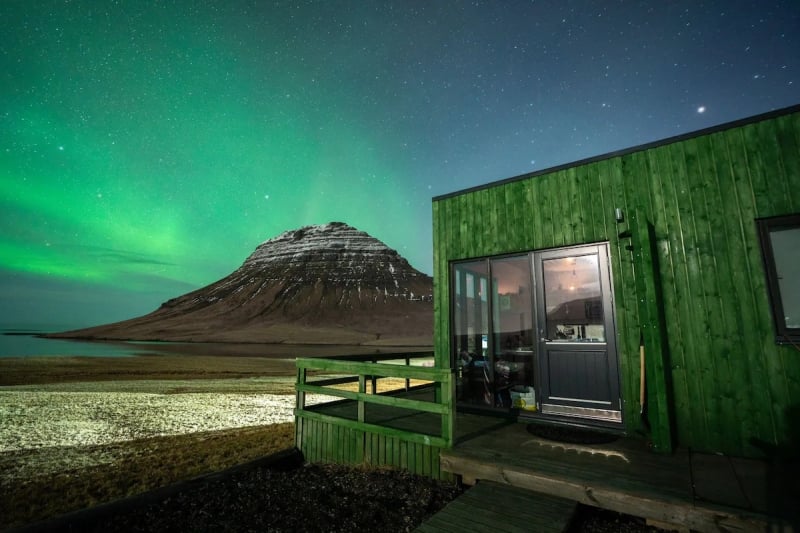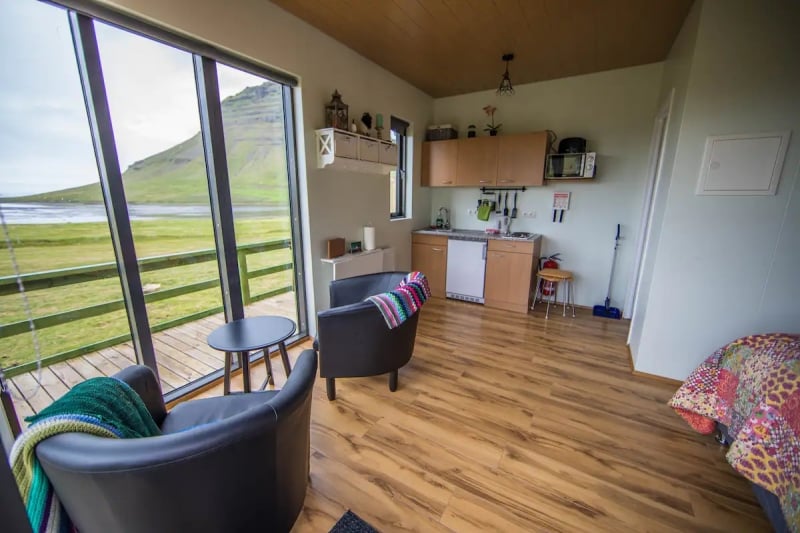 Listing name: Nónsteinn -2- Enjoy life in the countryside.
Listing type: Farm stay
Max. no. of guests: 2
No. of bedrooms: 1
This Airbnb called Nónsteinn is an outstanding place to stay for those who want to get the most out of their Iceland vacation. It's only a walking distance away from the popular Kirkjufellsfoss waterfall and Mount Kirkjufell. This allows guests to witness the scenic vistas, and even the magical Northern Lights right from the accommodation itself!
Since it's located on a farm in Grundarfjörður, you'll also be greeted by friendly animals like cats, dogs, horses, goats, and sheep. While the house itself is small, it's still beautifully decorated and has all the basic amenities, including a washing machine, dryer, and kitchenware for simple cooking.
11. This spacious Iceland Airbnb right next to the mountains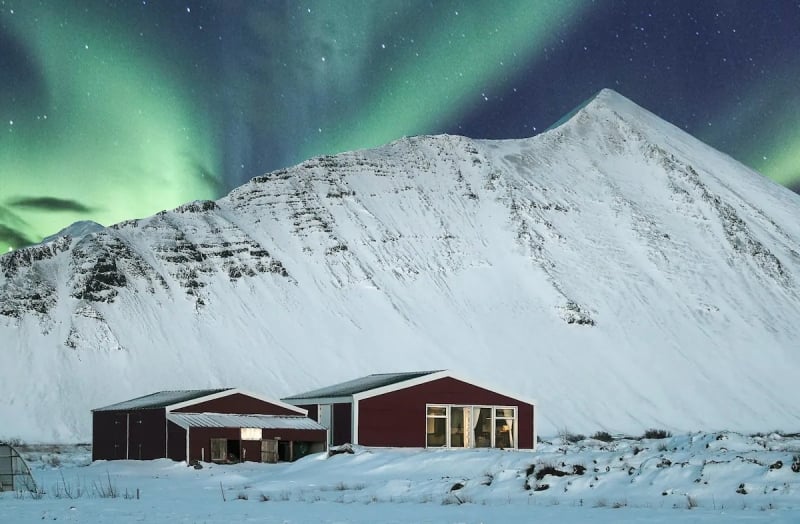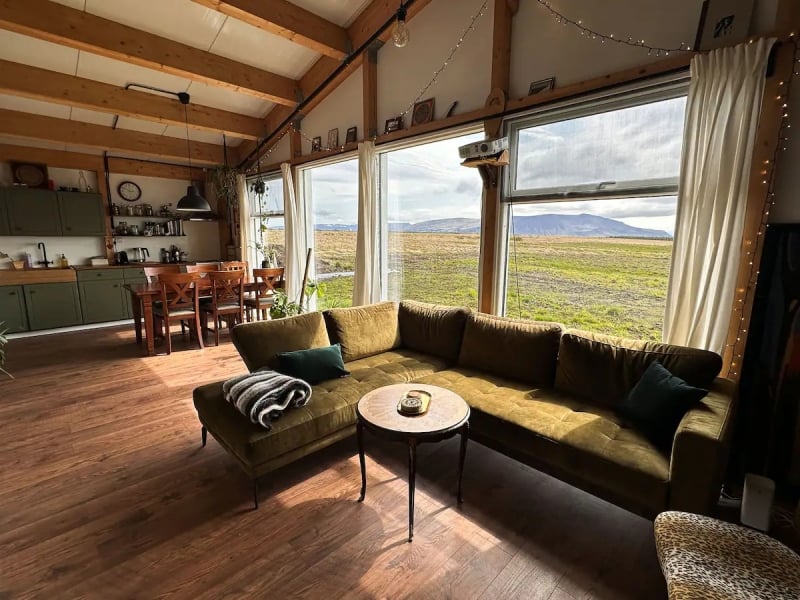 Listing name: Rustic Farmhouse - Narfasel
Listing type: Farm stay
Max. no. of guests: 8
No. of bedrooms: 3
This accommodation in the Narfasel farmstead is one of the most ideal Airbnbs in Iceland to view Nothern Lights. Besides, it is close to attractions like Glymur Waterfall, Hvammsvik Nature Resort & Hot Springs, and Akrafjall, offering stunning vistas and fun activities like hot springs and hiking. You can also see different types of plants and vegetables on the 28-hectare farm. 
The interior greatly utilises wooden elements, from wooden doors to wooden stairs and wooden furniture. The green plants, books, and yellow table lamps add a hint of liveliness and romance to the ordinary house. The owner also supports sustainability, so the coffee, shampoo, and shower gel are all organic and biodegradable. 
12. This gorgeous glass house with an outdoor hot bath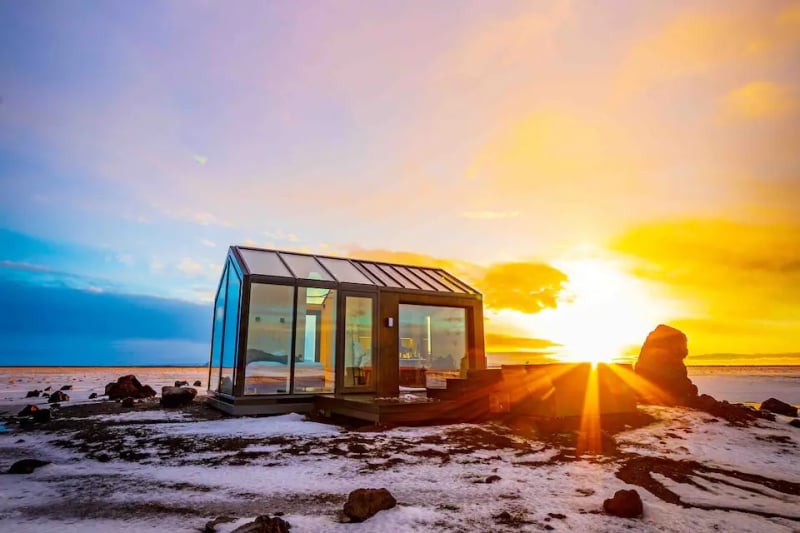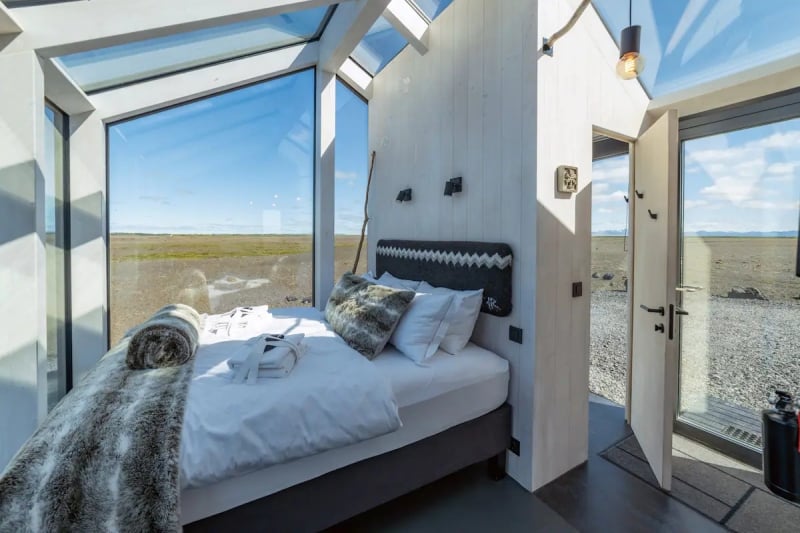 Listing name: Glass cottage with Hot tub "Blár"
Listing type: Tiny home
Max. no. of guests: 2
No. of bedrooms: 1
Nestled in the town of Hella is this glass cottage that will make you feel like a main character. This Southern Iceland Airbnb is made mostly of glass, from the doors to the roof, allowing you to sleep under the dazzling stars. Guests can also look out at the astonishing attractions nearby, such as: Hekla, an over 1,400-metre-high active stratovolcano; and Eyjafjallajökull, another mighty stratovolcano with an ice cap on its peak. 
The cushions, pillows, and blankets you'll be sleeping with are hand-knitted and wool-dyed. While the interior features a minimalist style, there are also unique embellishments like tree branches, a table made of driftwood, and Icelandic moss. The best part? You can relish a relaxing hot dip in the outdoor hot tub while admiring the vista!
Also read: 15 Best Airbnbs in Switzerland With the Most Amazing Views
Did you find your dream vacation home on this list of Airbnbs in Iceland? We sure hope you did! We're keeping our fingers crossed that you finally make that coveted Northern Lights sighting, too.