With its rich history and old-world charm, it's easy to believe that Budapest is an intimidating city to explore. But those who venture into Hungary's capital are pleasantly surprised to find that it's the total opposite. On the contrary, you're in for picturesque sights in every corner, amazing food, a thrilling nightlife, and the friendliest locals. Trust us — you'll want to book as long a stay as possible at this charming city. Lucky for you, we've already found some of the best Airbnb homes in Budapest!
Also read: Budapest 3D2N Itinerary: Things to Do & Where to Eat
1. This vibrant home that's close to everything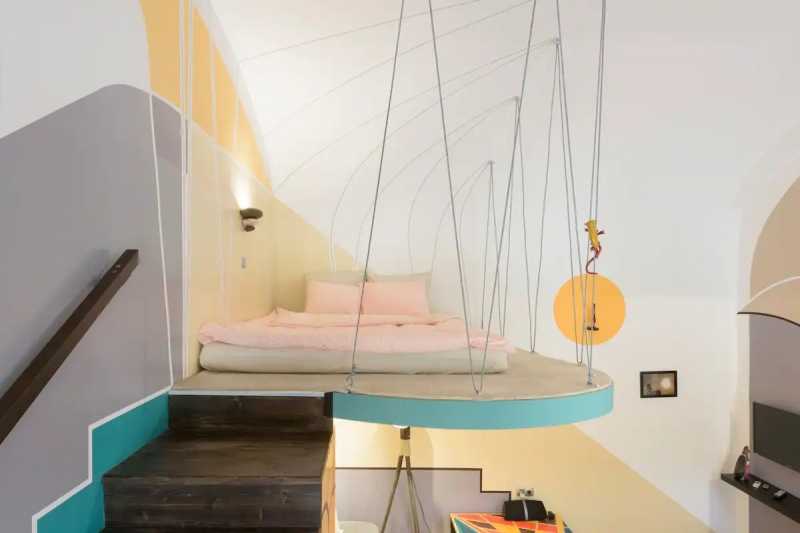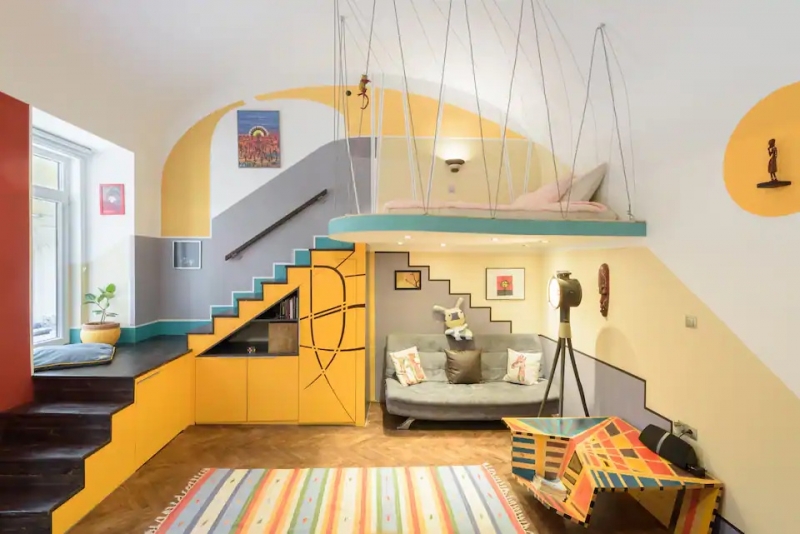 Listing name: Colorful and Unique Studio in the 6th District
Listing type: Entire apartment
Max. no. of guests: 4
No. of bedrooms: 1
If you've ever dreamt of living in an art gallery, then this is your chance. This beautifully curated home is studded with bright colours and offbeat furnishings, and the living room is certainly our favourite spot!
To add to its amenities (the fully stocked kitchen, laundry facilities, and bathroom essentials are just some of them), this Airbnb in Budapest also comes with two bikes available for guests' use. From here, you'll be able to reach many famous attractions on foot. Plus, public transportation is mere minutes away. 
2. This Bohemian abode with panoramic views of the city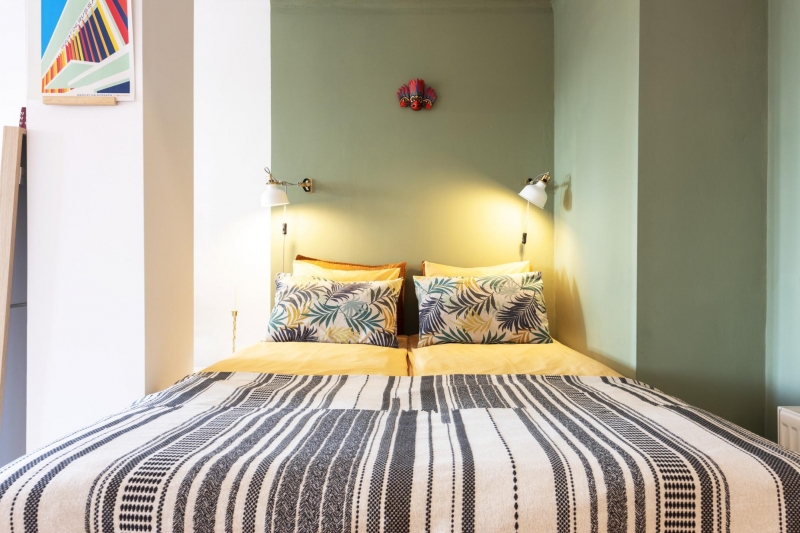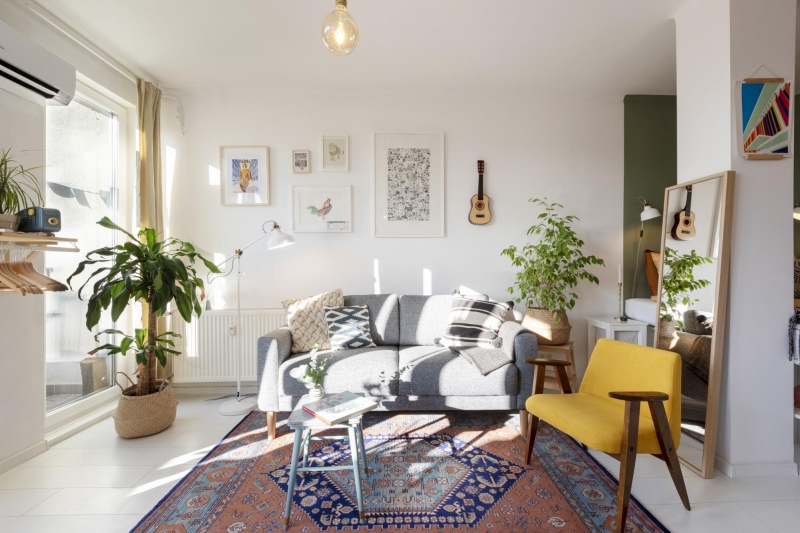 Listing name: Boho Studio with City and Mountain Views
Listing type: Entire condominium
Max. no. of guests: 2
No. of bedrooms: Studio
Looking for Airbnbs with everything you need in Budapest? Then, you'll undoubtedly love this bohemian-style apartment that comes fully furnished. And with a full kitchen and espresso machine, you'll have all you need to prepare a hearty breakfast and a cup of coffee to start your day. Afterward, enjoy it at the patio, where you'll be treated to panoramic views of the city.
Close by, you'll find the picturesque Andrassy Avenue and Heroes' Square. In addition, this apartment is just a 20-minute walk to Budapest's popular Jewish Quarter: home to an exciting nightlife scene, hip coffee shops, and cool restaurants. 
3. This regal apartment in a posh neighbourhood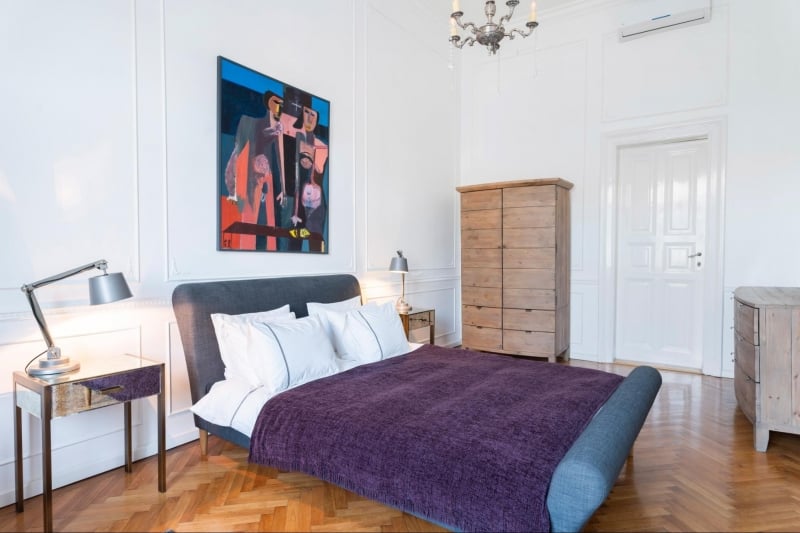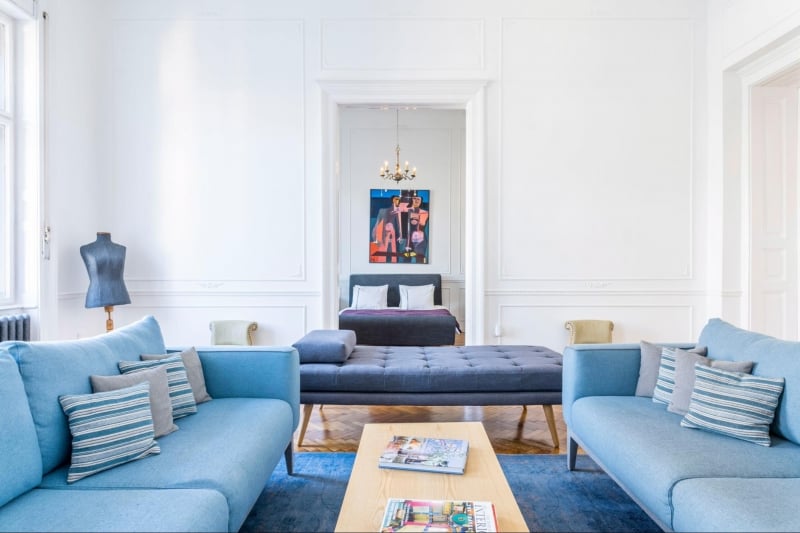 Listing name: Style and Luxury by Parliament and Liberty Square
Listing type: Entire apartment
Max. no. of guests: 5
No. of bedrooms: 2
This luxurious flat is located in Budapest's most prestigious district. Given its elegant design, it comes as no surprise that it has hosted several fashion photo shoots! With two bedrooms, a generous living area, and a private study, this apartment is certainly family-friendly.
In addition, it's one of the Airbnbs that are an ideal base for exploring Budapest. Just nearby are two of the city's major attractions: the Parliament and St Stephen's Basilica. 
4. This chic Scandinavian home with gorgeous river views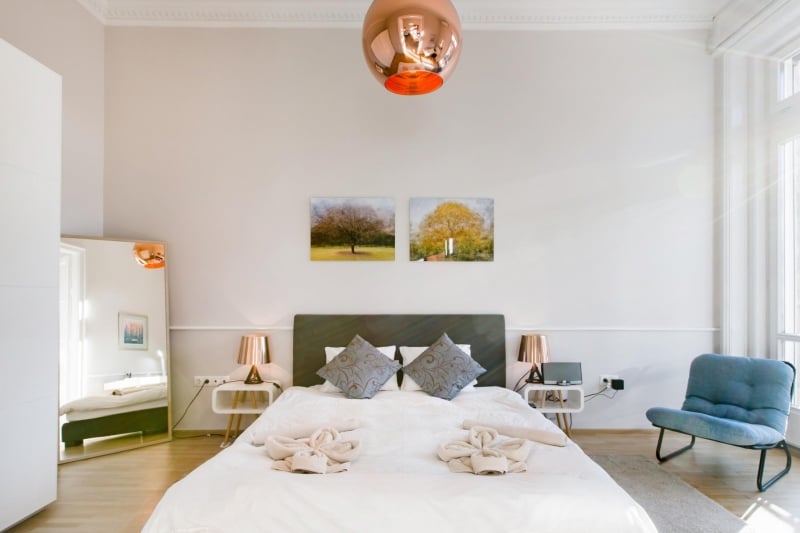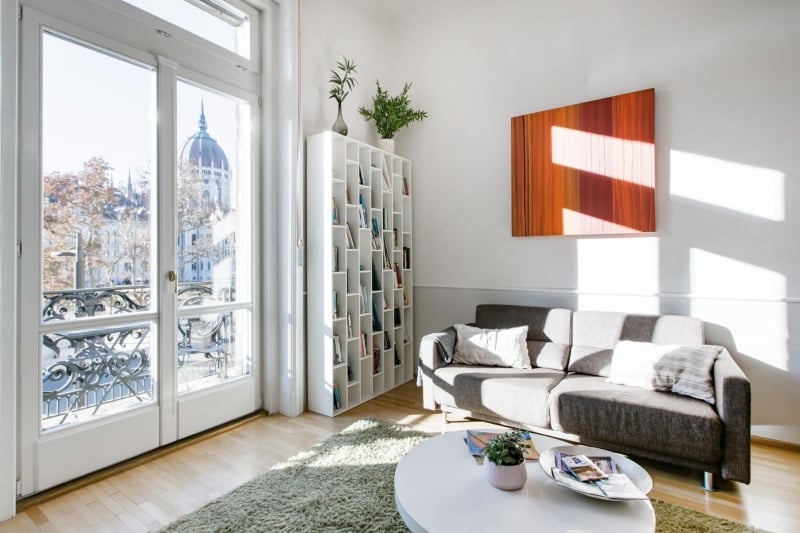 Listing name: Sightsee from the Window of a Classical Apartment
Listing type: Entire apartment
Max. no. of guests: 4
No. of bedrooms: 1
Situated in the city's banking district, this sunlit apartment offers guests a stylish retreat with touches that make it feel like a hotel stay. With lots of natural light, a gorgeous balcony, and tasteful Scandinavian furniture, it's hard not to fantasise about moving into this apartment!
At this Airbnb in Budapest, enjoy perfect views of the Parliament and the Danube River. From here, you can easily take leisurely strolls by the river, or even go on a boat ride! 
5. This urban loft-style apartment in the heart of Budapest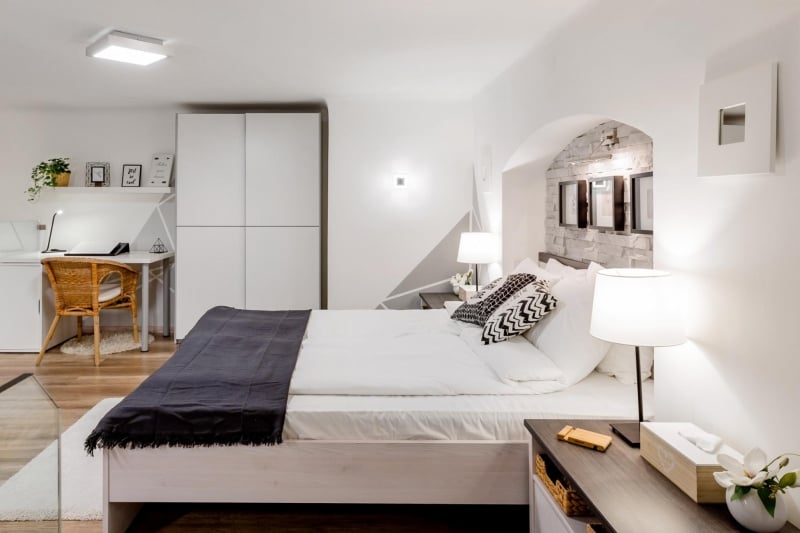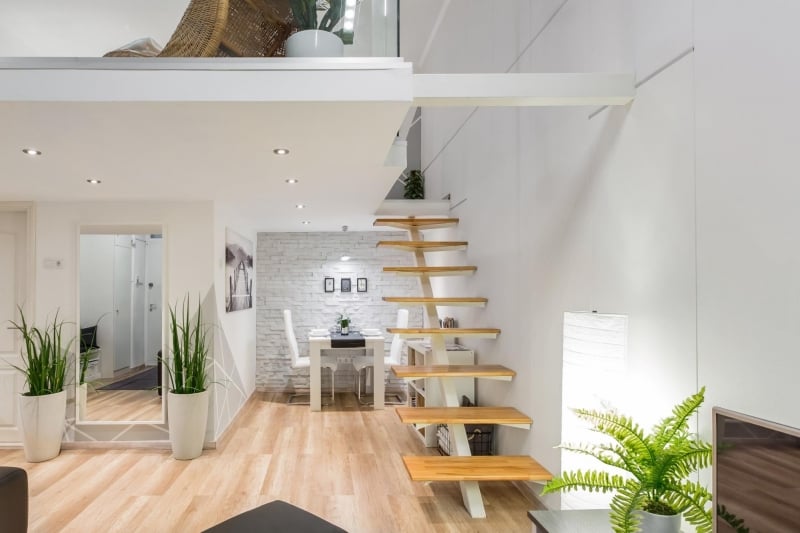 Listing name: Redesigned Studio Loft in Historic Building
Listing type: Entire apartment
Max. no. of guests: 2
No. of bedrooms: 1
Style meets comfort at this urban apartment. Cosy and well-equipped, it offers everything you might need in a home away from home. Additionally, the tasteful decor and cool loft design don't hurt, either! Reviews reveal that the apartment is exactly as photographed, if not even better in real life.
Located in the heart of the city, this Airbnb is just a stone's throw from a lot of great dining options in Budapest. Popular attractions are also just a short walk away! 
6. This quaint studio apartment just steps from the famous Vaci street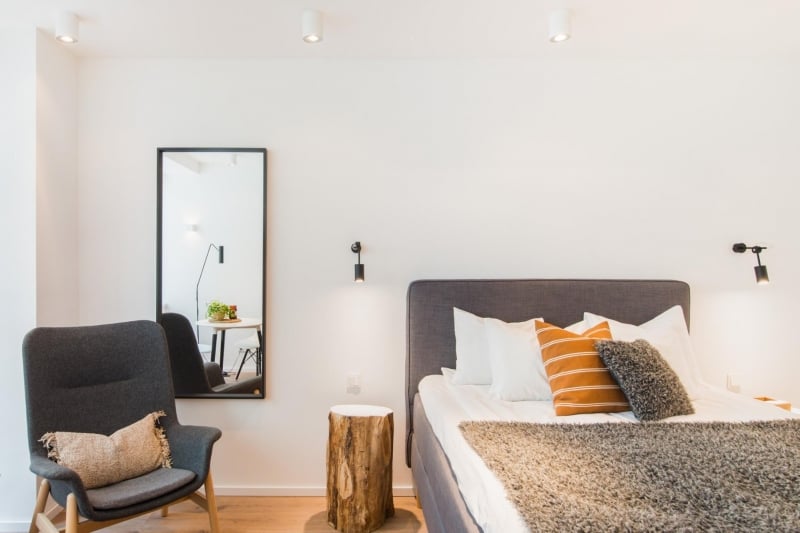 Listing name: Cutting Edge Design Apartment in the Heart of Budapest Downtown
Listing type: Entire condominium
Max. no. of guests: 2
No. of bedrooms: Studio
Inside a historic building designed in the late '30s, you'll find this modern studio. Immaculately clean and tastefully furnished, it provides guests with the luxuries and comforts of a hotel suite. With a comfy bed, large windows, and a charming terrace, what's not to love about this apartment?
An ideal starting point for exploring Budapest, this apartment is also close to lots of different cafes, bars, shops, and other Airbnbs. Similarly, it's just a few steps away is the famous Vaci Street, known for its restaurants and boutiques with lots of beautiful local finds. 
7. This mid-century modern home near Central Market Hall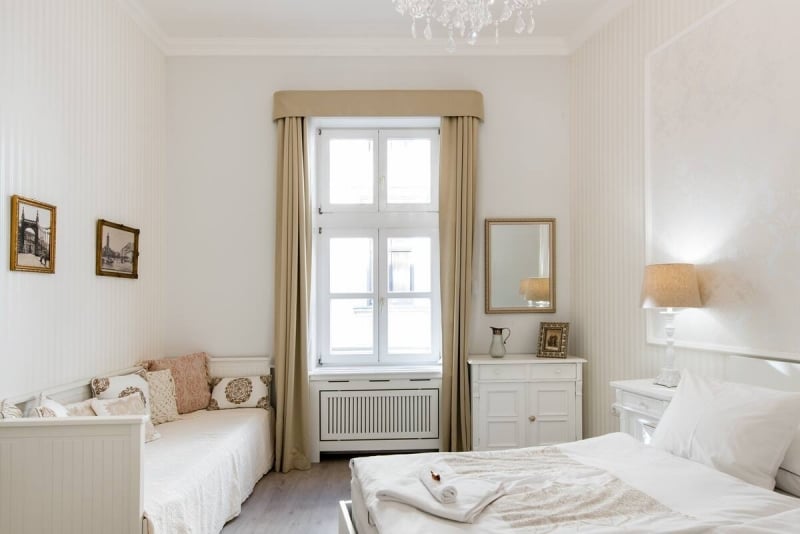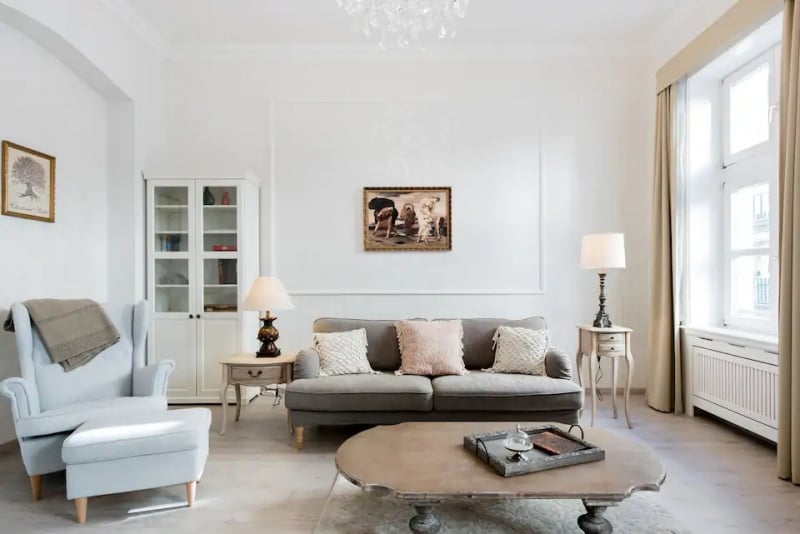 Listing name: Chestnut Suite-Luxury Home Downtown
Listing type: Entire condominium
Max. no. of guests: 5
No. of bedrooms: 2
This stylish, newly renovated home is tucked in Budapest's Palace District. Here, you'll find a luxurious suite with large bedrooms and a beautifully designed living room, complete with a smart TV and WiFi. While many Airbnbs offer a good place to sleep after sightseeing in Budapest, this one is a standout. Surely, you'll find yourself tempted to stay in at a certain point in your trip!
Besides being close to several aristocratic palaces, this apartment is just five minutes from the Central Market Hall, Budapest's oldest indoor bazaar. Also nearby are the Danube Promenade and Gellert Baths — a more private alternative to the always-crowded Szechenyi Baths. 
8. This rustic yet modern home right by the Jewish Quarter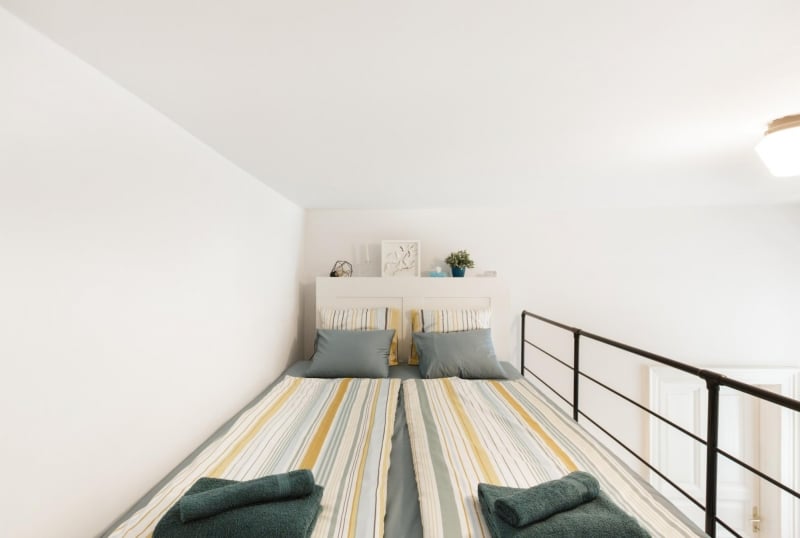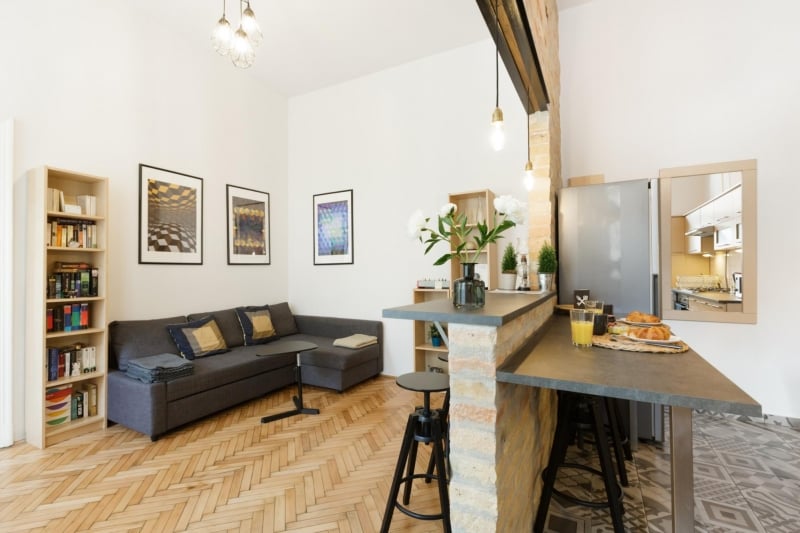 Listing name: Live Like a Local at the Rustic Hockey Hut with Bedroom Loft
Listing type: Entire apartment
Max. no. of guests: 4
No. of bedrooms: 1
This rustic yet modern apartment is located in the heart of the city, close to the Budapest's hip Jewish Quarter. Despite being a budget-friendly Airbnb, it offers guests a great location in Budapest, plus generous amenities. This, coupled with its open-concept layout and mezzanine loft bedroom, make it perfect for groups of friends!
And don't forget, a trip to Budapest is never complete without checking out the ruin bars. Luckily, this apartment is also close to a lot of them! 
9. This open-concept apartment with perfect views of St Stephen's Basilica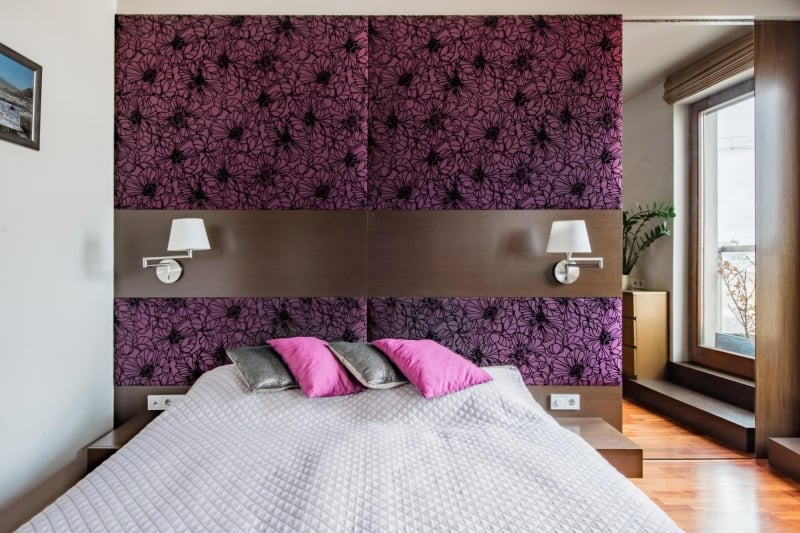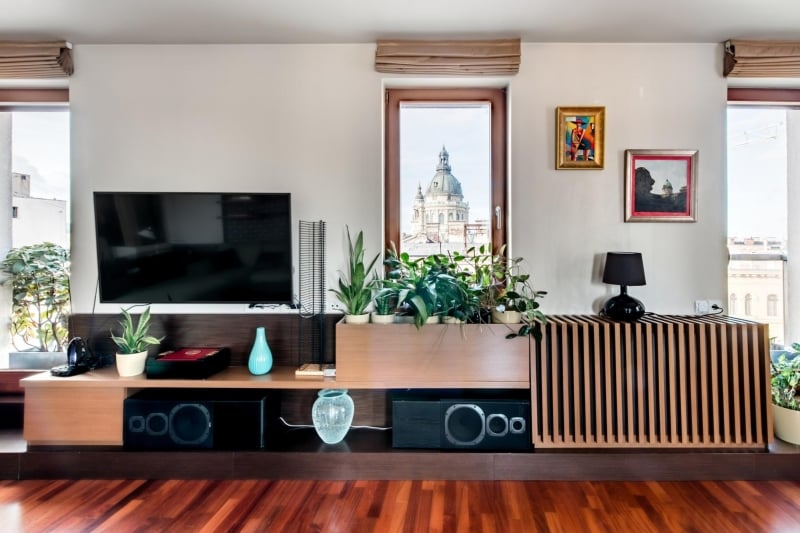 Listing name: Skyline View Apartment with En Suite Sauna
Listing type: Entire apartment
Max. no. of guests: 2
No. of bedrooms: 1
A comfortable bedroom, a stylish kitchen and living room, an indoor hot tub and sauna — what doesn't this Airbnb have? This cool open-concept apartment boasts of an amazing view of St Stephen's Basilica, one of Budapest's most iconic sights.
In addition to its proximity to the Basilica, this apartment is just walking distance to a lot of the city's great restaurants, bars, and must-see attractions. Moreover, the metro station is nearby, too! 
10. This former artist's studio close to Heroes' Square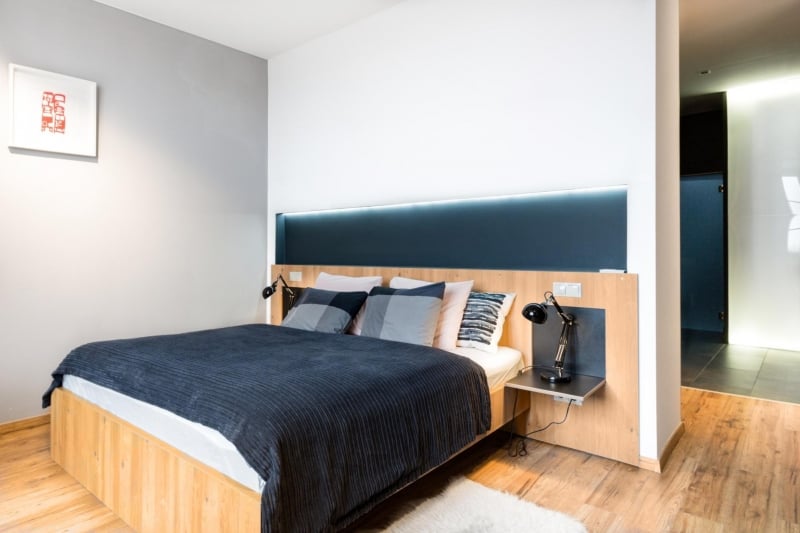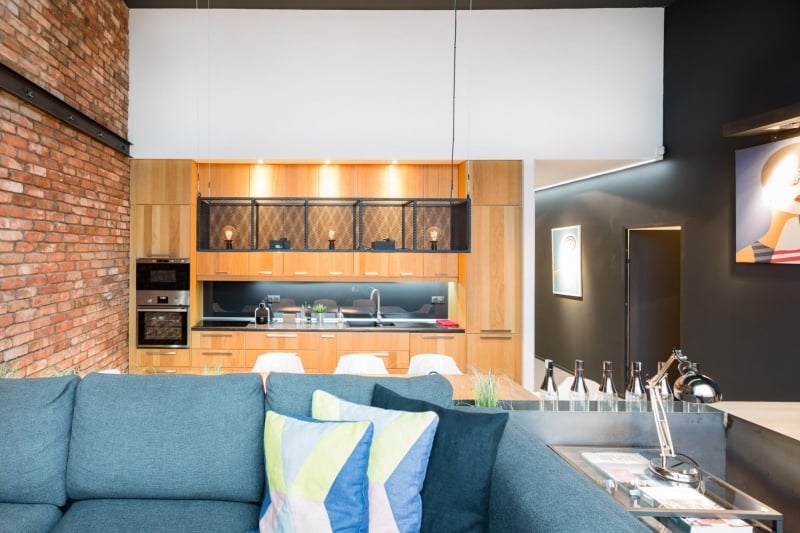 Listing name: Fashionable Loft in the Heart of Budapest
Listing type: Entire loft
Max. no. of guests: 4
No. of bedrooms: 2
This fashionable apartment used to be the studio of a famous Hungarian painter, Lajos Vajda. How cool is that? But now, it's a spacious home with two bedrooms, a kitchen, and living and dining areas — definitely ideal for families and big groups.
Thanks to its central location, this is one of the Airbnbs that's just an easy walk or metro ride from lots of different restaurants, nightlife hubs, and tourist spots in Budapest! In particular, Heroes' Square and the Szepmuveszeti Muzeum are the closest popular attractions. 
Also read: What to Expect When Travelling to Budapest: Expectations vs Reality
Didn't this list of Airbnb homes in Budapest just inspire you to book a trip right this very moment? Hope to bump into you there!