"Huhhhh the transit's so long??!?!" Come on, I'm sure many of you have had this thought countless times before! I personally always try to book flights with as little transit time as possible , not knowing what's there to do at airports, or simply wanting to minimise 'hobo-ing' on the floor somewhere in the building.
Recently I found myself with a 10-hour-long transit at Changi Airport, and I chanced upon Aerotel Singapore at Terminal 1! I've never stayed in a transit hotel in Singapore before, so I thought – why not? Well, it turned out to be pretty much one of the best decisions I made whilst on my trip!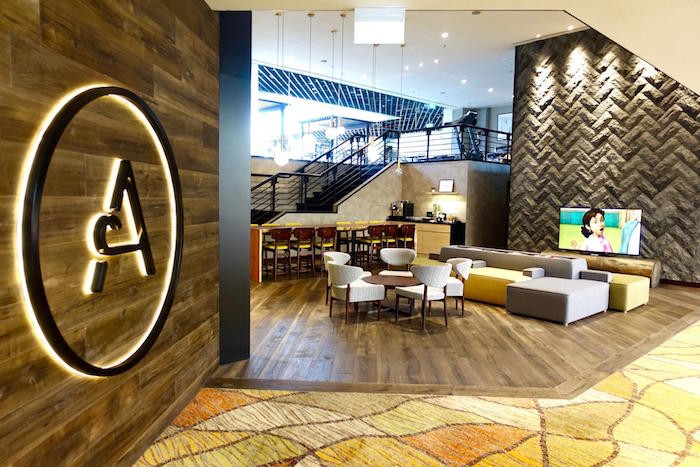 So why choose to stay in a transit hotel in Singapore's Changi Airport? First and foremost, it will make your transit oh so comfortable . No more hobo-ing on the floor, or trying to sleep on the rows of hard seats that always always have hard barriers in between… now you can get a room all to yourself, a private lounge and outdoor pool, as well as a comfy bed to boot.
I didn't know whether I could get a room on such short notice, and decided to try my luck at the reception. To my surprise, they operate on a minimum 6-hour stay – score! Check-in was a breeze, and soon I was shown to my room. I had such a great time chilling in the room and exploring the whole hotel! Here are 8 things that I absolutely loved at Aerotel Singapore:
1. Plane-watch from the window
I opened my room door, and almost couldn't believe my eyes. My. Room. Was. Facing the runway! I've always lovedddd watching planes take off and land, there's just something so carefree about it. I admit that I immediately ran to the window in glee and plastered my face to the glass – and what do you know, there were planes right outside, and also planes taking off in the distance! Ah, heavennnn!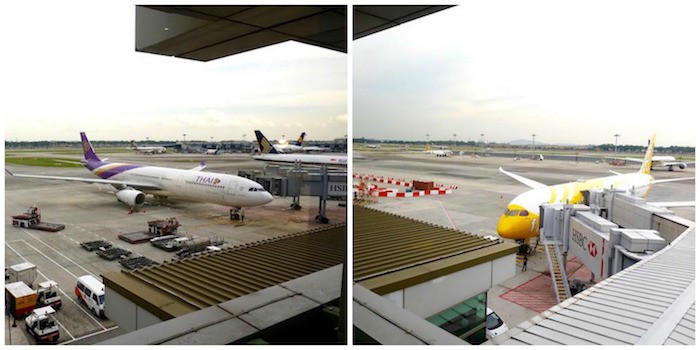 I almost couldn't tear myself away from the window; the whole process was just so therapeutic! I never dreamed that I'd be able to get such a view from my window. Upon enquiry at the reception, I found out that there are only 6 rooms with a runway view, and they're subject to availability. Can't believe I managed to get one, YAY!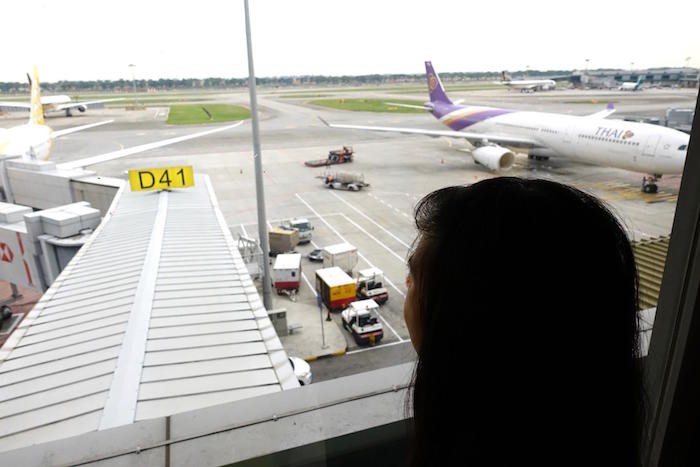 Featuring me plastered to the window. Gotta admit, it was pretty hard to tear myself away!
For all travellers: if you're able to book your stay in advance, I highly recommend requesting for a runway-facing room – it'll be more than worth it!
2. Stay in cute S, M, or L-sized rooms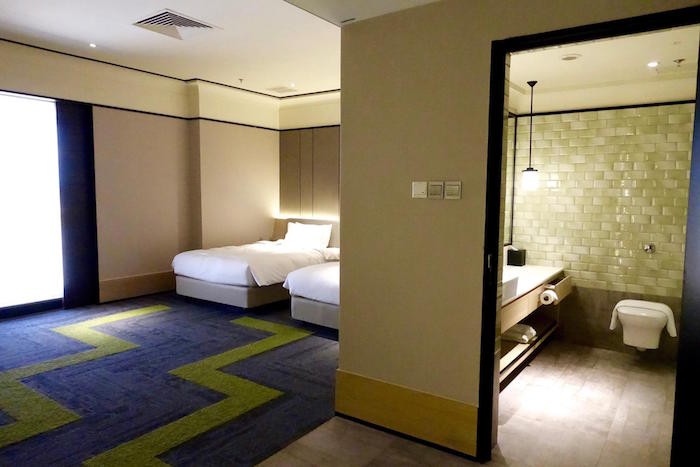 My spacious M-sized room!
I stayed in a M-sized room, but there are really cute S and L-sized rooms up for grabs as well! The M-sized room was reallyyyyy comfortable, with lots of space to put all my stuff. I especially loved the squishy bedroom slippers that felt like a marshmallow – wish I could bring them home!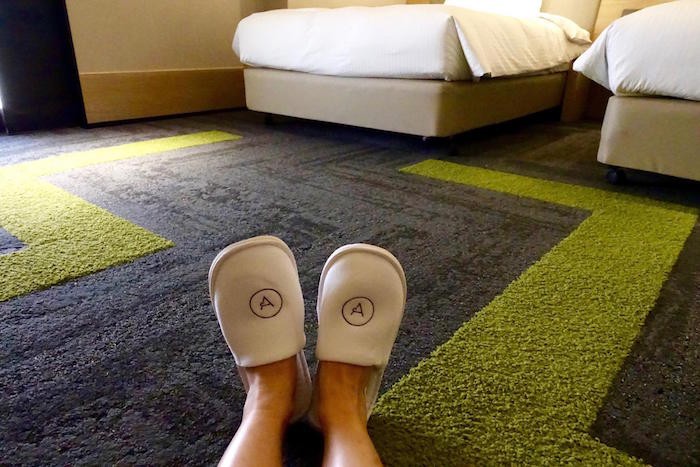 The cute marshmallow bedroom slippers included in the room amenities. Wish I could wear them everywhere~
I took the chance to explore the rest of the rooms, and discovered a S-sized room left open with no one in it! The S-sized rooms are catered more for solo travellers, and they also come with private showers. These showers aren't en-suite, but they were really clean and basically just a corridor away from the rooms. Seems like a pretty sweet deal to me!

S-sized rooms with the private showers.
3. Chill at the beautiful lounge/library
After my long flight from Sydney, I just wanted a place to chill and revel in some peace and quiet. A place to put up my feet, plug in my iPod and just have some me time. Imagine my delight when I discovered this lovely lounge/library!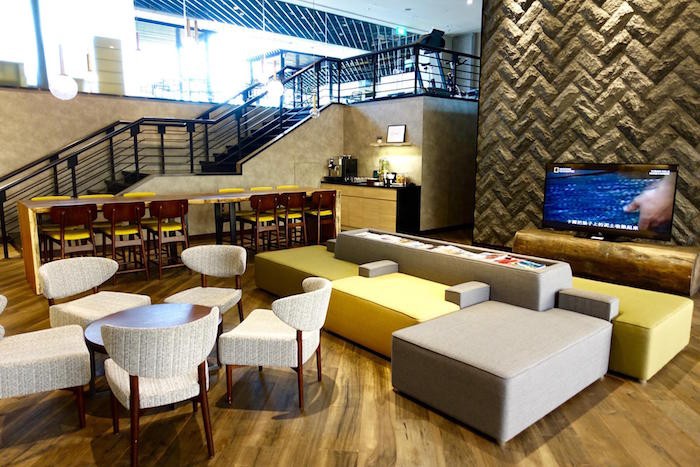 The super chill and relaxing lounge!
It was pretty quiet on a weekday afternoon, and it felt like I had the whole lounge to myself! There were lots of comfy chairs and sofas, complete with a television and library. The books on display were pretty interesting, I was really spoilt for choice! I just couldn't decide, so I closed my eyes, stretched out my hand, spun in a circle, and picked the first book my finger pointed to. Ended up with a rather unique read that entertained me for quite some time – I shan't spoil the title, you just gotta go see for yourself!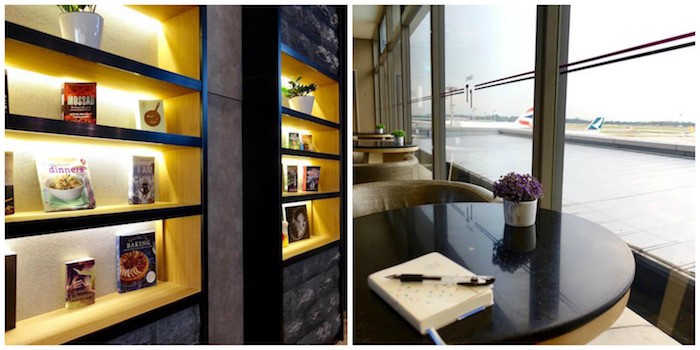 The space was also great to catch up on some languid writing; call me old-school but I still keep a diary. It was great to just chill beside the large windows (which are also beside the runway, FYI) and pen down all my thoughts in a peaceful setting!
4. Work out at the gym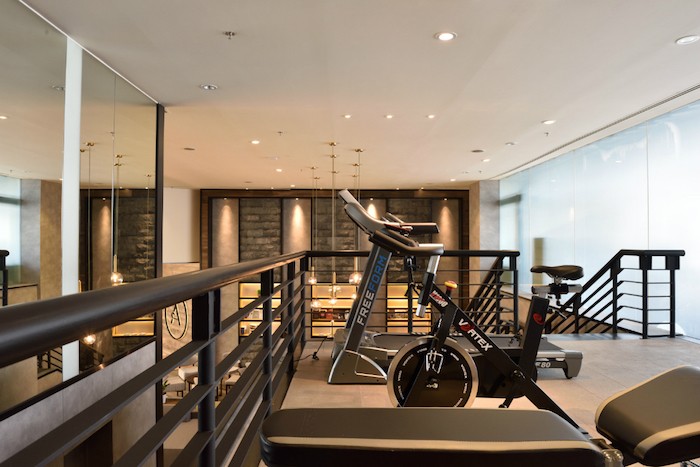 Just above the lounge is a fitness corner with cardio equipment and free weights! I'm usually quite a lazy bum, and can't really be bothered to exercise. But the equipment looked so spanky new and so inviting that I couldn't resist giving it a whirl! It's located just next to the pool, so perhaps a spin on the indoor bike before a dip in the pool? Take it from me, it's reallyyyy shiok !
5. Swim in Asia-Pacific's only airport outdoor swimming pool
Did you know that this pool at Aerotel Singapore is the only airport outdoor pool in the Asia-Pacific? Cooollll! I'm sure we're all no stranger to Singapore's overwhelming heat – the minute I stepped out, the humidity hit me just like a slap in the face… whew! Hence, when I found out that the hotel had a pool, it was just like Hallelujah, come to Mama!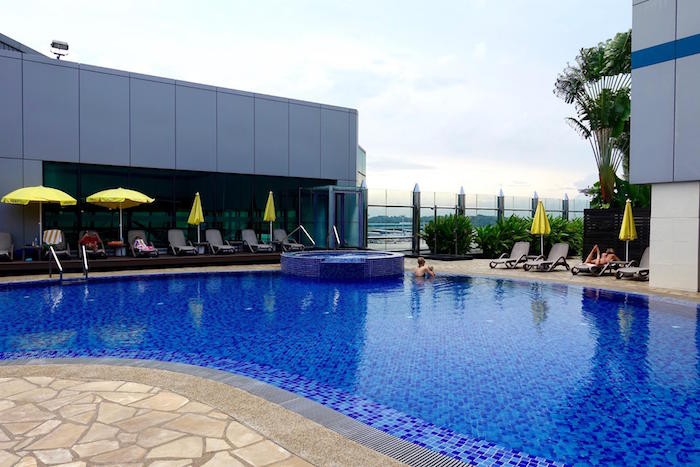 Just look at that blue! Super inviting, no?
I threw on my bikini, and took the chance to relax in the water and suntan on the deck chairs. It was great to stretch out my tight muscles, and simply unwind in the inviting pool. I'm sure I even managed to get that gorgeous sun-kissed look~ *winks*
6. Indulge in all-day dining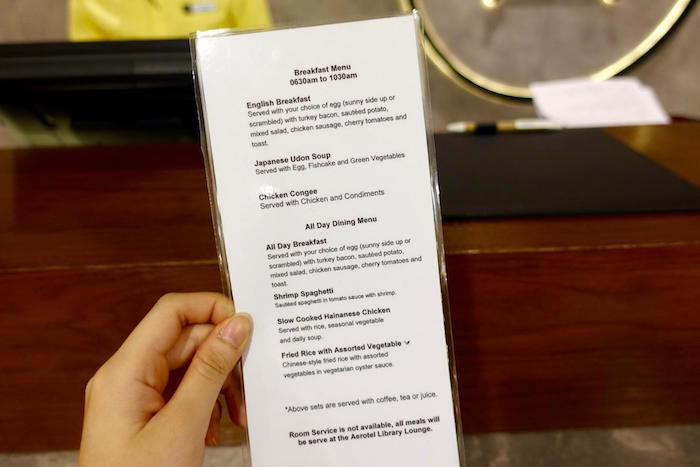 One of my favourite things about this hotel would be the option to indulge in all-day dining! I was so tired after my flight that I was too lazy to go exploring the terminal, and happily ordered "Slow Cooked Hainanese Chicken" from the comfort of my room. The chicken was silky smooth, and the rice super fragrant. Would totally order it again next time! The 'Shrimp Spaghetti' sounded extremely tempting too… ah, if only I had two stomachs!
7. Get a drink at the Poolside bar after dinner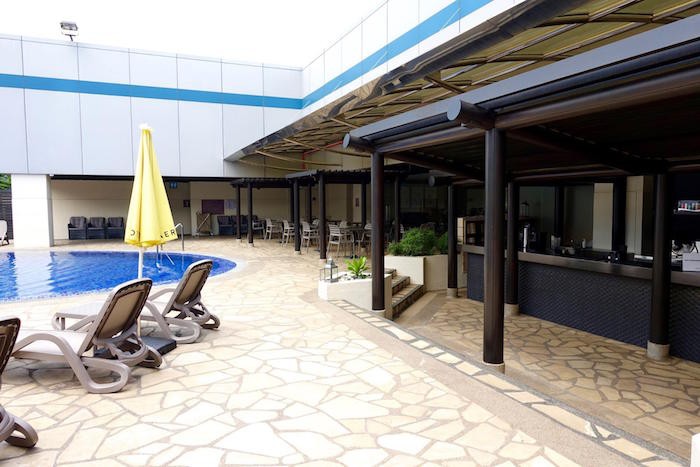 Yes it's open until midnight – woohoo!
I sometimes quite like a nightcap before bed, especially to calm my nerves whilst in a foreign country. The pool bar here at Aerotel Singapore is open till midnight, which is perfect for a drink or two! I even managed to make a couple of friends here – two backpackers from Europe heading to Bali, as well as a South American couple transiting on their way to Kuala Lumpur. Best part? The bar was less than 5 minutes' walk from my room!
8. Sink into the impossibly soft bed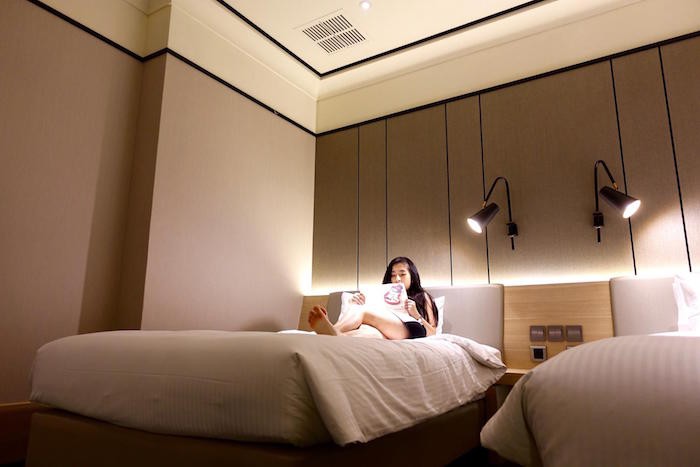 Never wanted to get off! So. SOFT.
Ah, the beds here are INCREDIBLY. COMFORTABLE. Sadly I don't really have much pictures of myself on the bed because, once I sank down, it was just ahhhhh… bliss. One nice touch would be the nice and hard pillows given for each bed. I like soft pillows, but my boyfriend prefers the hard ones. Best of both worlds, really! Be careful not to oversleep and miss your flight – trust me, that's a very real possibility given how much the bed feels like a cloud!
Before I knew it, the 10-hour transit came to an end! Hands down, fastest transit ever – time just seemed to fly by. I had a blast at Aerotel Singapore and I'm sure you will too!
[DEAL ALERT] 1 FREE DRINK WITH EVERY SWIM + MEAL PACKAGE
For those with only 3 hours to spare, why not check out Aerotel Singapore's Swim + Meal package? For just S$25, get 3 hours of pool access (inclusive of shower) as well as a set meal. There's no better way to relax while waiting for your flight!
PSSSTTTT, that's not it, we've got one more perk exclusive for TripZilla readers! Aerotel Singapore is giving out 1 FREE DRINK with every Swim + Meal package purchased. Simply quote "AEROTELxTRIPZILLA" upon payment to enjoy the promotion. Hurry, promotion ends 30 Nov 2016.
---
Brought to you by Aerotel Singapore.