My boyfriend and I decided to celebrate our 30th monthiversary by pampering ourselves with a romantic weekend staycation, like what many couples will do when they are (finally) tired of Batam and Bintan, and oh please , certainly not Johor Bahru again!
We chose to spend the weekend at The Westin Singapore, and it didn't take us long to fall in love with our so-well staycation. In fact, that is easily one of the best weekends we've spent together so far!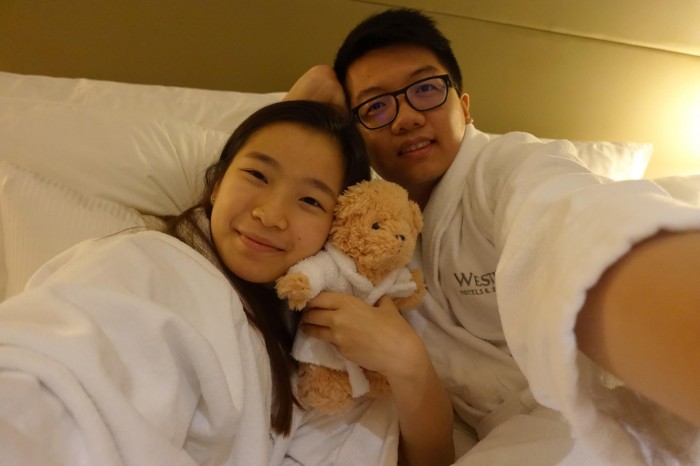 Me, boyfie and our Wellie bear in matching outfits (if bathrobe can be considered as an outfit) – lovely, isn't it? *shy*
So why The Westin Singapore, you ask? Well, my boyfriend asked me the same question again and again even when we were already at the hotel's lobby located on the 32nd floor. Fun fact: The Westin Singapore has the highest hotel lobby in the country, pretty cool huh! He was especially concerned about the yoga class conducted later in the evening as one of the wellness programmes under the Westin Well-Being Movement – " But I'm so inflexible! "
" There's no harm in trying anyway ," was my last attempt to assuage his enormous insecurity right before we stepped into our hotel room, and were greeted with this: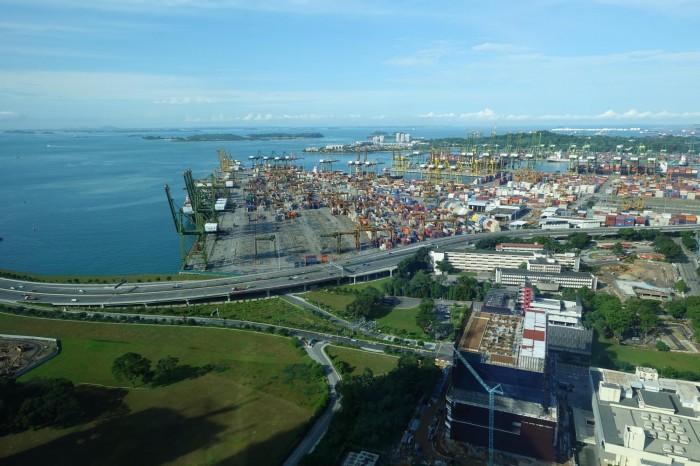 Stunning view of the South China Sea and the bustling port from our room!
What a view! All concerns aside, we loved our staycay here at The Westin Singapore. Here are 10 steps we took to ensure we had the perfect weekend staycation!
Step 1: Take a nap.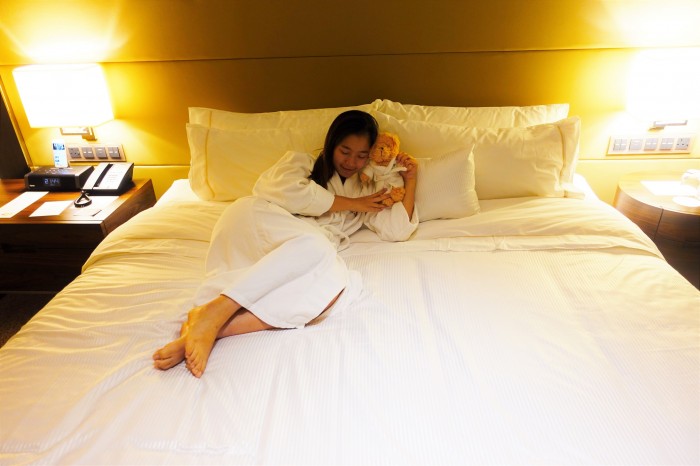 This picture was taken within the first ten minutes upon entering the room. Just. couldn't. resist!
Because the signature Heavenly Bed is simply irresistible! The first thing and the only thing we did after we changed into bathrobes was to let ourselves sink into that rabbit-hole of endless shiokness for the next two hours… that was an incredibly satisfying nap, I must say! Both of us felt so refreshed when we woke up – it's like a dream come true!
Step 2: Join the yoga class.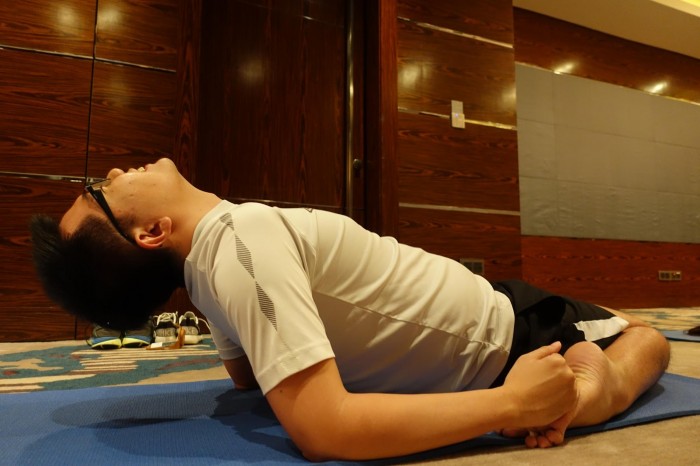 How often can you see your boyfriend doing yoga?
Boyfie was really cute (and a bit hilarious, but still cute) when trying to execute the various yoga poses. He ended up enjoying the class very much despite going in with a great deal of fear due to his terrible flexibility (fyi, he never can reach his toes unless he bends his knees, like almost squatting down).
"We should do this again!" cried boyfie in one of the most challenging poses. It was indeed a 'pretty darn good stretch', especially for someone who usually sits all day in front of his computer for work and gamesss i.e. my dear boyfriend.
Now you know why I chose The Westin Singapore. One of the biggest motivations was to let boyfie pick up bits of a healthy lifestyle while still enjoying his vacation to the fullest. Yoga class aside, they have plenty of wellness initiatives to help their guests stay healthy and relaxed throughout their stay. We are glad to say that we enjoyed most of them immensely!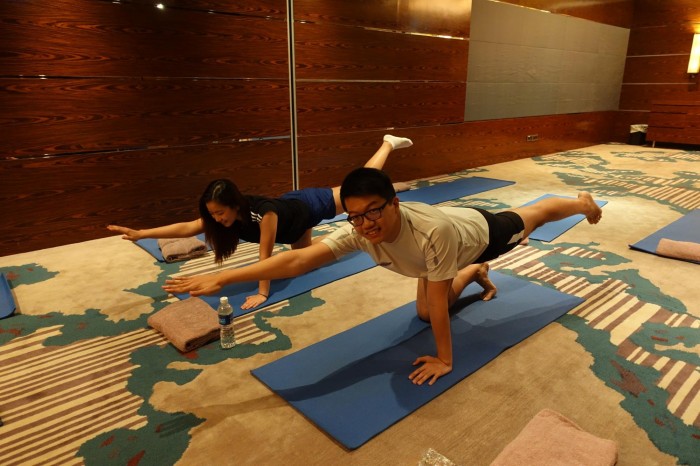 The yoga class was supposed to be held by the infinity pool on the 35th floor (just imagine the view and the ambience!) but the venue was changed to a meeting room due to rainy weather. Anyway, as long as boyfie enjoyed the class, I have nothing to complain about! We also ventured to the 24-hour gym to extend our fun (and long-due) fitness routine.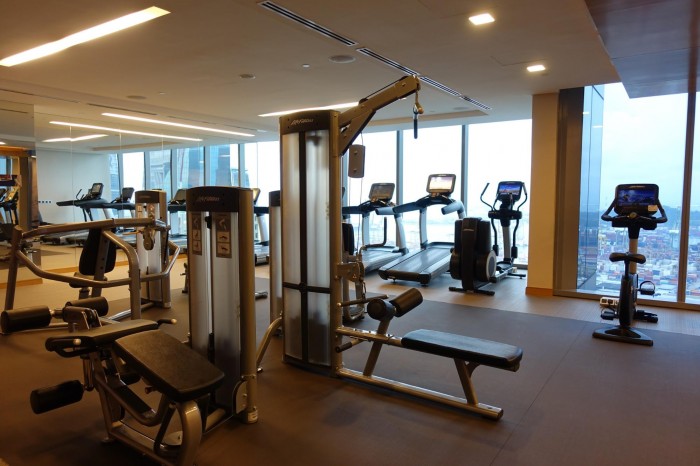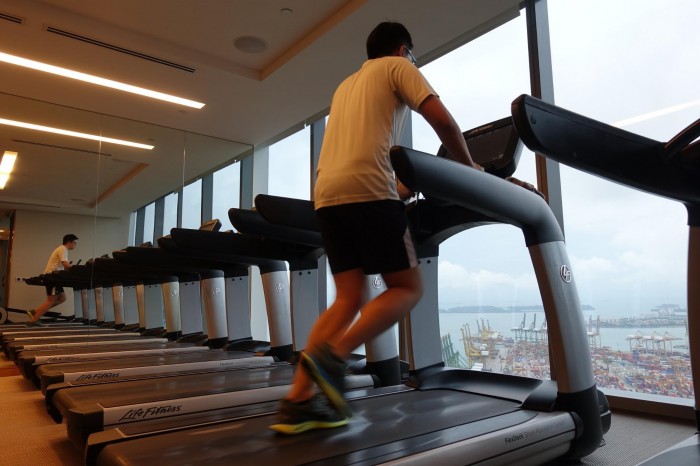 It's always a smart move to burn a few more calories before dinner time!
Step 3: Dinner at Cook & Brew. (Bonus: Wine vending machine!!!)
We had a scrumptious and truly satisfying three-course meal for dinner at Cook & Brew on the 33rd floor. Gulped down most of the signature dishes without feeling guilty at all thanks to our pre-meal workout. The food was great and my boyfriend was really expressive lol. I'll let the pictures speak for themselves.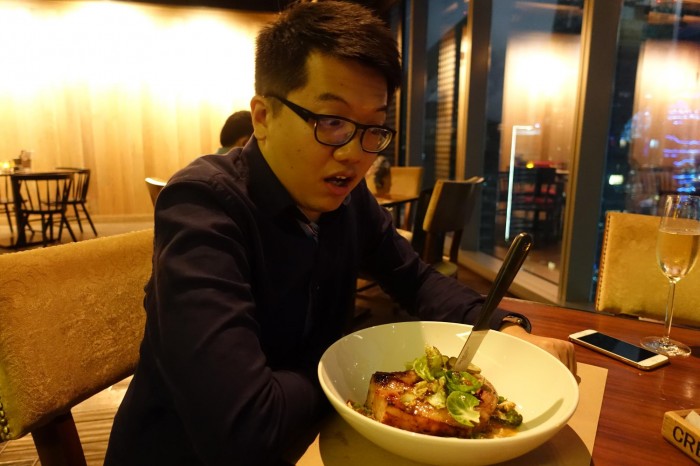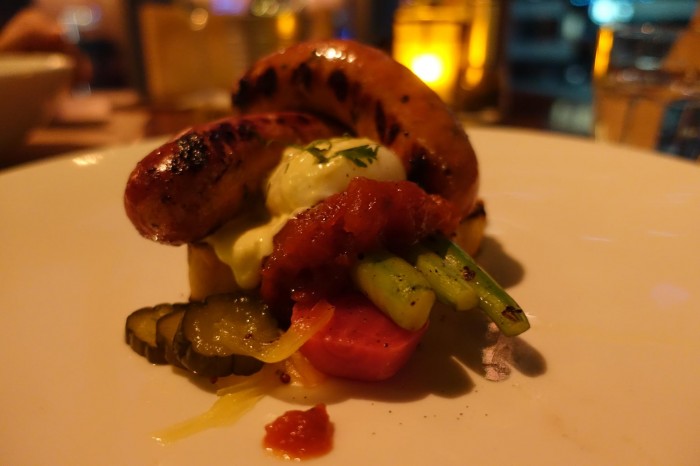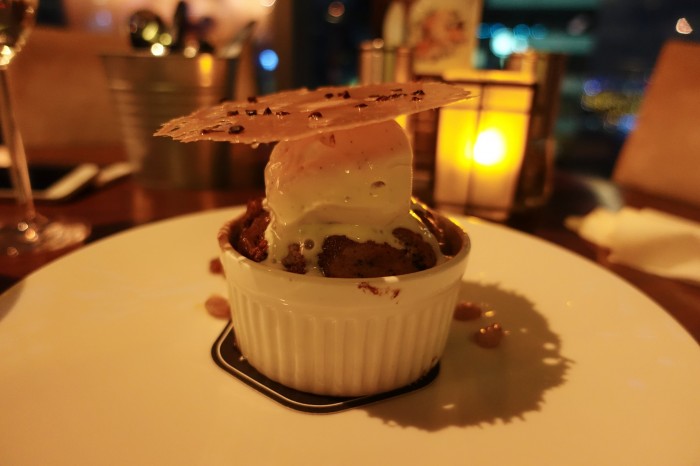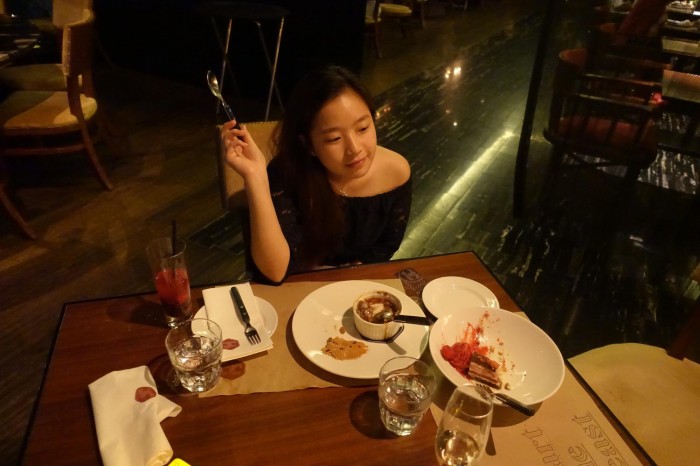 A real candid shot of myself. As you can see, I was really enjoying my life back there. I recommend their signature dessert, Molten Sticky Toffee Pudding, for it is the BEST pudding muffin I've ever had in my entire life. I am definitely going back for that killer muffin!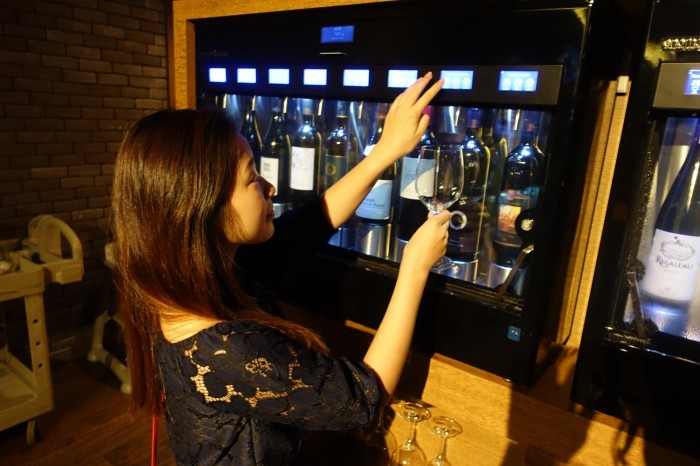 And here's the super cool wine vending machine (yes, it really exists)!!!
Simply request for a wine card at the bar counter, insert the card, take a glass and pick your wine. You can choose the volume – be it a sip, a half glass or a full glass of wine. Good for us since we had no idea which to choose in the first place, so we tried a few sips of different wines before we found the one we liked the best and had a full glass of it. You can pay for the wine later by returning the wine card and clearing the balance.  
Step 4: Get a good warm soak in the bathtub.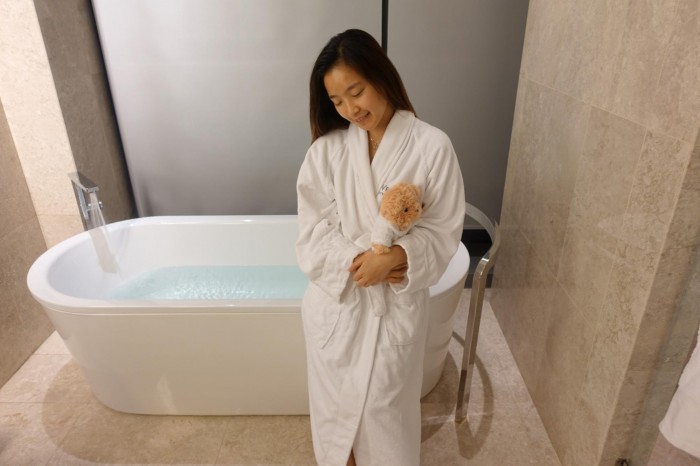 Me and Wellie (and boyfie who helped us take this memorable picture together but seemed to be a little annoyed by Wellie crashing the party) getting ready for a good bath!
The bathtub is absolutely spacious enough for the three of us in case you are wondering...oh wait you're not? *awkward*
Step 5: Sleep in.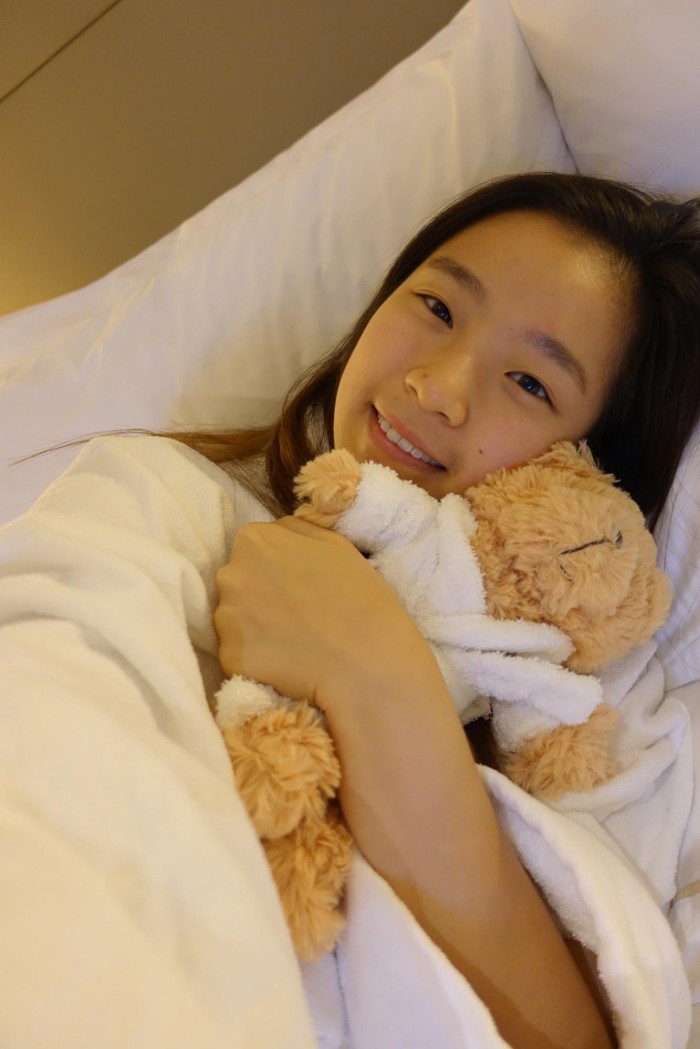 And here we have Wellie crashing the party again.
But the bed is sooooo huge and comfortable that boyfie couldn't be bothered to complain about Wellie anymore. Yes, the Heavenly Bed is that good!
Step 6: Dig into the healthy superfood at Seasonal Taste's Breakfast Buffet. (Sinful savouries are available too!)
The breakfast buffet was dominated by superfood , an astonishing range of fruits, salads, yoghurts, juices, whole grains, gluten-free food etc. Super healthy, but surprisingly the taste and the variety was neither affected nor compromised – way to go, Westin!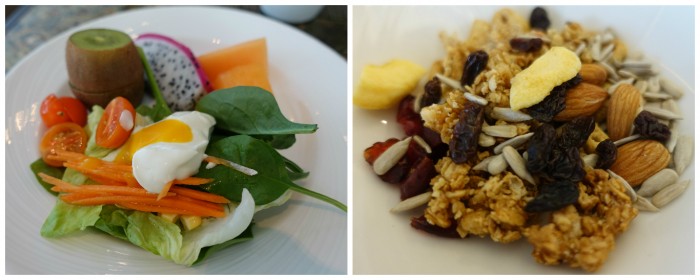 I myself had seven plates of everything I wanted for breakfast feeling awesome instead of guilty. And judging from boyfie's oh-so-satisfied face after the meal? Hooray for superfood!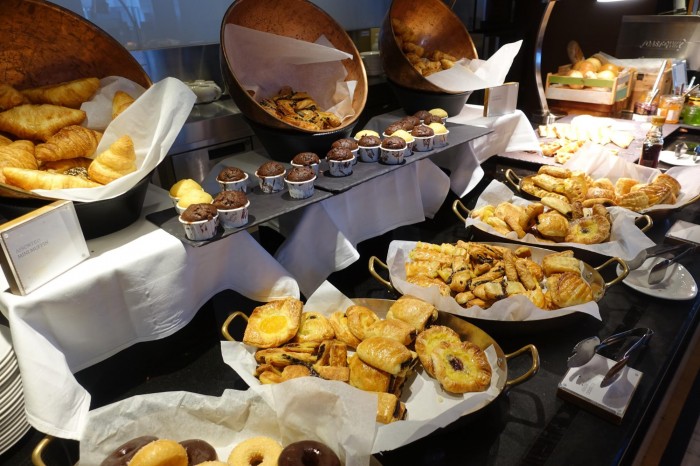 Look at all those healthy yummies and of course, a buffet is never complete without a dessert/pastry bar! I felt like they somehow cancelled each other out and I was really pleased to have consumed such a good balance of food at a buffet for once. Extremely satisfied!
Step 7: Total relaxation at Heavenly Spa.
Every in-house guest is entitled to use the facilities at Heavenly Spa, which include the Aromatherapy Steam Bath (an aromatic sauna with higher humidity and at a more pleasant temperature), the Experience Shower (a shower cubicle with simulated thunderstorm and rain – very interesting I must say) and the Whirlpool (a jacuzzi pool with a stunning view).
Thanks to the late check-out at 3.00pm, I was able to spend some time at Heavenly Spa after breakfast, and boy am I glad that I did. The Heavenly Spa certainly lives up to its name – it's nothing short of heavenly !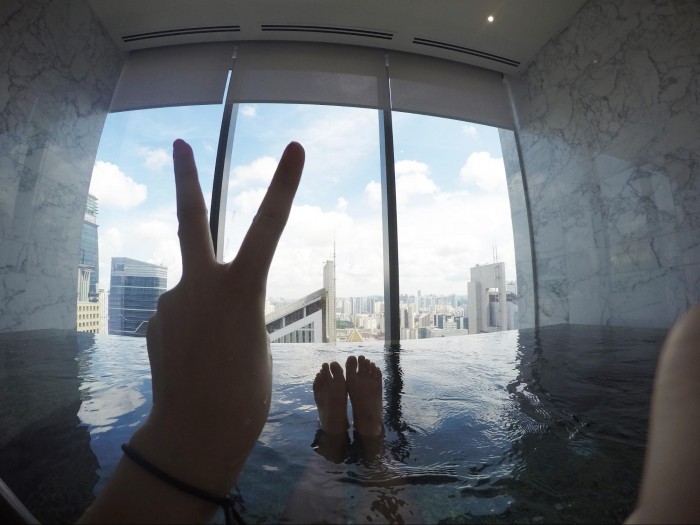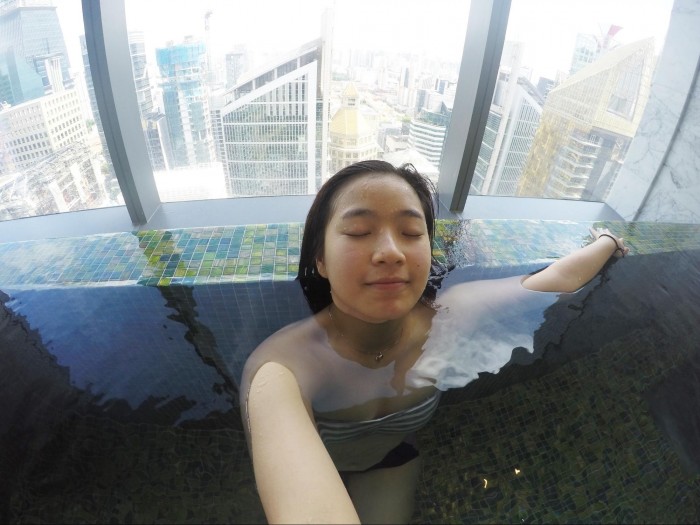 Me almost falling asleep in the Whirlpool, it was that shiok! Warm water, jacuzzi massage and breathtaking view – I seriously couldn't ask for more!
Step 8: Bask in the sun by the infinity pool.
The weather suddenly turned gloomy as I stepped into the infinity pool so I had no choice but to go back to my room, but I managed to get a picture from a friend who went there on a sunny day. Lucky girl! I can only imagine how shiok it is to laze around the pool, enjoying the breeze, the view and daydreaming about everything under the sun.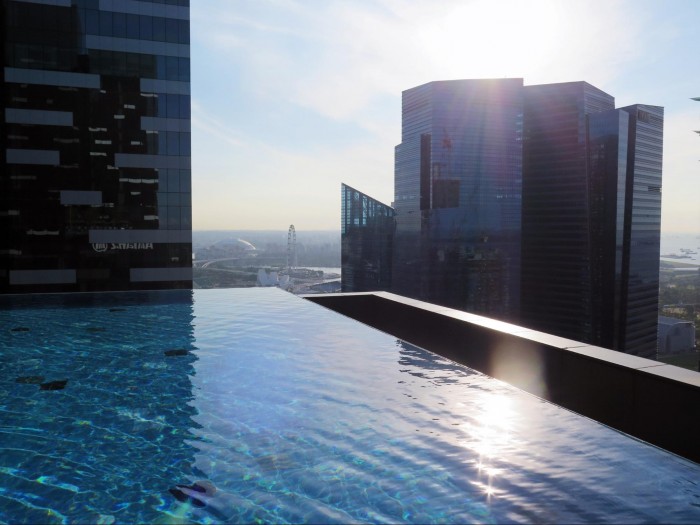 Step 9: Take a nap. Again.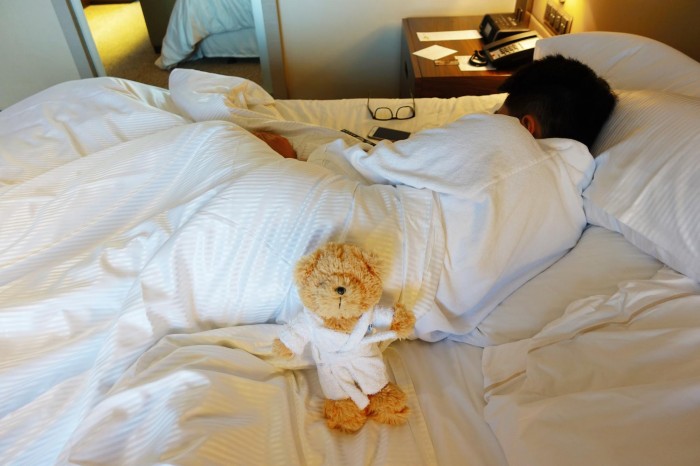 Boyfie was sleeping very soundly on our favourite bed when I went back to the room. Shortly after he caught me taking this picture, I jumped right into his arms and joined him for another round of good rest. Another perk of the late check-out: more cuddle time! *wink wink*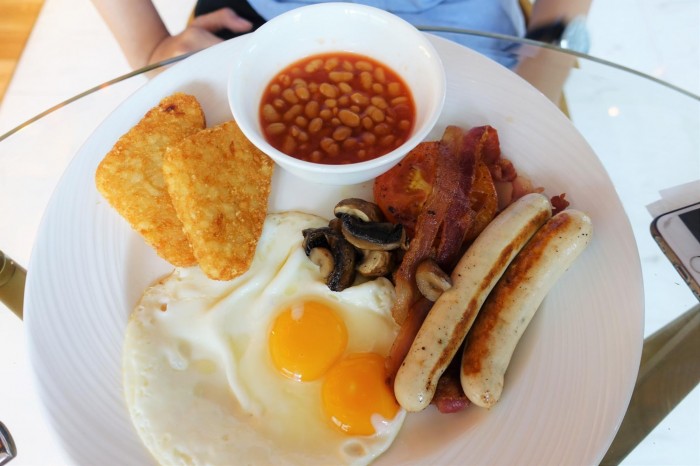 P.S. If you are hungry when you wake up at 2.00pm (like boyfie), fret not, extended breakfast is available till 3.00pm at Daily Treats. AWESOME!
Step 10: Go home with Wellie!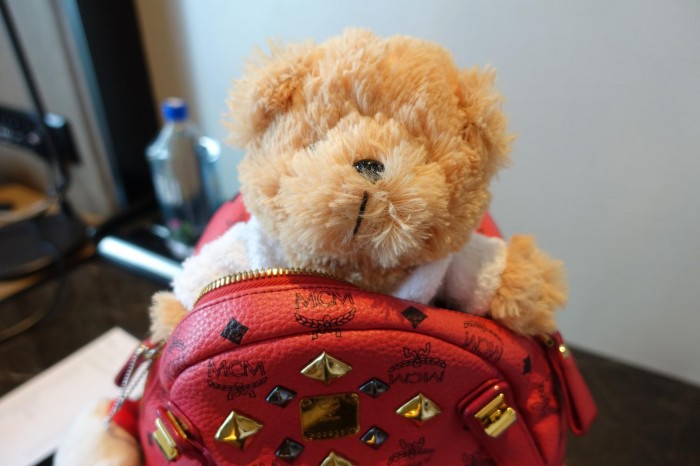 Oh my sweet Wellie. The minute I laid eyes on you, I just knew I had to bring you home!
Boyfie just gave me an eye-roll but he could not stop me from bringing Wellie home because I asked for it as a 30th monthiversary present. *evil laugh* So yay! With Wellie poking his head out of my bag the entire way home, I felt like I was the happiest girl on earth who just went to a perfect staycation with her charming boyfriend and now has an adorable bear...
I am so going back to The Westin Singapore for another staycation!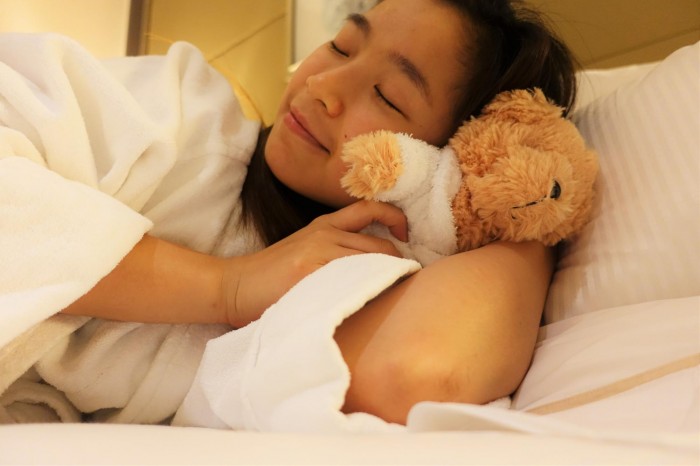 I hope this review/guide will (inspire and) help you to enjoy your weekend at The Westin Singapore as much we did, and we will definitely do so again in the near future. Thank you The Westin Singapore for the amazing stay!
Check out their special deals here and find out more on their website.  Have a happy staycation, y'all!